Other cars
This is getting really boring now but I may as well include it now that I've started.
1st car was a miserable Peugot 309 style (1.4 I think)
In between the Esprit and the Elise I had a grey Peugot 205 GTI 1.6 for a couple for years. This was fantastic with awesome steering and chassis (but nowhere near Lotus class) but required you to always drive it and was tiresome at times. Somewhat unrefined and definitely no good for long journeys and driving abroad. I managaed to blow up teh engine as well which didn't help.
I also own a Seat Leon 20V Turbo in yellow as below - what a car for such a ridiculously low price ! Okay, its handling and steering perhaps aren't quite on the Pug 205 class (and its certainly no Lotus !) but its a different sort of car.. a kind of refined, bigger, "grown up" hatch - a perfect partner for something like the mad 340R. First off, its ride is fantastic and theres loads of room and a very big boot, so its great for the family etc.. But then on the back roads its also a real hoot; taking the bumps well and with a fine sense of composure and I'm sure that it could keep company with the best there is.
The steering and chassis is better than its Golf cousin (GTI Turbo) and indeed the Audi A3 and whilst not as quick as something like the Renault Clio 172, it still has 180bhp on tap (same engine as Audi TT) and will get to 100 in about 20sec. This engine is very smooth and feels like a V5 or something with almost no lag, all the acceleration you'd ever need in a family car. Its perfect for long trips and holidays abroad (leave the nervous rattly Clio 172 at home !) and has build quality to die for. The cabin is from the Audi A3 and its all extremely solid and more like a 25 grand BMW inside.
The other thing that appeals to me its that its a pretty rare car and a bit of a connoisseurs machine, you'd only know how good it is and how rated it is if you know your cars and read the magazines. Its just in this class, most people would just buy the "right" badge and end up with an inferior car for a lot more money. And then there's the final icing on the cake... this car, laden with options (ABS, CTS, climate control, side & front airbags, CD multichanger, 3 yr warranty, 3 yr full roadside assistance etc..) comes in at a cracking 15 grand. Thing is, I got mine with just delivery miles on it for 13,500 !!!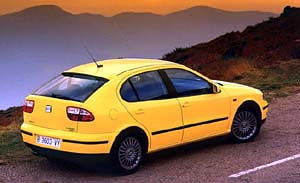 When I was buying the Leon, my budget was around 15K. I wanted a size up from the normal GTI type car, something a bit bigger and hence safer and also with a good amount of space for extra people and baggage etc.. That pretty much ruled out another 205GTi, a williams Clio, Clio 172, Citreon Saxo and also the Puma and Fiesta. I drove the Focus but was put off by the name, the depreciation and the lack of a proper "hot" version so I looked at the Golf GTI turbo. This was a very smart car, well built but lacking in power and terribly inert steering. The Leon fitted the bill perfectly and for me represented the best at that price range before making a leap of 7 thousand or so to an Impreza or a Lancer EVO6. So there you have it, my next family car... the EVO6, probably a 1999 or 2000 version which I will almost definitely acquire toward the end of teh year.