SUMMER EXCURSIONS
Days out including On Track day at Silverstone - 1st session, straight into the gravel braking on oil, on the approach to Abbey ! I don't advise the gravel traps to any 340 owners out there; it took me ages to get most of the stones out and when I went into the trap at considerable speed, it was like a shower of giant hail all over the car. I was suprised that the bodywork wasn't ripped to shreds. Anyway, all good experience. Day was lots of fun with a surprise visit by some of the Lotus crew who came armed with a factory Exige and 340r.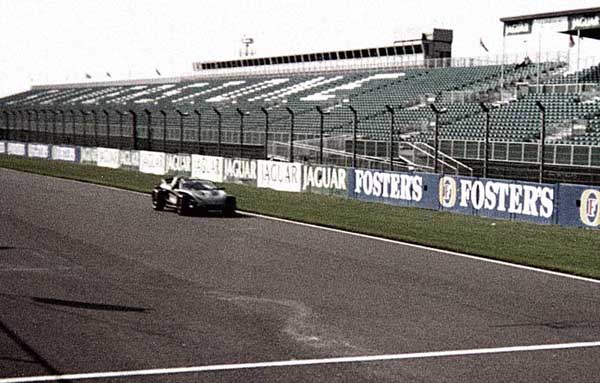 Day trip to Bognor Regis with Stefan in his Orange V8GT and another mad run with Howard, Rob, Steve, Mel and Stef.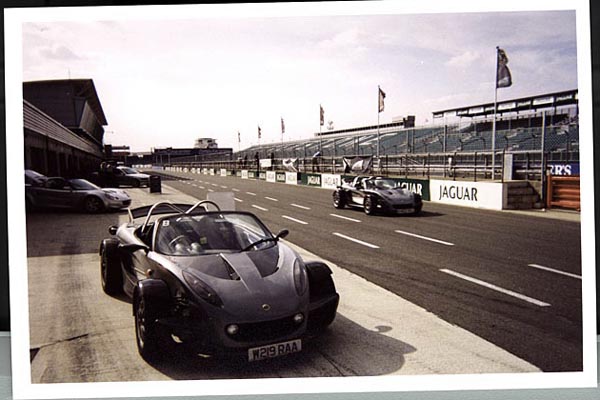 no. 288 at Oulton Park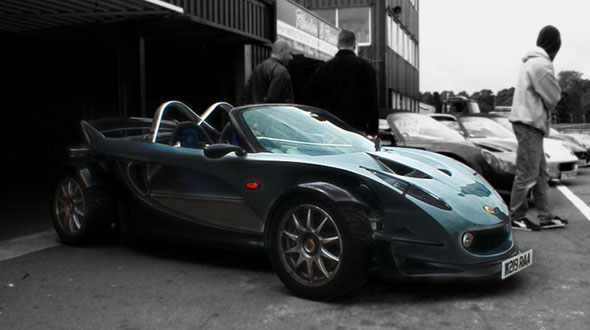 An intergalactic, 5 hour journey up to Manchester straight after work. Very cold but inside the tie-fighter it was nice and cosy. Far away landscapes streaming from the motorway edges, the enchanting world at night pivoted around the blue glow of the 340 cockpit. Watching the M1 through clear plastic, occasionally lit up golden by my indicator lights, set me dreaming in all sorts of sci-fi fantasy stories. A very memorable nights drive !
Drizzle the following morning but it stopped on the first lap of the first session. On the last lap of the last session at the end of the day, it started again and the R refused to go round Lodge corner. I just went straight on and into the dirt. Other than that, the car felt so secure, so composed... I was travelling easily faster than my visit there last year in the 111s but boy it didn't feel like it - it was like doing half the speed ! Everyone wanted a ride and everyone wanted to hang out in the pit garage.

BOYS Fish&Chip run to RyE
Don't try this at home, its extremely dangerous
Me, Stefan Paciorek, Rob Gordon, Pete Sutton, Liam Crilly & Matt Daniels did the RYE F&C run but there were a different set of rules this time, or rather there weren't any rules. 340's got air off of Railway crossings, Dungeoness witnessed a combined arrival speed of about 800mph (and most of that was Stef in the Orange V8GT) and an old man mowing his lawn disappeared from the roadside forever.
(sorry Rob, your car's gone again in the 2nd pic...)