A collection of recent mods/upgrades on the 968
First up, a new clutch and single mass flywheel. This was installed by the great guys who are EMC motorsport based in Birmingham. What they don't know about 968's (particularly if you are racing or tracking them) isn't worth knowing.
The 13lb Fidanza single mass flywheel not only saves a fair bit of weight ( i think the tsd dual mass flywheel is around 37lb) but has lower rotational inertia and therefore allows the car to spin up a lot quicker. The engine feels more eager to rev and acceleration feels a fair bit keener. The difference is quite startling. EMC also did my timing again and you may know that the 968 is extremely sensitive to this. Suffice to say that she now feels like she has another 30 bhp or so ! The engine now takes on a totally new character in the last 1000 rpm and feels a lot more aggressive and stronger. The engine note clarifies this change... it just sounds harder edged and more intense than ever before.
Do bear in mind that with the single mass flywheel you gain a keener throttle response and sense of urgency and you lose some weight but you do get some gearbox chatter at low speed (mostly when decelerating through 2300rpm). It doesn't make the car sound particularly healthy but then you soon get used to it and its more than worth living wiht for the gains you get.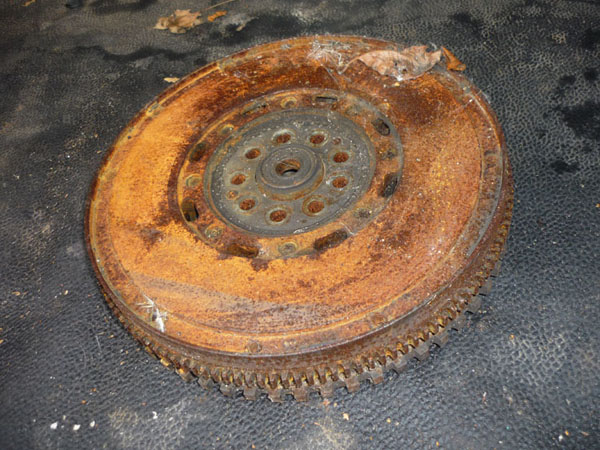 the old heavy dual mass flywheel
Secondly, I had my Cup1 rims refurbed. They didn't really need it but one was sadly damaged at my local tyre fitter. After much hassle at one particular paint shop the boys at lepsons in Swindon did the job. I cannot praise these guys enough. They painted my rims 3 times to get the colour matched perfectly. If you have any alloy wheel refurbishment needs then speak to Scott at lepsons swindon, they are the best there is.
On the new rims goes a new set of Falken F452 tyres. These are very popular in the 968 community. They are 60% of the price of premium tyres like toyos and eagle f1's etc.. but everyone seems to report the same performance whether wet or dry. It seems that Falken are tyring to price themselves into the marketplace so take advantage and get a cracking tyre with no downsides for way less than the price of the market leaders.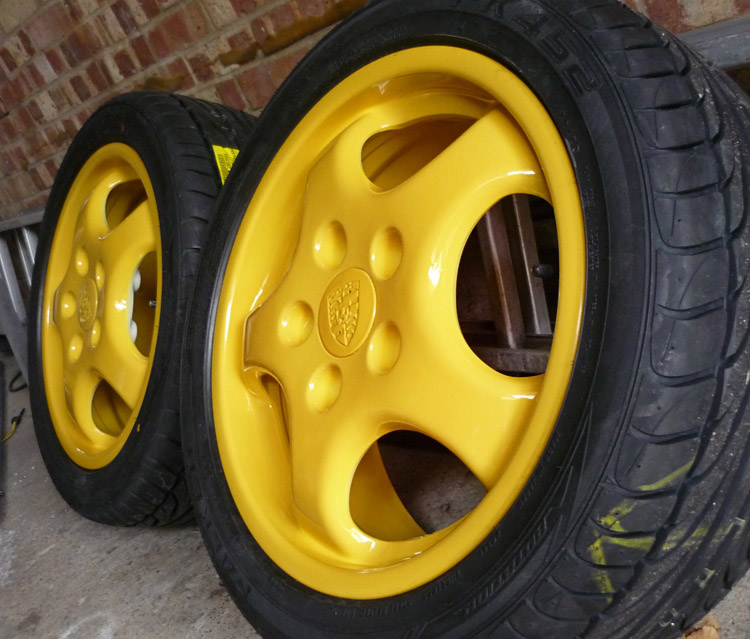 Newly painted rims. Powder coated first then painted then lacquered. New set of Falken F452 tyres.


My last mod is a decat pipe made by another great bunch of guys at MIG performance exhausts in Walsall Birmingham. Again, very cost effective at just over £100. They put flanges on my origninal centre section and also on both the decat pipe and the cat so everything is very easily interchangeable come MOT time. I was very suprised at the low cost given the amount of time this involved. I just had my MOT as well and change the cat back and it passed with flying colours.
The result is a very nice raspiness to the engine note. It really does add to the involvement factor of the car but is never objectionable, antisocial or intrusive like some systems. That's about as much as I want to do with the exhaust. Aftermarket complete systems don't really do a great deal and are rather expensive or just too loud and boomy or both.