911uk Highland Tour to SKYE 2012 + SPRING TWEAKING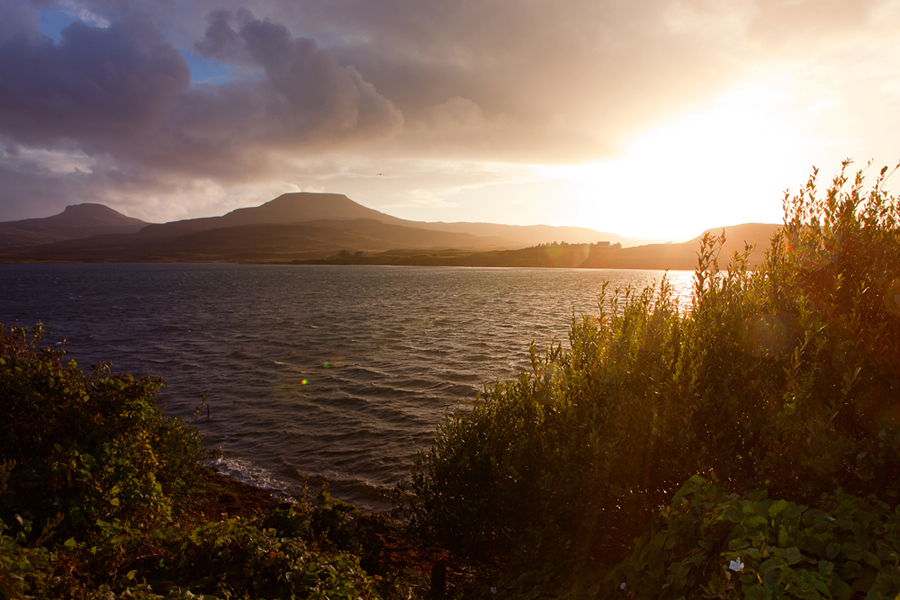 Soon after getting back from our amazing trip to the Alps in 2012, I hatched a plan and fleshed out a basic route for a spanish tour for 2013. The trip to Switzerland was so consuming and addictive that I felt it very hard to step away from driving, amazing scenery and stunning roads and get back to normal life. We also decided to do a little Scotland tour as well before the year was out; none of us could bear the thought of waiting a whole year before regrouping again.
DOWNLOADABLE ROUTE FILES:
open in TomTom, Garmin or TyreToTravel
If you intend using these mMy advice would be to check these yourself and redo the waypoints if necessary. Some of the waypoints are correct in general terms but are placed oddly so that you find yourself coming off a main road for instance and down a tiny narrow lane to pass a house then turn round again and go back on the main road. Make sure the waypoints are actually on your intended road.
All Days
Day 1
Day 2
Day 3
Day 4

SPRING TWEAKING
For the Scotland Tour I decided to tweak my setup a little. The car had amazed me in the Alps both in the wet and the dry but a part of me did slightly wish that subjectively it felt a little bit stiffer, sort of half way toward the stiffness of my old KW setup. You can skip this bit if you're just interested in my scottish routes and roads.
Here is a run down of common 993 spring rates:
| | | |
| --- | --- | --- |
| SUSPENSION | Front spring rate | Rear spring rate |
| M032 | 145 | 217 |
| M030 | 165 | 285 |
| 993 Turbo | 165 | 314 |
| Bilstein PSS10 | 220 | 380 |
| 993 RS | 245 | 456 |
| KW Variant 3 | 171 | 513 |
| KW Clubsport | 340 | 625 |
With my existing PSS10 rates at around 220/380 I decided to custom order some springs that were about halfway between this and my old KW setup. As it happened, standard RS spring rates seemed about right slap bang in the middle. I ordered some new springs from springcoil.co.uk, specifcying the poundage, the correct length and making sure that the diameter wasn't going to change too much and that they would still fit on my hardware and perches/top hats etc..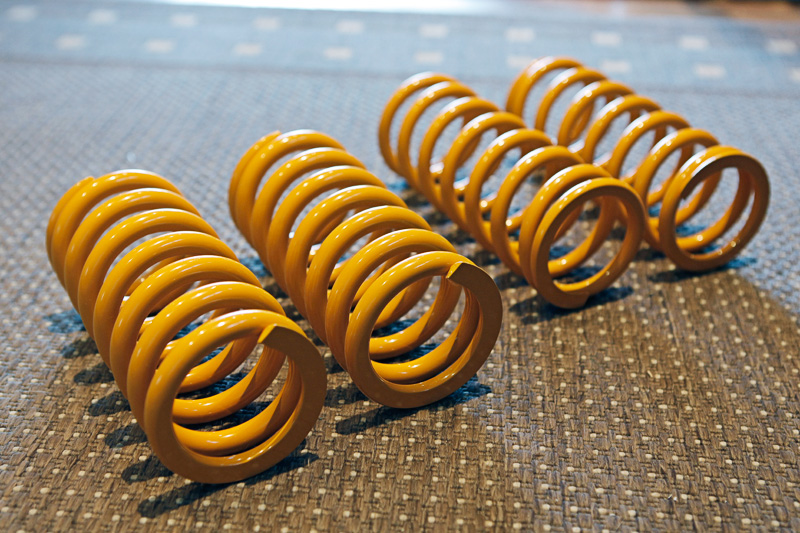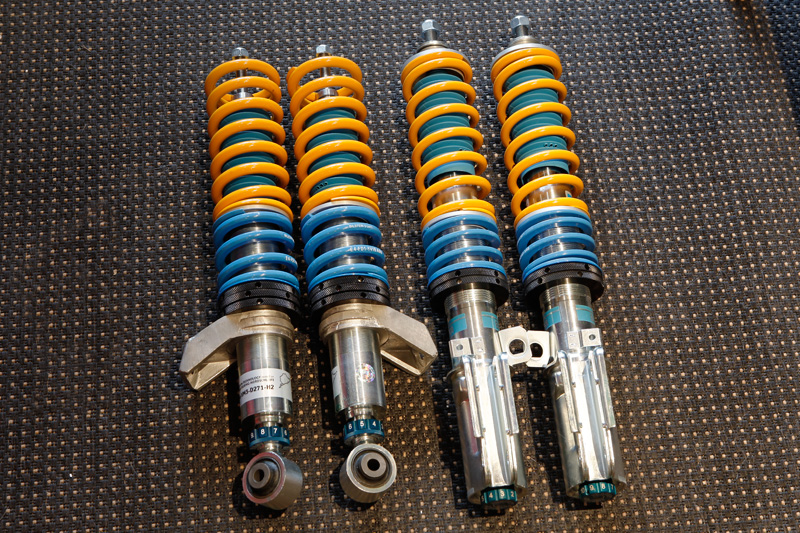 Here are the finished items. Including delivery and vat everything was just shy of £50 per corner, so about £200 all in.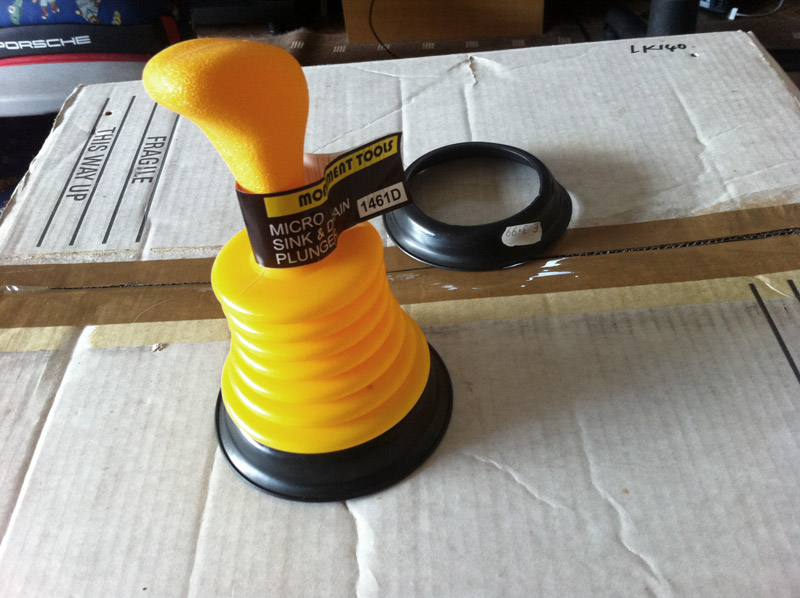 To act as dust and grime seal I bought a couple of kitchen sink plungers from my local hardware store, cut them down to size and fitted them between the front top mounts and the top hat.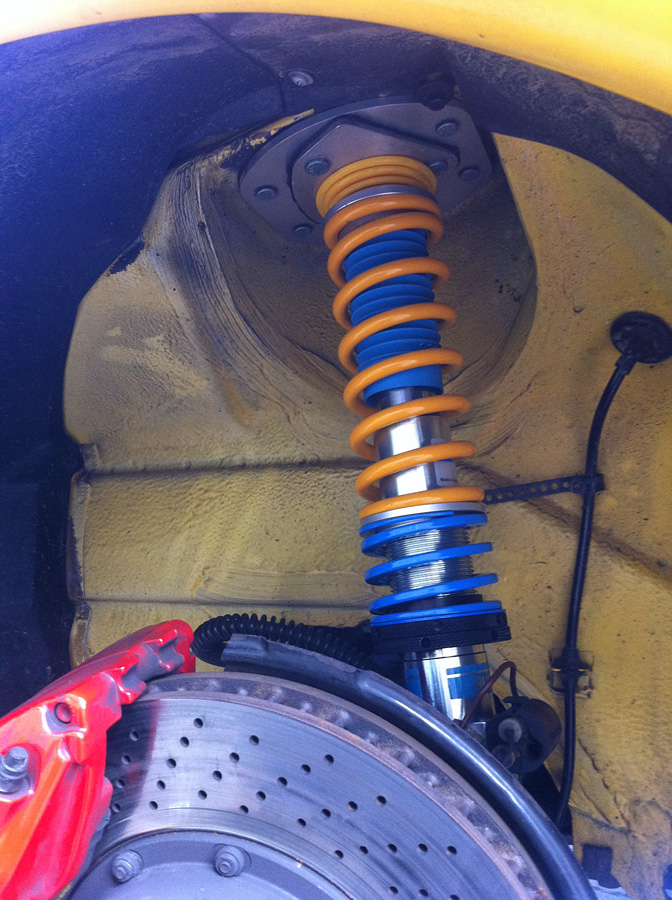 911uk Tour to SKYE
Making a route around Scotland was fairly simple. I scoured the internet and the forums and tried to stitch together the finest roads talked about and recommended. The first bit was obvious as we knew we wanted to go to the isle of Skye so a run up through Glencoe and then the 'road to the isles' to the ferry seemed the obvious route. This is a well trodden path for drivers and cars and i've done a fair bit of it before.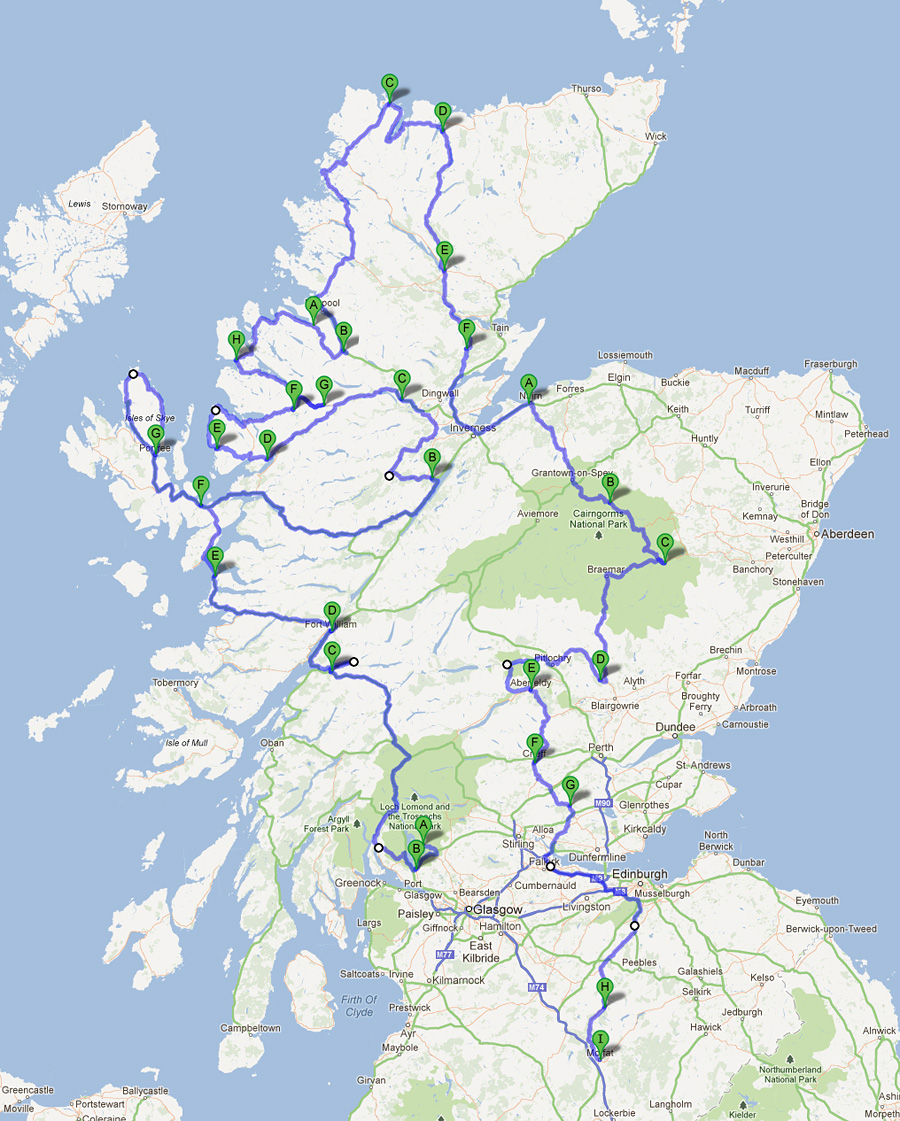 Here is the full 4 day route. After skye the next 'must do' was to tour the Applecross penninsula which is known to be a secnic highpoint for scotland. After that the obvious thing to do was to head north and hit the uppermost coast before descending back down the highly rated road from tongue. A little tour around the east, the Cairngorms and a run down to 'mini nurburgring' around moffat seemed appropriate for the last section.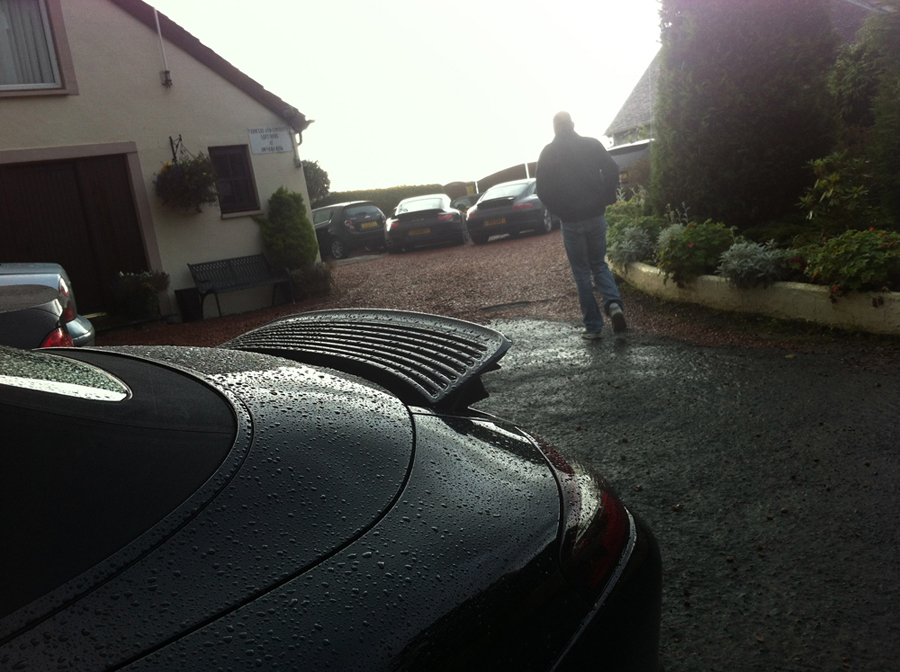 We met at a nice hotel on the western side of Lock lomon just outside Drymen the night before.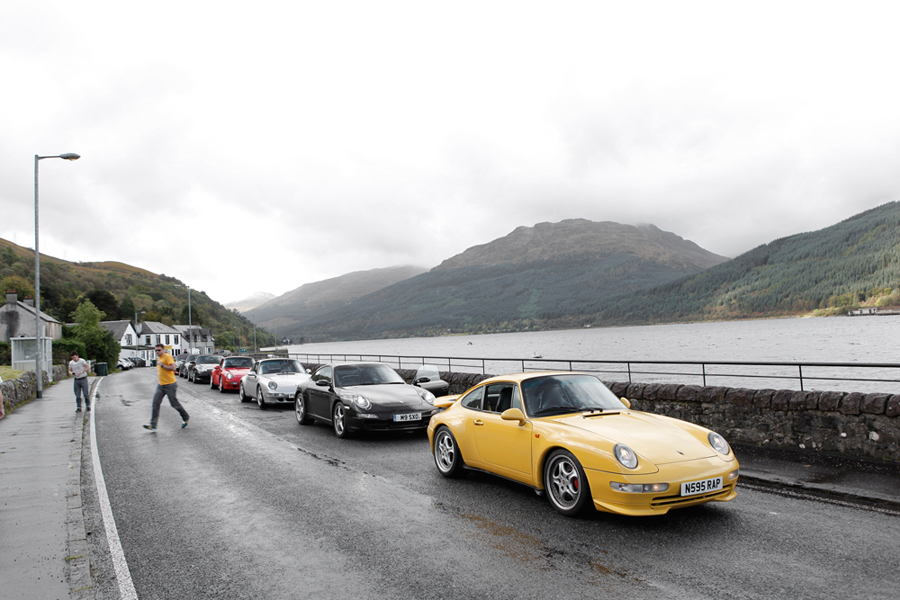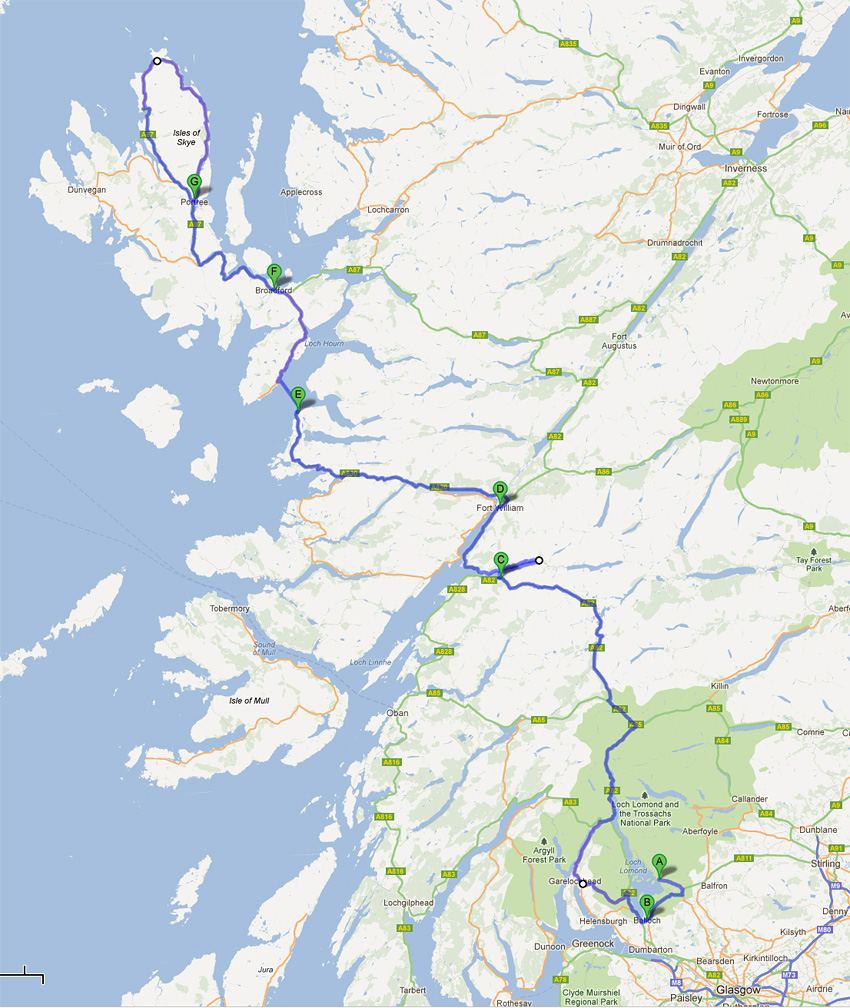 From Balloch the roads immediately became exciting with an amazing rollercoaster road up to Garelochead. This was probably the most sharply undulating road I have ever driven on, an endless barrage or sharp crests and crowns and deep dips .. it was like being on a bucking bronco !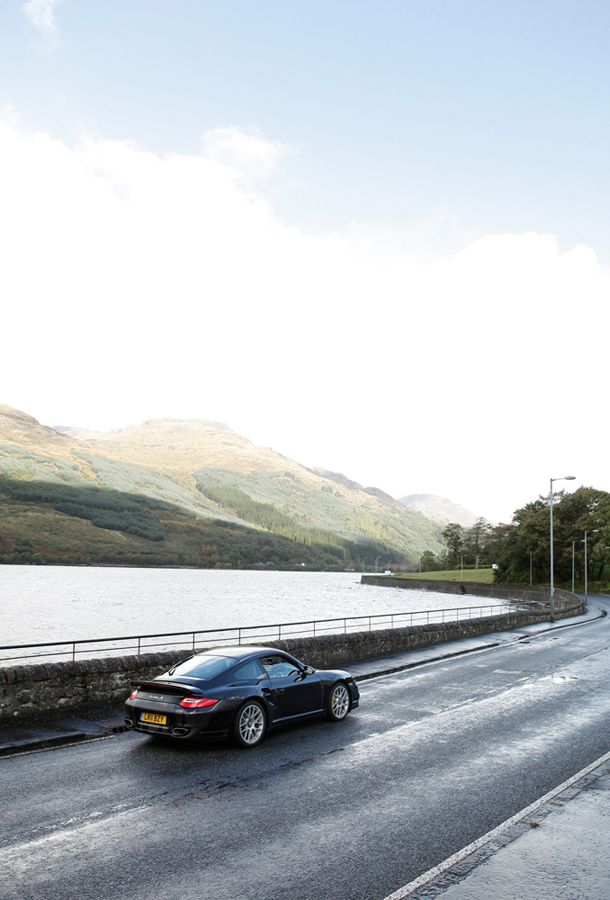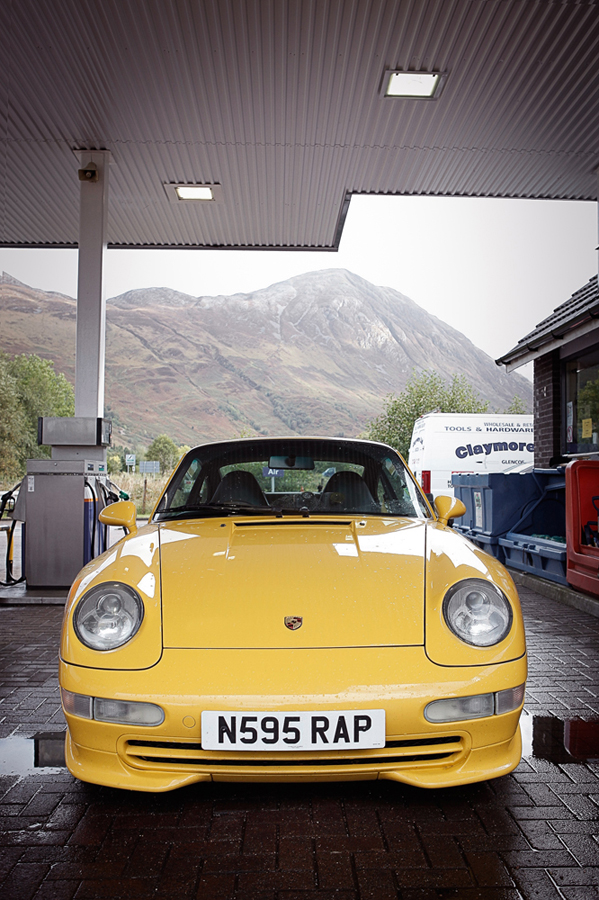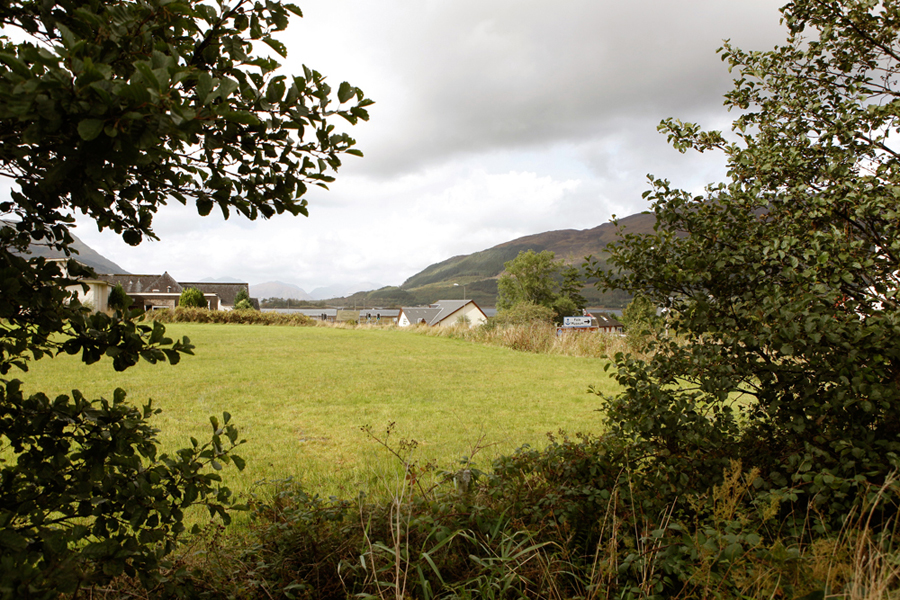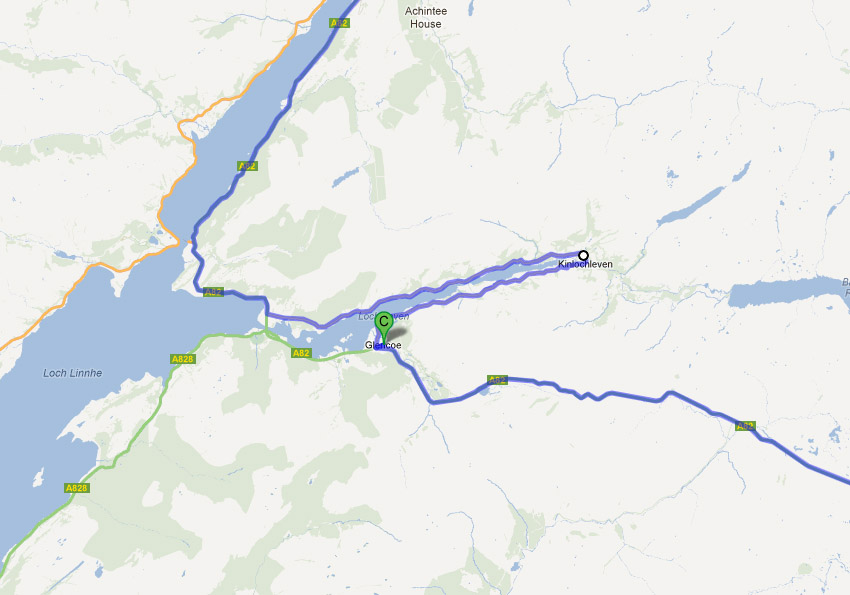 Glencoe was as spectacular as ever although the actual driving there isn't a highlight. We took a very worthwhile detour round Kinlochleven as well shown above. This road was very up and down with lots of tight turns ... a fabulous one for the older slightly smaller cars, known locally as the 'Scotsburgring'.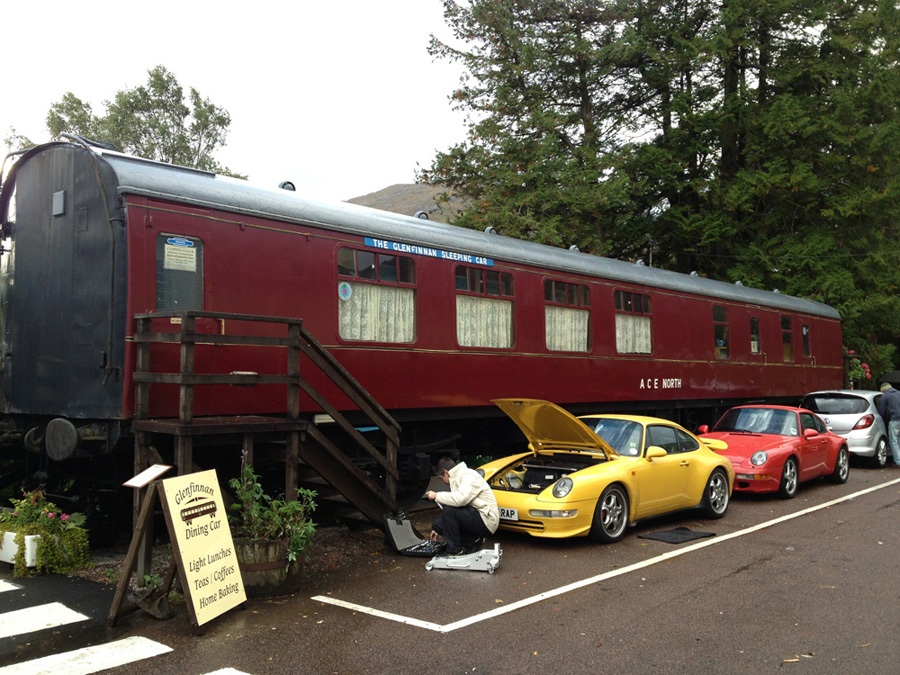 On the road to the isles we stopped at this Train restaurant and museum. I changed my setup a little here. On this first day which was fairly wet, I was finding it more difficult to trust in the car. The stiff springs certainly had changed things quite a lot. The tranitional phase where the car settles down on the suspension and digs in seemed a lot less obvious and this action that a car performs is I think one of the major ways we garner trust and confidence in our cars. I was also finding her a little bit snatchy and over the wet rougher roads it was all a bit of a knife edge to tell the truth. I cursed myself for fiddling; I should have left the old springs on which gave bags of confidence and grip in the Alps.Ironically this setup would have probably been perfetc for the Alps but the roads in scotland are definitely a different breed, a lot less flat, narrower and just that bit rougher with tons of weather of every single kind.
When we stopped to eat I felt something had to be done so I softened my front bar by one space, softened all 4 dampers a notch and let a small bit of air out the front tyres. This certainly helped quite a bit and allowed the car to have a bit more give and not feel so snatchy and perilous.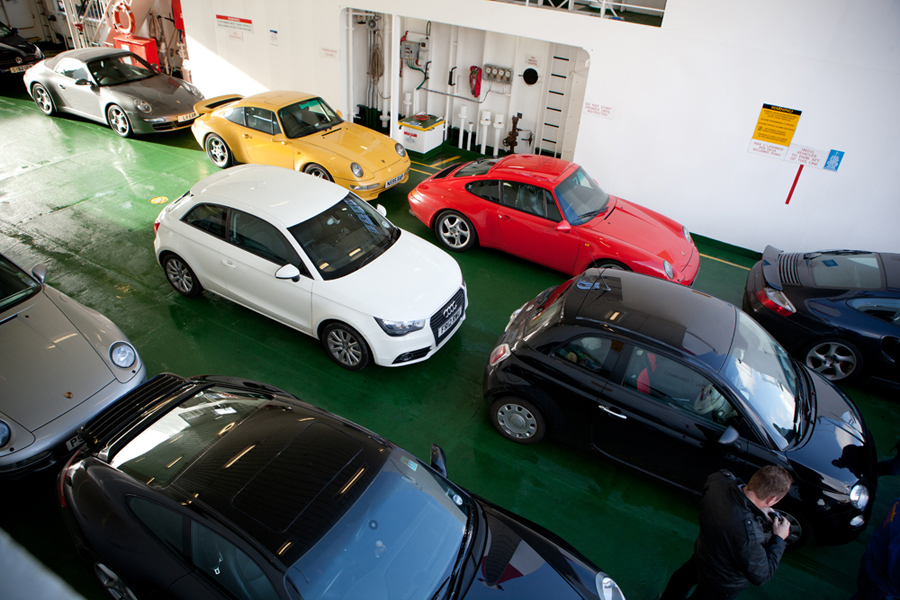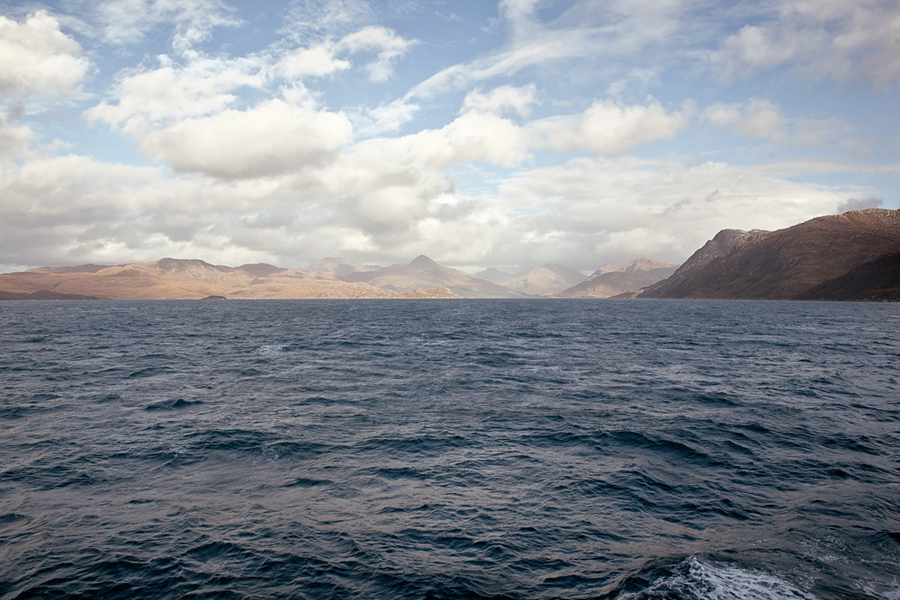 On the ferry to Skye. It was touch and go whether it was going to be cancelled as the sea was rather choppy but in the end the crossing was just fine.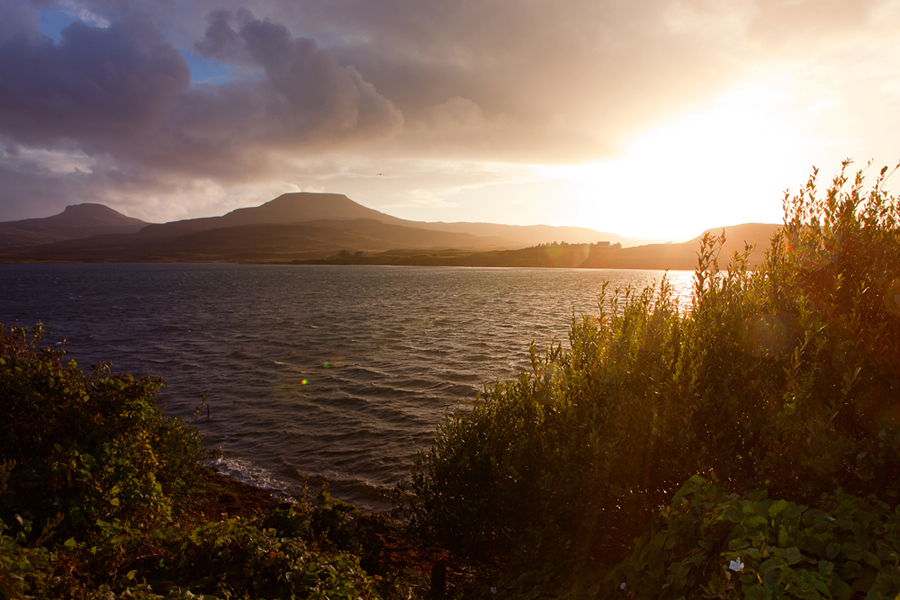 Skye was amazing to drive around. A little rough on the tarmac side of things but incredible scenery and the loop around Dunvegan is well worth doing. As you head up to Broadford and glance at the amazing sights left and right out of the car you can't help smiling, it's a truly magical place. We stayed in the Marmalade in Portree which was a great litte place.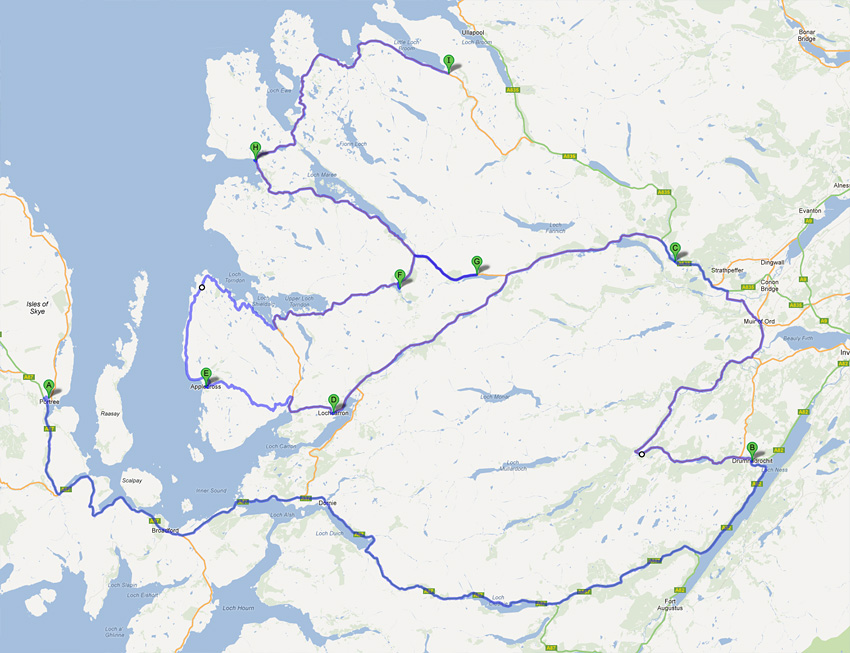 Day 2 was a pretty circuitous route but ended up being the drive of the trip. We left Skye at the bridge in really dismal weather, drove past the amazing Eileen Dolan castle which is a must see, and then headed toward the northern edge of Loch Lomond on the A87. Bits of the A87 were very fast, long long straight sections and some very fast sweepers.
After Loch Ness we went west at Drumnadrochit and then back north at Cannich. The A831 goes into single track at some point and there is a fabulous section right up to Wester Balbair. A few towns and then through Contin and then the road opens out and climbs and the fun begins again up past Loch garve on the A835. We then took the A832 westwards right back to Lochcarron. This is a very desolate road and most of it is immesenly fast. I am told that cars regularly come here to max out. The scenery is stunning and the scale is very much on the large side. It wasn't my favourite road by a long shot though, too straight and high speed for a little 993.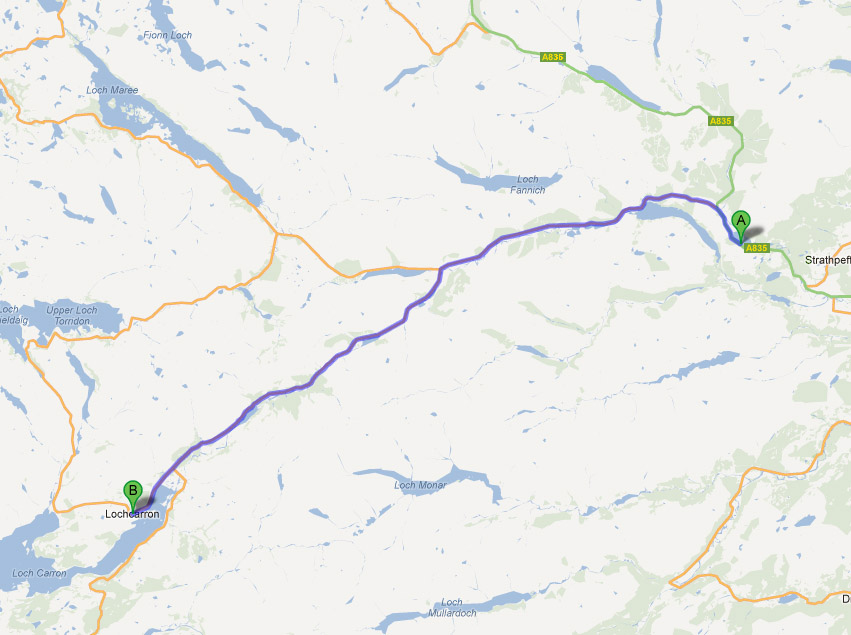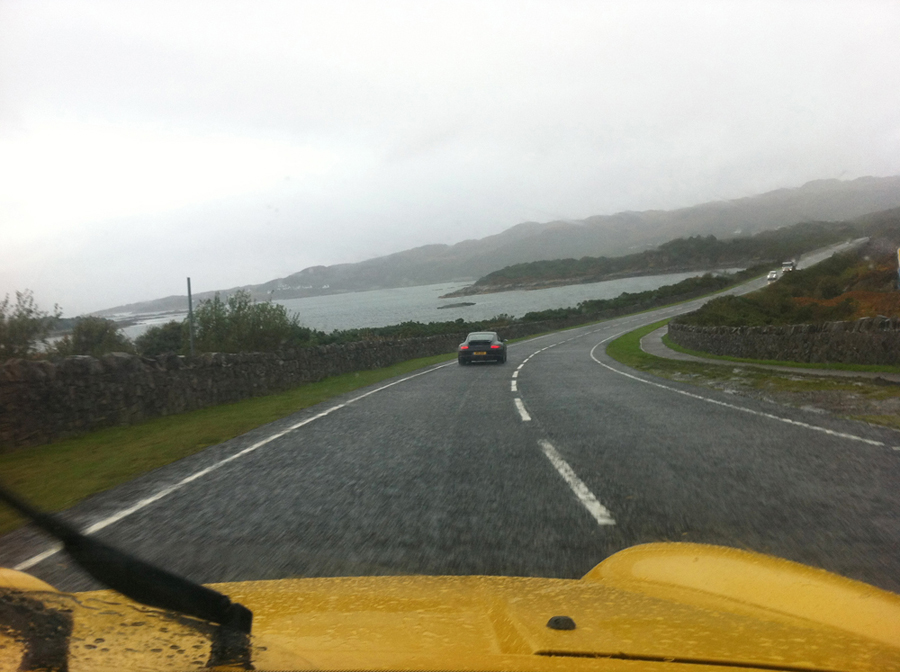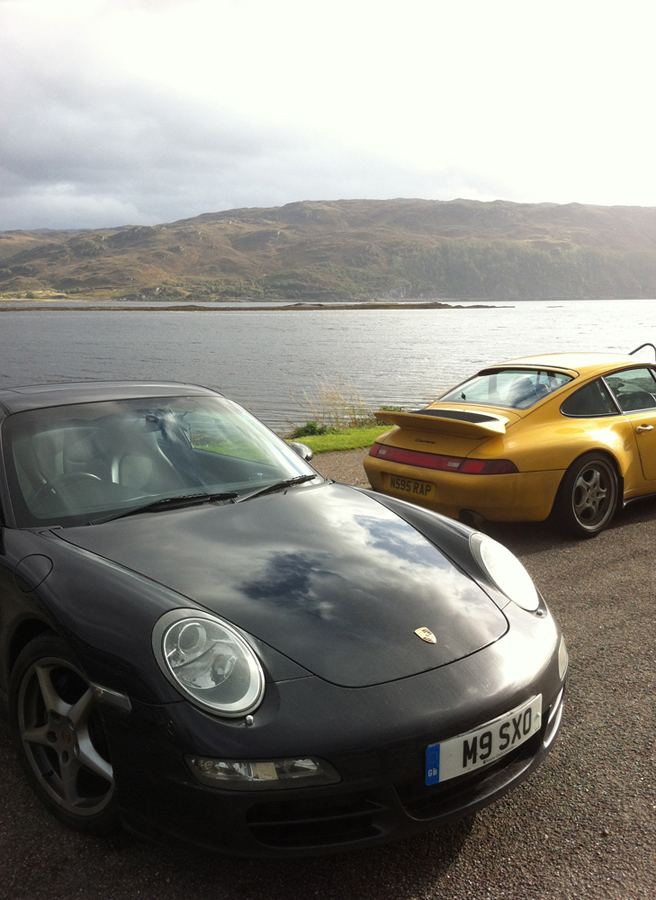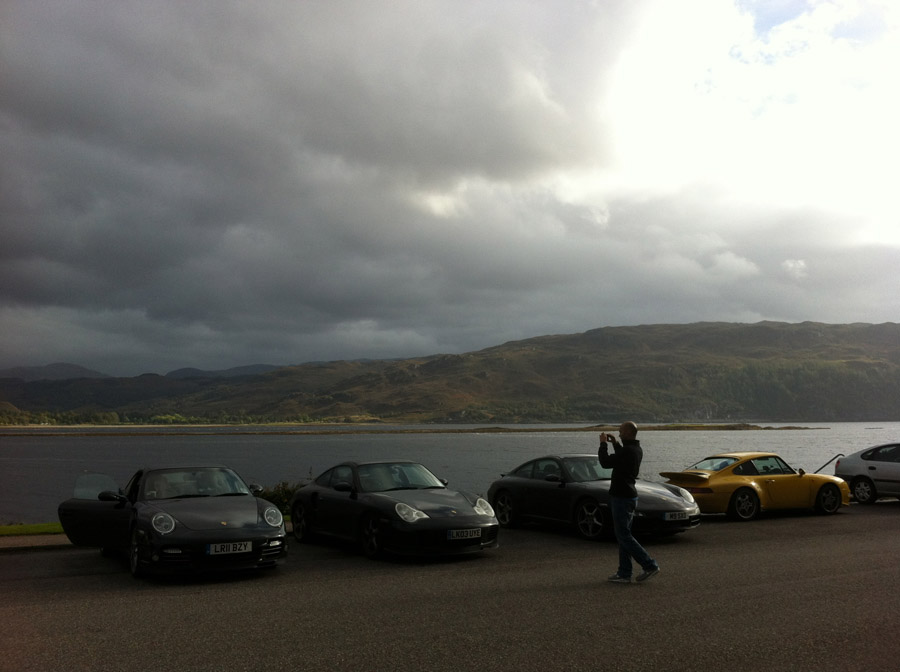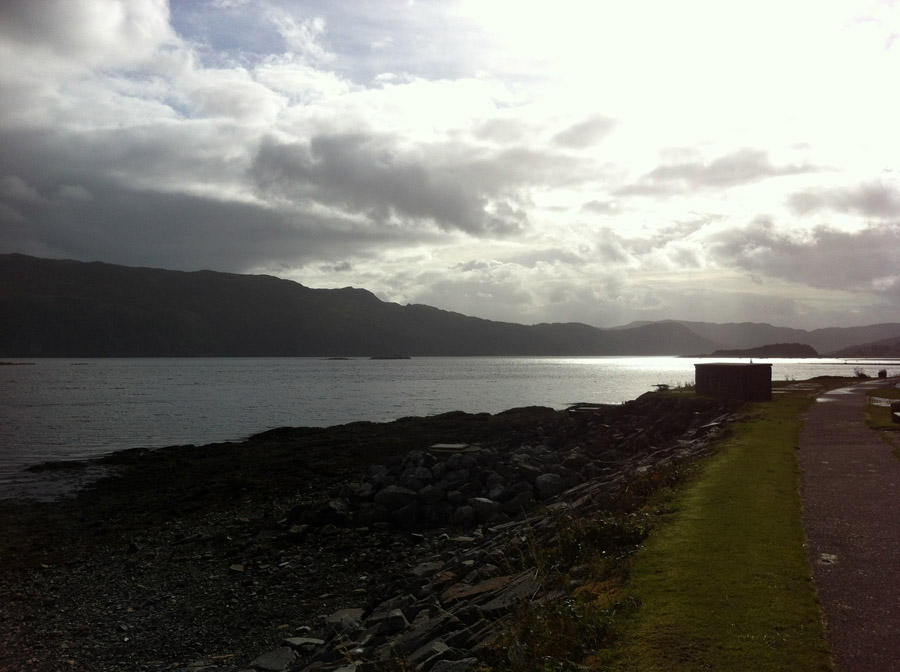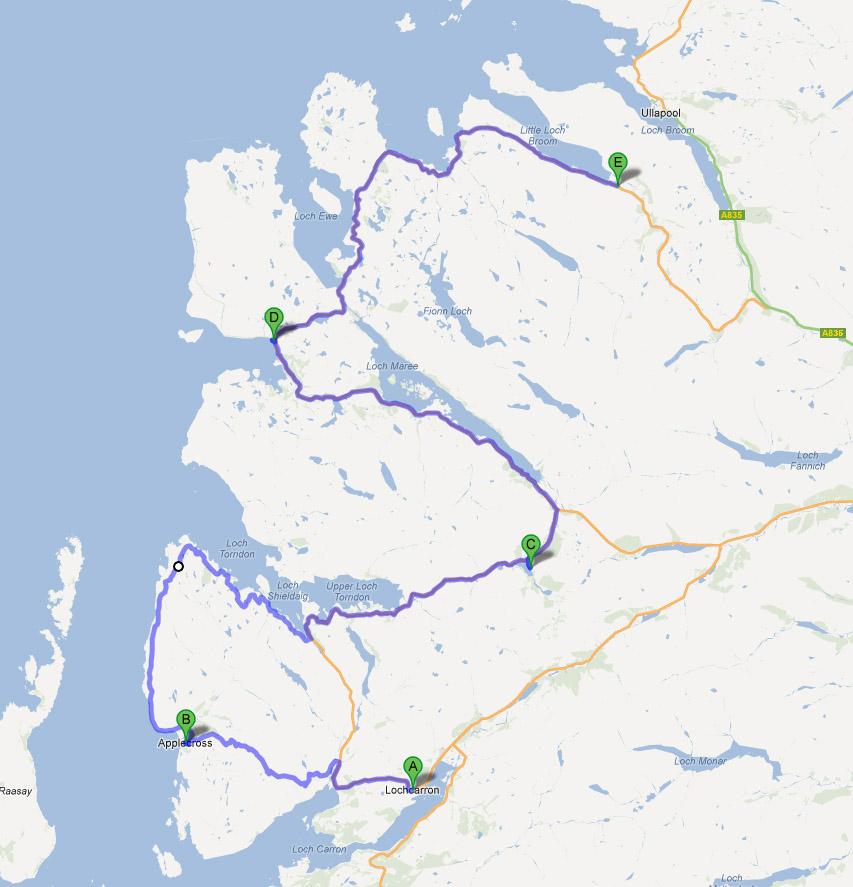 No, this was my favourite section, the star of the show no shadow of a doubt.
The applecross penninsula has to be seen to be believed. I've seen a fair bit of the british isles but this is by far the most mesmeric scenery i've ever encountered. The thing is the scale and desolation of it is unlike anything you'd expect see in the United Kingdom. It's like you have suddenely been transported to New Zealand or Pattagonia. Rounding the road past Applecross and descending down to the coastline and glancing across at all the far away islands in the sea just made me smile non stop. It was like being in Homer's Oddysey or "The Land that Time Forgot". I half expected the Kracken to pop out of the sea at any moment and eat us all alive.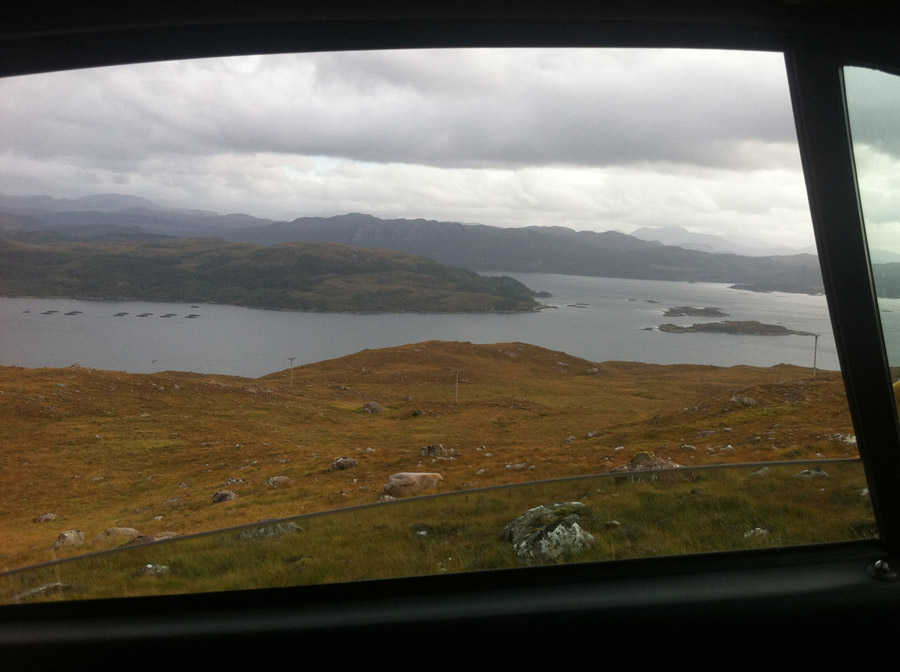 The road around the penninsula is mostly single track and very twisty but still a hell of a lot of fun in a smaller more nimble car. After point C the road is normal again and the run all the way to Dundonnell is just incredible. The section from Kinlockewe up to Loch Maree is very fast and climbing with some wonderful fast combinations. After that and past Garloch it's like you are back on the penninsula again but its a dual track road this time with endless steep drops and climbs and every bend imagineable. By the time we reached The Dundonnel hotel at E we covered over 300 very very twisty miles and it had been a very full days driving. A to E in the above map is for me, easily the very best driving route in the UK.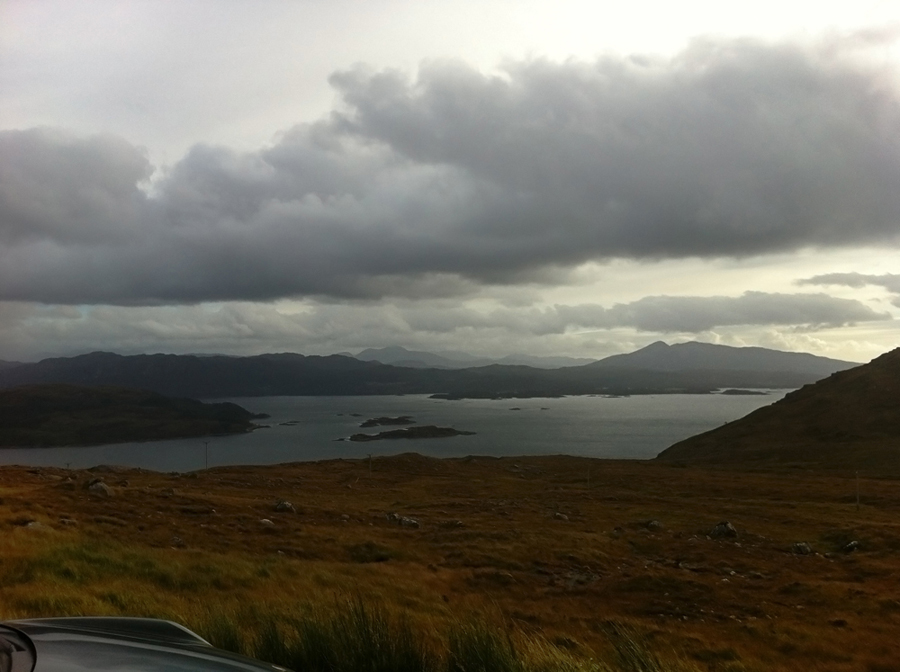 If you see one thing in scotland make sure its the applecross penninsula.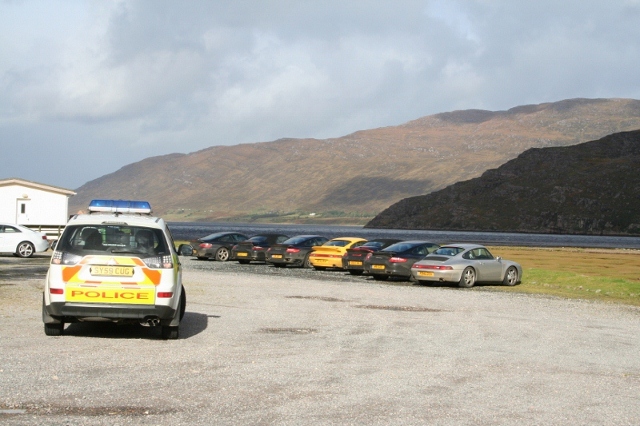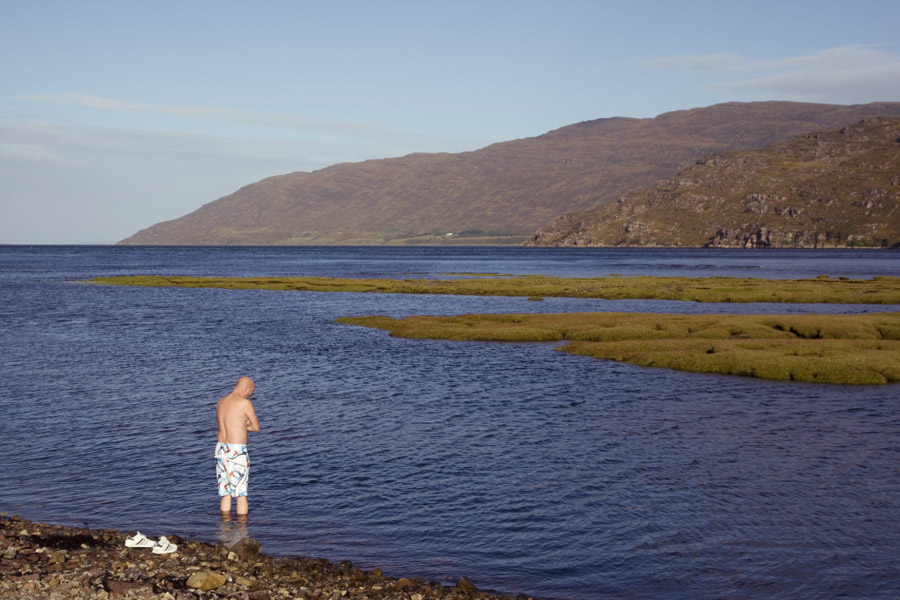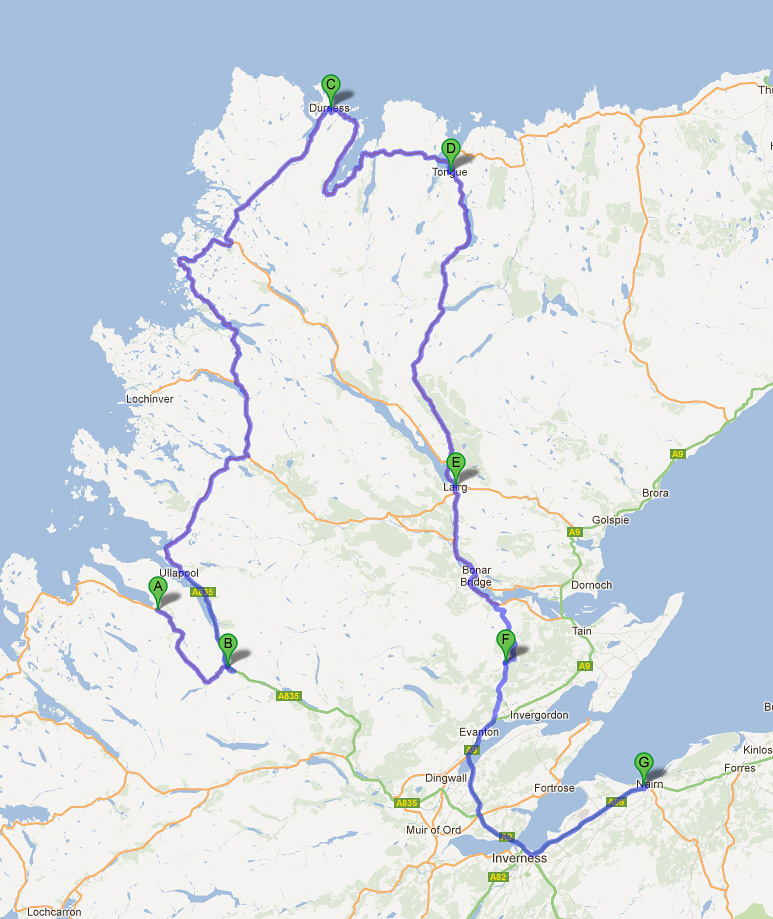 Day 3 and the action continued with more amazing roads. The run up to Durness was another highlight. Very open scenery here and some of the most amazingly wide and long vistas.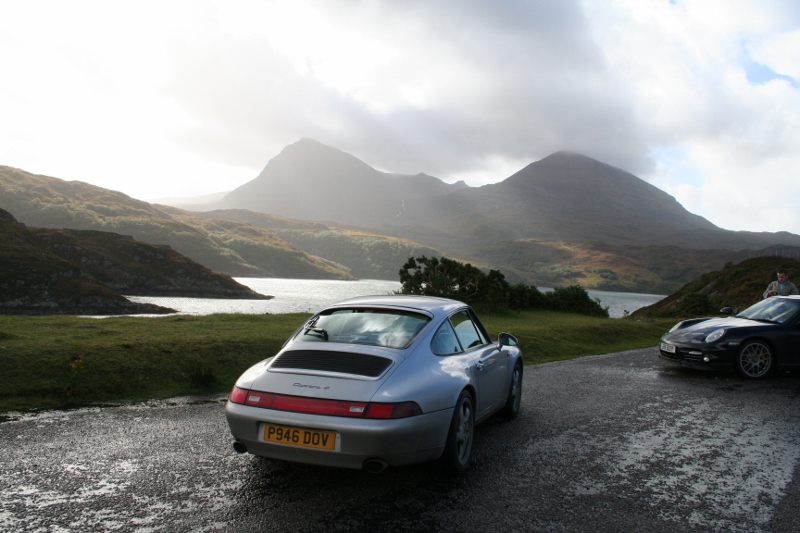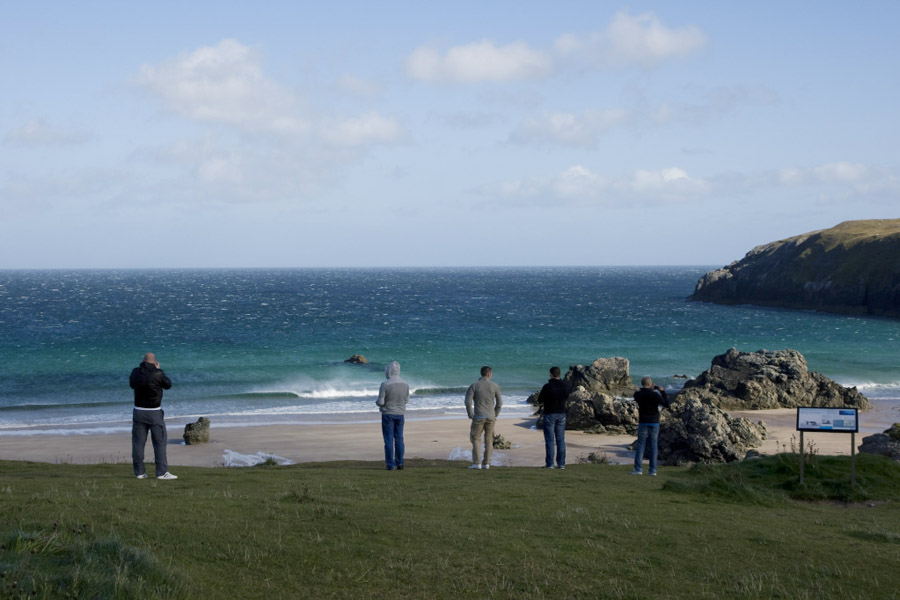 Every other corner seemed to reveal another amazing view. The beaches at Durness when we finally got to the north edge of the island were a must stop.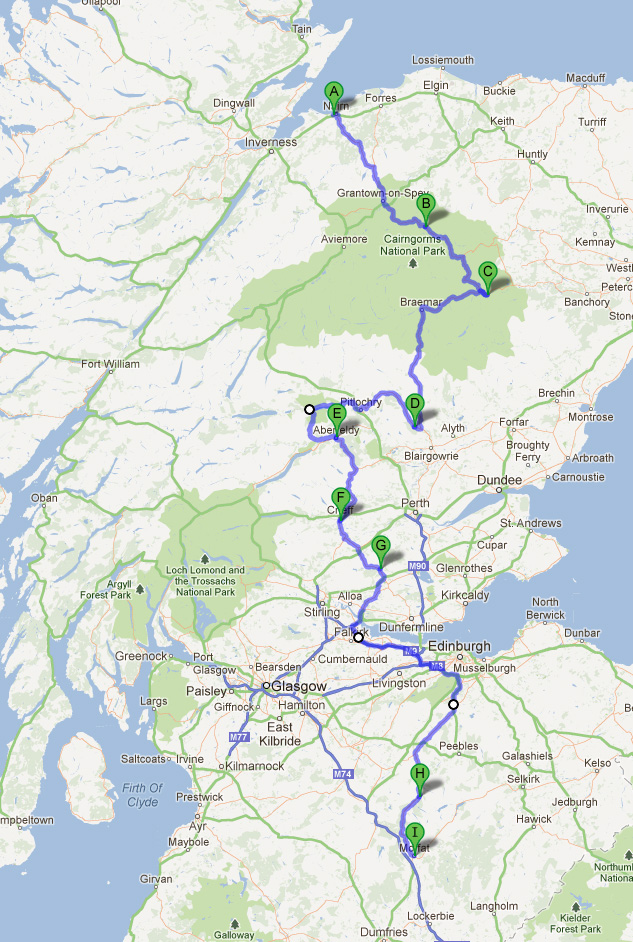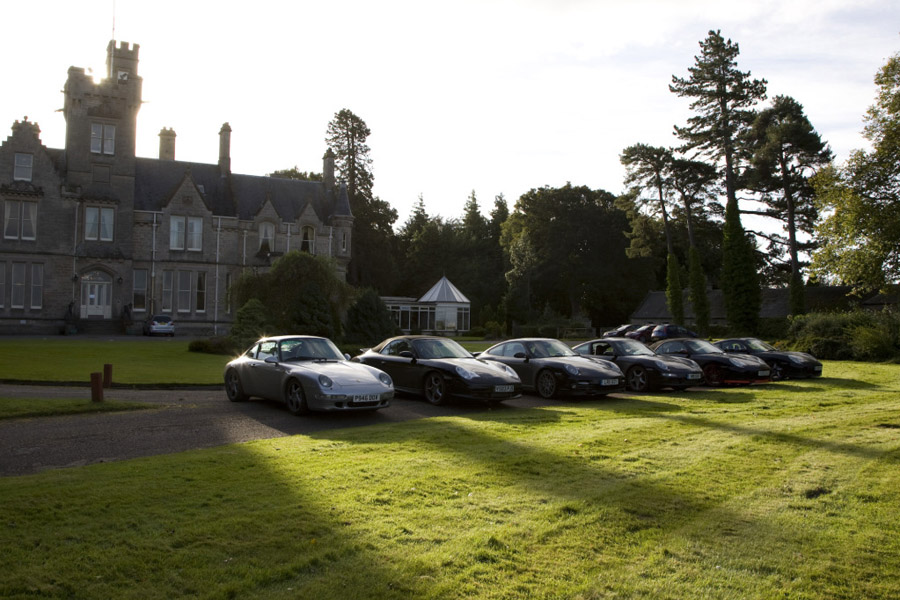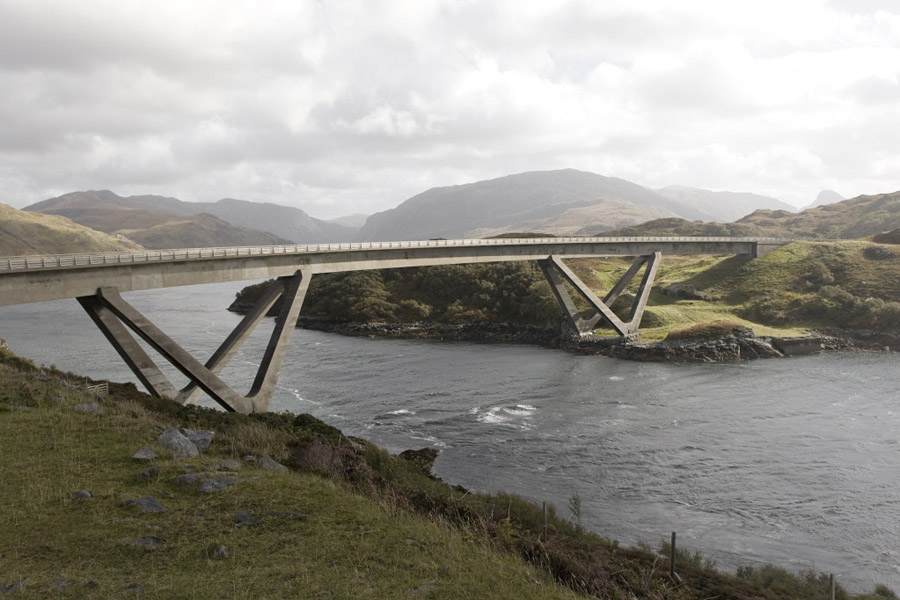 Day 4 was the underdog. Still plenty of good driving but some city and motorway stuff as well. Not a bad way to unwind thoughafter the incredible frenzy that was the last 3 days. The roads in Scotland are very different to the Alps. Just as intense and thrilling but rough and deserted and very wild and primitive in places. They can punish without warning so have your wits about you. I will definitely be going back, maybe just to do it all again in reverse. Roll on 2013 !