---

SEAT LEON 20VT
The Seat Leon Turbo. Golf chassis, Audi A3 interior, a few minor bits of trim from a skoda and that 190bhp turbocharged 1.8 from the Audi TT ...... much hyped in the magazines, high up and winner in many group tests, better than a golf, A3 and Audi TT and deemed as incredible value for the money. Is it all true ? Is the Leon really that good ? Erm........, well I bought one and owned it for around 3 months using it almost every day and in my opinion the short answer is yes. Read on to find out more.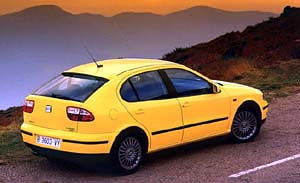 Lets deal with the driving. Same chassis as the Golf but whatever they have done to it it drives much better, exhibiting better body control and rigidity, less roll round corners and a great sense of composure. The general experience at the wheel is quite "Audi-ish" with a feeling of meatiness but not overly solid, and damping that is very comfortable but sporty in a mainstream sort of way. The ride feels well engineered and the car stiff enough to exude composure through the bends and when changing direction. It turns when you ask it to and is quite precise with no wallowing or half-heartedness.
The actual feel through the wheel is nothing to write home about though, but its no worse than an impreza and as cars go these days probably above average. In any case, its not something that spoils the car; you don't get home, toss the keys on the hallway table and think: "damm....if only the thing had more feel at the wheels." The character of this car just doesn't really demand elise levels of feedback.
Sports car, hot hatch, diesel Campavan, whatever vehicle you are talking... brakes should give plenty of reassurance and confidence with progression and feel, but so often don't. Sadly the Leon is no exception and its one of the few criticisms I have to make. Whilst they do a half decent job of actually stopping the car they are way too switch-like to provide any real driver satisfaction. Also, the car does pitch forward a bit too much for my liking but given the ride quality its a reasonably small penalty to pay.
Gearchange feels good but it's not inherently sportslike and can't be hurried. And as for the power delivery, well the car always feels on the boil with good gearing. Acceleration is ample for all you will realistically ever need on todays roads and is also probably all you'll ever want from a car of this nature unless you're a proper die-hard petrolhead. There's no real engine note and no orgasmic satisfaction from buzzing up through the gears hard on the gas but then, a bit like the steering, in the context of the car that's absolutely fine.
Along the back lanes the Leon is very secure with good grip and excellent resolving of the road surface. You can keep a pretty slick pace up and it feels great but the trick is not to hurry the car and try and drive it all fizz-bang like a hyperactive ferret. Sit back, lengthen time out a little, plan ahead and smooth out your driving and then the Leon feels at home. Okay, so we are not in caterham+Broad grin levels here but if you owed one of these Seats I reckon it's fun enough to get you out of bed on the odd sunday morning to take it out for a brisk charge down to the coast and back. Thing is, most of the time though the car will be performing the functions that you bought it for, and carrying them out most admirably.
As a general mode of transport, whether to the local shops or 1000 miles deep into Europe, its very very hard to fault and difficult not to be hugely impressed given the price. The power in 5th on Motorways is plentiful and with a 6th gear the car is happy to sit back and devour hundreds of miles at a time, always feeling very stable and not putting any unecessary strain on its occupants. The boot has good space and the interior is virtually the same quality as an Audi and generally a very pleasant place to be. The spec on the base car is very generous with climate control, electric everything, airbags everywhere and very pleasing orange/red dials at nightime. One thing that does get a big special mention is the sound system. Whatever they put behind all those panels, it eclipses any custom car stereo system I ever built; it sounds pretty awesome and it goes very very loud should you be that way inclined.
So really the Leon is not a hot hatch. Its a hatch of course but not in the mould of the original Golf & Pug GTi. If you want a small & cheap pocket rocket that delivers huge thrills and large driver involvement that can begin to rival the sorts of sensory treats you can get from the likes of a Lotus, a Porsche, a Ferrari, a Japanese turbocharged 4wd monster, then look elsewhere; 172, Civic Type R sort of territory. No the Leon is for a start a fair bit larger but also sedated back from the design premise of something like the Clio 172. Every corner has been rounded, every sensation slightly softened and a little more focus has been applied elsewhere to the rest of the car. What you end up with is something that is actually a bit more mature and accomplished.
List price is around 15k but discount should see that drop to at least 14 (mine cost me 13.5k). For an all round car - perhaps the only household car - that can perform all functions from Sainsburys to long distance touring and even the odd trackday there is little to touch it (skoda octavia worth a look I suspect though). A base new age impreza is far more expensive and in my view way too laggy and recalcitrant to drive, an Audi A3 turbo is even more overpriced for what you actually get so the only near comparison is the Golf GTi turbo. But if you can go with the Spanish badge, the Leon is just as practical, just as well built but way quicker, a better drive and many thousand of pounds cheaper, especially after you've specced the Golf with ac and the sports suspension !
At the time of writing the 210bhp Leon Cupra R has been launched here in the UK and at only 17k list, uprated brakes, suspension, exhaust, tasteful body kit and decent power increase, it too looks good value. A Civic type R with ac comes out at the same price..... tough decision if you ask me.