Highlands run in the UP! GTi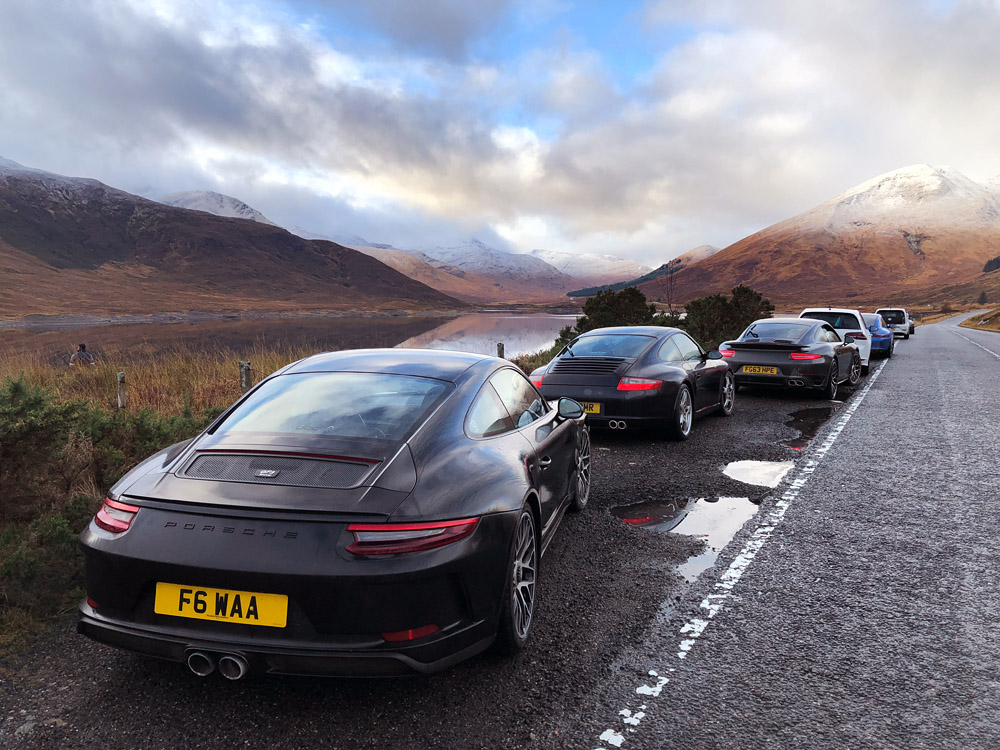 November 2018 we went for a 4 night run to the North Coast 500. A real nice mix of cars ... 991 Touring, Ferrari FF, Golf R, 991 Turbo S, 996 Targa, 997 "Hartech" hotrod and an aircooled 993 Targa. I took my UP! Gti and was really keen to find out exactly how good or bad it would be on a proper roadtrip.
There's not a great deal to say about the tour itself as we've done the Highlands many times before so I will just caption some of the pictures. It's not the best driving, it's a long way away for Southerners and in the evenings it's isolated and dark very early. The scenery just about makes it all worth it though even if the delightful M6 does it's best to reverse that opinion on the return leg back to London.
The UP! turned out to be a lot of fun. Not only did it manage the 9 hour drive up there perfectly well, but it covered the wet and damp ground equally as well too. The UP! really is a playful little puppy dog. It wants to get up and go and is always urging you on. Believe it or not I actually led the tour for most of the time and apart from a few isolated occasions, no one ever really felt they needed to go by me to travel at a faster pace. The UP when driven with some commitment and momentum maintains a pretty good pace and it's a lot of fun extracting that potential from it and working hard for the performance you need when a 991 Turbo is breathing down your neck !
Asa for the chassis it really does bounce and move around so much and from another car it's simply a hilarious thing to watch, like a little square tetrapack that somehow doesn't really belong in a mix of some of the world's finest Porsches. I would still really like to do a dry roadtrip in the UP! and really push it a bit harder. Perhaps I will take it into Europe in 2019. One thing is for sure, I think it will be staying in the fleet for quite some time. It's a car I just love using day to day and it's always a joy to get in scoot away in.
On this tour I got to drive the 991 Turbo S for a good amount of miles. I've driven the cab before but never the hard top. Not th ebest car for single track Applecross perhaps but as a GT type sports car I felt it was an amazing bit of kit. The drivetrain, damping and balance are not at the level of a 488 but then it's half the money ! If I needed a go-to continent crusher then it would be a serious contender.
The other car i drove was Ben's hot rodded 997. This has some very expensive engine and handling mods, more money than the actual base car I think. The handling needs some work for road use but the Hartech motor on this car was simply stunning. Incredible throttle repsonse, lots of torque and power, superb for heel and toeing and overall just a really playful fun car that moves around alot and needs some serious proper driving. If I was getting another older 911 again this is probably where my money would go as opposed to an aircooled or 996. A true drivers car through and through. Got a bit carried away in it truth be told, I just found it so engaging.
One member of our group (who ows a huge collection of cars including all the supercars and best Lotuses/TVR's/911's etc.) also drove my UP! and he absolutely loved it to bits and drove it really hard from the first few hundred yards. It was great for me that someone with so much experience in such a wide range of the very best ever drivers cars gave the little VW so much praise. He found it so feelsome and playful.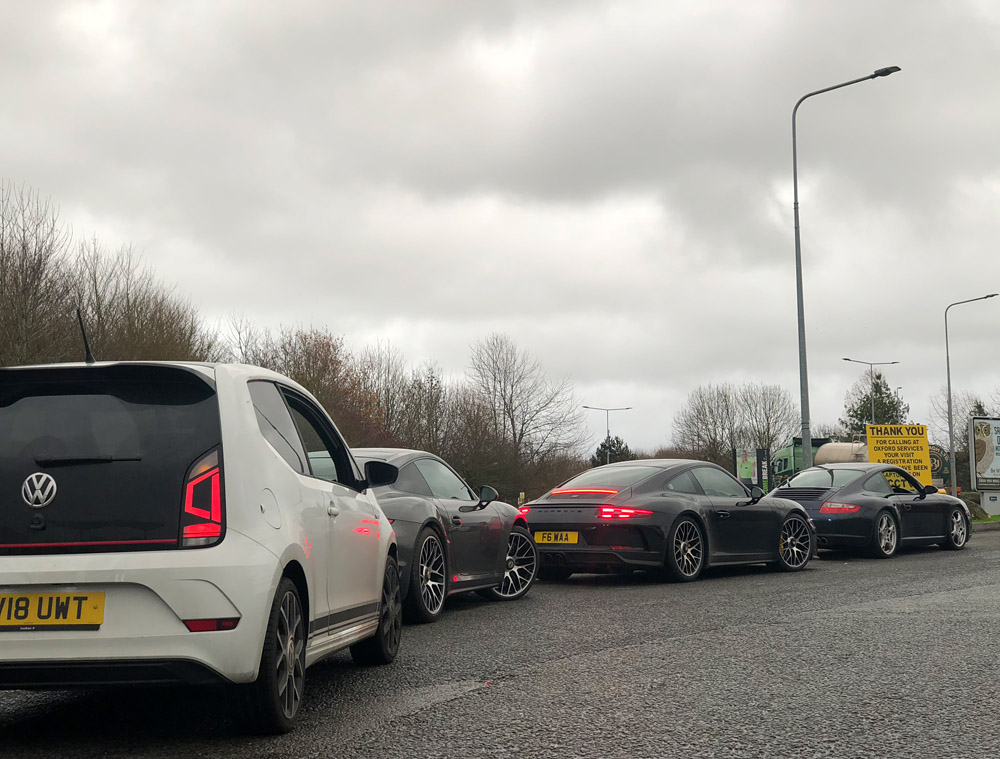 Early morning meet at Oxford services.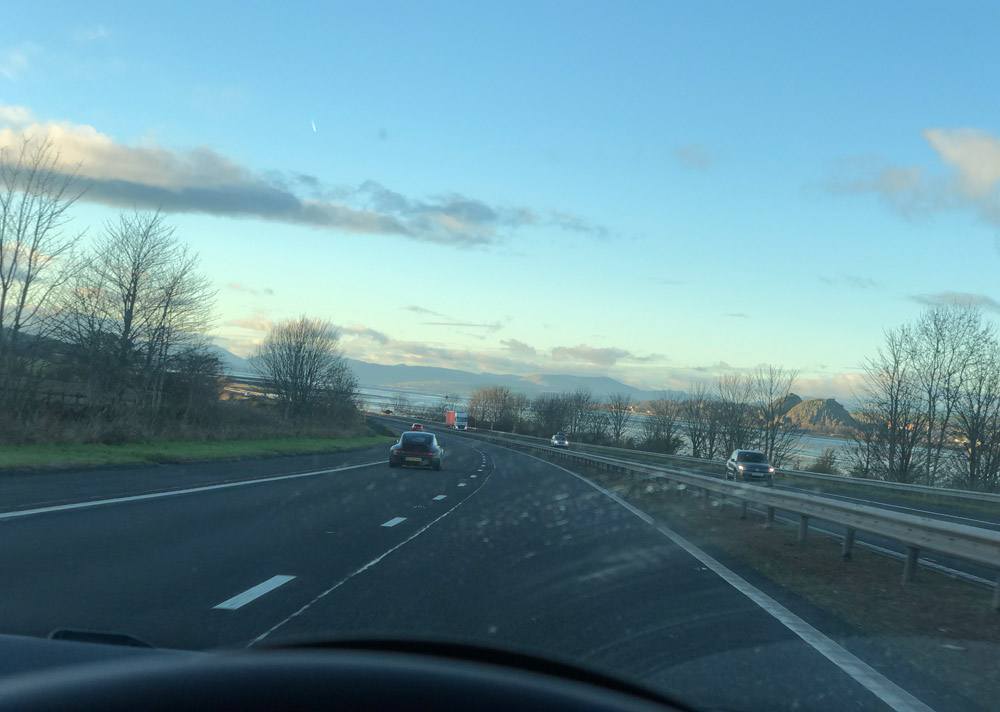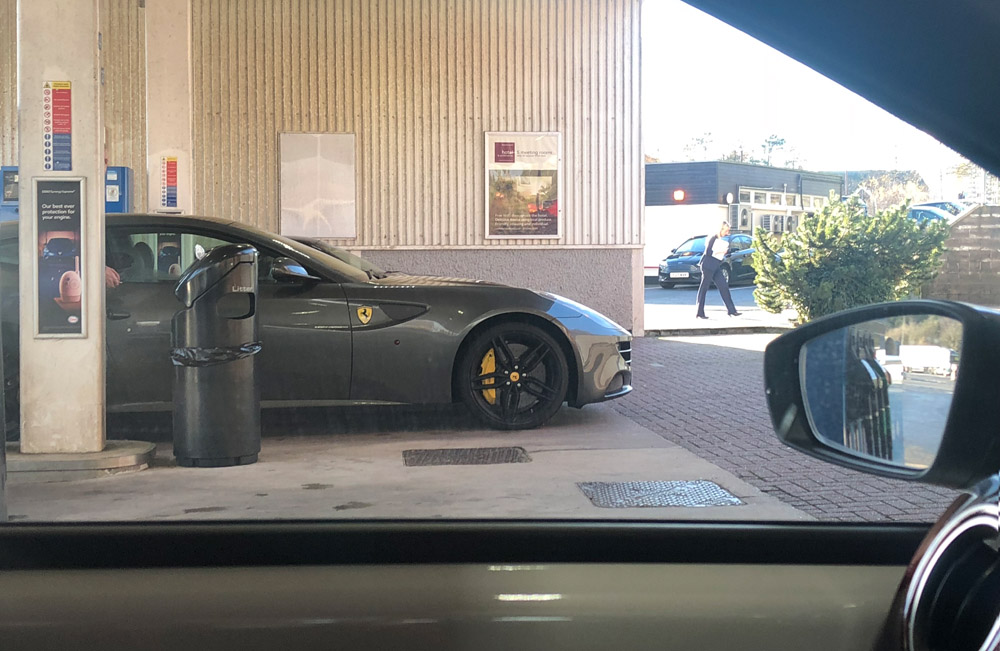 Heading for Lunch at Tarbey services just short of Carlisle. We'd done 4.5 hours at this point with the same again to go for our first hotel !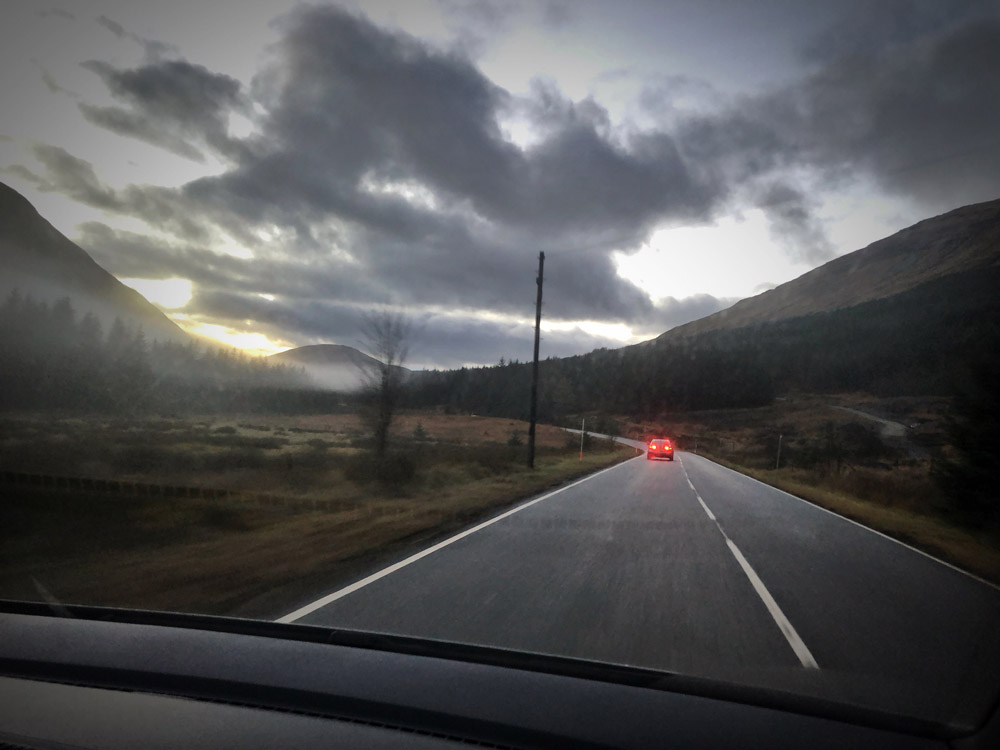 The home run to Oban. Misty and Tolkeinesque.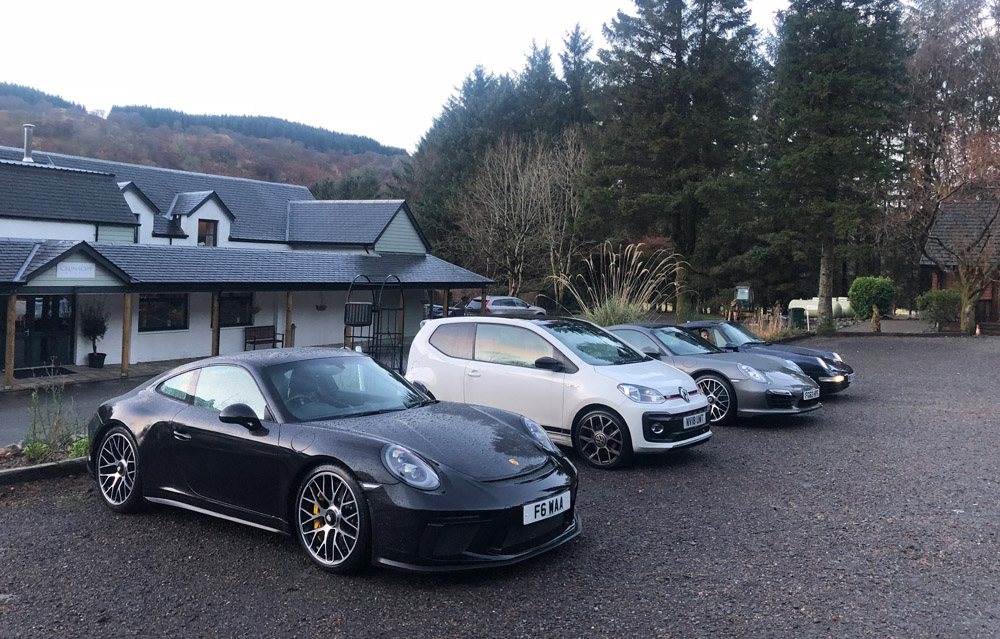 Whetever this hotel is, I don't recommend it.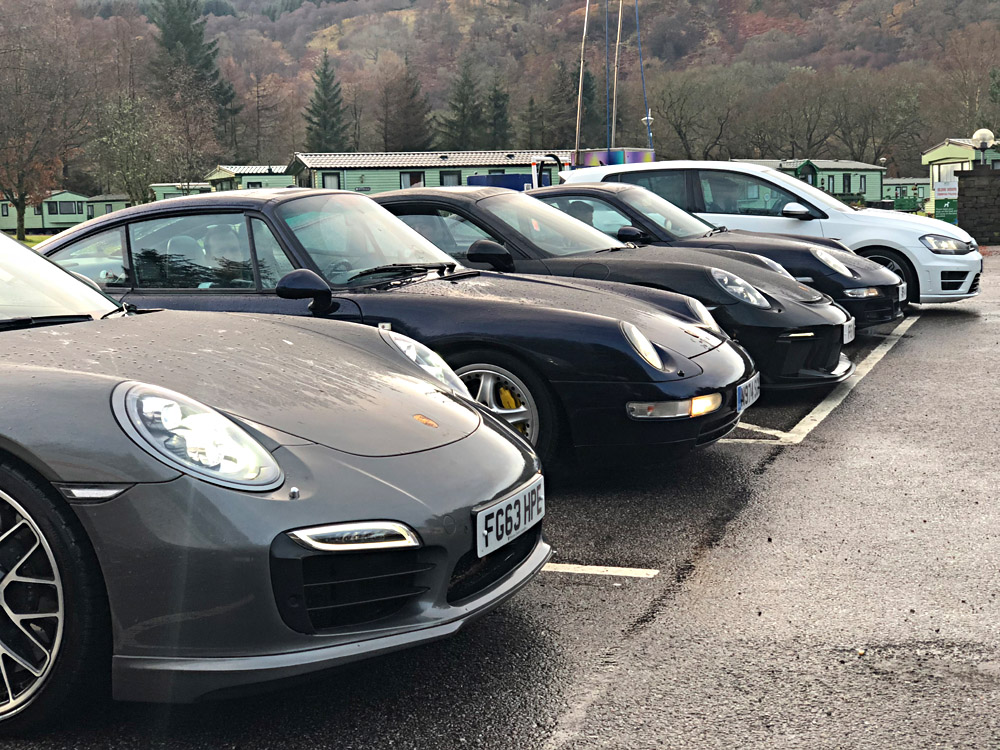 Heading out on day 1 from Bridge of Awe.
Rally point on the A87 looking southwest over Loch Garry.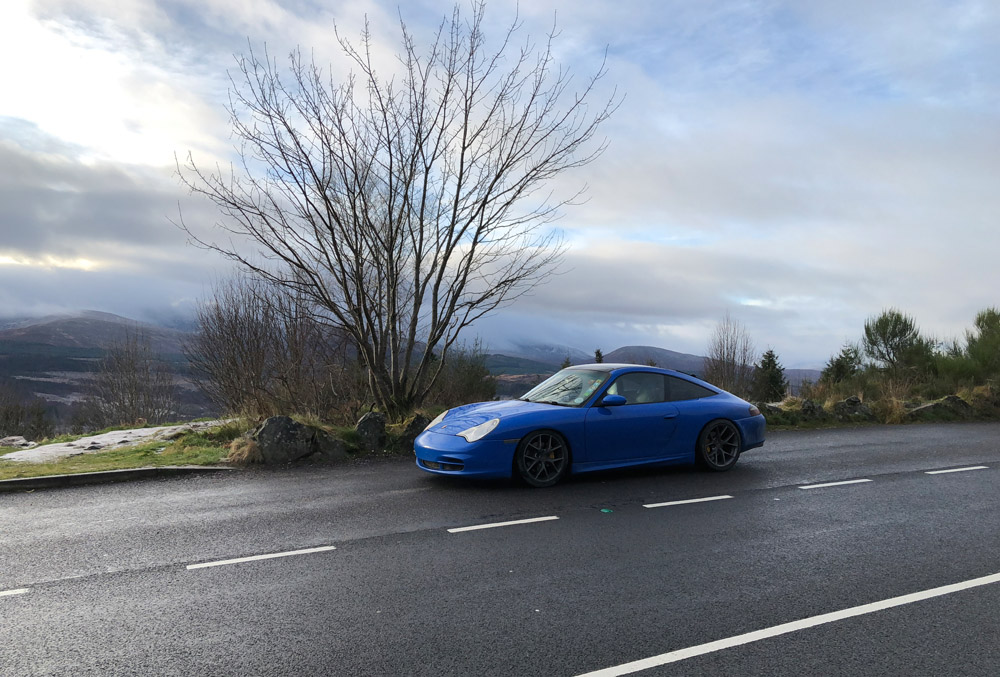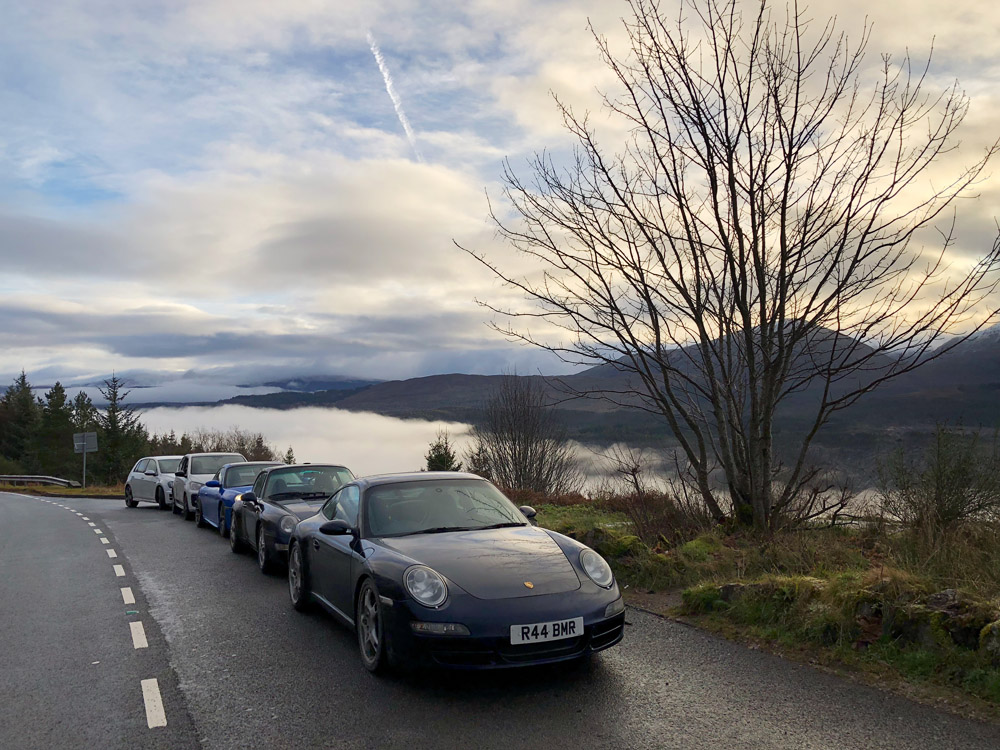 Regrouping.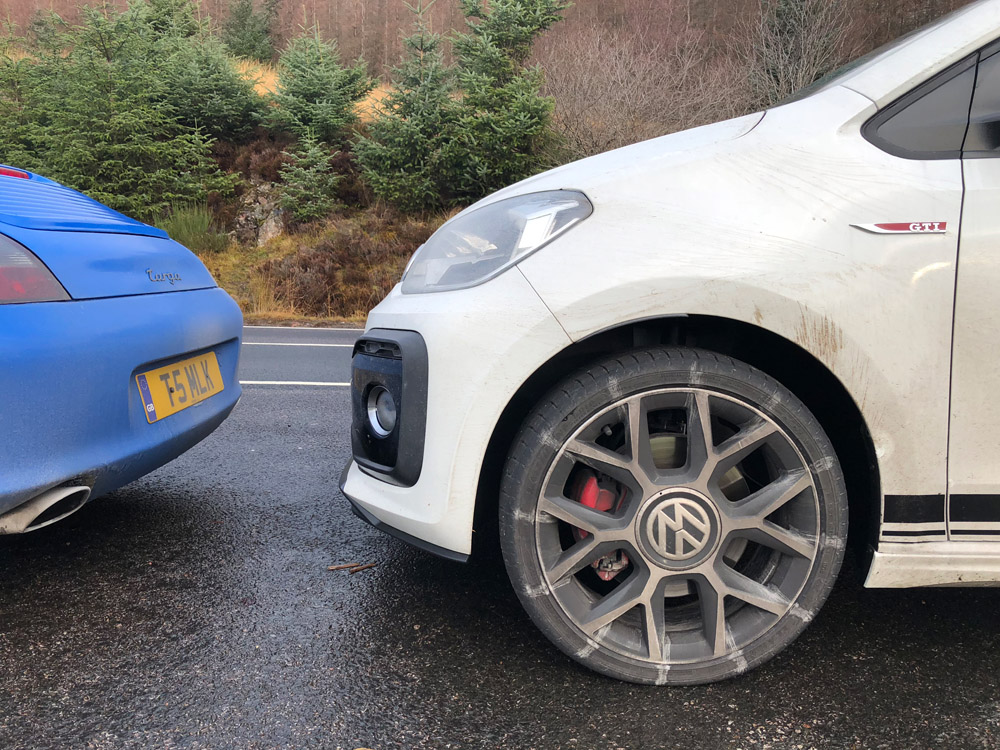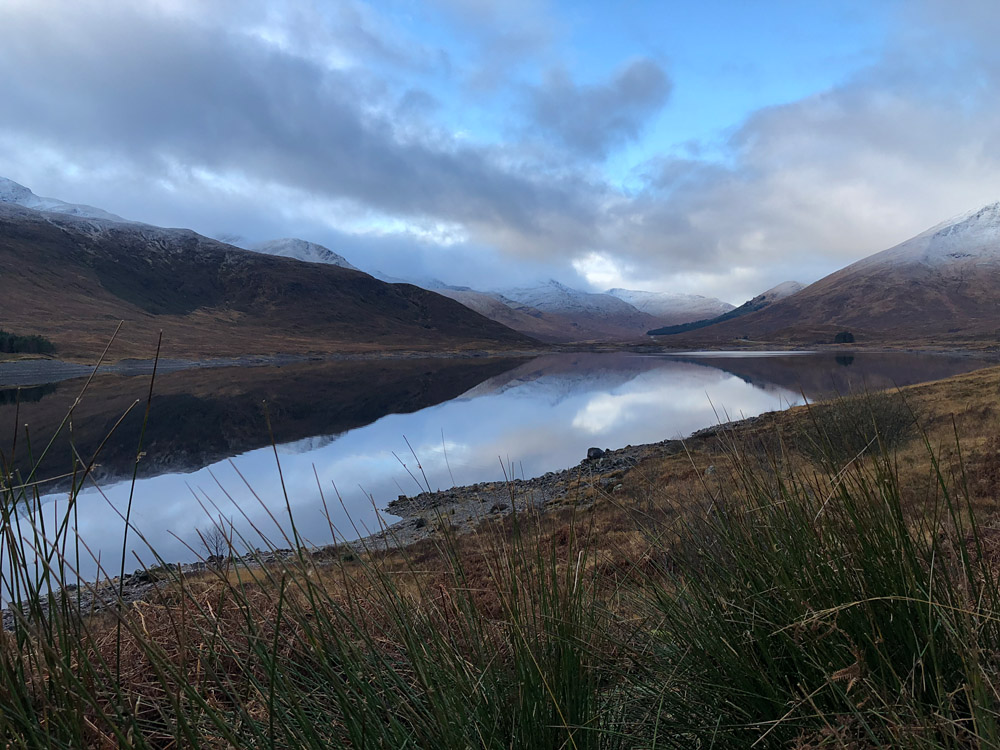 Loch Cluanie still on the A87.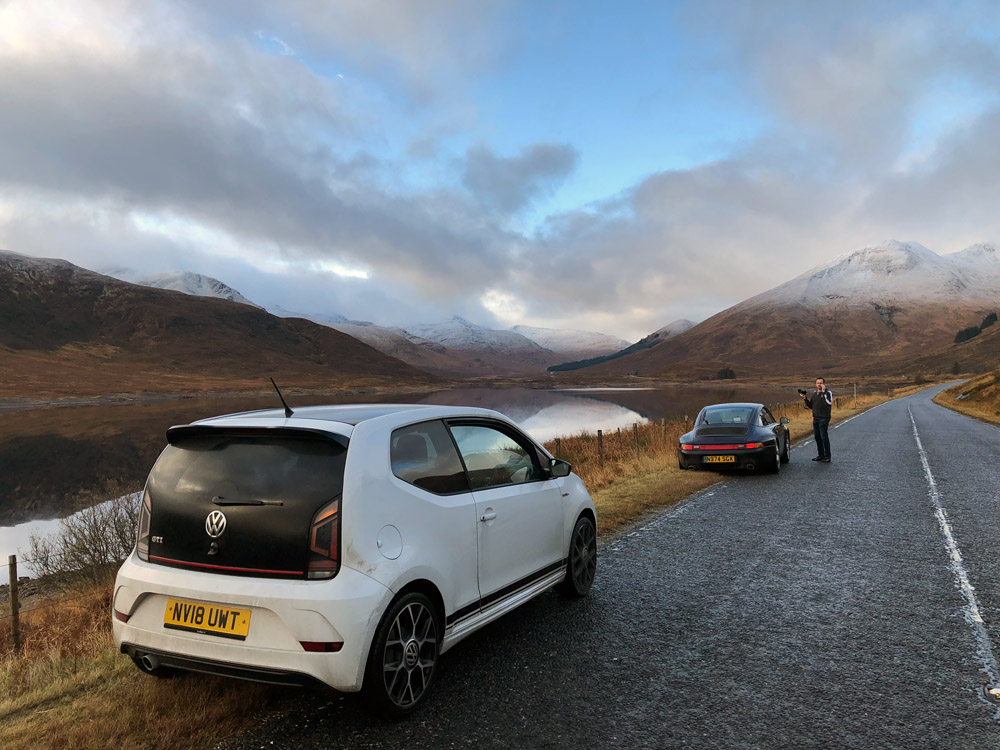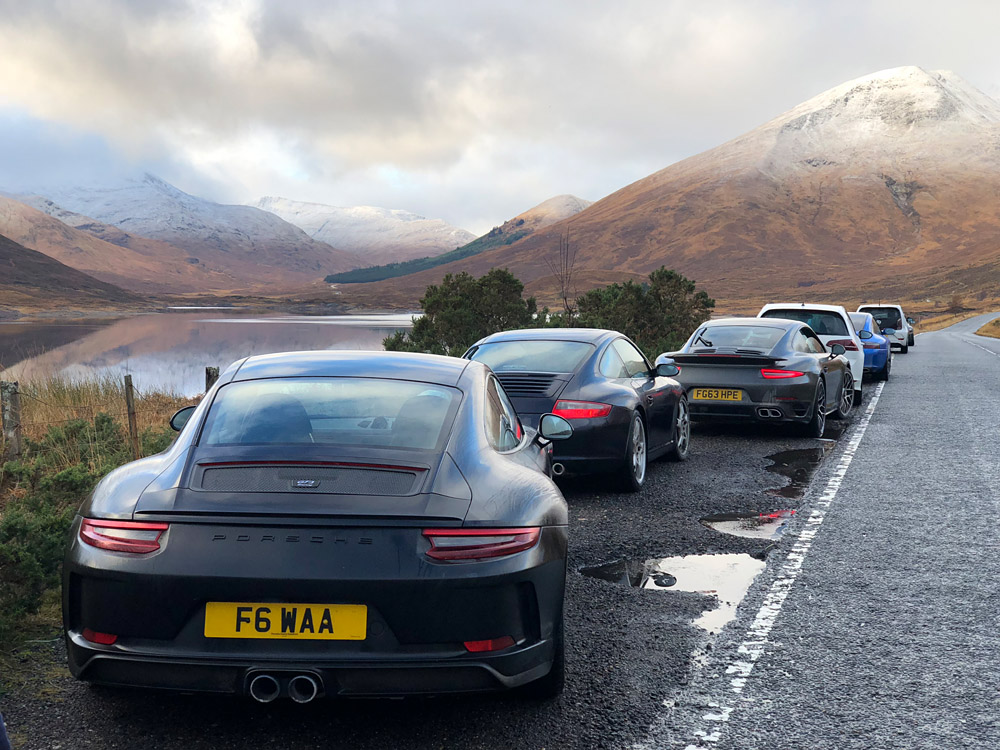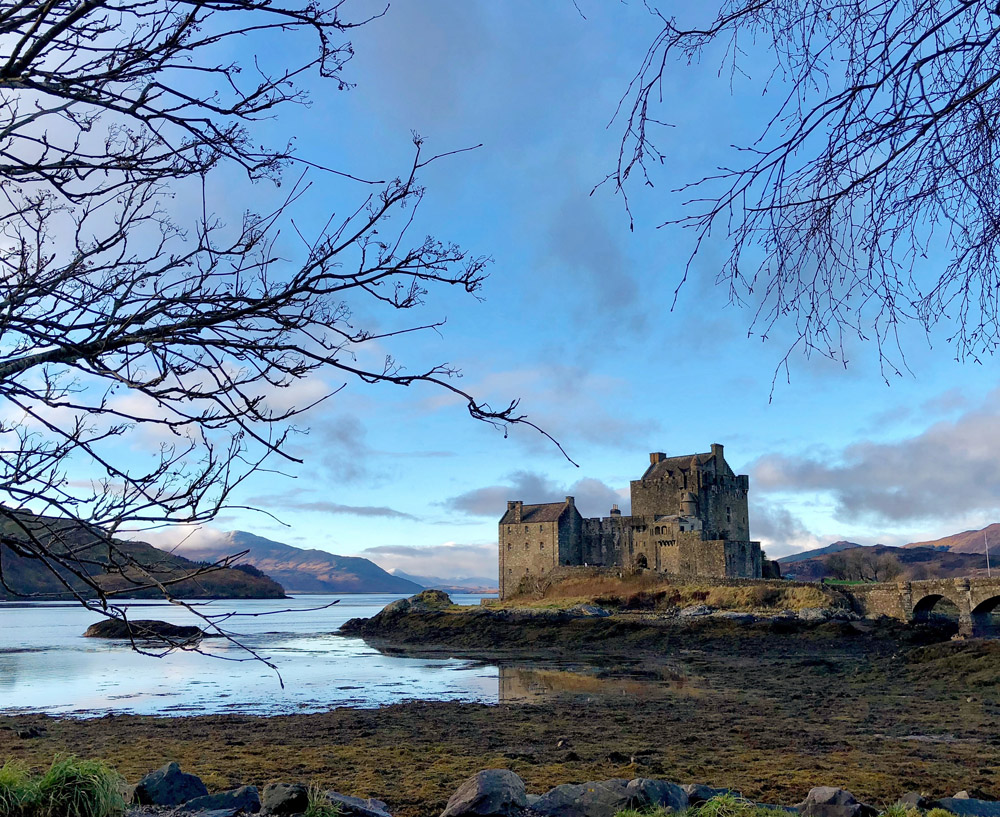 Eilean Dolean castle. Coffee stop.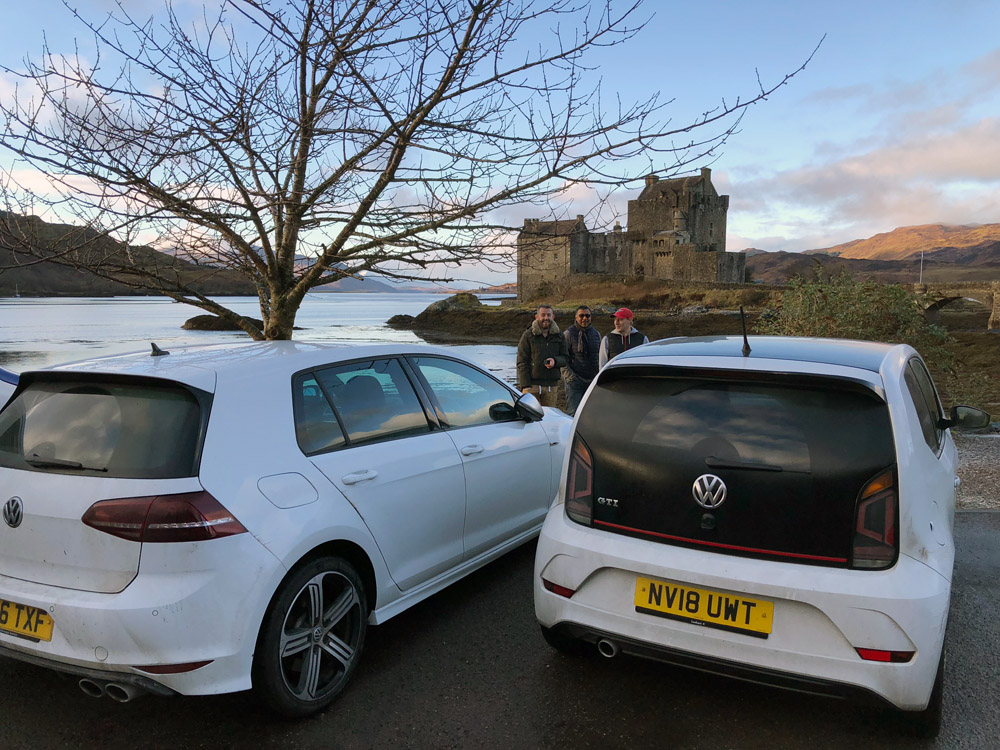 Mates, on tour, taking the piss. The best memories.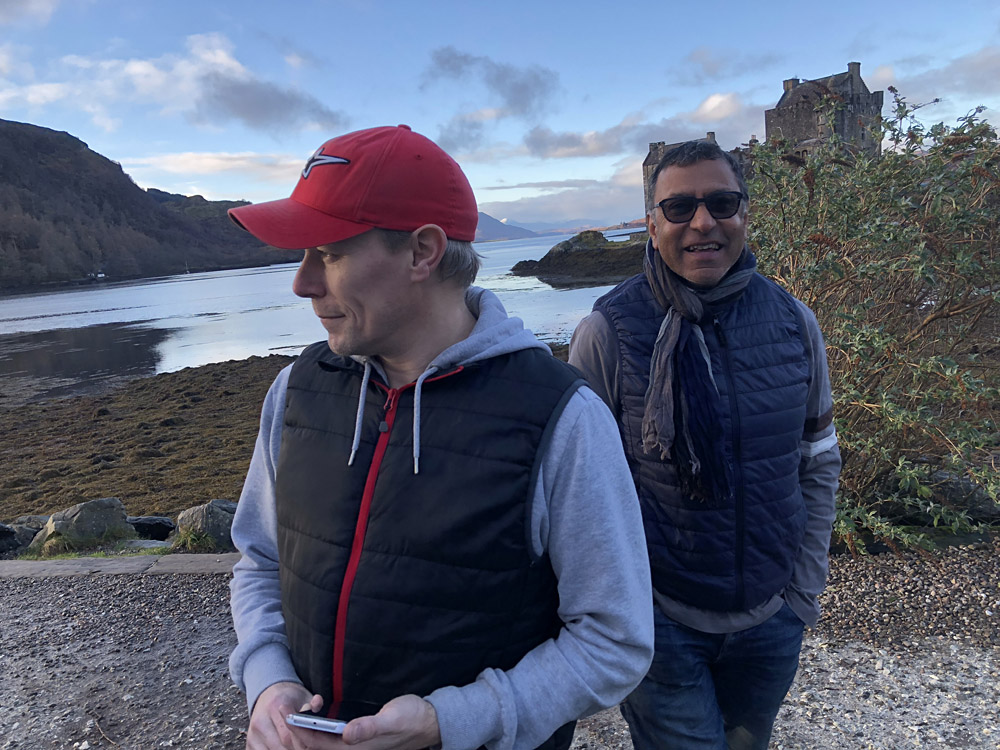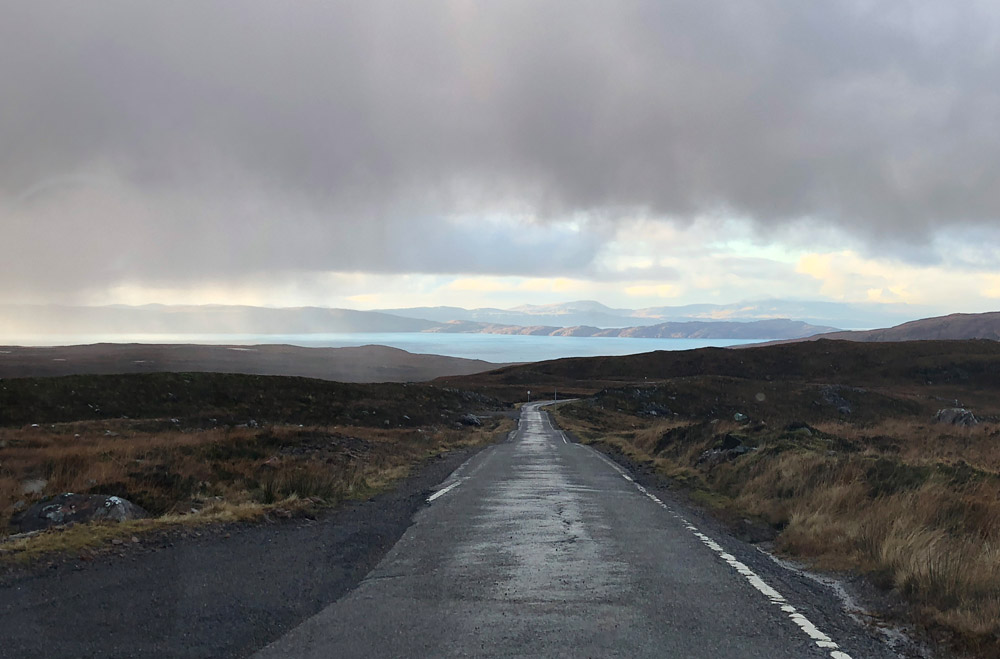 The mystical, mindboggling Applecross.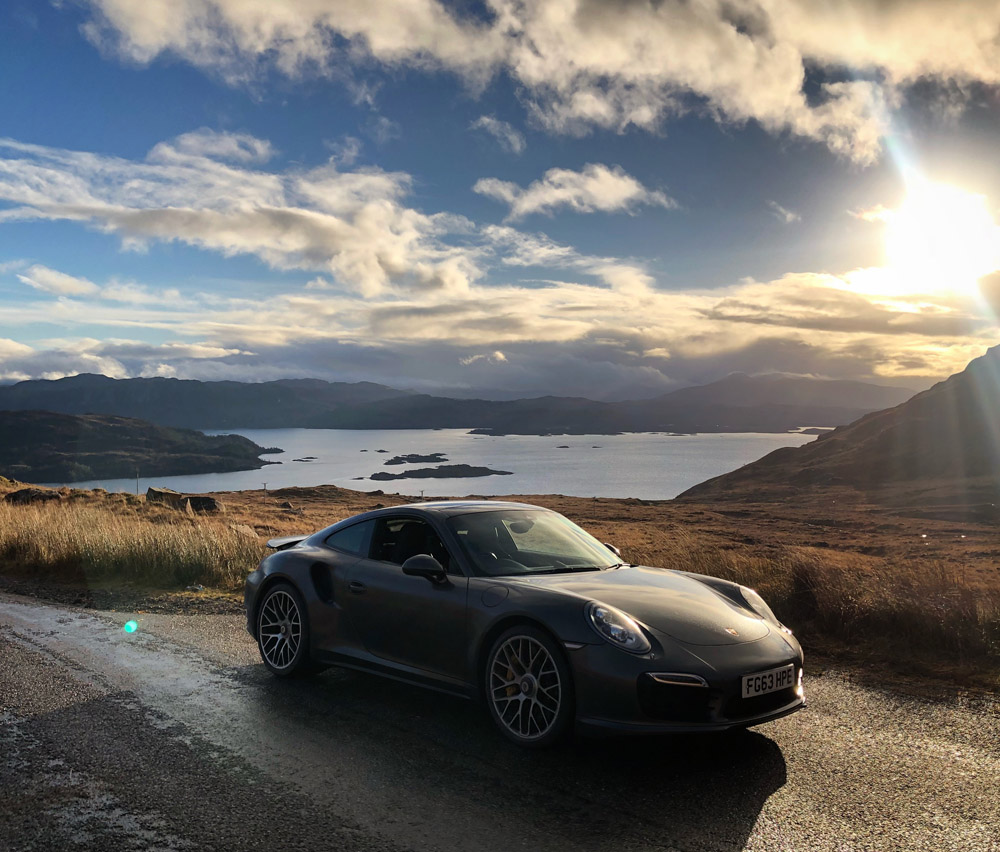 Had a great run in the 991 Turbo S. First time i'd driven the coupe. An amazing machine.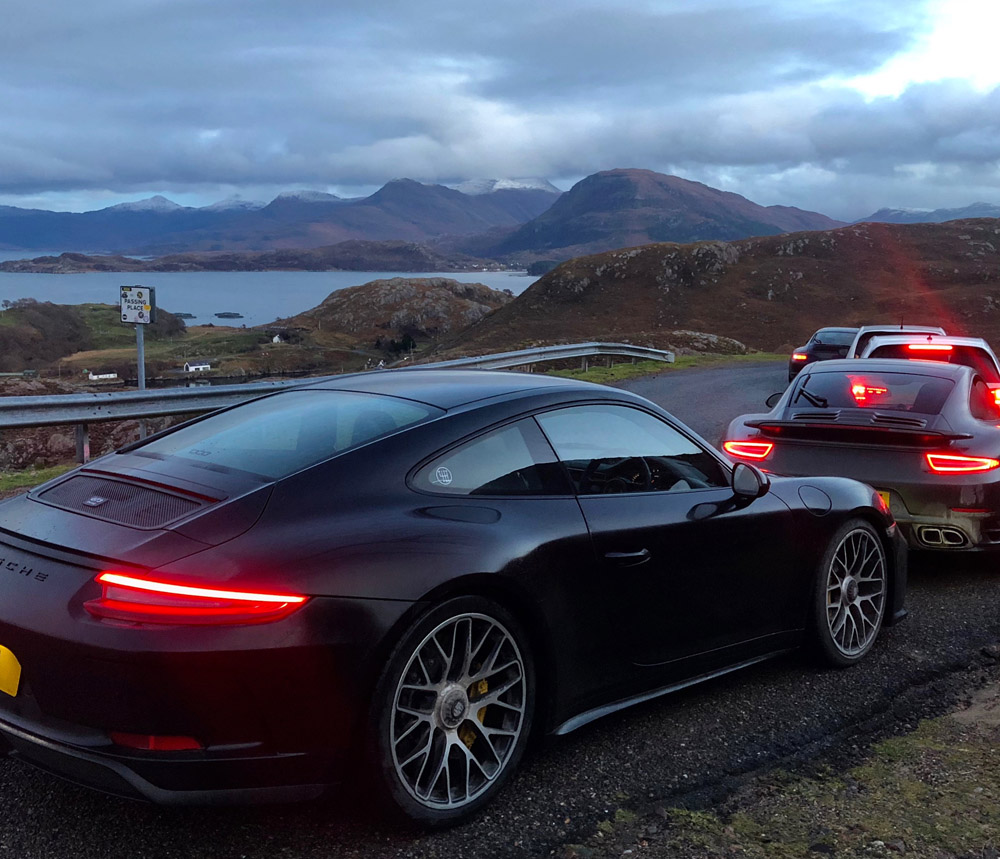 Such a pretty car the Touring. On winters here.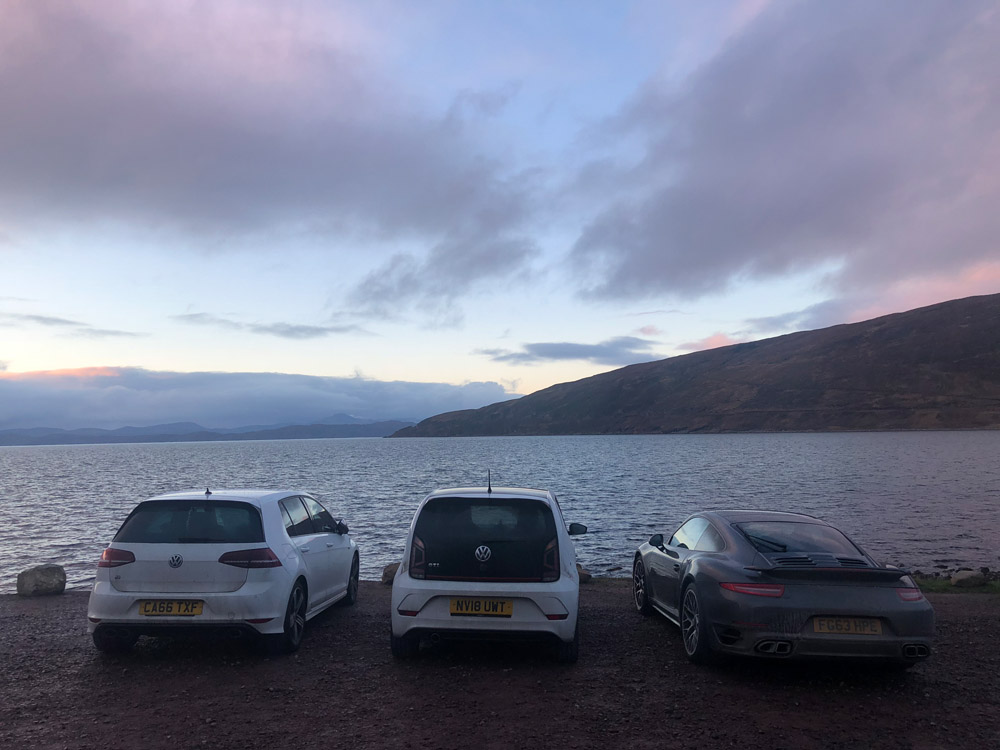 Lunch on the Applecross peninsula.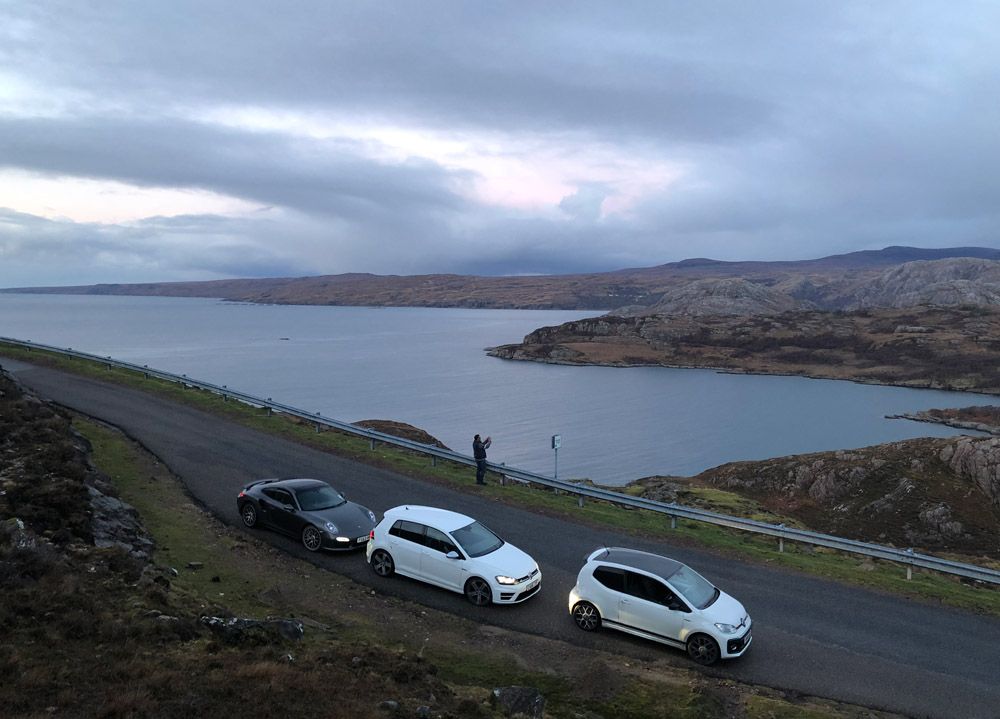 Ardheslaig photo stop.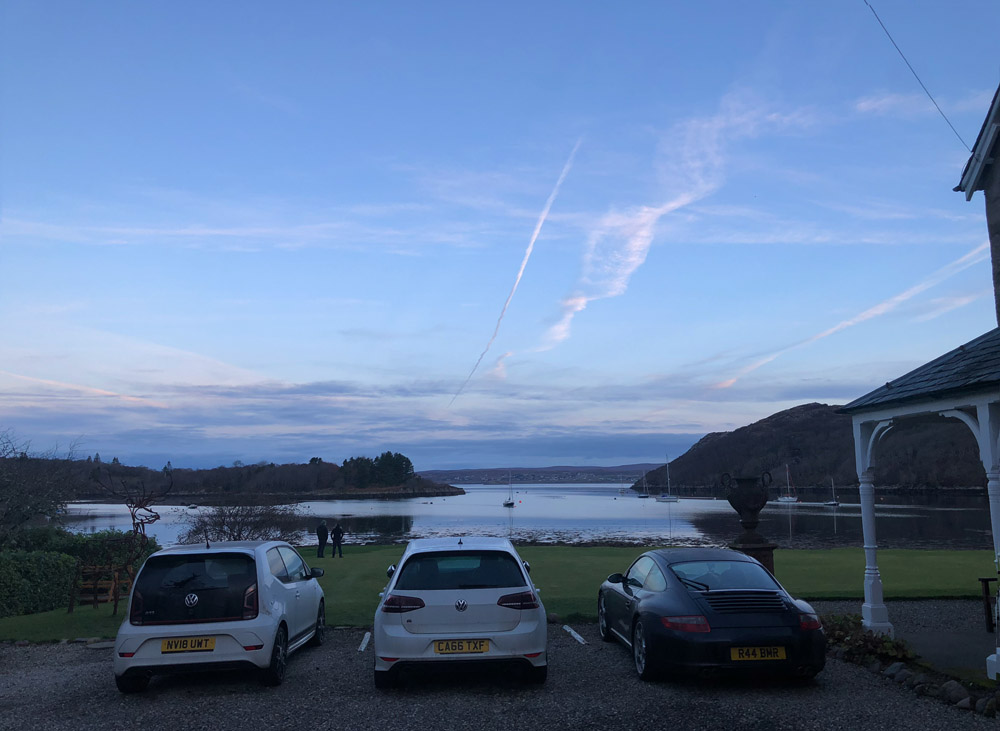 Arrival at the Sheildaig lodge hotel.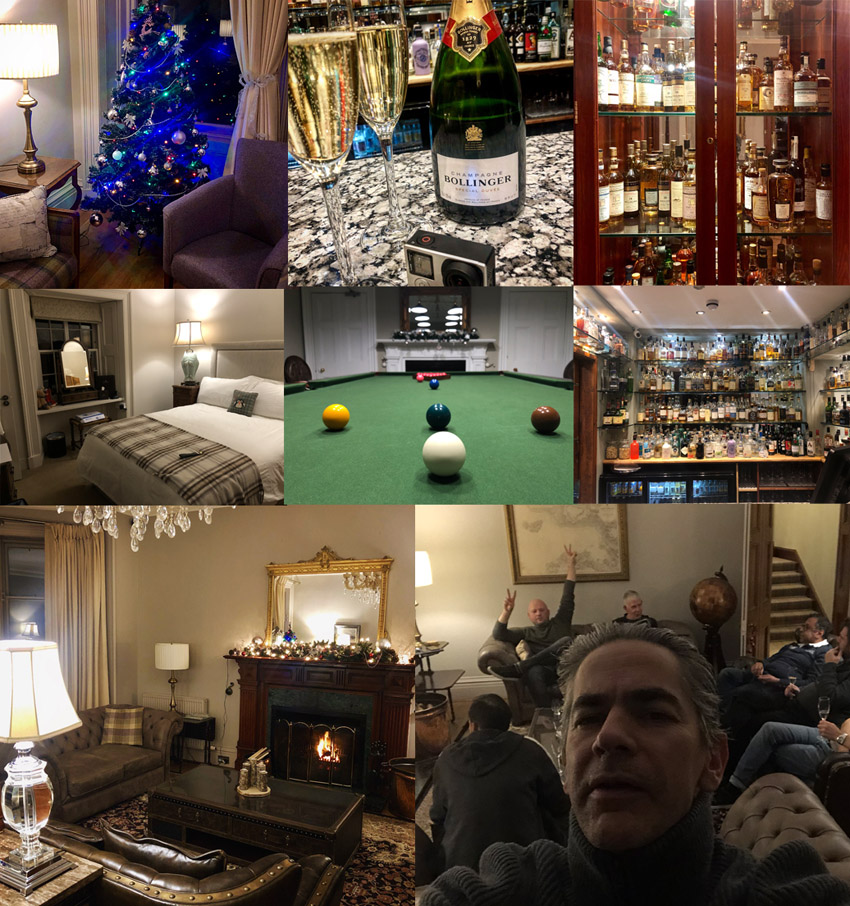 Champagne, whiskey, open fires, the hotel tasting menu and of course drunken snooker competitions.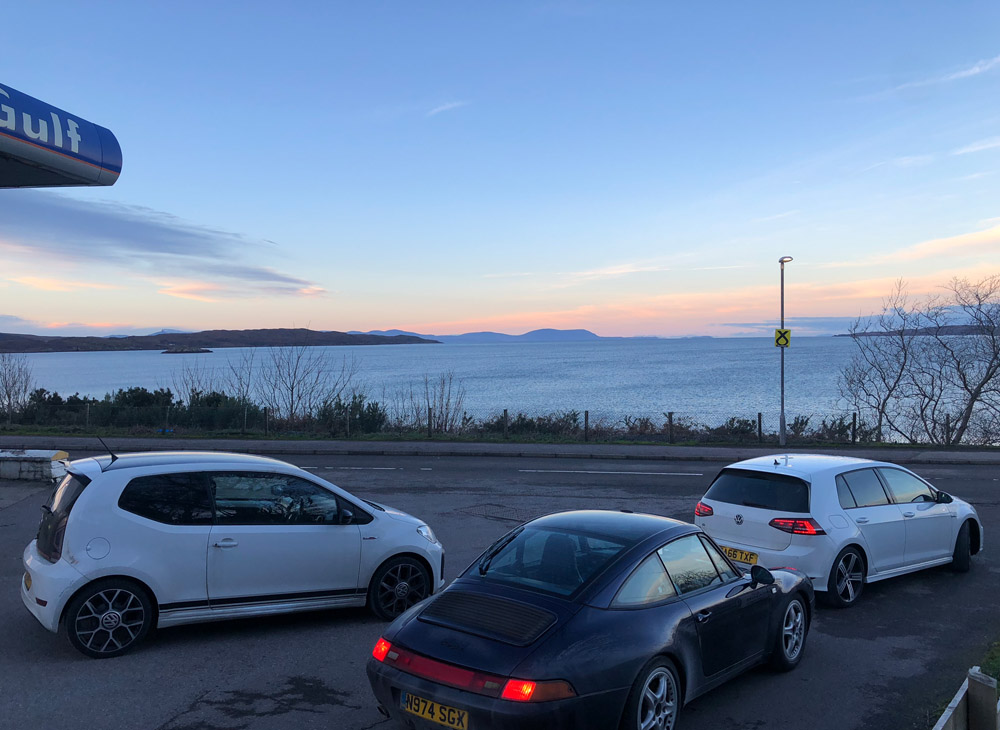 Next day. Filling up in Gairloch.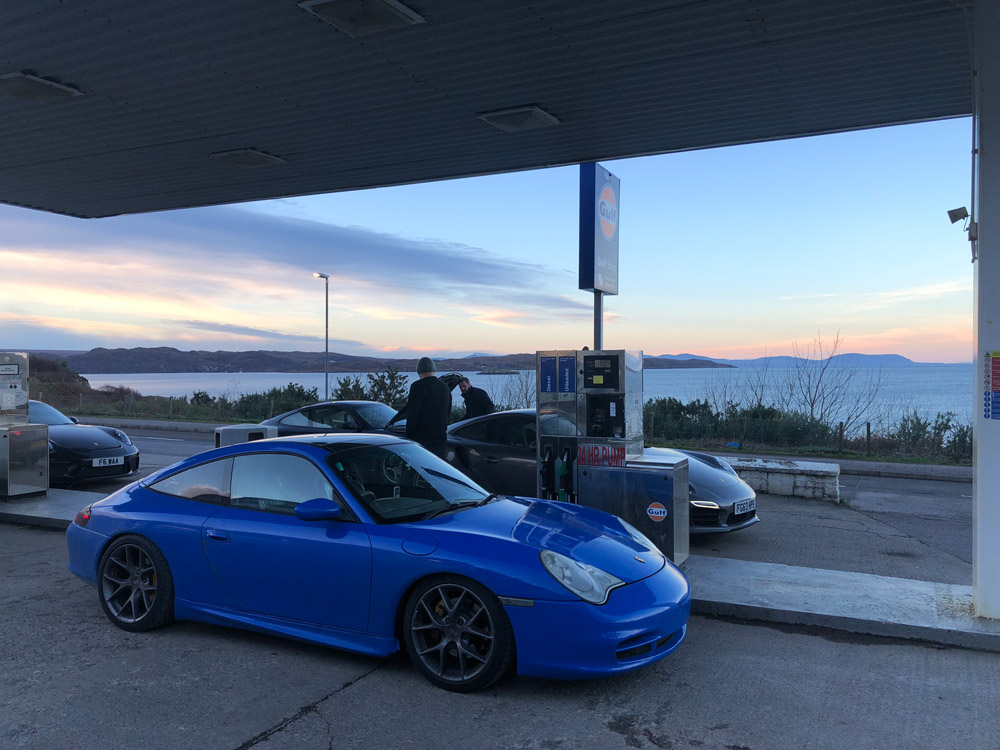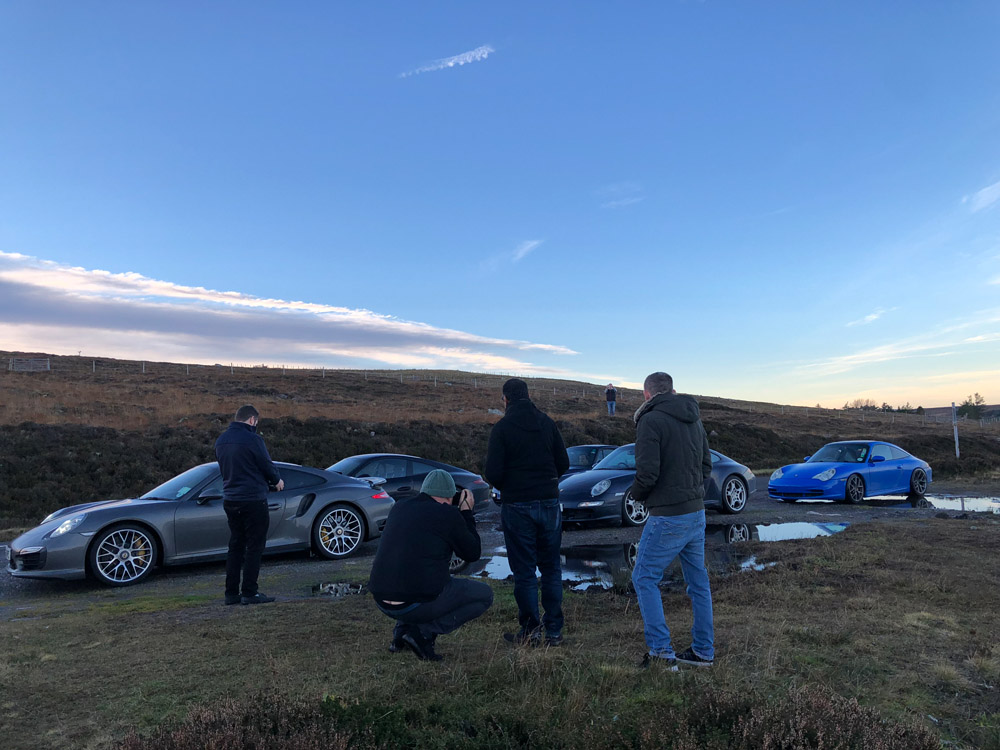 Photo stop at Sand on the A832.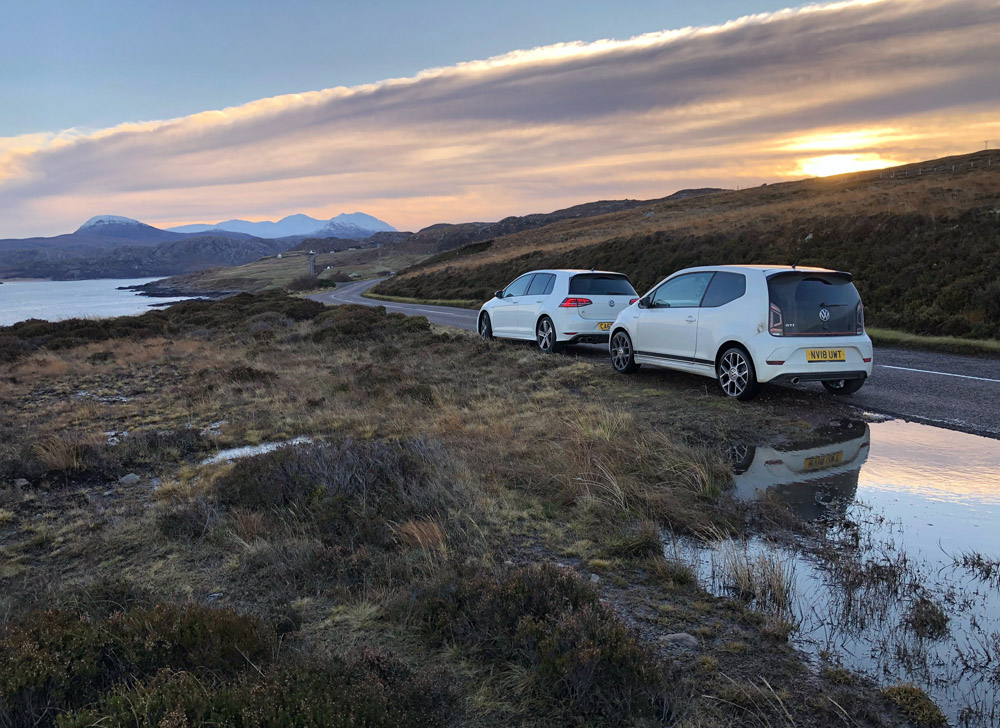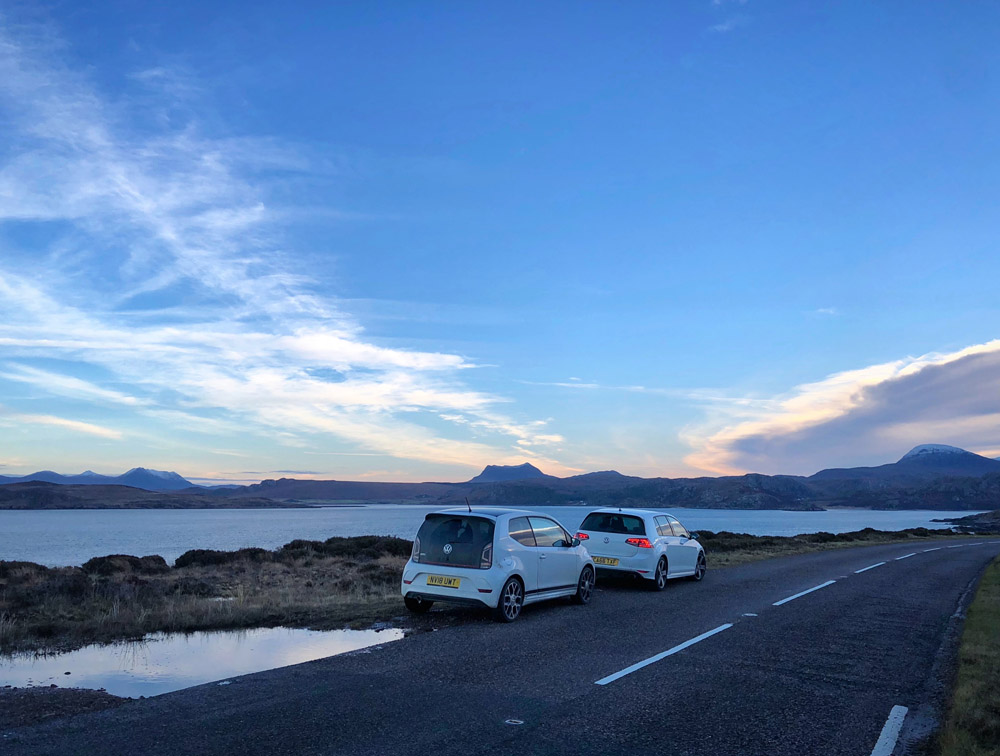 The two VW white goods did much driving togther.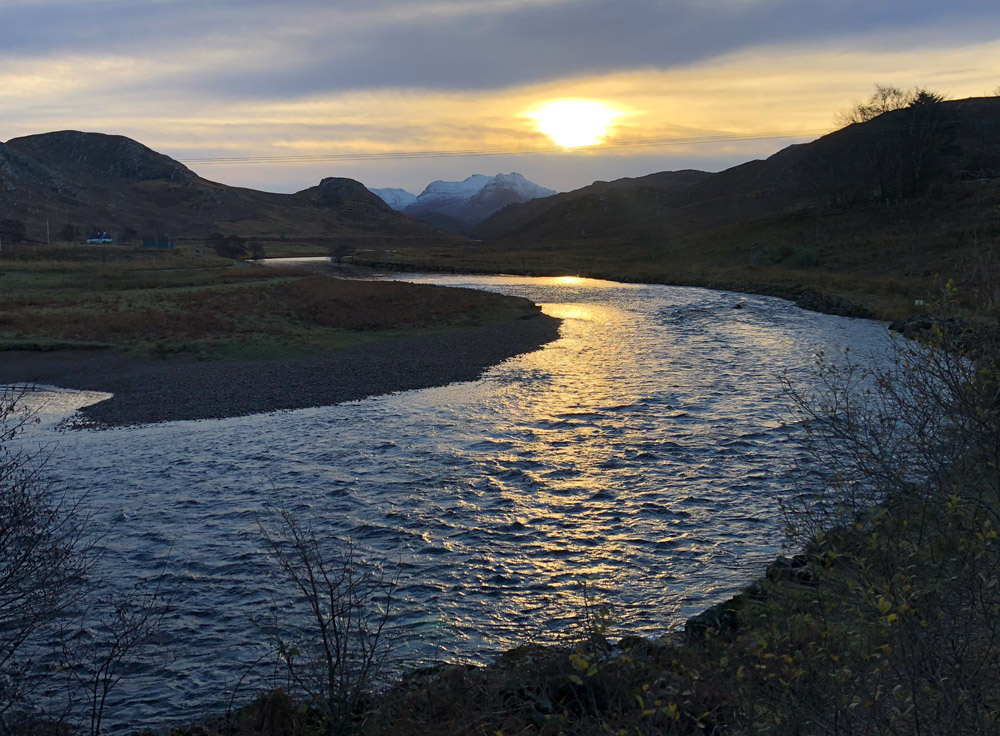 Beautiful place near Inchina.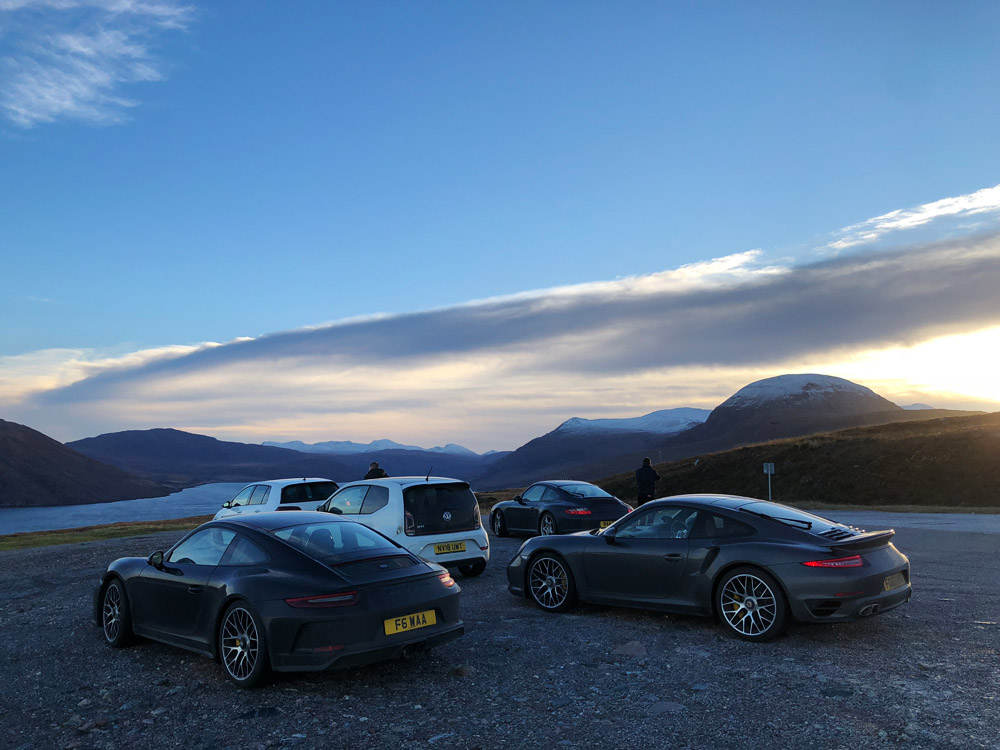 Just before Durnamuck on the A832.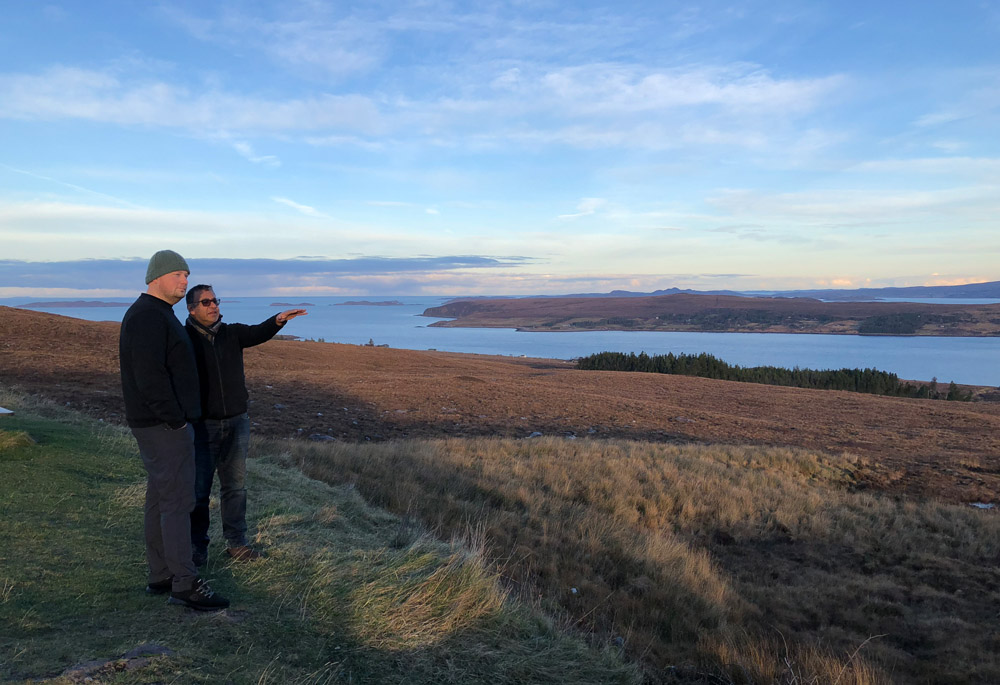 Contemplating the endlessness of the highlands.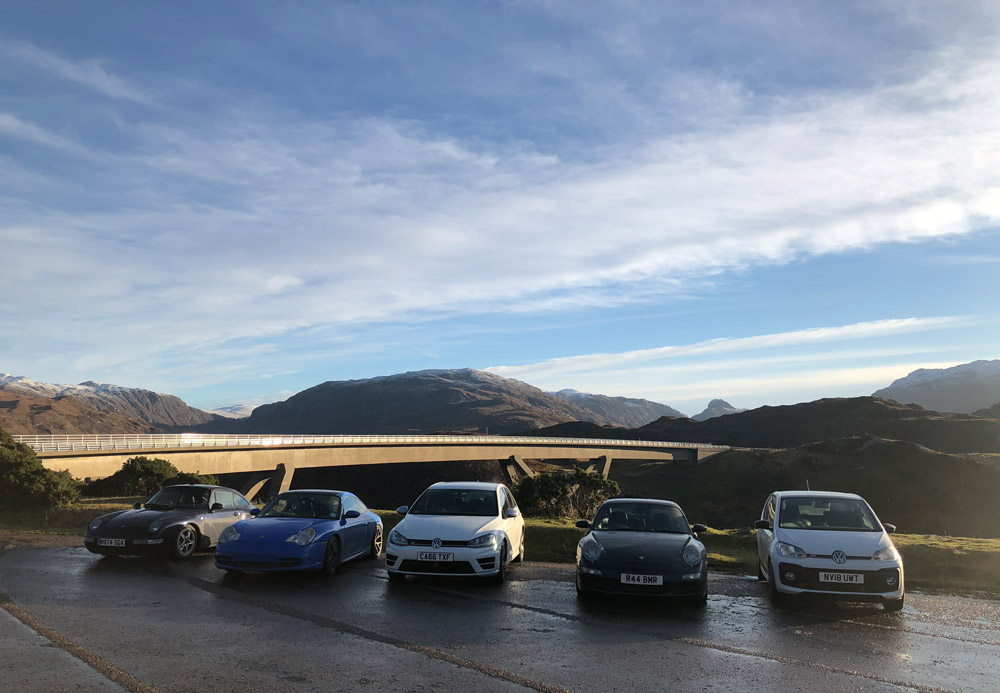 Photo stop at Kylesku bridge and thgis is where we U turned to go back to Sheildaig lodge.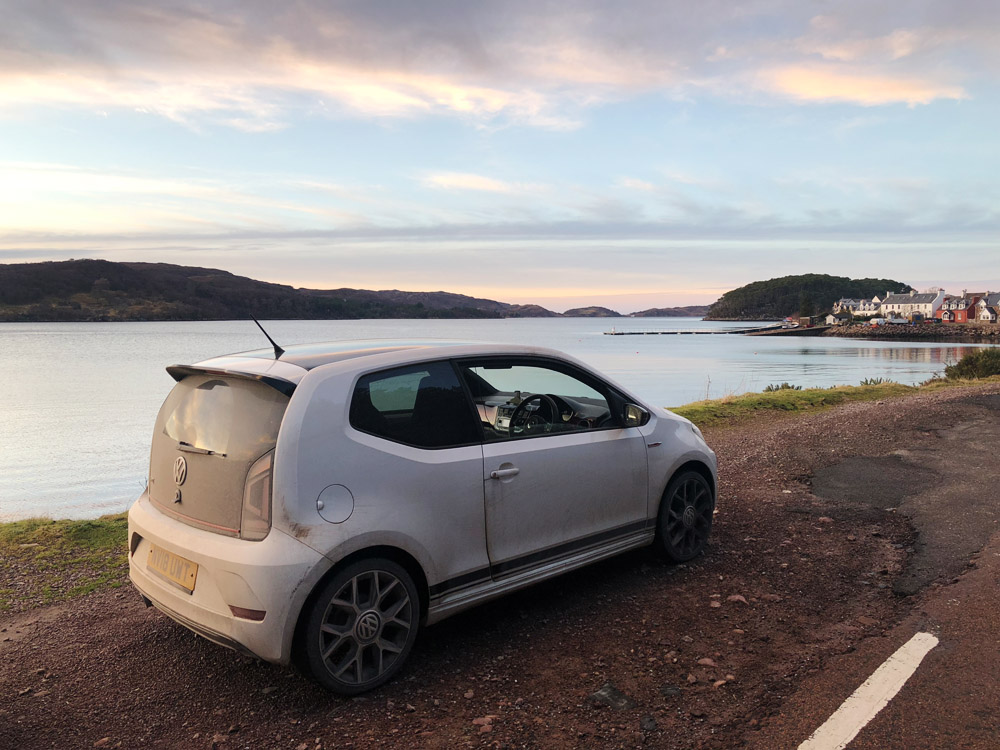 A quick run to Sheildaig on the amazing A896.