---
DURANAIL
The new toy, the next level of madness. The logical upgrade to the superlight R .... the Duratec R !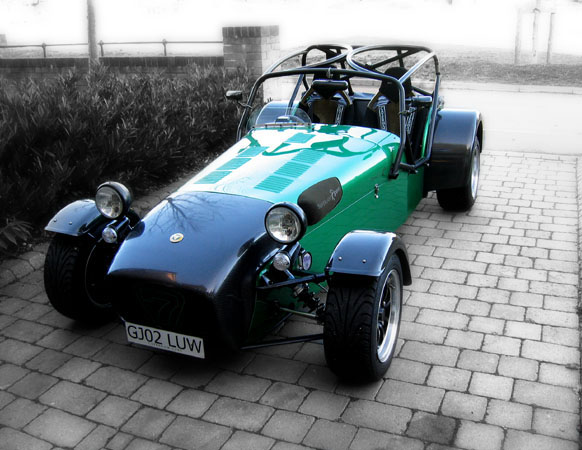 This award-winning car was lovingly crafted and developed by Mick Atree. As far as I am aware it was the first ever Duratec Powered Caterham ever completely built (and since copied !).
In addition to an absolutely top level build with perfectionists' attention to detail, it contains quite a lot of one-off custom parts and lightweight solutions to the engine installation that obviously weren't commercially available at the time.
The rolling chassis spec is a MY2002 R500 with all the top option boxes ticked including the horrendously expensive Kevlar Tillets, aerofoil wishbones, Mike Barmby Magnesium split rims etc..

Hyperspace comes courtesy of a 2.0 litre HE Ford Duratec engine which in just a moderate state of tune overwhelms the flagship Caterahm R500 spec 230bhp K series both for bhp and torque.

For me it was a must buy. I've had 3 K series engines and at least with two of them haven't been very lucky with reliability at all. Whilst i've had my fun with the revability and lightweight of these little engines I wasn't particularly keen to get into a 4th in, for example, R400 guise.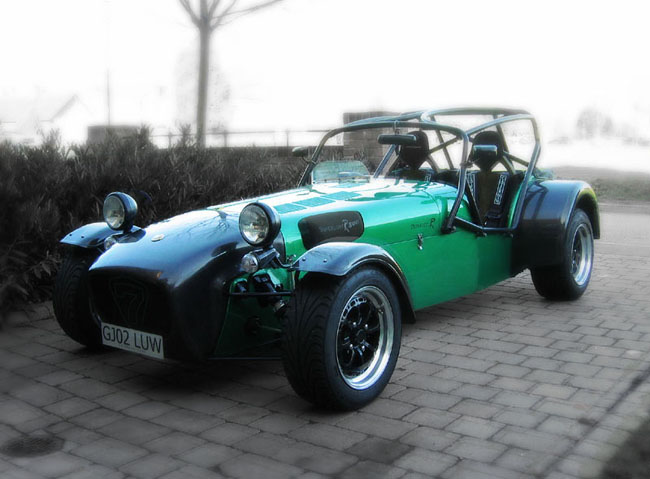 2002 Full R500 spec

full carbon

R500 wishbones

big brakes

metallic paint

black pack

small headlights

carbon indicator pods

R500 mag wheels

4 into 1 exhaust R500

titanium silencer

R500 shift up lights

carbon dash

stack dash

steering wheel indicator
buttons

Q/R momo steering wheel

carbon leather tunnel top

carbon Kevlar tillet seats

Superlight Race Cage

battery cut off switch

Caterham 6 speed box

ZF 3.62 LSD

alluminium fuel filler

4 point harness's

quick rack
POWER
The engine started life as a 2.0 litre ford HE Duratec seem in the current Ford Mondeo. Although there are a few of these out there racing including the sports2000 series, I'm more than happy to jump on the Durafever bandwagon in its early life and looking at the spec have no qualms about playing guinea pig for a while ! Look at the basics, the Duratec is over square (87.5mm bore and 83.1mm stroke) leading to lower relative piston speed. The ports and valves are huge as standard and the steel liners are cast in. All aluminium head and block means weight is just a handful of kg's more than a K series, capacity is 2.0 litres and because there's bucketloads of torque low down it needs so little revs.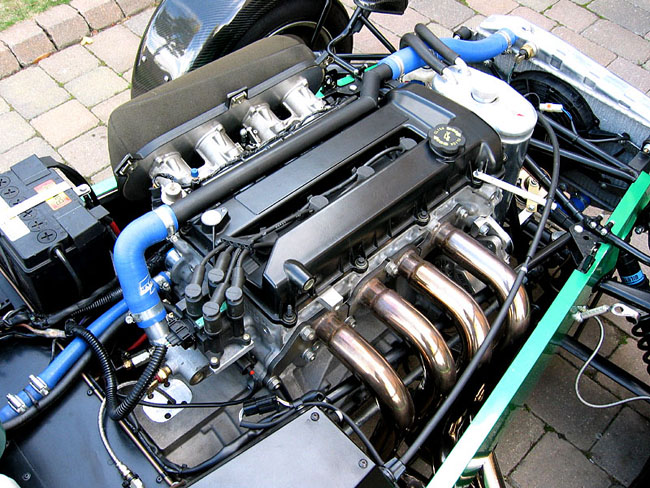 Looking at the Duratec R closer, the head has uprated Raceline 220 cams with vernier sprockets, uprated valve springs and retainers and has been gas flowed. 45 mm direct to head Throttle bodies are courtesy of Jenvey and the head has been machined so they are an exact fit.

Moving downwards we see obligatory ARP big end bolts, the Pistons have been pocketed to accomodate the more aggressive cams and the crank, pulley and sprocket have had a key way machined as an extra added safety measure to avoid the highly unlikely event of the single crank bolt looseing.
Aside those two modifications the bottom end is completely standard and although the crank is reputedly good for 8500rpm this beast, via an MBE ecu and Scholar map, is soft cut at just 7250rpm !

Oil circulation comes courtesy of a pace twin scavenge pipe dry sump and a very large imposing oil tank that was custom designed by Mick and built by Brise. Various other pieces like the oil filter housing, bellhousing support, alternator bracket, re-machined thermostat housing, water pipe brackets and machined aluminium blanking plates for the breather inlets in the cam-cover and inlet manifold were also custom made by Mick.

The car runs a standard Caterham rad and the exhaust is obviously on the driver's side with a cut-out in the bonnet for trumpets.
Of particular interest is the water rail which does not follow the conventional route as seen in Raceline's Duratec installation, rather, it runs alongside the fuel rail away from the exhaust manifold. The downpipes are also interesting in that they do not dip under the inboard side of the diagonal chassis member, emerging instead completely horizontal , then clearing the cross piece then dip down.These downpipes were originally manufactured by cheesemans for Caterham Cars for a Duratec development car they were building before the Rover X power deal was struck. As far as I'm aware they abandoned the project and the pipes ended up here.

Gearbox is the venerable caterham 6 speeder, compatable aluminium bellhousing, titan ultra light flywheel with uprated bolts and a large 8.5 inch hydraulic AP cutch.
To date the car has been to the rollers just once.

Tony Gooding at Redline tuning conducted a session and after we fixed the rear wheels slipping, the car showed 200bhp at the wheels at 7000rpm, 250 short of the redline.

On his estimate of 15% transmission and RR losses that comes out at around 230bhp but given the rev range shortfall and the general consensus that 15% losses is way too small a percentage, the car may well record higher in future sessions.

Tony printed me out a rough map which clearly isn't that accurate but gives a guide as to what happened on the day. The figures are very consistent with Racelines Duratec caterham which makes 225bhp but does not have a port and polish. When I get a trailer I hope to take the car to Emerald.
Engine spec:


2 Litre HE Ford duratec


bespoke Jenvey direct to head throttle bodies


head ported and polished

ports matched to throttle bodies


220bhp camshafts


Vernier Pullies


uprated valve springs and retainers


machined pistons


ARP bigend bolts and flywheel bolts


titan ultra light flywheel


ap hydraulic clutch


Pace dry sump


MBE ecu

R500 injectors
DRIVE
Whats it like ? Well, eeerrrrrr... its a bit quick thats for sure ! First off is the gobsmacking torque low down. There is no build up with this car, no crescendo, no waiting. Stab the pedal and the missile just launches. Its ferocious, animalistic .... friendly at low revs and very useable but then scarily brutal when you max the thing out. Whilst the R500 makes you dizzy just on the last 1000 revs past 7500, the Duratec R is monumentally quick much lower down.
The Duratec R is way on from my old SLR. The 190bhp K series car always felt just too fast for the road and if you stretched its legs up from say 20mph through the gears to 3 figures the acceleration would always give you a rush and just dip into the realm where everything suddenely feels "bloody quick", ........but this car goes further.

The speed is just manic, "stupid fast" if you like. The car is quick everywhere. In fact for the first few times i drove it the acceleration sort of overwhelemed me and completely dominated the experience. A part of me had had to take time out and get used to it; staying focused on driving the actual damm car seemed difficult ! For those first few outings, gunning up through 2nd-4th in this thing was almost like blacking out for a bit. For those few seconds as the thing catapulted toward the horizon I couldn't really see or hear or be aware of anything. That rush just seemed to dominate and take over everything.
The noise of the car is another very special part of the whole package. The low angry deep bass growl is just glorious.As the revs increase it gathers more and more anger but staying deep and bottomless, always sounding like a proper larger capacity engine. Also, trundling along on a steady throttle in say 2nd at 3500-4krpm you get this wonderful inexorable groan, a very loud persitent onslaught to all who pass by.

The other day I let someone else take the car out and i had the pleasure of hearing the thing way off in the distance then returning to where I was waiting. From the outside the sound was just sublime, every inch the proper race car. The journey that morning I'd gone flat from a roundabout right up through the gears and further along the carriageway 3 workmen at the side of the road with their hands still on their equipment just stood agape, their heads panning with the car, eyes transfixed as I roared by. At the time I was a little bemused (what ? havent you seen a caterham before) but after hearing the car as a bystander I nwo realise why they were staring and how they must have heard me coming from a mile off or so down the length of the road.
Heel and toeing is also the real deal, the R500 has a glorious noise when you blip on downchanges and this car delivers here as well. Its not the thin K sound though of course, again just pure angry meat !
I had the car flat floored recently and although the camber, rake and corner weights were already pretty much there or thereabouts a 30mins adjustment to the front toe really made the car come alive. Now it handles very much like my old slr, lots of movement underneath you, great turn in and bite into corners but not too much fidget or tramlining, and a power-on oversteer attitide once the front tyres have warmed up.
front L
front R
rear L
rear R
tyre pressures
16
16
18
18
camber
1.8
1.7
1.8
1.9
ride height
12.9
12.8
15.0
14.7
corner weights
129
142
149
162
cross percentage
50%
50%
front rear percentage
47.1%
52.9%
weight + 14 litres fuel
526 kg
weight + 14 litres fuel + driver + helmet
588 kg
front toe
0' 10'' out
0' 10'' out
FRONT ARB
red, medium
REAR ARB
2nd stiffest, (2nd hole)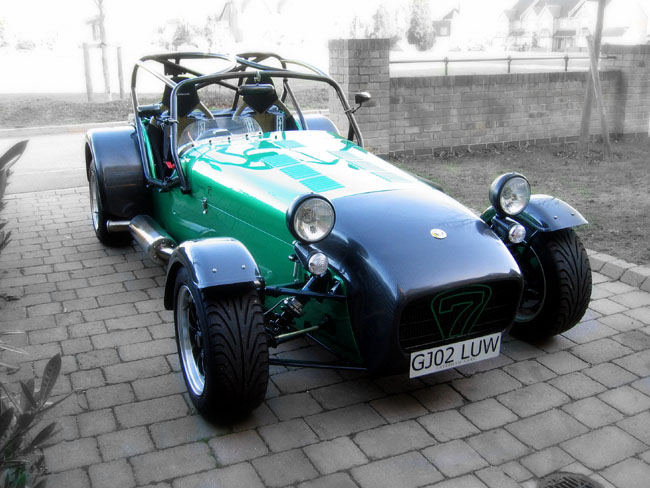 Okay, now we get to the one outstanding issue with the car in its present state. For hard driving the close ratio caterham 6 speed box is an issue. Given the 7250rpm rev limit, the speed with which the engine rips up the rev range and the big flat torque curve, not only are the change up points for the gears (and hence top speed) too low but also you use far too many gears far too much of the time. When pressing on, changing up at the right moment saps your concentration a little despite the shift lights.
A partial remedy would be to fit the 3.28 diff. This would increase the top speed by about 9mph and the rest of the gears by 4-8mph. But by far the best solution would be to fit a brand new bespoke set of gears. As luck would have it the new elite box from elite racing transmission is now being used quite widely and is also earmarked for the 2004 Sports2000 regs. This is a true sequential box with a nice slick action and at just 18.5kg, a 270ft torque rating and the potential for drop gears it really mustn't be missed so thats the plan for early next year.

VIDEO
I like my movies.

People who've been to this site before may be pleased to know that I've gone a step further with this car when it comes to on board video.

I have two RF concepts hi quality bullet cameras rigged up to the vehicle. One is permanently mounted to give a wide overall front view of the car and track, and the other remains moveable to be installed mostly pointing rearwards and also a few daft places like attached to the front wishbones etc..

The cameras are powered direct to the battery via an inline fuse and an LED illuminated master power switch. Their video output is routed to a phono switcher so I can flick between cameras on the fly.
I've also mounted a tripod plate and fixing bolt up underneath the transmission tunnel cover so the sony dv cam can be conveniently affixed under the dash and back in the pits the lcd can be swivelled out for easy viewing to move within the tape, check battery levels and remaining tape length etc..

A lanc controller sits on the dash to facilitate camera power up and record start/stop.

I have 2 microphones as well and at the moment I'm still testing the best possible locations to get good engine sound that isn't distorted or overwhelmed by wind noise.