I still have a big soft spot for this car. It was my first proper car and self-employed, working from home, I virtually lived in it. Despite the car's numerous critics I still feel that this car was way ahead of its time. In one way it represents the ultimate form of safe transport and still is, in my mind, a car for the masses for the future. The asking price now seems cheap by today's standards since it was in truth a very modern and sophisticated bit of kit.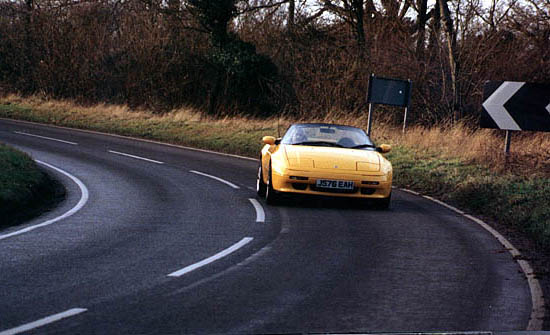 I personally feel, that to this day the car's styling is something of a revolution. No vehicle looks like an M100 and no matter how much you stare, your mind can never quite control and understand all its curves. It is a shape which is highly ambitious and progressive in the extreme - Lotus will never stop being daring and on the edge, it is one of the things they do best. The Elan is like a mini-spaceship especially in the snug sculpted cockpit.
In the end the Elan's triumph was its very downfall. The handling was both too good and too clinical - all you could do was just go faster and faster and faster. Being driven by the front wheels it was limited from the outset in terms of adjustability but for sheer speed and security over the twisty and bumpy stuff, it was virtually unequalled. If you braked mid corner at some ludicrous speed, the car just stopped or slowed if you lifted off. If you were going really too hard ( and I mean very very hard), the front wheels just drifted wide and the understeer was corrected by easing off a litttle: so simple and so safe. The car had an amazing ability to lose its own mass. Over fast country lanes it shrunk in size and left you with a distinct feeling that your very limbs were part and parcel of its extremely rigid chassis. So agile - so chuckable.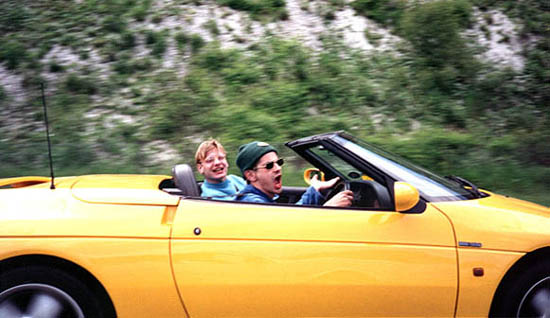 At the tail end of the hot hatch age, Lotus manufactured a new vision of the sports car. Whilst not everyone agreed with its super grip, super safe character, nearly all expressed that it was yet another landmark technological achievement and praised its huge capabilities. Most notable was the Elan's patented 'interactive wishbone' technology which involved the use of a separate casting mounted on rubber bushes between the chassis and inner wishbone mounts. This allowed fore and aft compliance but still accurately controlled suspension geometry. Road noise isolation, reduced torque steer effects and lower steering effort (due to reduced castor angles) were a first for the front wheel driven car. High costing for the production line (the cost of just tooling the interior came to more money than the cost of the complete Excel production line), world economic situation and inert public reaction particularly in the US, forced Lotus to cease production in August 1992.