While the Elan has a special and very personal emotional place, the esprit for me, was the definition of what a car should be like (until I owned an elise that is). It is not a sports car - its a supercar with gobsmacking looks to match. Walk round one when its parked up and you'd swear its still travelling at well over a ton, its gorgeous curves and sculpted ducts looking very purposeful and really meaning business. Travel 300+ miles in a day and you will want to be in an esprit - its performance can annihilate huge queues of traffic with one squeeze, its driving position is fabulous and all the time you'd swear you were inside some 'intergalatic space machine'.

The esprit has presence, every drive is an occasion and along with the diablo and one or two others it is the last of a dying breed: the supercar, the super fast, flat, wide car which is to be feared, to be overcome and held in awe. Performance cars these days are no longer supercars, they have gone all soft and GT and have merged with the general market and the wishes of the mediocrity. With a few exceptions, The Porsche BMW and Ferrari etc.. of today are not real supercars but cars which carefully do not exclude the majority. They can do the shopping, the long trip abroad, the swift country run and the odd trackday - for me that just isn't focused and specialised enough.

I am not interested in cars that do everything well and are loaded with gagetry and electronic driver aids. For me a car should hold a sense of occasion in the styling department and above all, combine performance and handling in the most uninterrupted, focused manner possible. By definition, this firstly requires that nothing obstructs the cars dynamics from the driver's senses, secondly, that the car is very light weight and thirdly, that it probably has a chassis and suspension built by Lotus (sad but true). Finally, it is important that the engine has character and is deeply satisfying both in terms of the nature of its power delivery and its vocalisation. Sadly only one Lotus that I have driven lives up to that last expectation and that is the motorsport elise 190.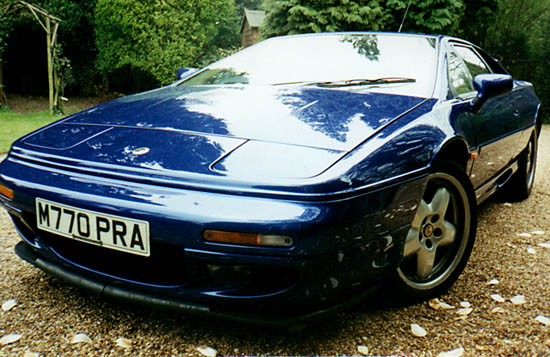 An interseting historical point concerning the esprit is the rear wing. Opinions rage about the different styles over the years but I vastly prefer the 1995-8 wing on the S4s, Sport 300 and early V8 models. The arching and leant back nature of this swooping hoop lends the car a very balanced and seductive quality. The wing of 1992 was very striking as well, flat and wide and supported by 2 arms either side like a suspension bridge. Many people hated this look and it only lasted for a year on perhaps 40 or so cars before the introduction of the S4.