---
Family/Tow cars under 5k
'98 VOLVO V70 T5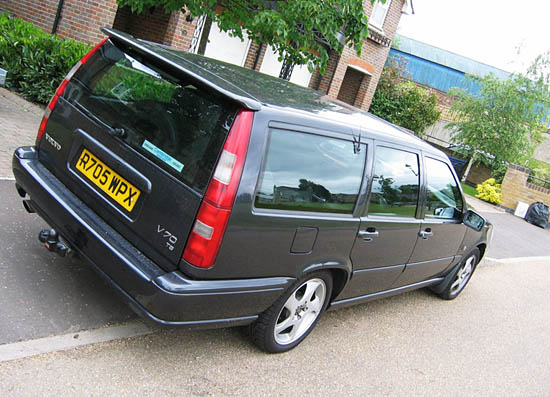 Only 4.4k .. a high miler but these things are so well built and so reliable and with a full main dealer history you won't go far wrong.

Its got acres of lovely power from the 2.3 V5 turbo... you'll die laughing first time you use it. Great for towing but its not involving or a sports car in any sense of the word so dont expect a drive like 5 series touring. In fact they are almost truck-like in feel, ride is quite hard and crude and you slosh around in heavyweight cumbersome fashion, understeering like crazy with pretty poor mid corner grip from the P9000's. Definitely a cruiseomatic, long distance car and just great for that purpose... awesome on the motorway and has every toy you could ever wish for incl. great OEM stereo.

Boot is just mammoth, seats fold flat and the square shape means this car will carry some large things that other estates wouldn't.
One of the few cars I've ever owned that makes me sit back, relax and drive slower and also gets me to the destination less tired than others. The perfect remedy when facing a 3.5 hr. drive back home in rush hour from a day at Cadwell. Galactic apetite for front tyres so ownership of your own chain of tyre fitters a must .... on that note, the OEM Pirellis are poor for grip, noise and wear so consider a move to say eagle F1's or pilot cups.
2001 MITSUBISHI Galant V6 Sport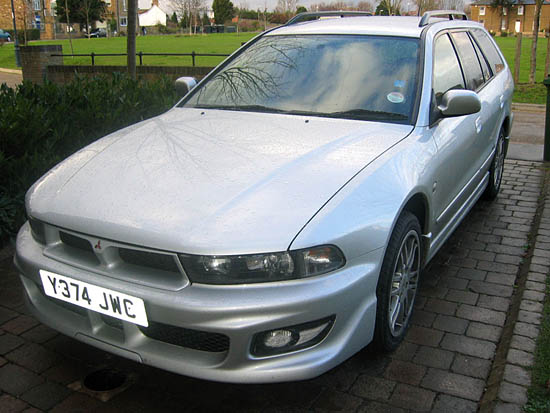 A gorgeous looking car, acres of space, lovely interior and well screwed together, beautiful smooth v6 powerplant with an unobtrusive auto box and optional tiptronic mode. Great for towing, in fact better in some ways that the T5 because its NA so you feel more directly in control of the power.

Shame about the handling though. Below average clumsy chassis, bizarre combination of ludicrously soft springs mated to some real harsh bump damping and regular bottoming out on full droop over the slightest of crests or high bumps. In its favour, it feels very light and ignoring the clumsy feel is one of the easiest cars to drive that ive ever sampled. The wife adored its effortlessness around town.
Overall then exasperating, uncomfortable, like the primera uncertain of what it was supposed to be, poor body control, falls to pieces over the rough stuff and on account of the soft springs awful forward pitching / dive everytime you so much as breathe on the brake pedal. Road noise on the Mway was unacceptable as well. Shame because the auto box worked well, the engine was divine, a great place to sit and for my money its still one of the best looking estates ever produced.
Progressive eibach springs are reputed to give better body control and keep the car in check (they did a similar thing for my odl evo6) and 15" rims will definitely help the car massively as the 17"s on the sport are just plain nasty but to be honest i wasn't happy about spending more money on the car and embarking on a path to fettle and resolve the cars handling issues when that path might never have actually ended. Cars should feel right from the shelf, from the word go. Bought for 4.8k, now sold for 4.9k !
'99 NISSAN PRIMERA 2.0 GT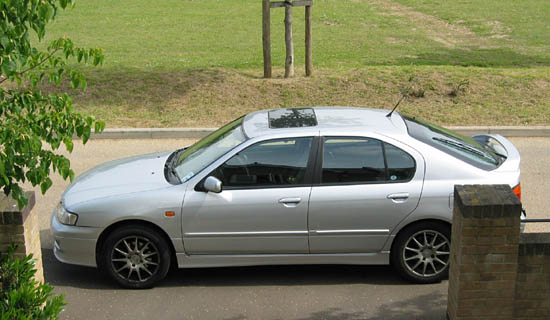 Hugely capable car, extremely good chassis and suspension and impreza levels of point to point stability. Show it a country lane and it will cover ground very rapidly with serious poise and surefootedness.

Ultimately though for me the primera became quite tiresome as a family, cruising and tow car. Gearchange is long, rubbery and vague, clutch is heavy, zero power low down and not that much up top either. Brakes need a serious amount of force and after a while you realise that whilst the body control is very very good it's sadly neither soft enough to be comfortable yet not stiff and sorted enough to be truly involving. Certainly, on 17" rims it doesn't work IMO. Doesn't tow very well either and needs its nuts revved. Hard work in traffic and when you have the family on board and you're tired the stiff ride starts to jar.
Still, a lot of car for 4.5k .... huge boot, well specced, very well put together and potentially massively reliable and good for 200k miles. This one was like brand new when i got it and with 43k miles it drove like new as well. A detectable level of fun, good across country and it can do the odd trackday if you're so inclined.
very old MERCEDES 190 2.3 Cosworth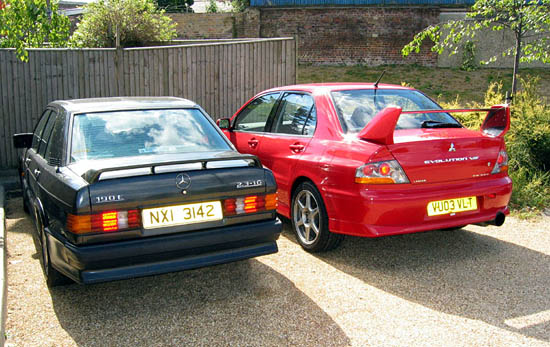 Heavy, lots of inertia, brakes made from banana cheesecake. Lovely sounding engine and it revs nicely too, but slow compared to todays standards and you need to plan 4 days in advance whenever the car needs to come to a rest. Timing chain is a constant source of anxiety as well... you'll hear it gnashing and clicking even in your sleep !