2014 Ultravox tour to Vienna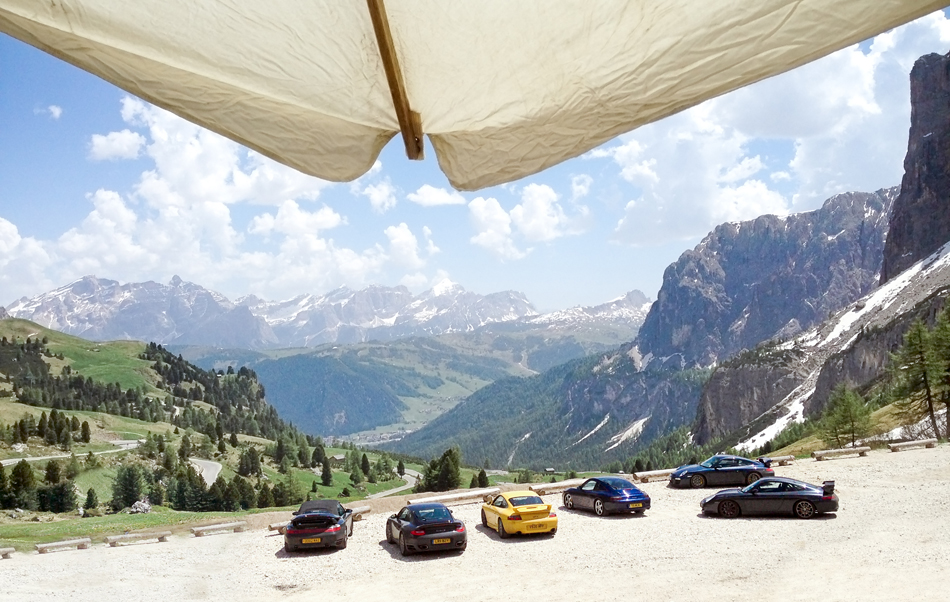 So in 2012 we dived off the precipice and discovered it all for the first time. In 2013 we upped the ante and went well over the top with 4000 miles chock full of glamorous locations. In 2014, the general agreement was to pull back a little and create a simpler smaller tour with less seat time focusing on good driving roads rather than far away headline destinations.
Our original plan was to have a kind of city tour around Germany - Hamburg, Berlin, Dresden, Munich - but finding guaranteed good roads in the North wasn't easy and I soon decided to scrap that plan and concentrate back around the good old Alps. We'd enjoyed Austria hugely last year and had all agreed that its giant sized, super rapid roads were ideal for the bigger water cooled and GT cars. With famous destinations to be kept at a minimum it made sense to put just one in there, namely Vienna, which seemed to represent a suitable eastern U-turn point. Once I had that basic skeleton in place the rest was fairly easy to plot out; insertion to Baden Baden, a run through the black forest and then eastwards through southern Germany and North Eastern Austria. Turn around at Vienna and head back down to Italy with a last fling through Stelvio and a couple of Swiss passes.
At around 2500 miles this was a little more mileage than our first 2012 trip but with around 250 miles per day (on non-Motorway days) and approximately 6-7 hours seat time average, way less than last years overwhelming marathon. Sadly, we had a few regulars unable to make it this year but then in their place we had some new blood, a couple of new chaps who certainly added much to this trip.
As for the cars, they seem to be getting more modern as the years go on. Just one aircooled 964 C2 this time with us just up until Vienna. Water cooled we had 996 C4S, 996 Targa, 997 Turbo S PDK and then every manual GT3 represented with 996 mk1 GT3, 996 mk2 GT3 (manthey'd), 997 gen 1 GT3 and 997 gen 2 GT3.
click for large version: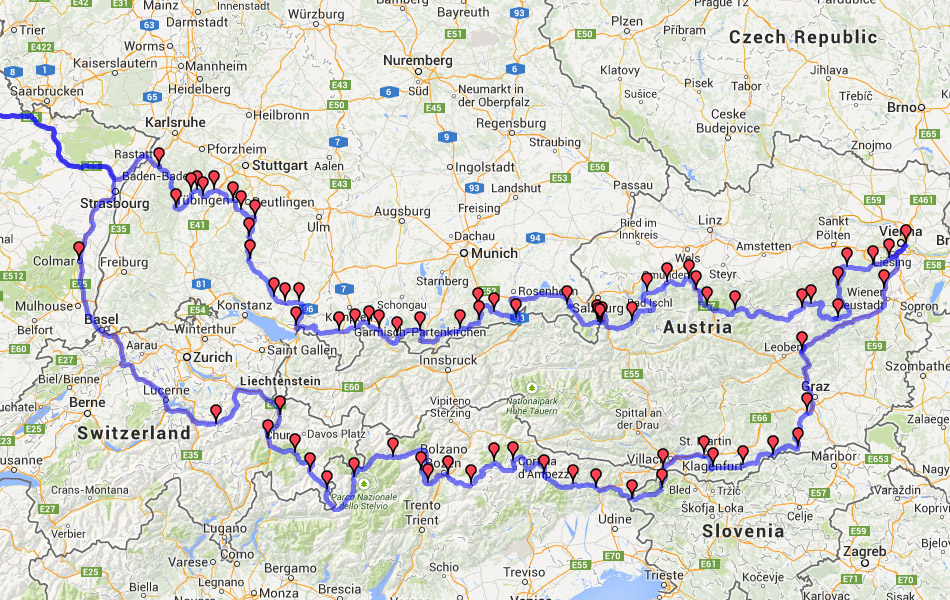 Here's the full route. Initially there was an idea to loop back up through central Austria through the incomparable Turracher Strasse and then on toward the black forest again but whilst this may have made for a shorter trip, it would have meant more repetition. A few of us had never been to Stelvio before and although not really a road for driving, it's still a good panoramic view and tourist spot to cross off the list.
DOWNLOADABLE ROUTE FILES:
Here is a zip file with an itn file for each days route and also all days in one single file, open in TomTom, Garmin or Tyre to Travel.
INDEX
Day 1: 'Insertion', Calais to Baden Baden
Day 2: 'Southern Germany', The Black Forest to Fussen
Day 3: 'Eagles Nest', into Austria and onto Gmunden
Day 4: 'All roads to Vienna', East Austria
Day 5: 'Descent to Italy', Vienna to Forni di Sorpa
Day 6: 'The Dolomites', Dolomites to Stelvio Pass
Day 7: 'Swiss Swansong', Passo del Bernina, St. Moritz, Klausenpass
Day 8: 'Home', Colmar to Calais

Day 1
'Insertion', Calais to Baden Baden
411 european miles
8am start at Eurotunnel and then a straight French motorway run to Baden Baden.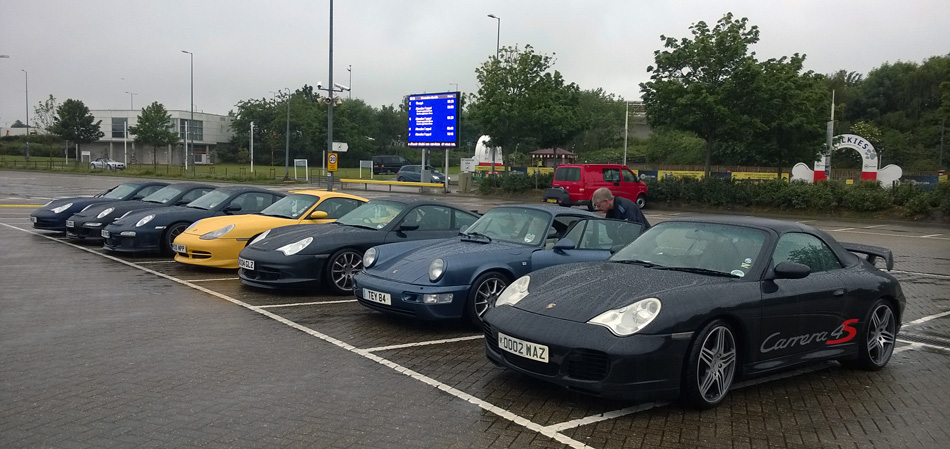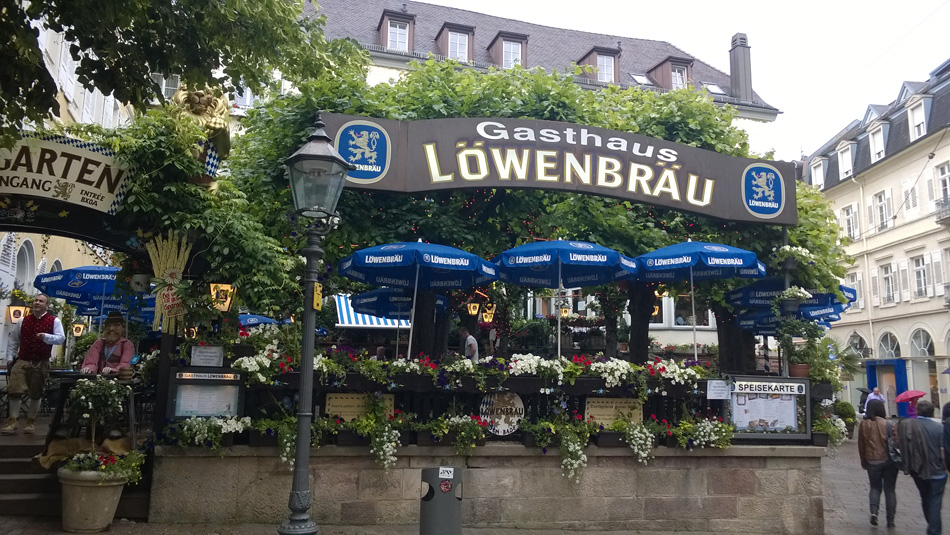 Not a great deal to say about this one. When we arrived at Baden Baden for convenience sake, we started out at the very same place we ended last year's tour.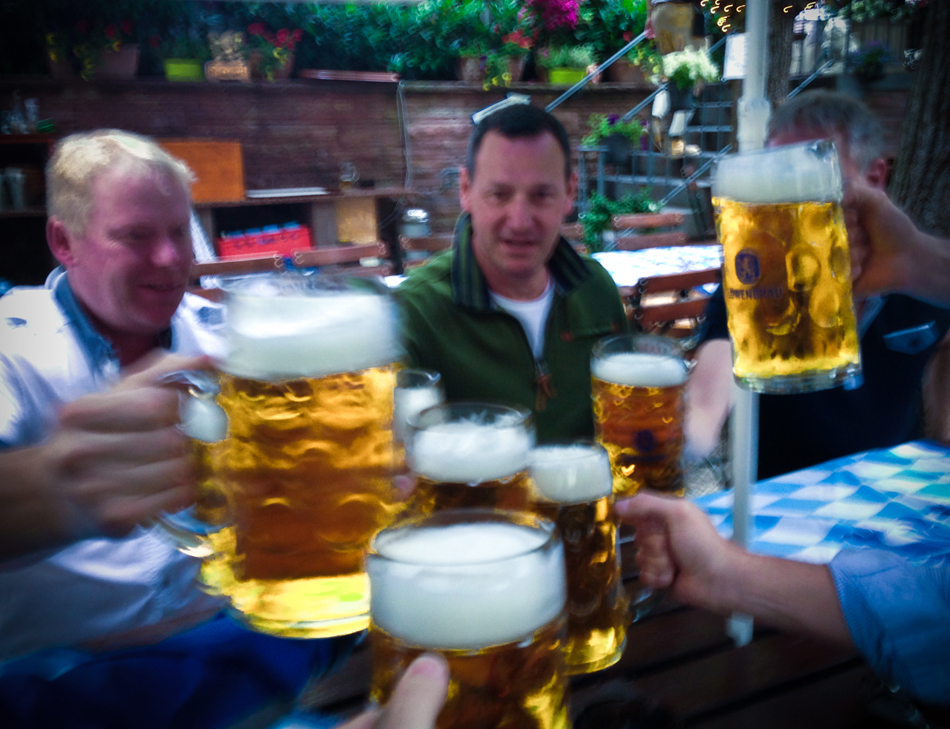 Whatever kicked in that night, it certainly set the tone for the whole trip. Quite a few of us ended day 1 totally hammered. I won't post up the late night bar videos, you can barely make out what we're all shouting and having hysterics about.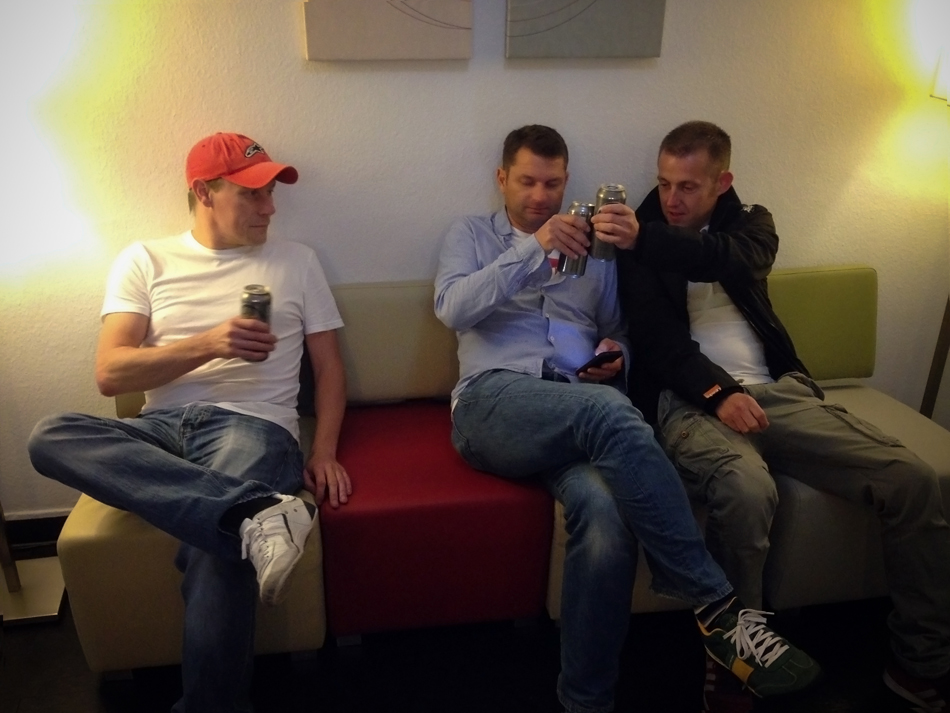 Late in the early hours the Hotel was dead as a dodo so we created our own impromptu bar.
Day 2
'Southern Germany', The Black Forest to Fussen
247 miles
The first real driving day and as ever the Black Forest's B500 was a fitting introduction. As fast and picturesque as ever, the only problem was that it was over far too soon.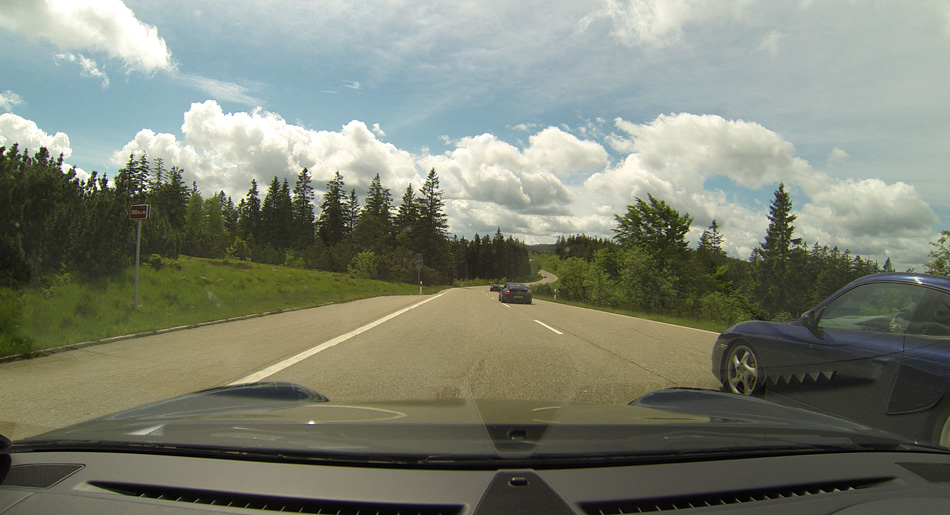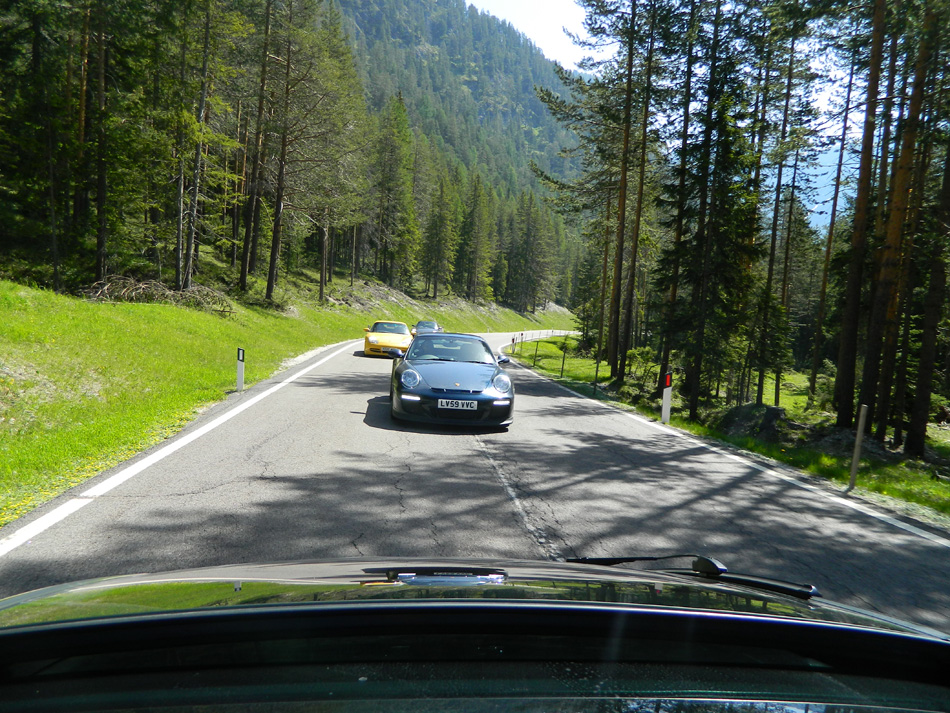 Being honest, the route for day 2 wasn't the best. After the Black Forest there was an awful lot of traffic about and the run south east and then south toward Ravensburg was composed of too many built up B roads.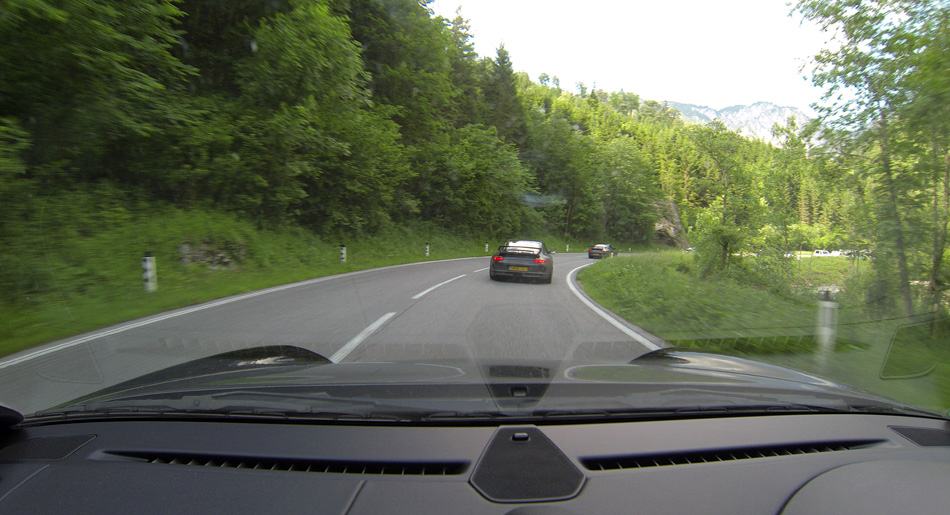 It did improve a fair bit toward Fussen.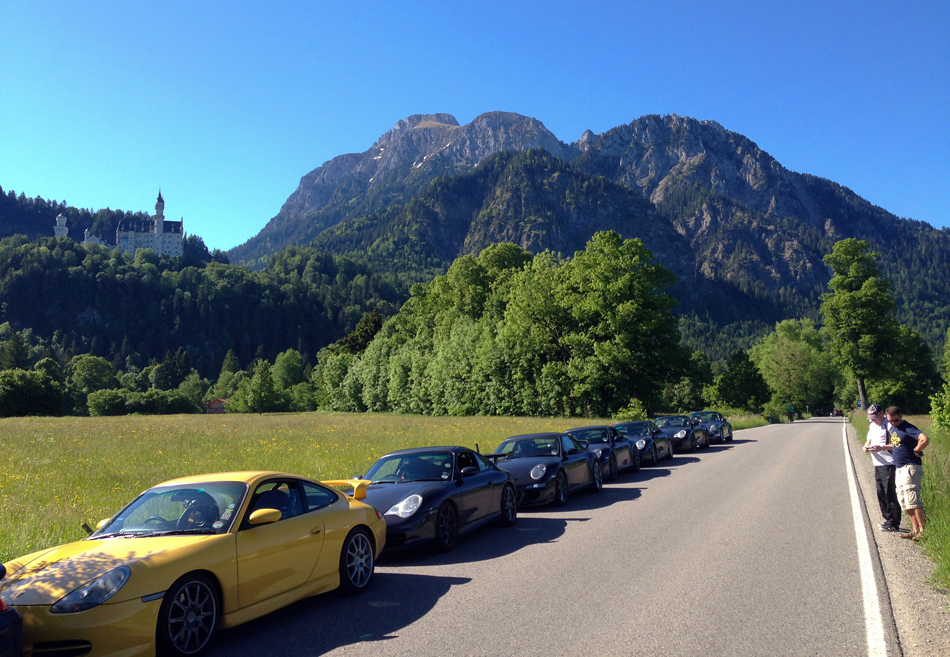 The obligatory visit to the 19th century Neuschwanstein Castle, the most photograhed building in all of Germany and one of the most popular tourist attractions. It was commissioned by King Ludwig II of Bavaria who was declared insane when the castle was almost completed in 1886 and found dead a few days later.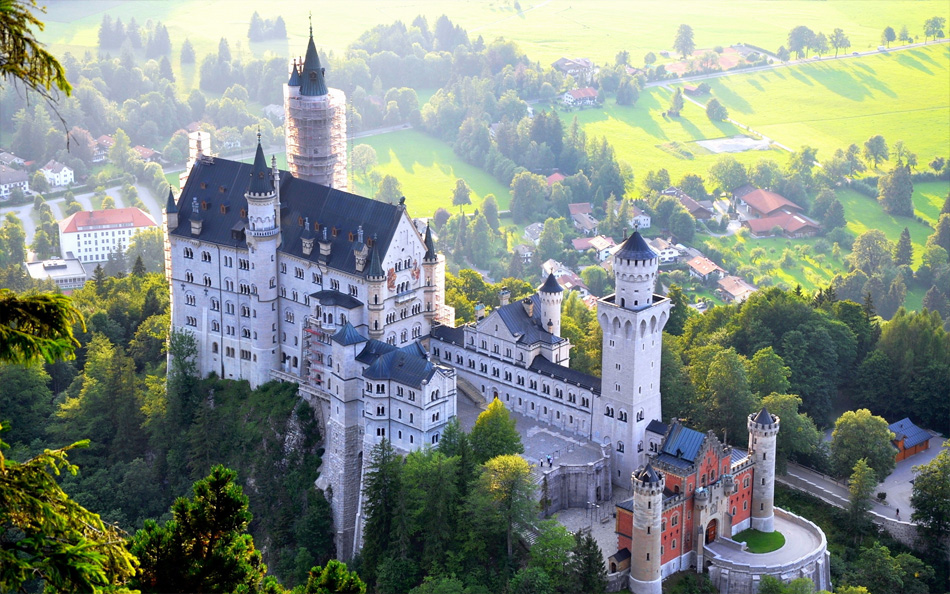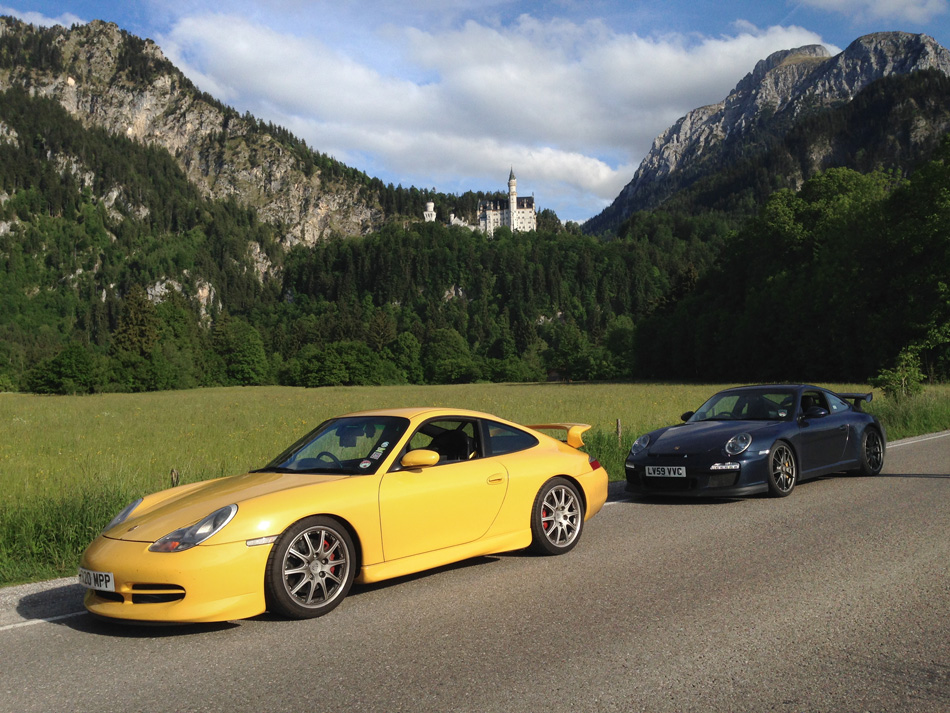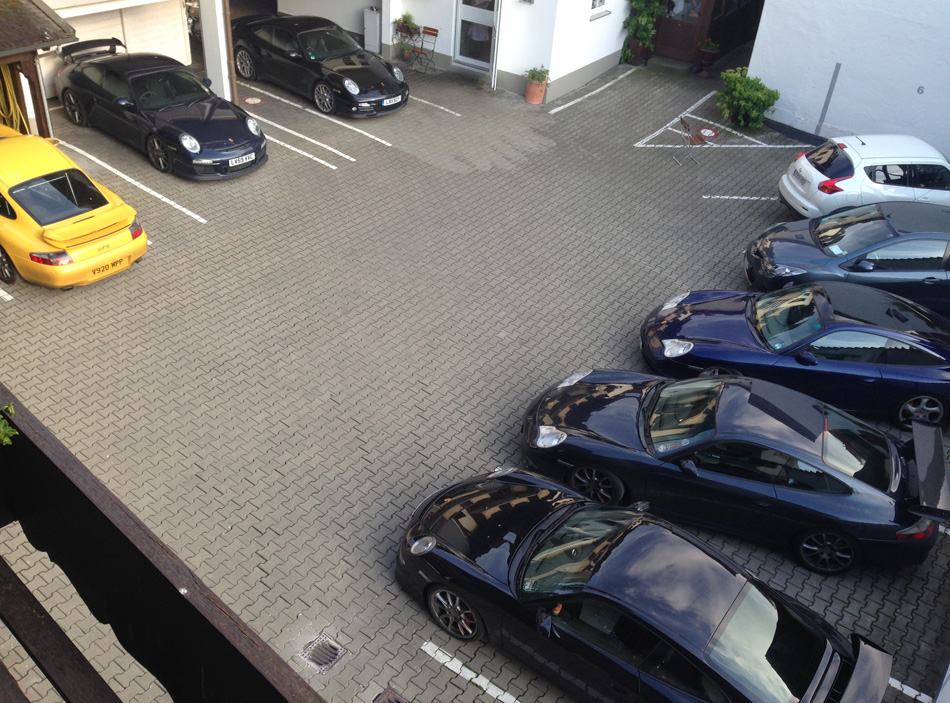 Fussen was quite a sweet town. Typically Bavarian but actually of Roman origin I believe, a wide river at its entrance, two castles to see and a wealth of restaurants lining the crooked pastel shaded streets.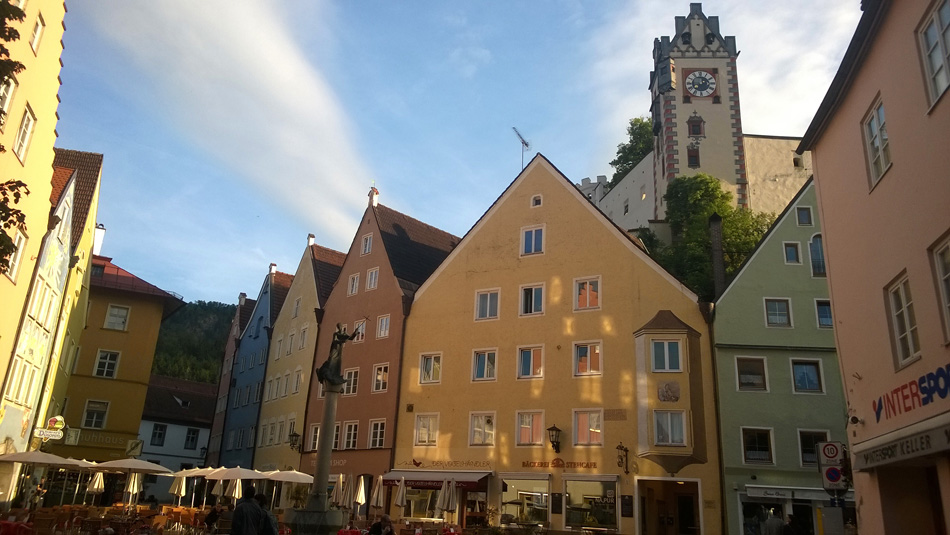 Day 3
'Eagles Nest', into Austria and onto Gmunden
254 miles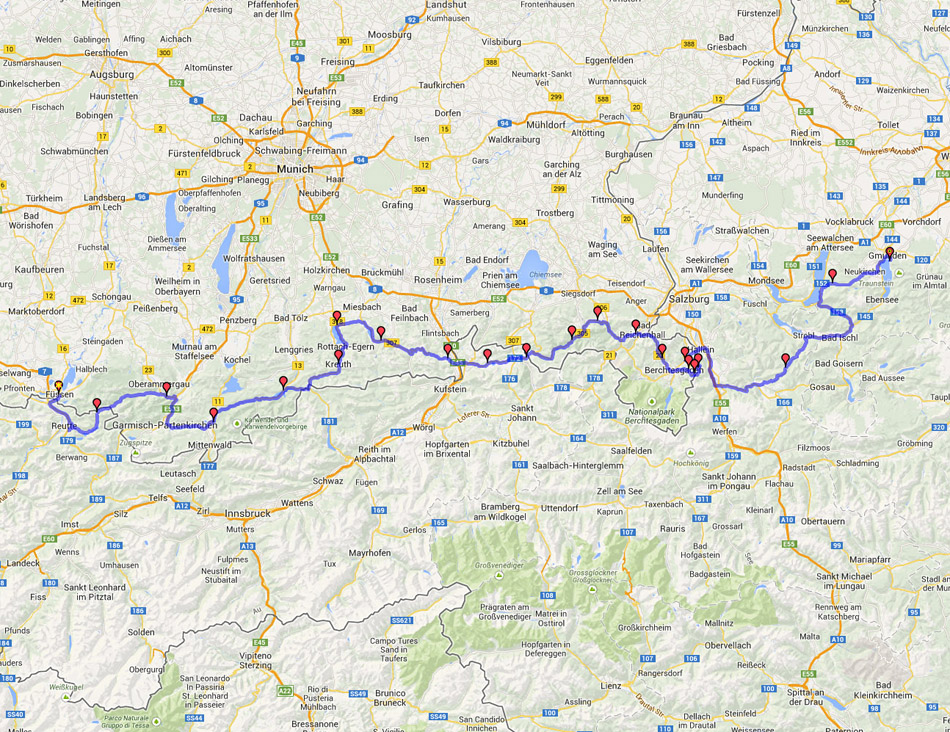 Day 3 was possibly the best day of the whole trip. Mile after mile of incredible tarmac. Like all great days the feature points lived up to expectations but then between them, the sandwich filling if you like, there was an endless stream of surprises and hidden gems.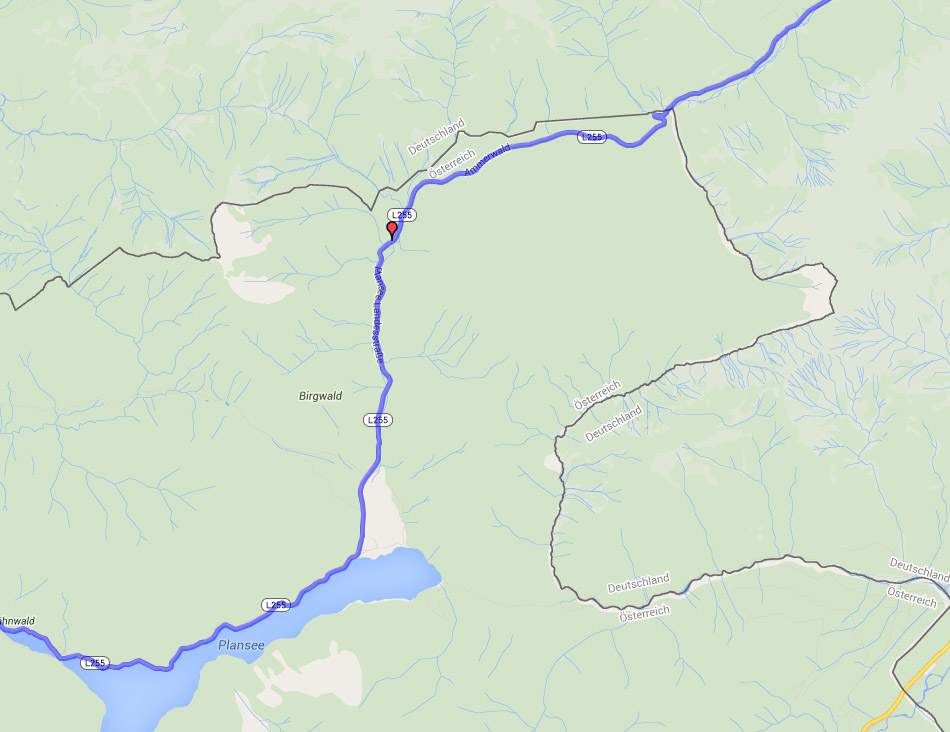 The action started pretty much immediately and nothing could prepare us for the very first leg. The run by the side of lake Plansee was a lovely twisty and scenic intro and then heading north toward the border, the L255 followed an offshoot river and opened out into one of the very fastest roads i've been on. Amazing high speed sweepers, lots of little red bridges crossing the river this way and that, some big big straights, passing the hotel Ammerwald located roughly at the red marker in my picture, plenty of wooded sections and the odd descending hairpin thrown into the mix as well. A very memorable high speed run, this was the very essence of Austria and why for me, it is the finest driving country in Europe (until proven otherwise).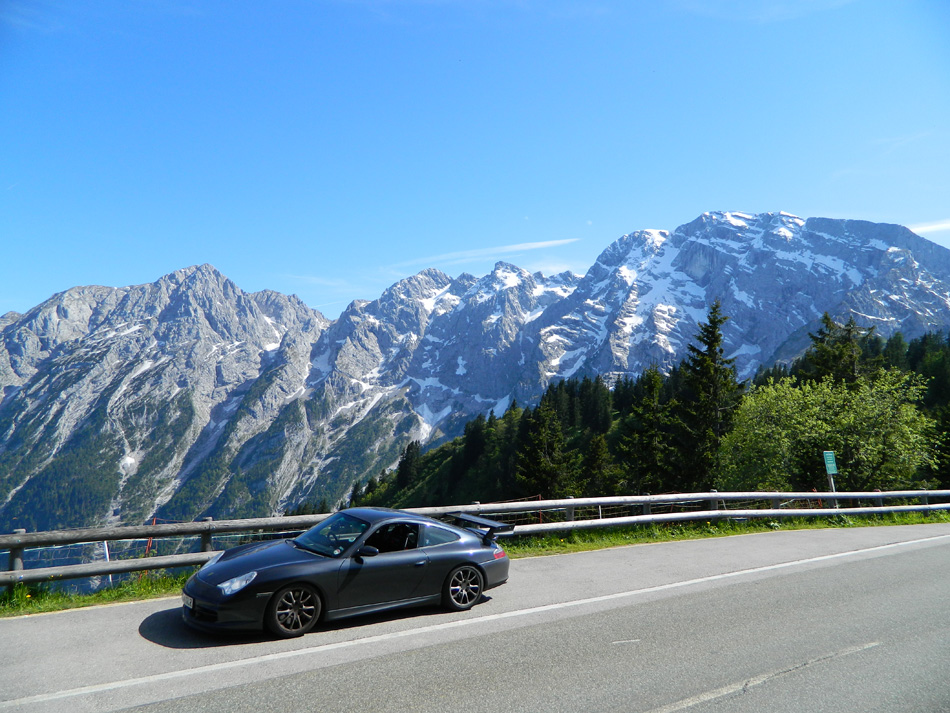 The next main highlight to mention was the Rossfeldstrasse, a 15.4 km panoramic mountain toll road which peaks at 1570 metres. This reminded me a lot of the Grossglockner in Austria, a very similar setting and similar bends. The best thing about it though was it was very very light on traffic. I think I did 1 or 2 overtakes but overall it was almost empty.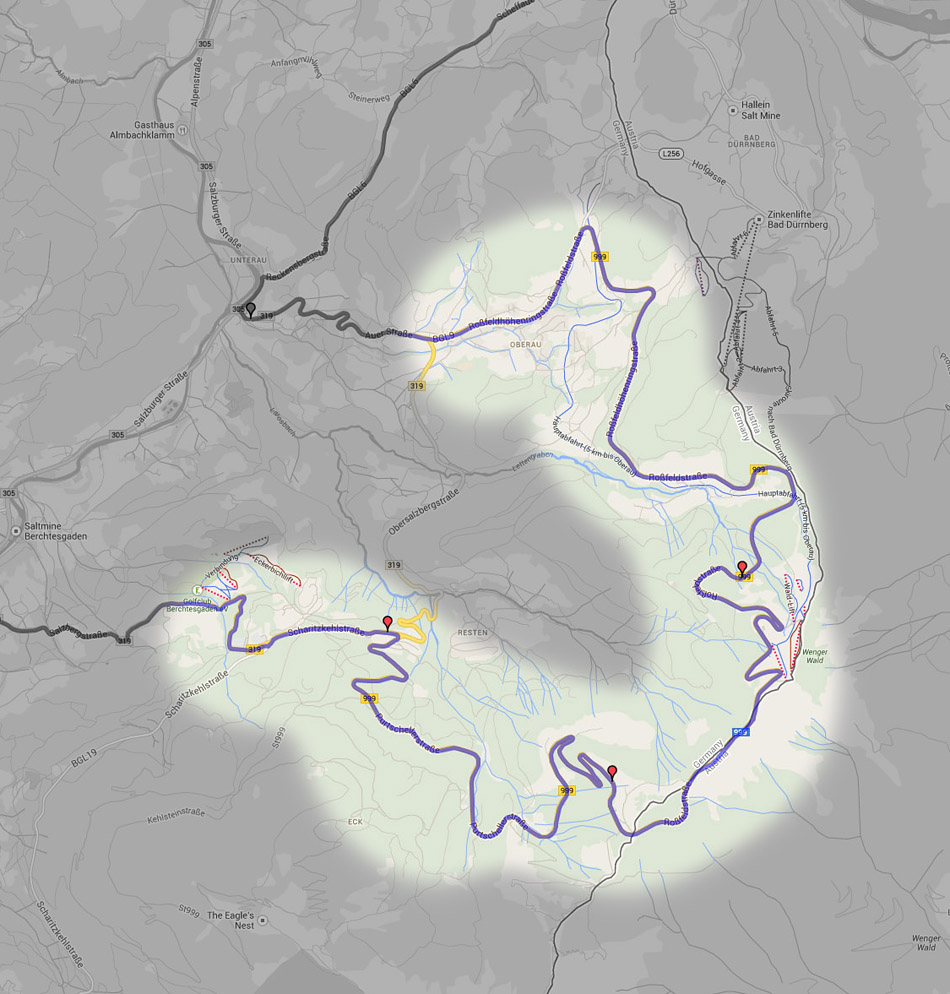 About halfway round you can stop and get the bus up to Hitler's Berghof or the Eagles Nest as its known, which was a formal birthday present to Hitler in 1939 on his 50th birthday and made famous in Eva Braun's colour home movies.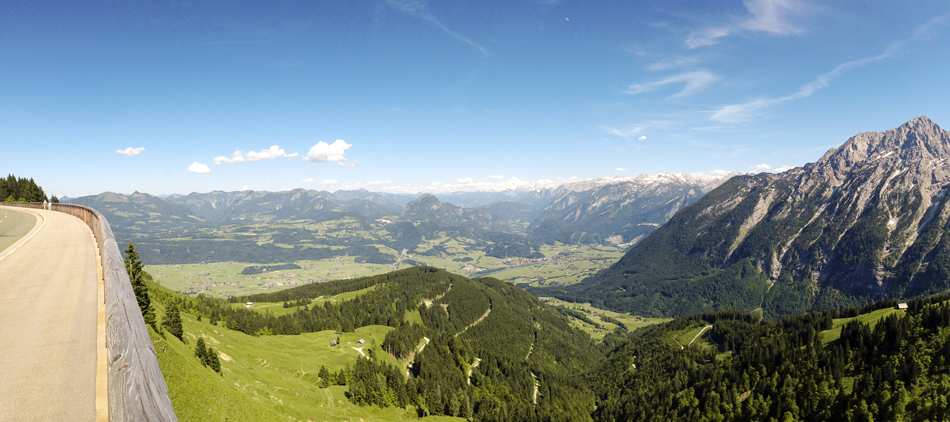 Exceptional views on both sides.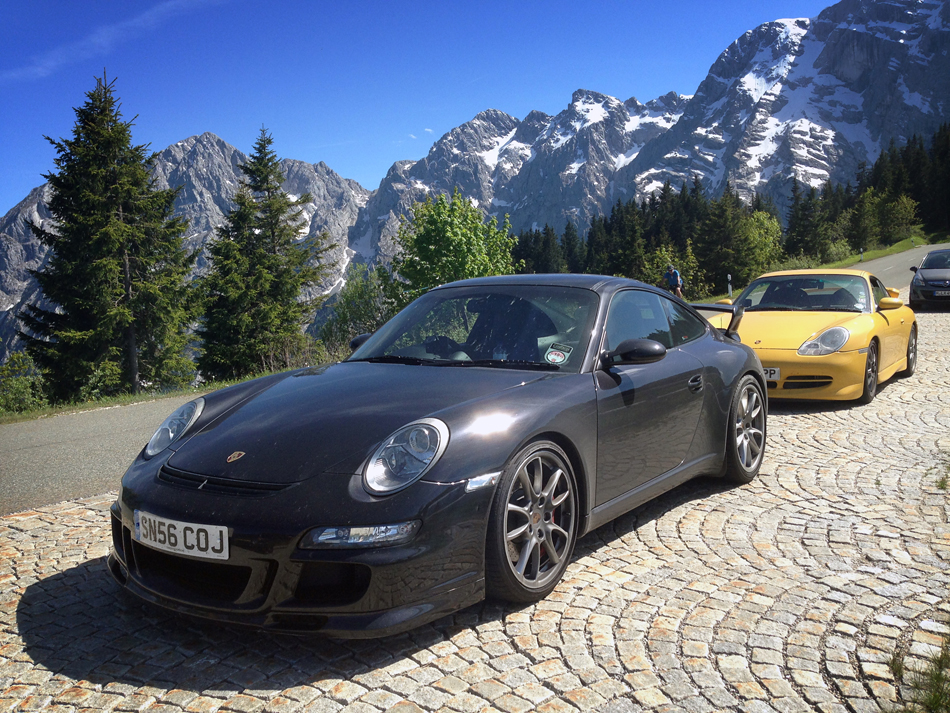 Richy's newly acquired Gen1 '97 GT3 and the yellow peril.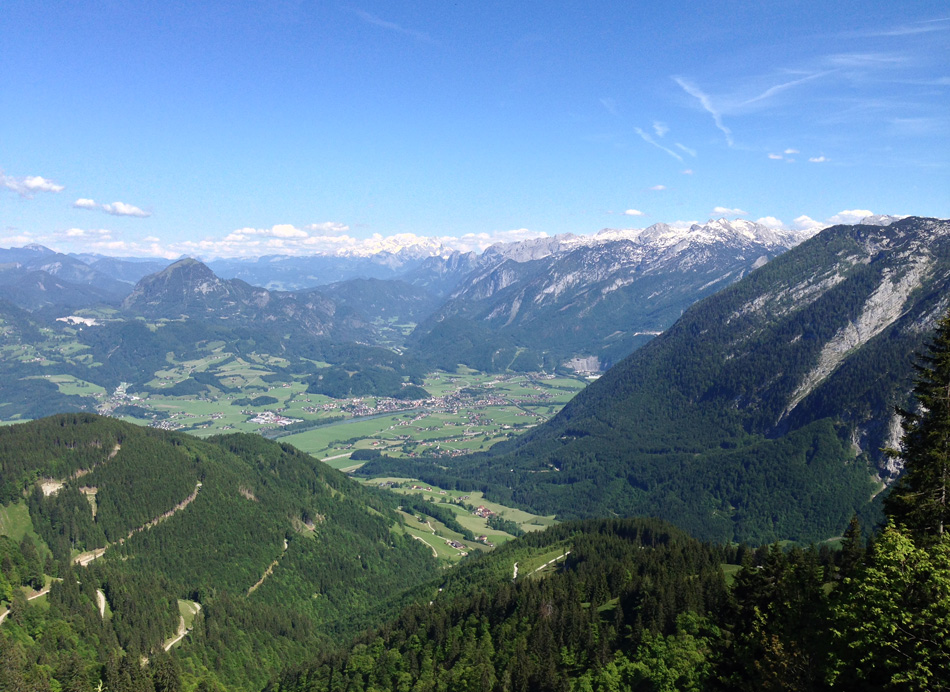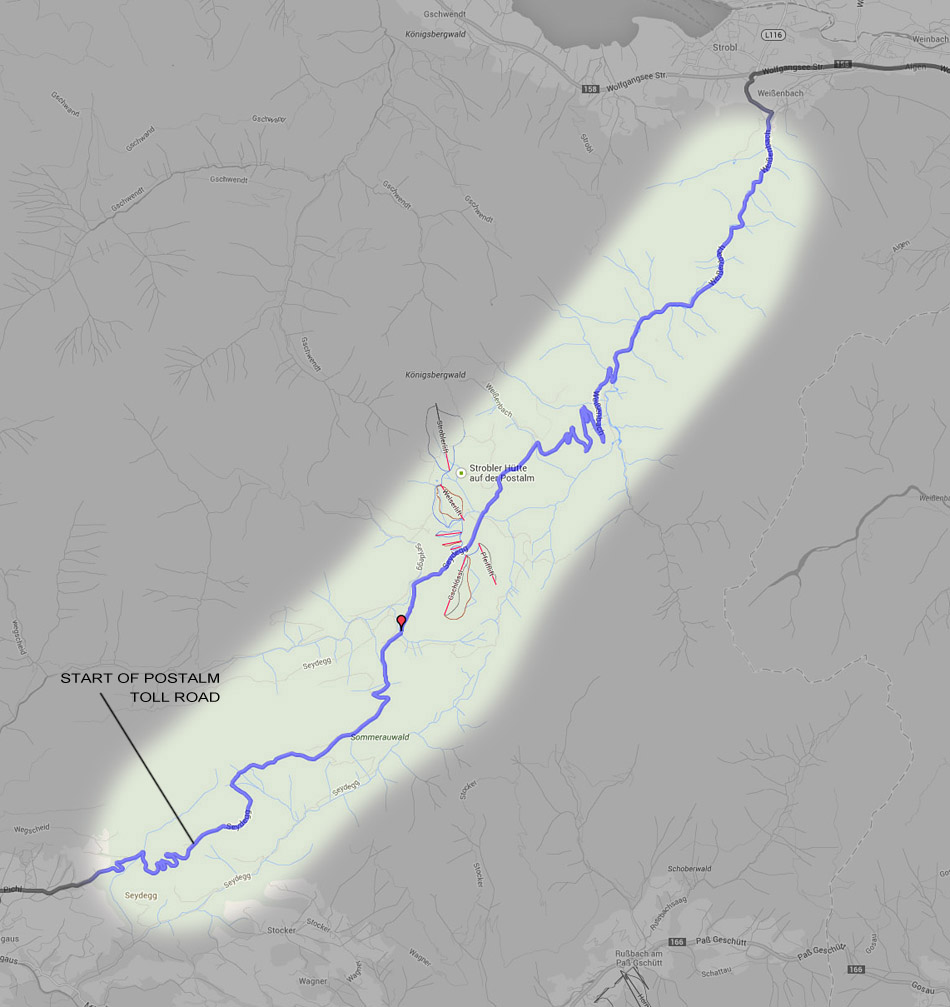 This was perhaps the third main highlight of day 3. After the Rossfeldstrasse you approach an area called Seydegg and the 162 is running north east. Shortly after that on the run to Weisenbach/Strobl there is a wonderful little stretch of road called Postalm. A portion of it is actually a toll road with an unmanned machine which requests 4 euros off you for the pleasure (see pic below). Until I see the video my memory of this is a little distant but I did note it down at the time as a fab little stretch. Narrow and wooded and there is the odd cattle grid to get through as well.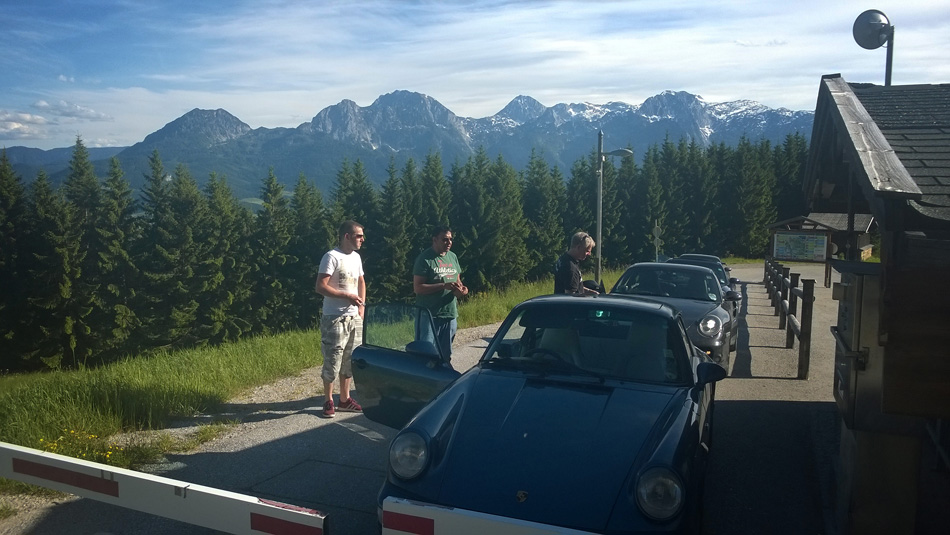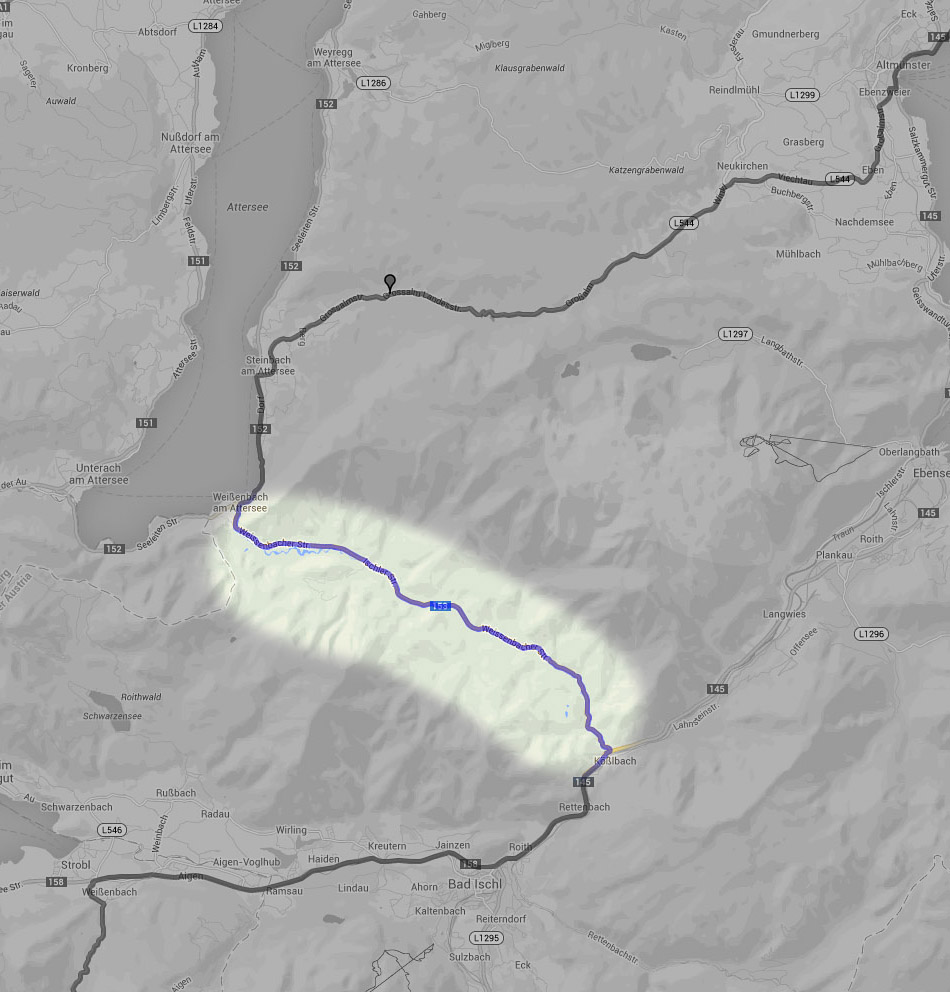 After hitting Strobl you then head east toward Bad Ischl. When you leave Bad Ischl the B145 runs parallel to a wide river and this is where things get good again. The road here - Salzkammergut Strasse - is fast and sweeping and I got a bit carried away with it, missing the turn to the left and carrying on a bit toward the south of lake Traunsee. That right turn though at Mitterweisenbach, where you head back north west toward the bottom of lake Attersee, that stretch was probably my out and out best run of Day 3 and one of the best stretches of the whole trip. The road is pictured above, the B153 or Weissenbacher Strasse, and it too follows a little river like many of the best runs. The scenery is stunning, it's very very fast with plenty of very swift medium speed bends, elevations changes, a good surface, loads of armco and the odd bridge. Just an amazing technical road that gives endless pleasure, like it was actually made for me personally by someone who knows me extremely well.
Interestingly, the next run over to Traunsee on the L544 (Großalmstraße ) is also pretty memorable as well, if not quite as good as the 153. This road runs along a plateau but still has plenty to offer.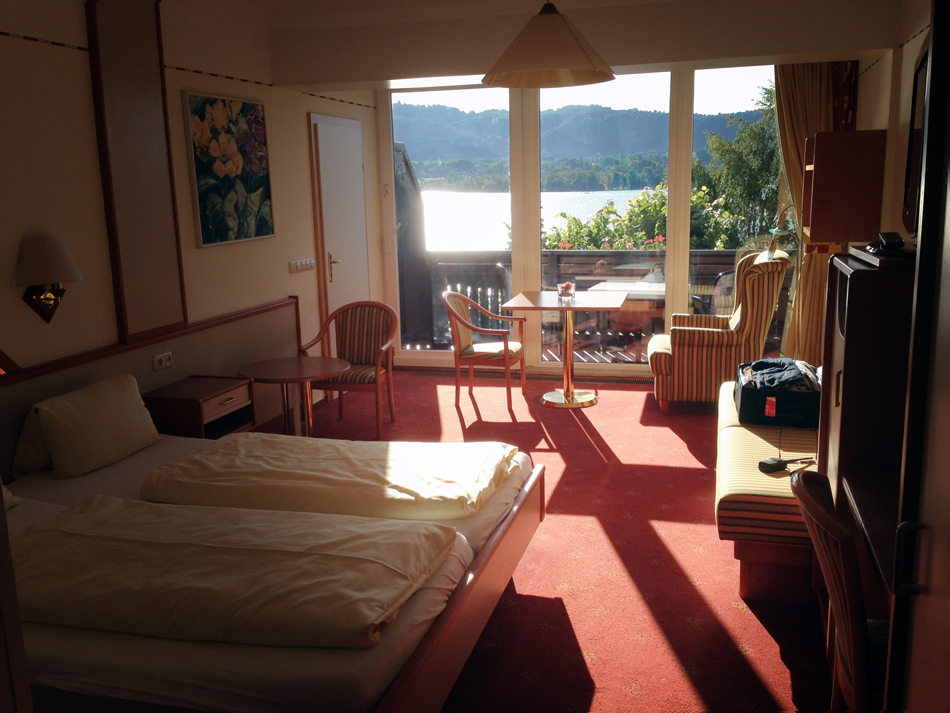 Gmunden at the top of lake Traunsee was our stop for the night. We had a great hotel on the east side of the lake (the posh side apparently). Like last year with the donkey sanctuary, this establishment had become the brunt of many many jokes before we even started out on the trip because someone noticed that they have a habit of hosting some peculiar looking Transvestite parties. In exactly the same way as last year though, the Grunberg hotel at Gmunden turned out to be an absolute gem. Situated right on the lake each room had stunning views and the food, hospitality and general joie de vivre experienced here was spot on.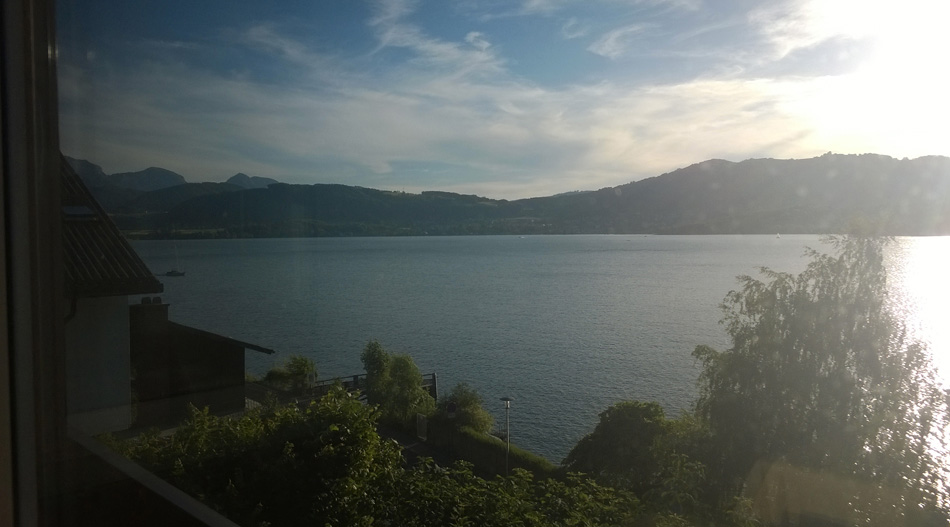 Lake Traunsee from the balconies. Overall Gmunden is a place I would certainly visit again. Watersports, a pretty Dartmouth-esque shoreline, great people and a fun holiday atmosphere.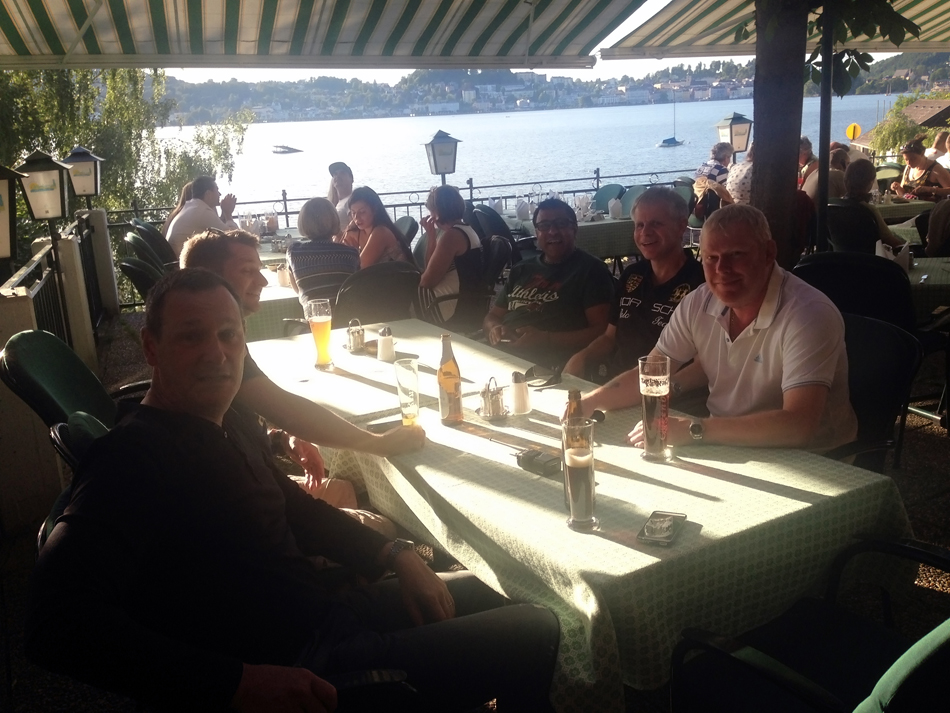 By now, a strong repertoire of private jokes, phrases and unrepeatable themes had been established; the fooling around and shared humour on these trips is as liberating and life affirming as the driving.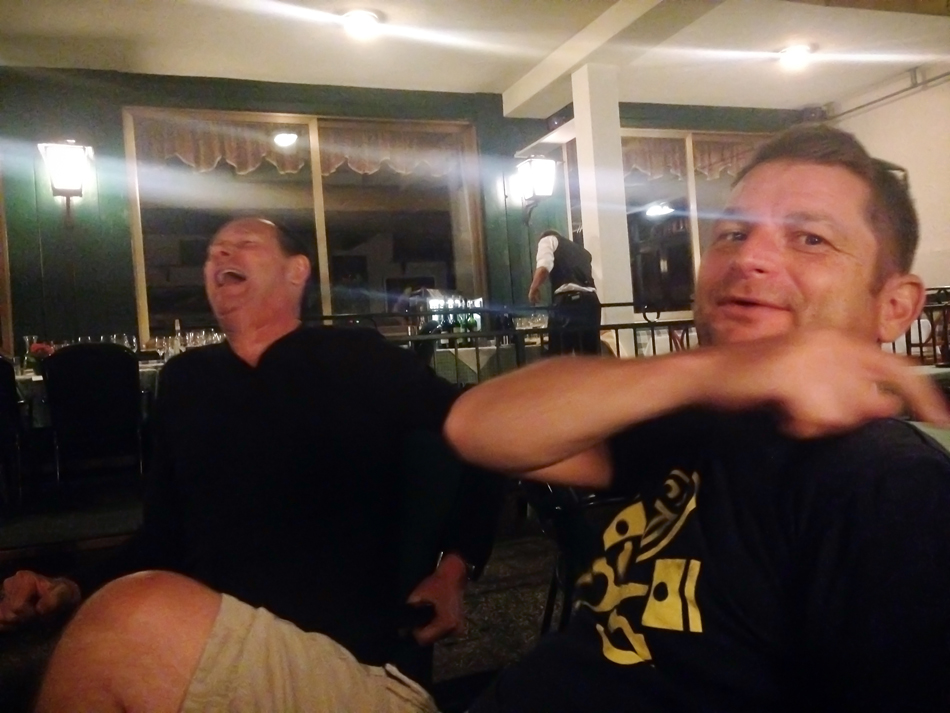 Our only mistake at Gmunden was not jumping in the lake at 6pm when we arrived. Instead we settled straight into the beers and sat out pretty much till 2am having lots of fun with the staff. A couple of the guys then went into town with a few of the waiters and waitresses (seen below arriving back for bed at 5.30 am !) and to be honest I am not sure any of the rest of us fully know what then truly took place ! What it did mean though was a late departure at around 11am the next morning to give the nightbirds a chance to catch a few more hours shut eye.

Day 4
'All roads to Vienna', East Austria
220 miles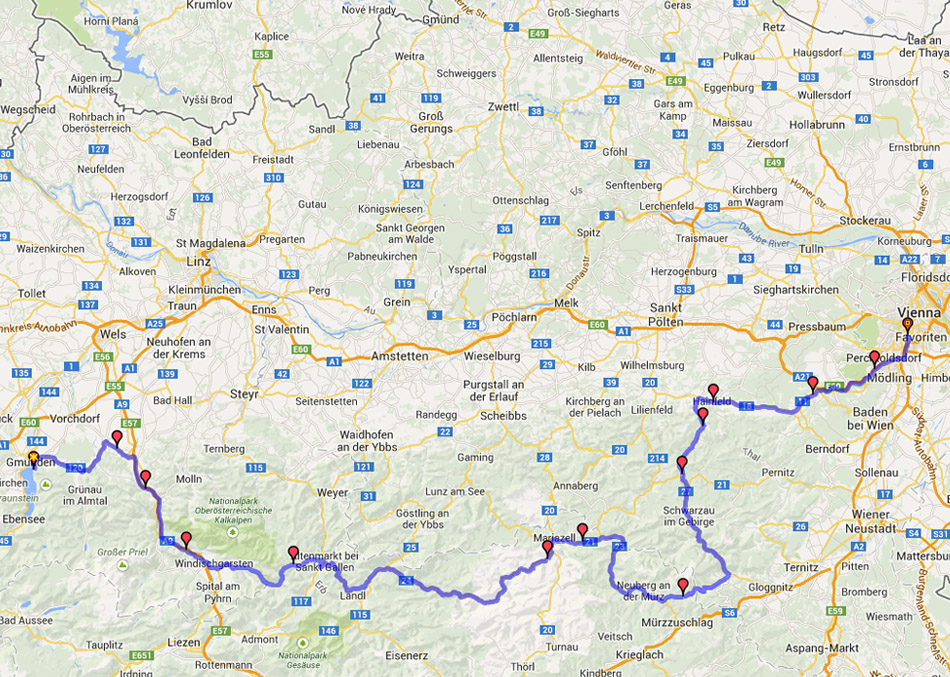 Did I say day 3 was the best driving day ? Well I suppose day 4 could have held that title as well if it wasn't for the insane numbers of bikers around Mariezell. Driving out of Gmunden the roads were good from the off, no complaints at all. Rolling hills, good surfaces, very open with a few tight sections and plenty of speed.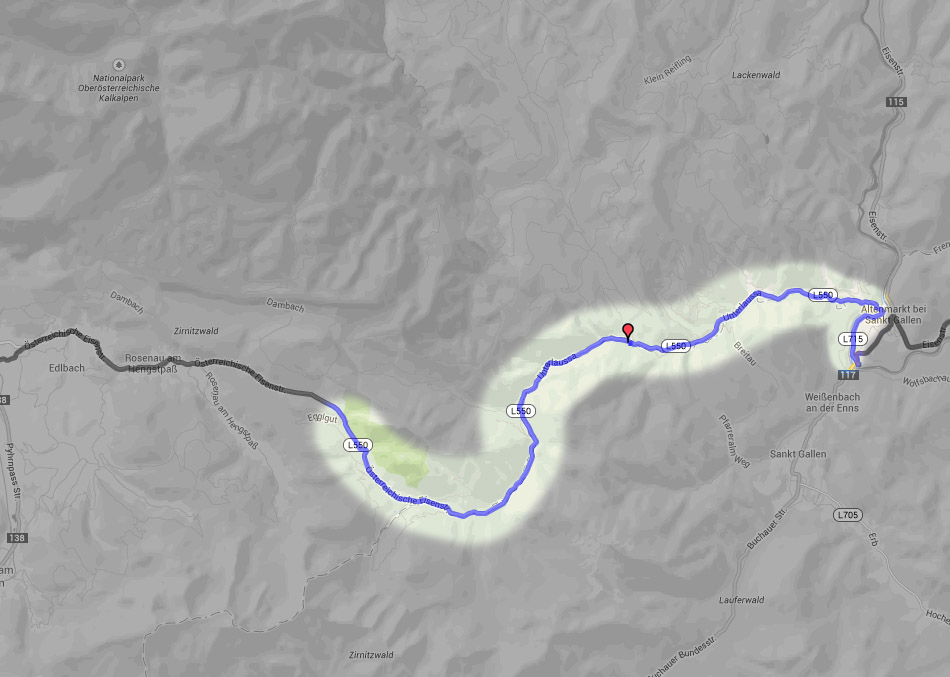 The first snippet to tell you about in detail was Hengstpass which is another biker's favourite. Once again, this was is a narrow gorge that was following a river. The L550 approaching 'Altenmarkt bei Sankt Gallen' cuts its way through high cliffs and descends down gradually. This is never ending flowing twisties and great fun. At the bottom you turn sharply around and follow the river the other side on a nice fast flat section.
After that the road turns you inward and you head up north again and through the town and then turn back east and follow the main river again along another really fast open stretch. This is a wide trunk road following the river Enns with very fast 3 figure corners. This was all lovely stuff, simply amazing roads and very very few cars in sight.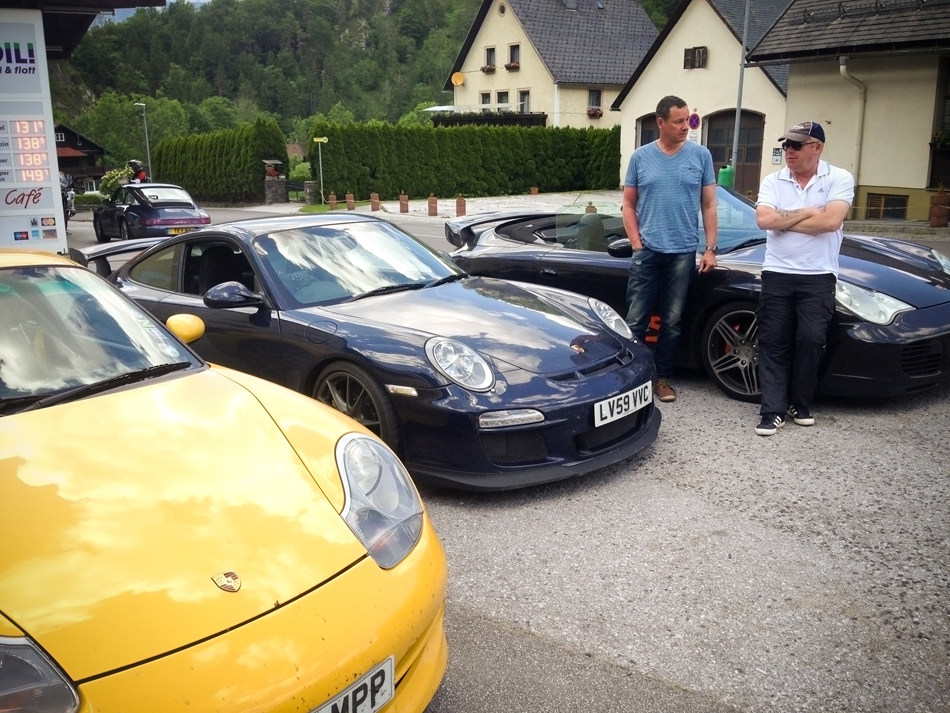 A fuel stop at Wildalpen and it was after this that things went a bit pear shaped. We got stuck behind a snake of about 15 bikers on the B24 and the back marker was doing some crazy stuff to stop us getting past. We thought about stopping for 30 mins or so but to be honest this whole area between Palfau and Guswerk was absolutely crawling with bikers, the kind that pootle along and hog the whole width of the road too. Still, the 2 wheeled wannabe policemen elicited a a lot of amusing chatter over the airwaves and it's negative incidents like this that can give these tours their character, their humour and talking points.
If you venture this way though then be aware that if you get a free run, the B24 is reckoned to be one of the very best stretches in the whole of Austria. If we'd taken this unobstructed then day 4 could have been battling out at the top of the podium.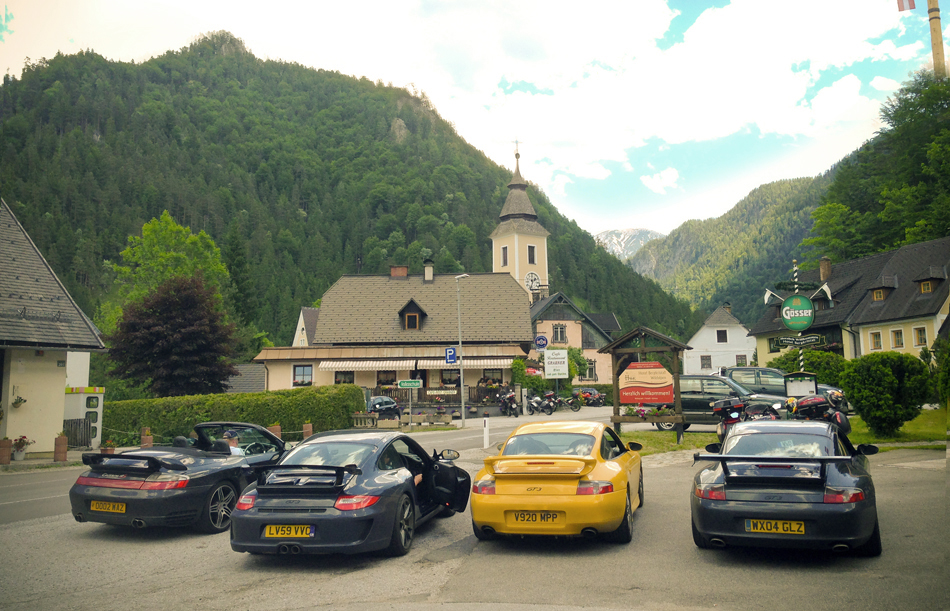 Late morning breather and refuel.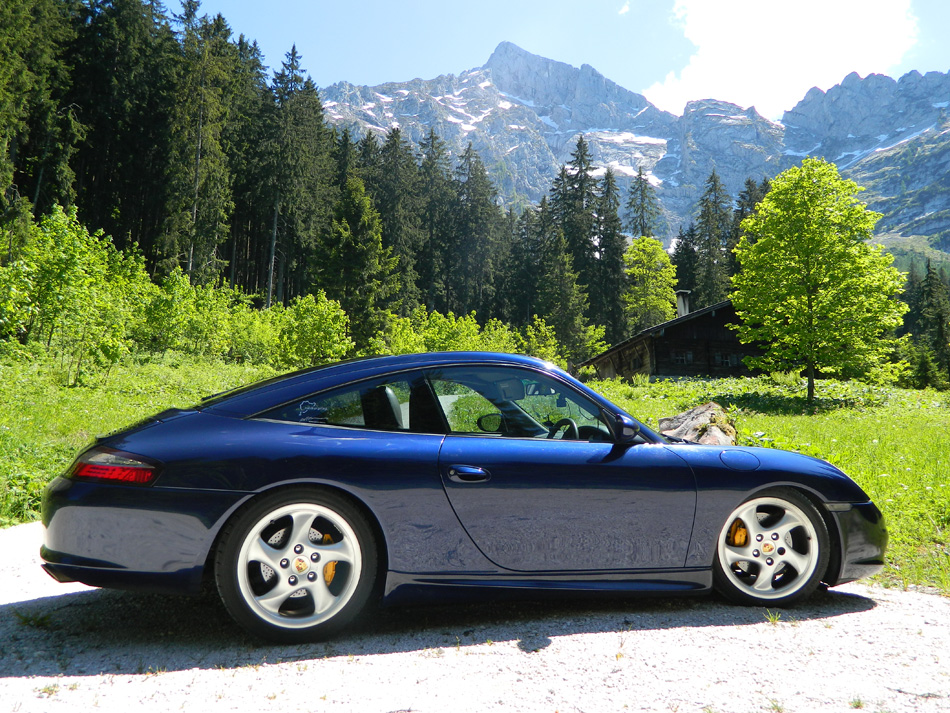 Chris's very low and eminently capable 996 Targa.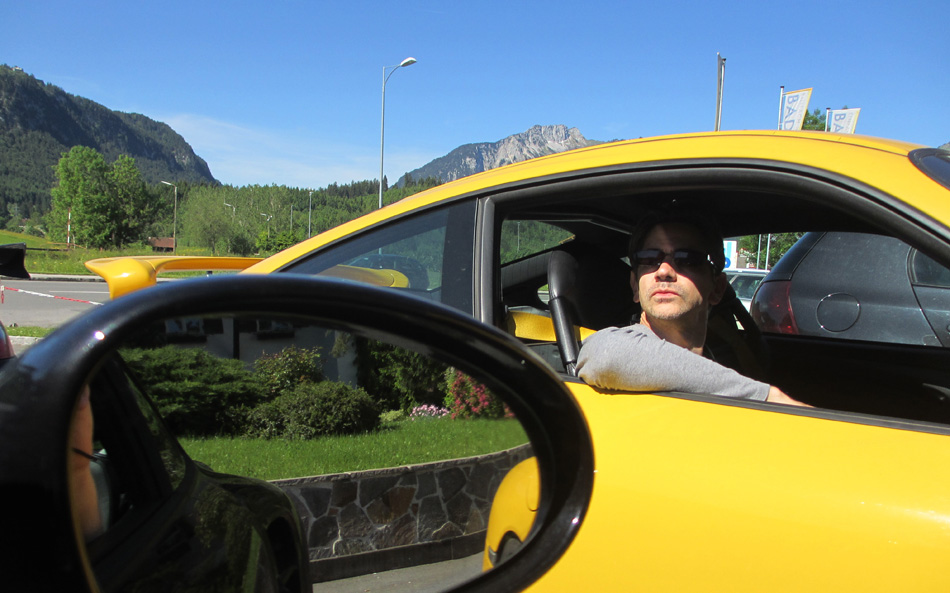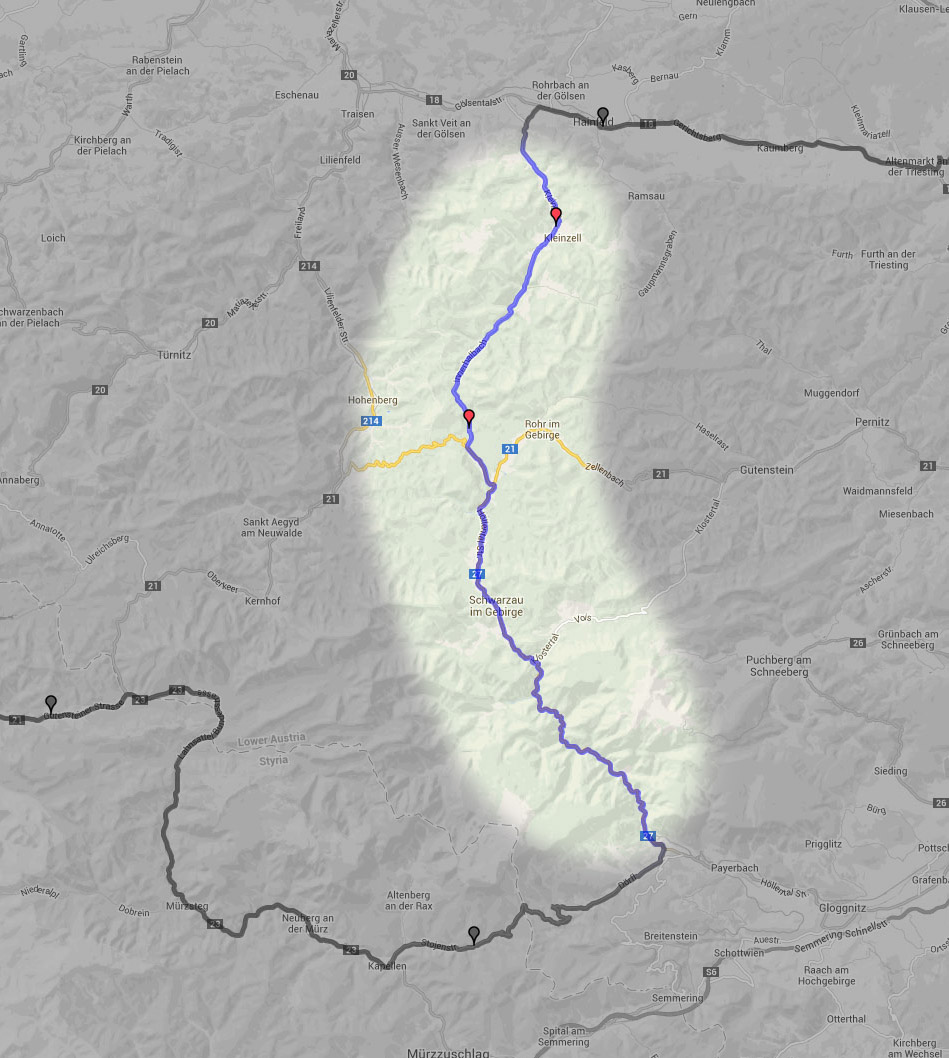 Onto some good news. After a lunch stop at 'Hirschwang am der Pax' I blazed the trail up ahead and went alone for a good 40 minutes or so and had probably the drive of the entire holiday.
Turning north, the run to Kleinzell on the 27 and then the L133 north from Kalte Kuchl was one stunning piece of tarmac and just about perfect for a GT3. The first part of the B27 is a narrow gorge which widens. This is extremely varied with lots of elevation change, every type of bend and plenty of fast straights too and the surface is absolutely tip top. Its one of those roads that feels like Spa and the GT3 is in its element here, rewarding a very smooth and highly measured technical steer with extreme economy of input. This road leads into the B21 and then into the L133 which is also one of the very best roads in the area. Just watch out for police here though because its popular with bikers and there's been a number of deaths here over the years.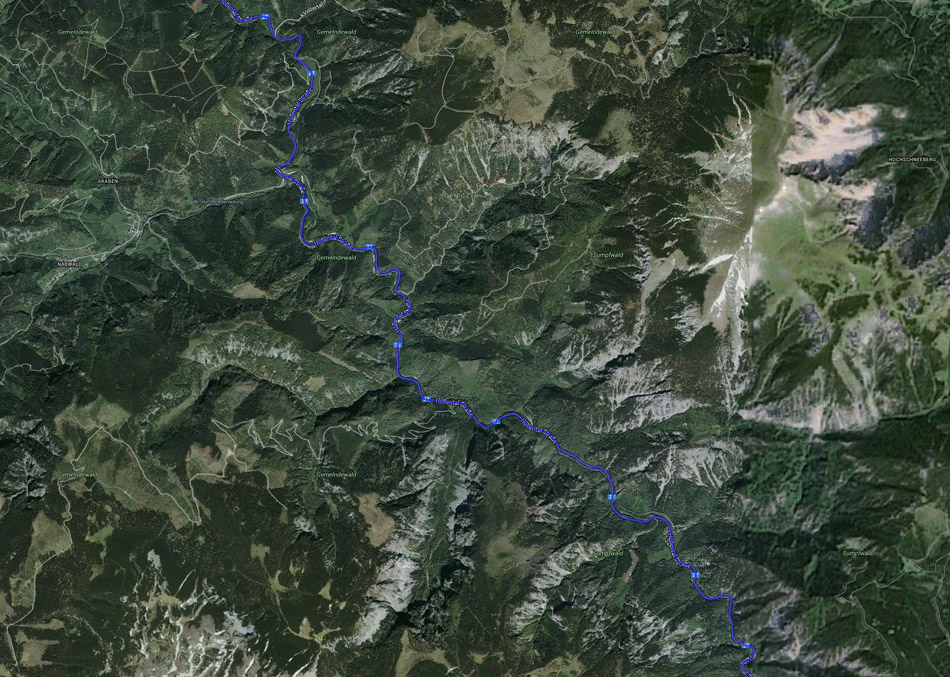 There you have it anyway, the first section of my best run for 2014 in colour and its roads like this that make you vow to hold onto your GT3 forever.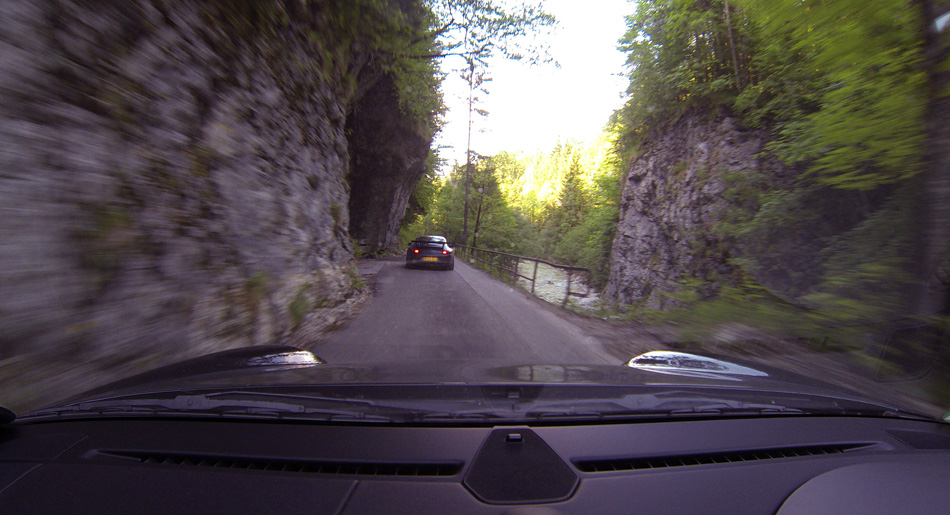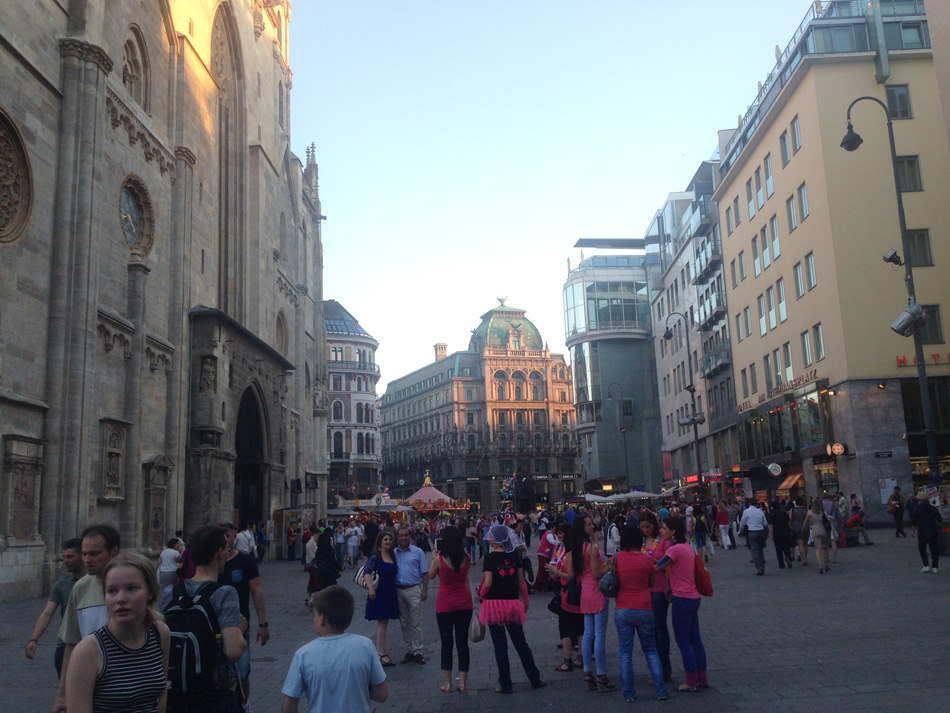 Ok, so it's not quite the Coach and Horse on Putney high street ...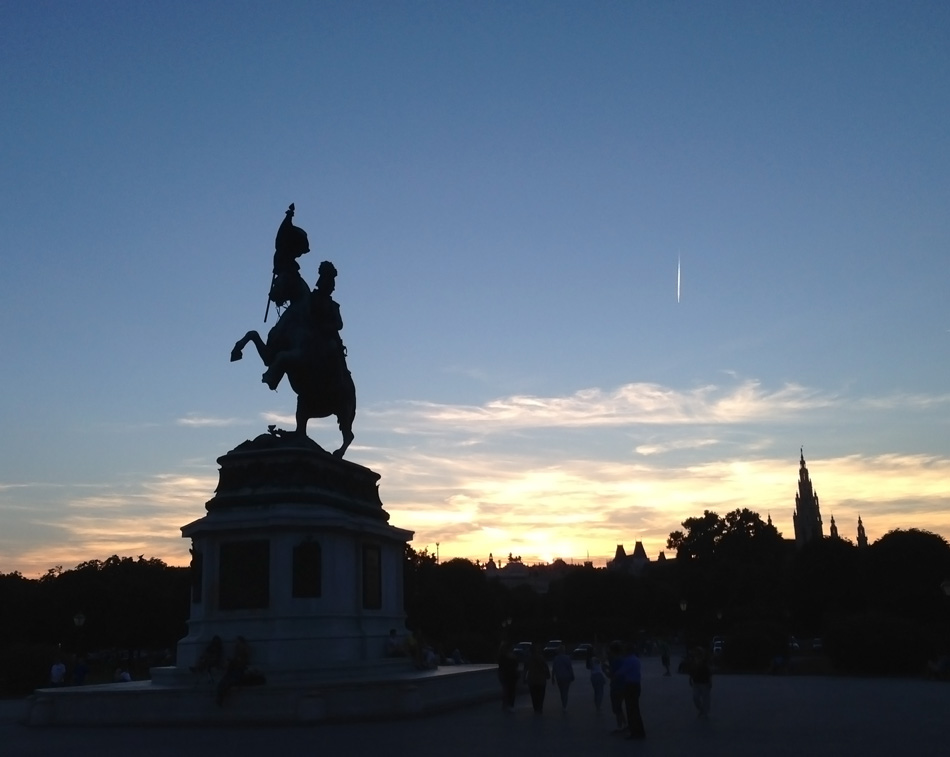 Truth be told Vienna was a bit of a let down. We got there far too late and had little time to wander around this large city. We saw a few landmarks, felt a small degree of big city ambience but overall, we didn't even begin to take in what the place truly has to offer. We missed the Ferris wheel from the "Third Man" too ... maybe next time.
Day 5
'Descent to Italy', Vienna to Forni di Sorpa
331 miles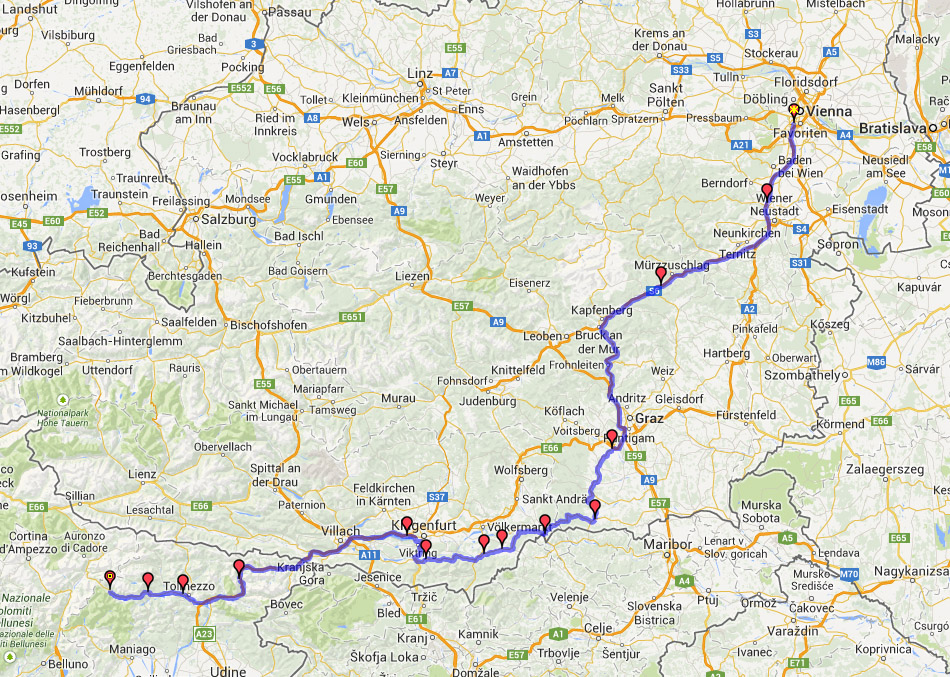 Day 5 started with a brisk motorway run. That was no bad thing and in fact I'd say that on trips like this, a good motorway blast to release some tension and inject a sense of open freedom into proceedings is always welcome.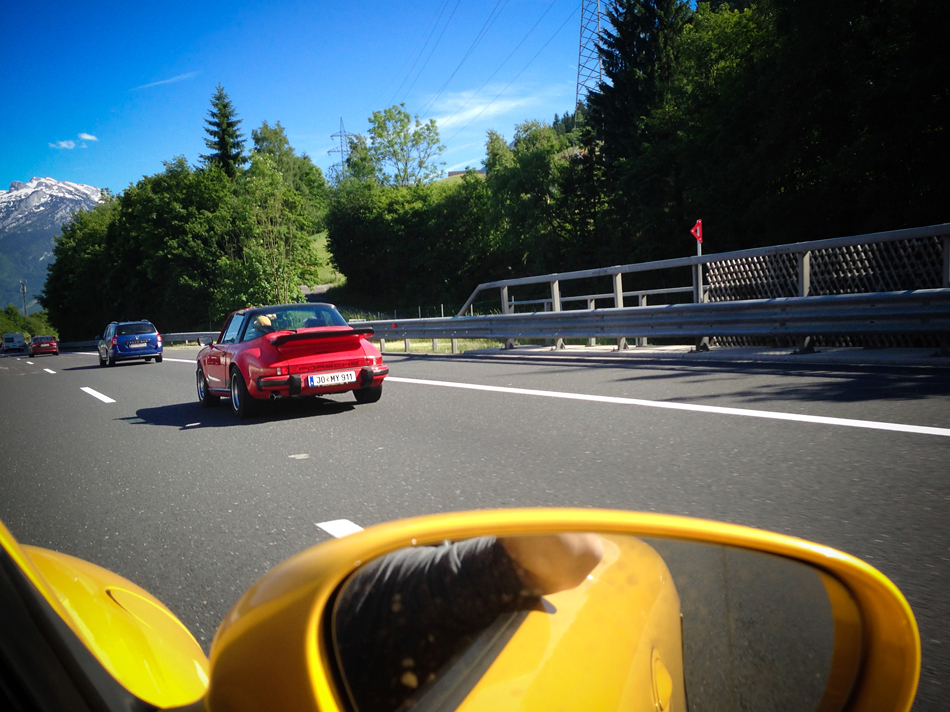 It helps if you can spot some fellow pork on the way too.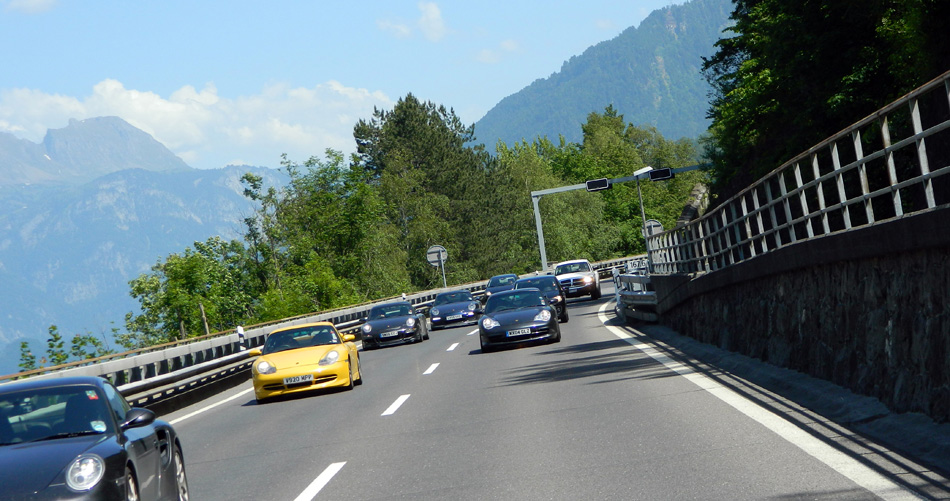 From there its fair to say that the day never really got going. A small group had left very early doors and were radioing back reports of a huge police presence near the Austrian/Italian borders and I think a few of us felt a little worse for wear in any case (some couple in the room below me in Vienna kept me awake all night arguing then making up in one neverending cycle !). In a natural evolution of circumstances, day 5 ended up being a fairly sober run into Italy.
No great shakes though. With a heavy head and a good mix of motorway miles to get through, day 5 was the ideal 'clanger'. Every driving holiday has one or two days which don't quite hit the spot and sometimes it's actually quite nice to sit back, tow the line and have a day off wathcing it all go by.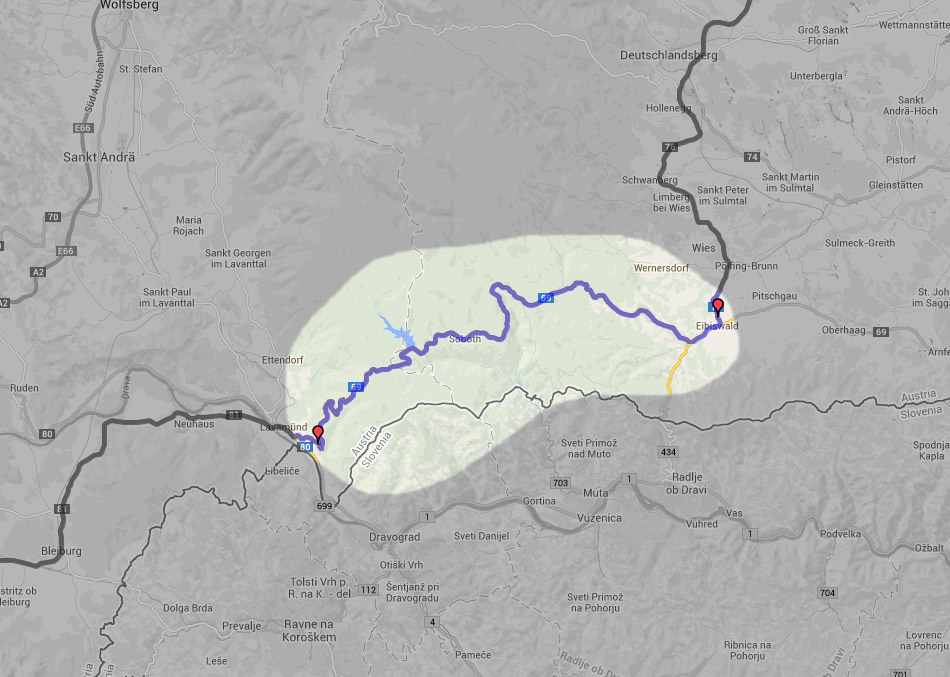 Just one more road to mention in Austria though and that was the B69 from Eibiswald to Lavamünd. Now this was exactly where one of our speed trap warnings from the other guys was. About 40 mins before we arrived here this place was apparently crawling with all sorts of police vehicles who were nicking bikers left right and centre. When we came through it though it was nothing but tumbleweed but the damage had been done and I'll have to wait many more years before I get the chance to take this road again in a more befitting manner. The B69 though was a real gem and is mentioned many times on biking websites. Steep, tight but fast and open in the east you could not ask for more. There is a pretty interesting youtube clip of it here.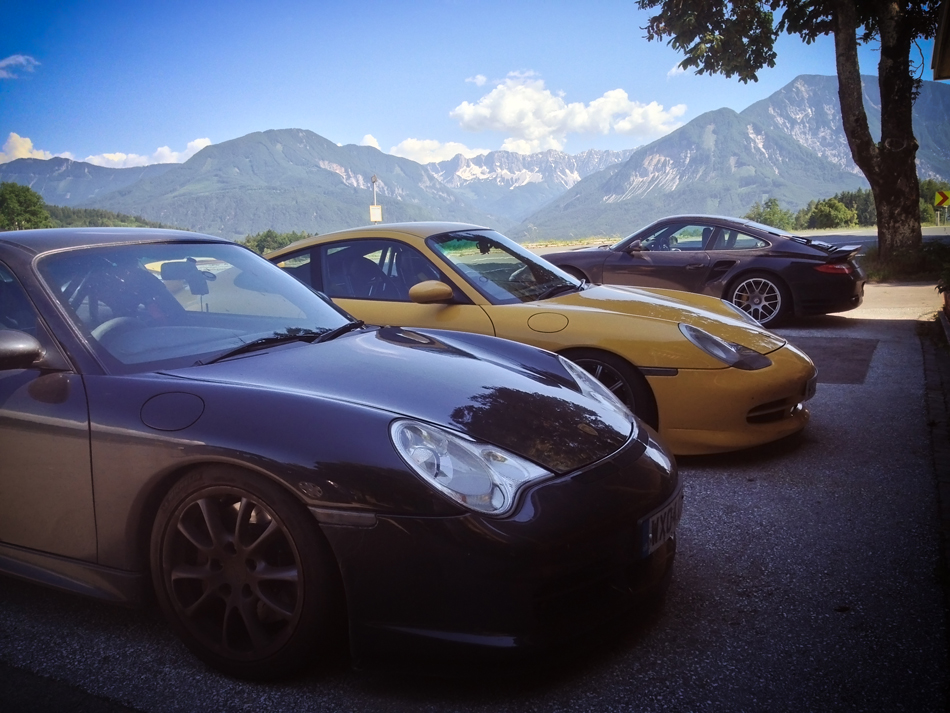 We took a lunch stop at Maria Rain. Excellent food here, the Italian influence was strong.
The finale for this day, as mentioned earlier, was the final run on the SS52 from Ampezzo to Forni di Sorpa. This was very tight and twisty and a great booby prize for a fairly nondescript day.
The SS52. The video's wide angle doesn't even begin to describe just how tight this section was.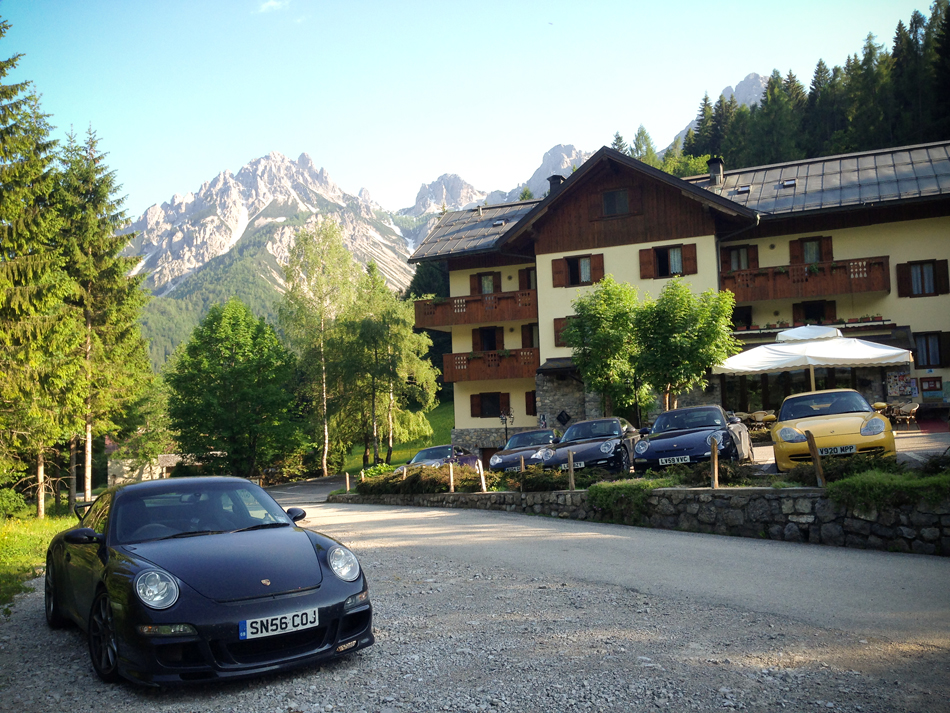 Arriving at the Hotel Nuoitas. There was a Italian 944 owner there (of over 20 years) who went nuts for our 911's when we showed up.
Day 6
'The Dolomites', Dolomites to Stelvio Pass
227 miles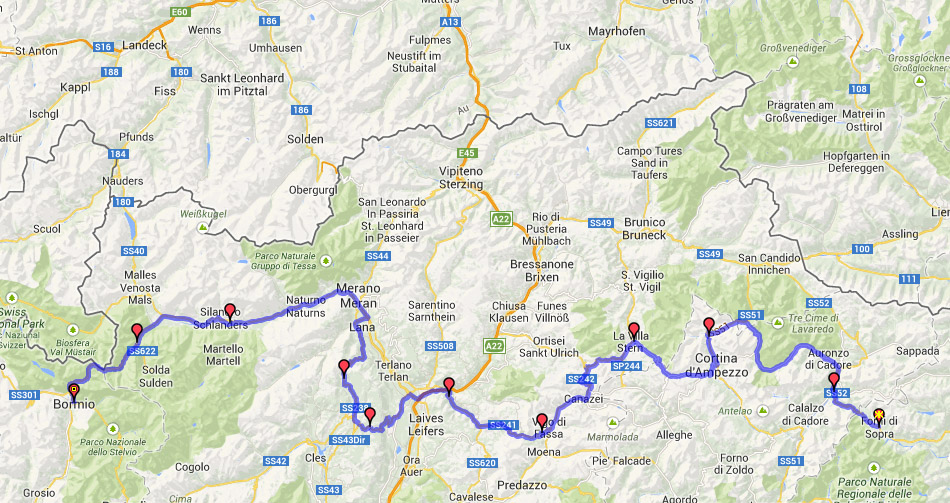 Day 6 had always been billed as the best of all. All of us got an early night (relatively !) and prepared for an early departure toward the dolomites.
The run out of the hotel that morning was fabulous so the quality of the driving started right from the word go. the SS52 pretty much continued as we'd ended the day before with lots of tight turns, hairpins and elevation changes. This is definitely the way to approach the Dolomites and gets you nicely warmed up.
I think after Lozzo we went through a number of towns and then past Giralba into some really fast woodland stuff on the SR48 and then it got a whole lot tighter and narrower and started climbing rapidly just before the beautiful lake at Misurina. I was behind my 996 GT3 partner in crime at this point and we had great fun attacking this section together.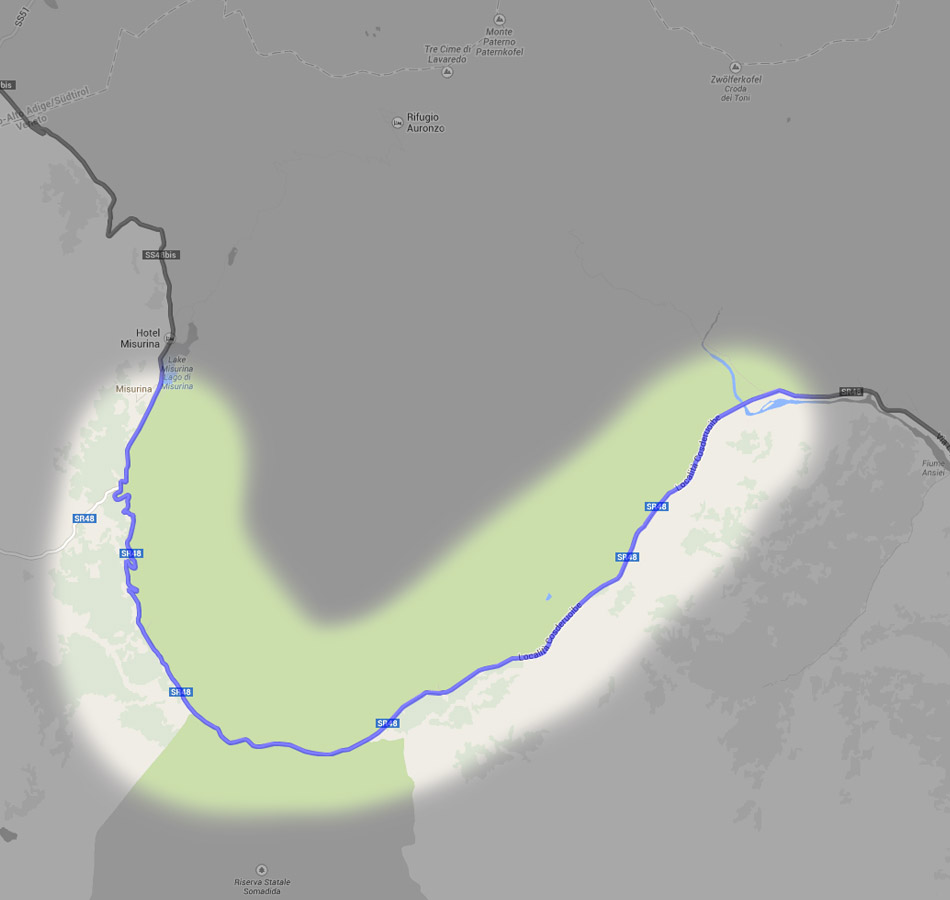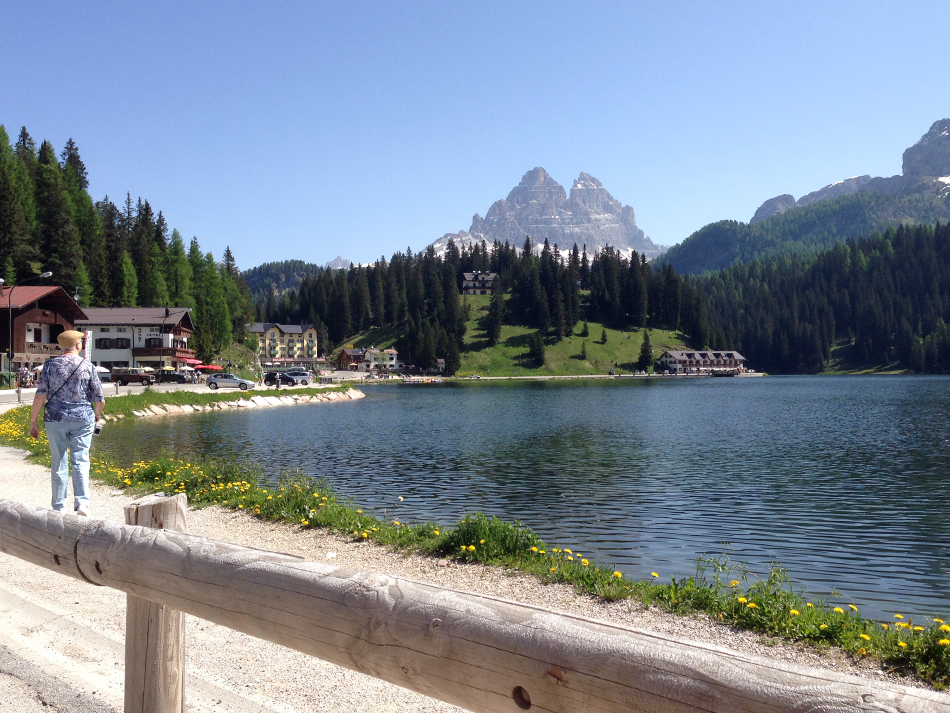 Lago di Misurina.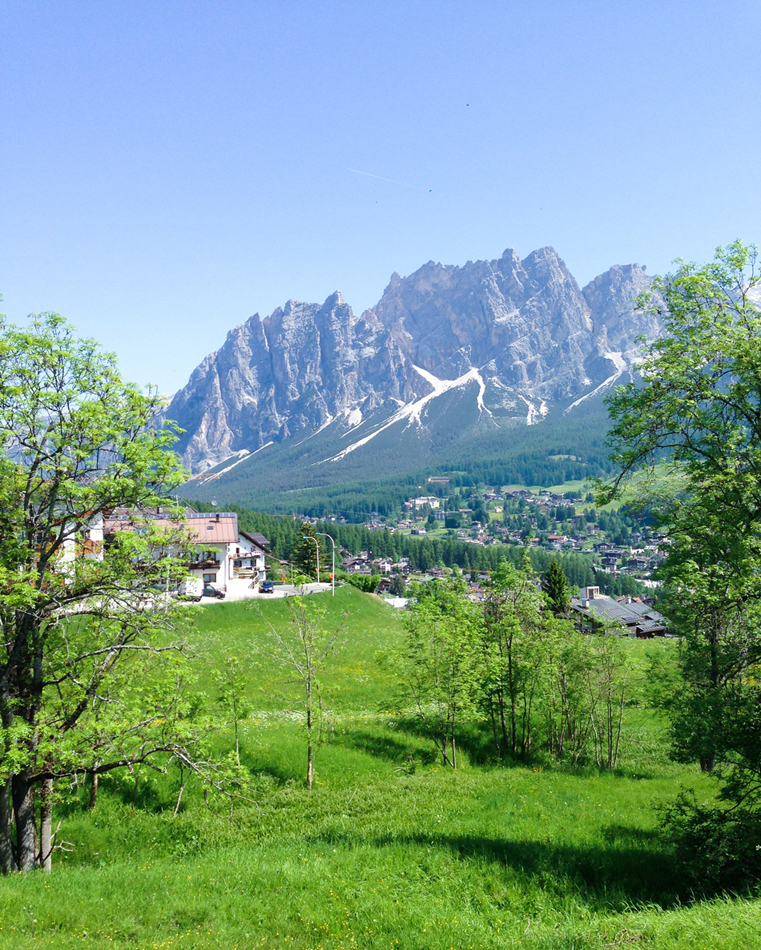 Approaching the dolomites.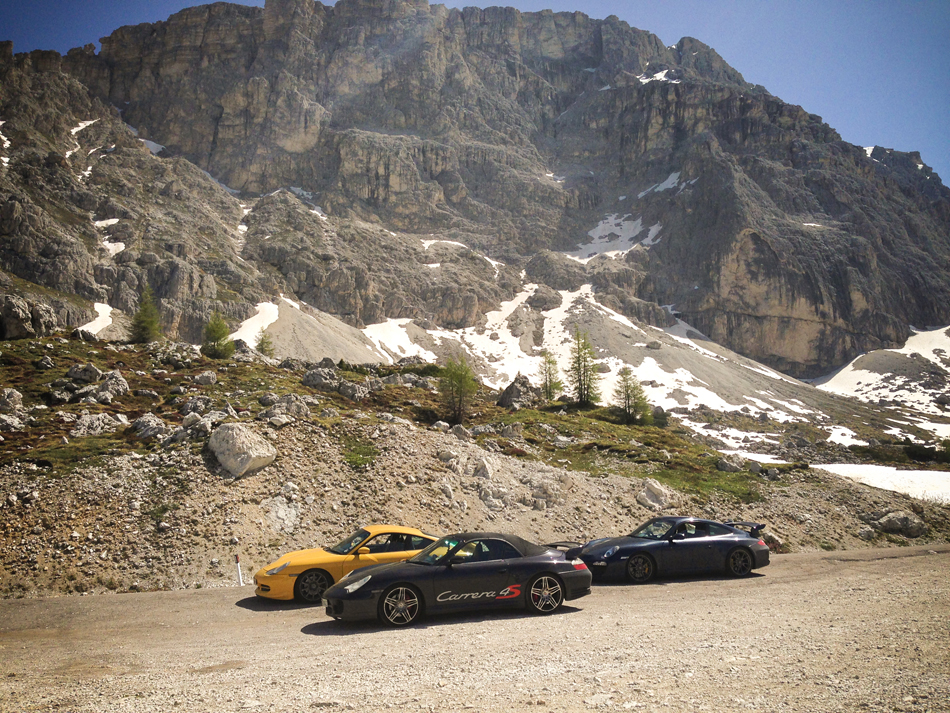 To be honest the main part of the day actually in the dolomites is a bit of a blur. It was all good, all spectacular and you really can't go wrong whatever roads you pick in this area. I do remember we went up a couple of roads that we came down on last years trip and although I would say last years route in this area was a touch more satisfying, we still all had a real blast again here. Photo opportunities at every few hundred yards, gorgeous clean air, incredible sights and great tarmac.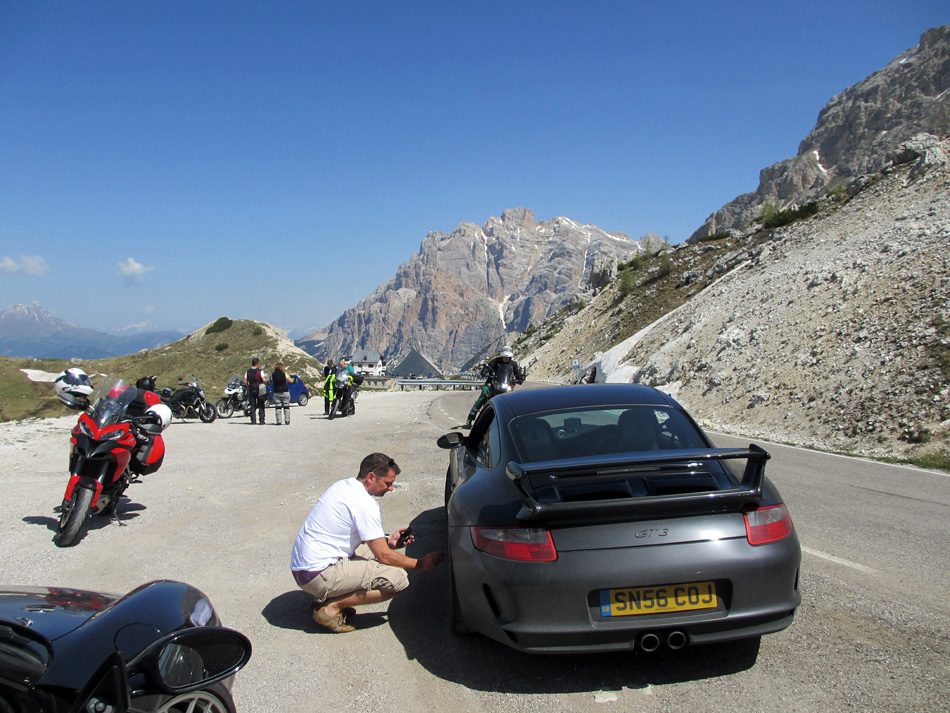 Richy D letting out a few psi.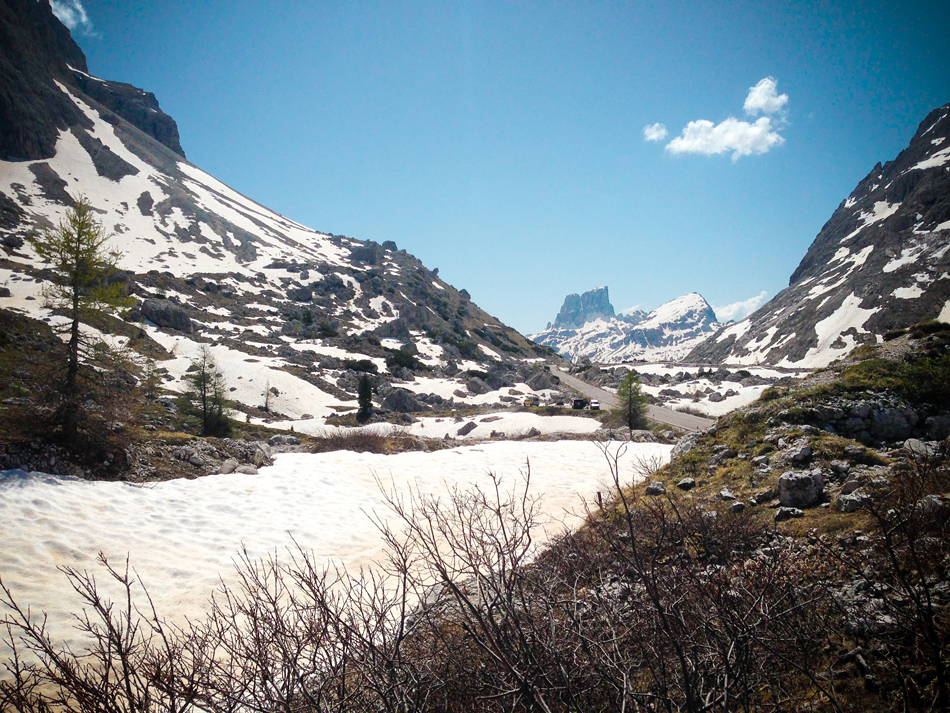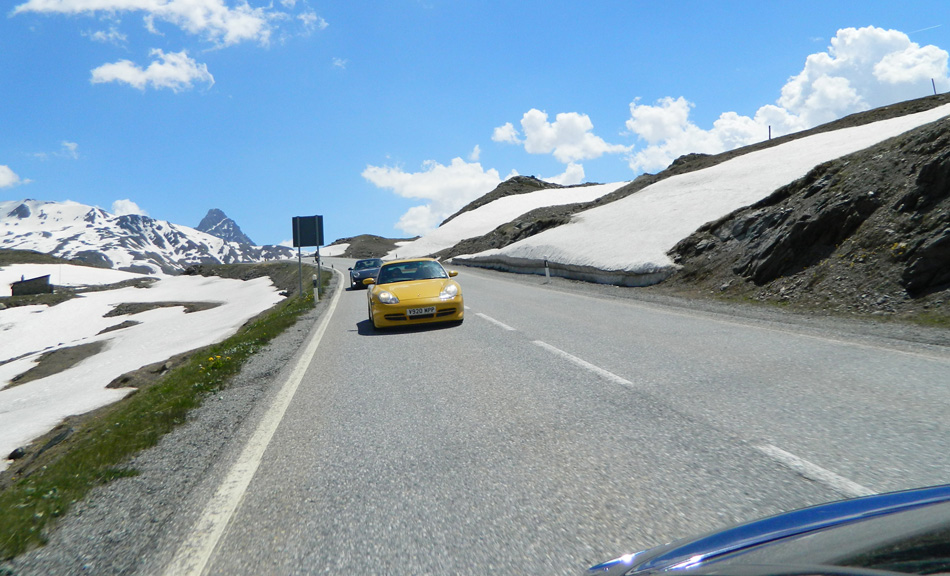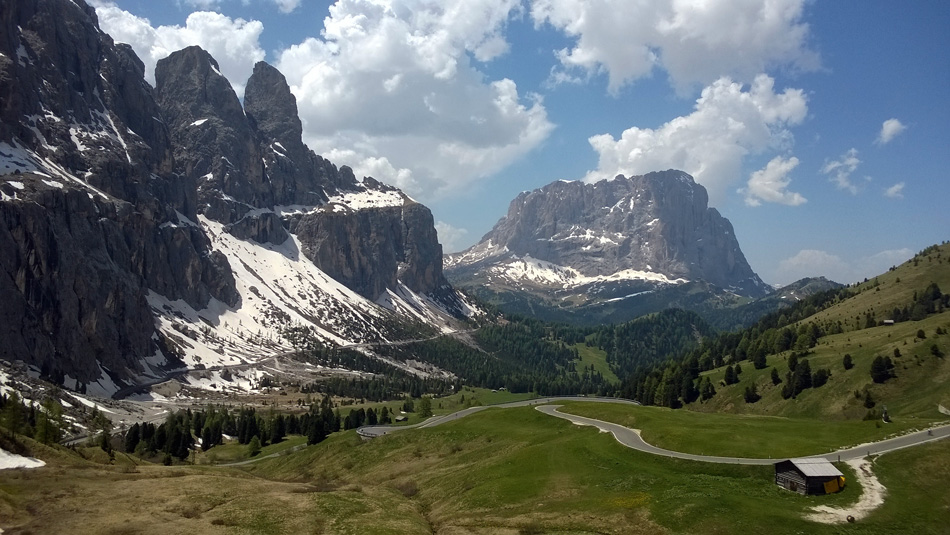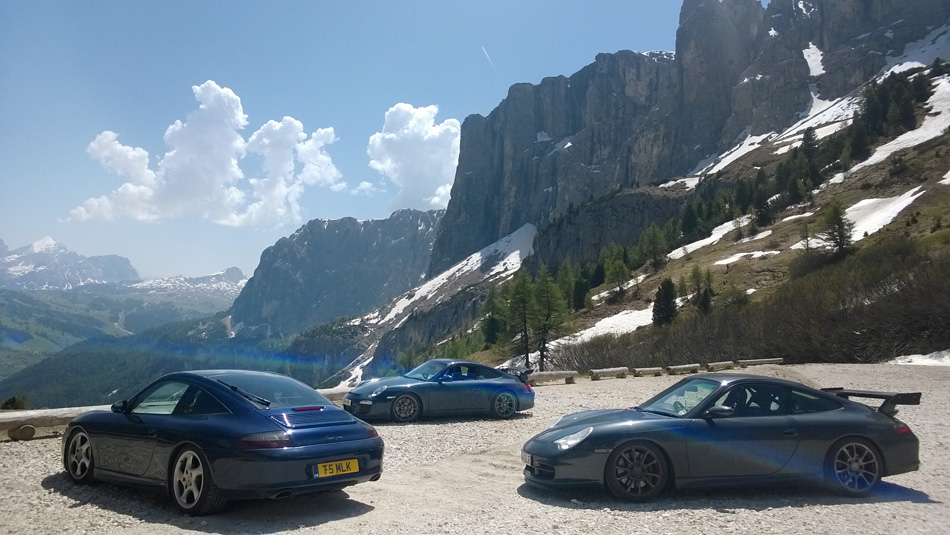 Here at Passo Gardena on the SS243 we realised that the road was closed. A helicopter was up above and was moving rocks from one side of the mountains to the other. So more landslides just like last year except this time, it only meant a 10 minute detour or so.
There's always a blocked road.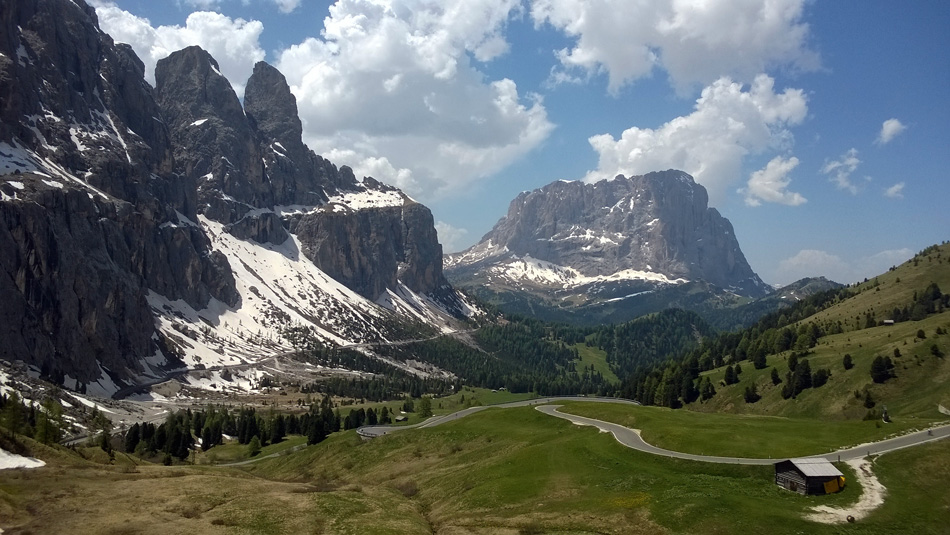 Great views from Passo Gardena and not a bad plate of pasta either.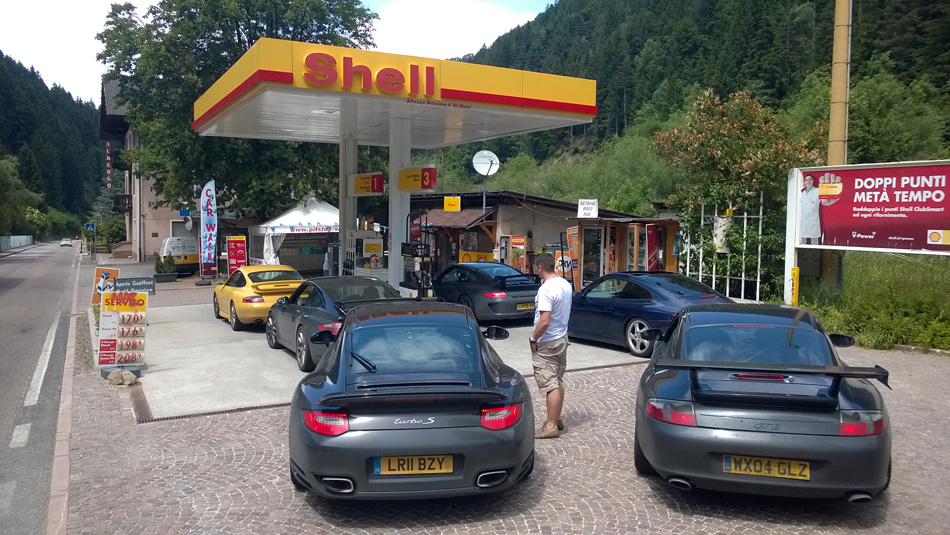 The garage at Ponte Nova. Same place we refuelled last year.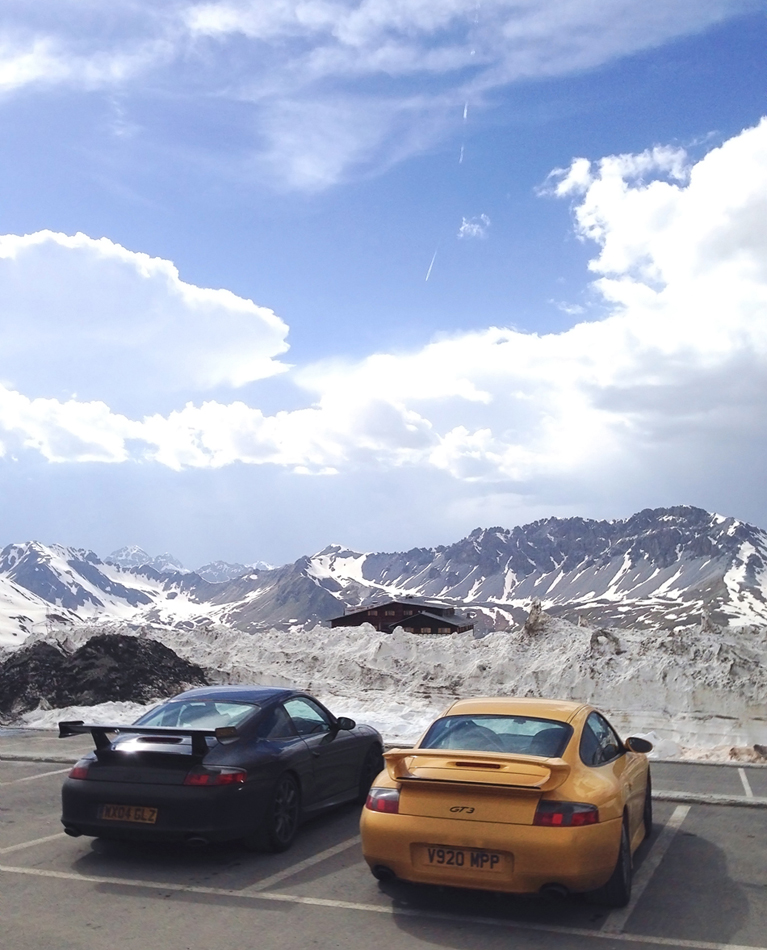 Stelvio, oh Stelvio. What can I say ? Well the run up was a pain in the arse really; not a great driving road, not even a 'driving road', just a very bumpy rough endless sequence of annoying hairpins. It might be good in a caterham R500 on christmas day with no one around but other than that ....
Nope, we came to stelvio for the views and the T shirt and in that respect it did not disappoint. Here the 996 GT's take a well earnt cooldown after 200 miles of Italy's finest.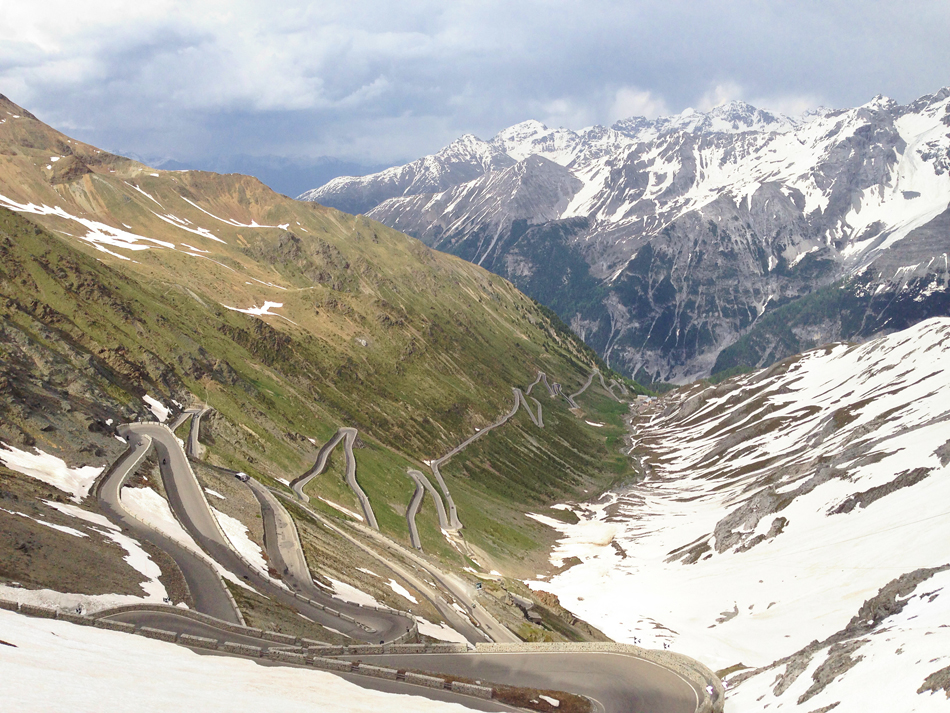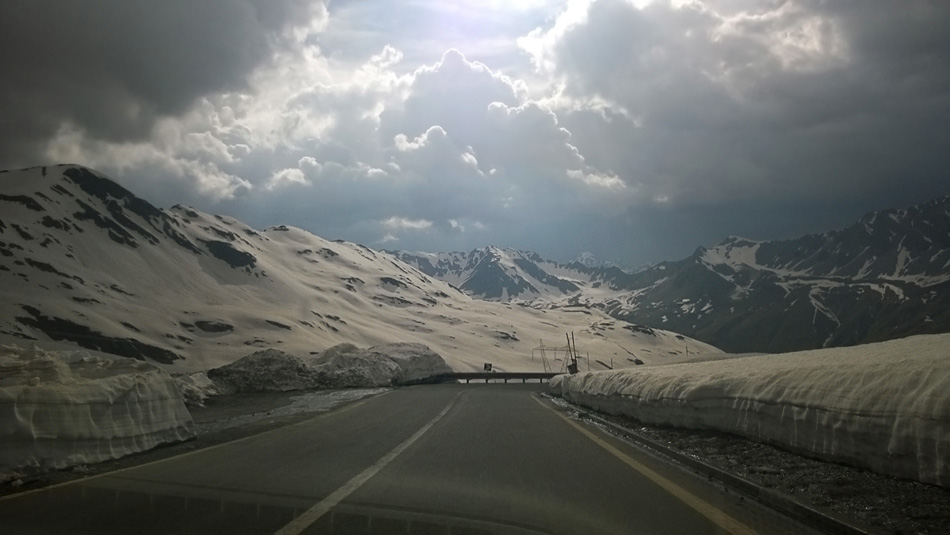 The run down to Bormio the other side is of course far better and actually not a bad little drive. Look out for the incredible waterfall halfway down. Voluminous and violent, it was quite a sight.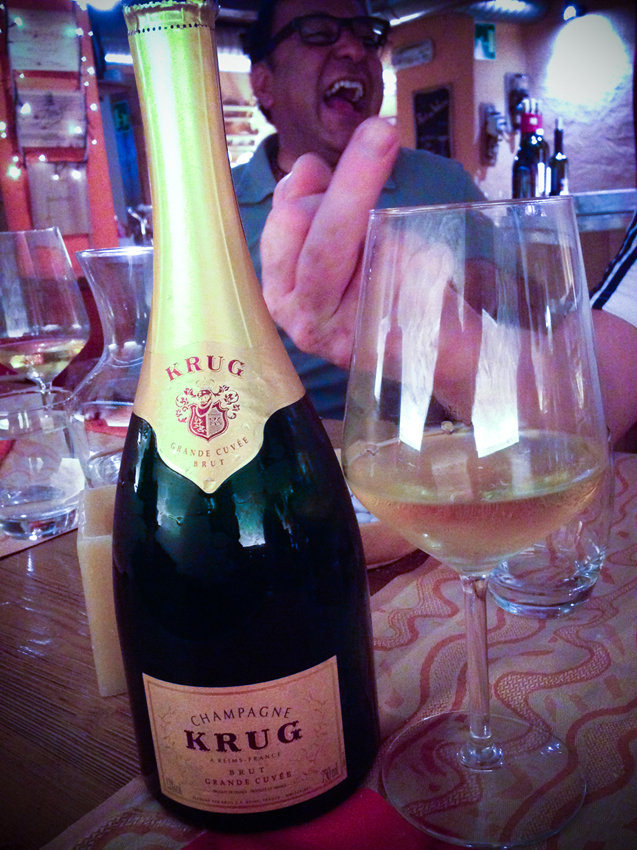 We had a great hotel at Bormio (the Rezia) and a fab restaurant as well (the Sunrise). Good fish, good wine and great company and eventually, as befitting of a great days piloting, the celebratory bottles of Krug had to be unleashed from the cellars.
Day 7
'Swiss Swansong', Passo del Bernina, St. Moritz, Klausenpass
316 miles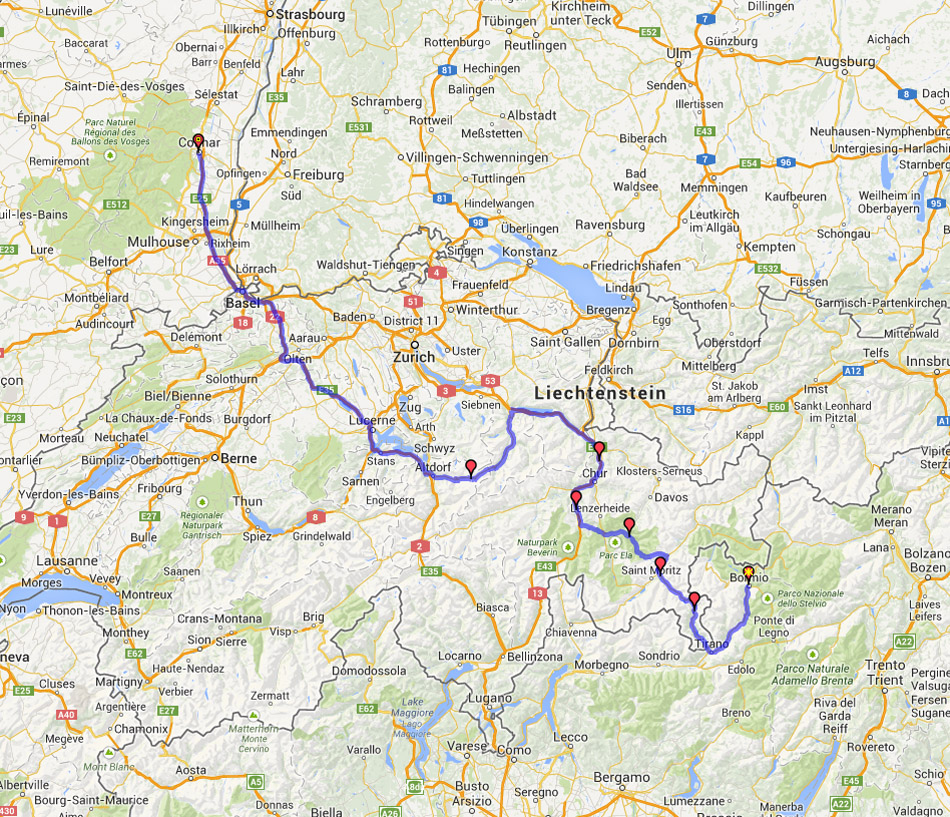 Switzerland, out on their own, a place where you can receive an invoice for £656,000 for simply crossing the speed limit. We weren't made to feel very welcome in 2012 and it was with some trepidation that we returned for just one day in 2014.
The moment you leave the environs of Stelvio and cross the border into this world of fondue and finance, a dramatic transformation of ambience takes place. In France, female passengers winked and smiled at us. In Austria local residents sped up and tried to stay with us and in Italy, the odd copper gave us a knowing wink and a half cocked smile at the sight of a strange beetle shaped sportscar that wasn't red and didn't have a V8 in it. In the land of the cuckoo clock though, a joyless grey pallor descends upon your day and the only connection you'll make will be the one from your ipod to your head unit.
Thin wiry men in blue shirts stare straight ahead at their steering wheels. Old people seem to populate every 2nd or 3rd vehicle and not once do you see any female drivers or children of any description in any of the cars. The passing symphony of an 8 strong chain of Stuttgart's finest does little to break the ice and as the miles roll on you feel yourself desperately trying to remember all the good times in life you've had, all the laughs you've shared and those wonderful moments of clarity where the universe revealed its cheeky sense of irony.
We walked into a roadside cafe at one point. It was all very light and airy, a big organic shaped cabin made out of a wood. The families there at the tables all seemed to me to be very perfect, like they'd just been cast to appear in a public information film. I wondered why they weren't all sitting there arguing or why the youngest boy wasn't getting scolded for poor table manners or why none of the wives were nagging any of the husbands. It was all very quaint, all very colourless. Even the ham sandwich I ordered was just a bit too healthy and controlled for my liking. In my mind I concocted a perverted fantasy about taking it back and telling waitress that next time she should serve it with a generous side garnish of angst.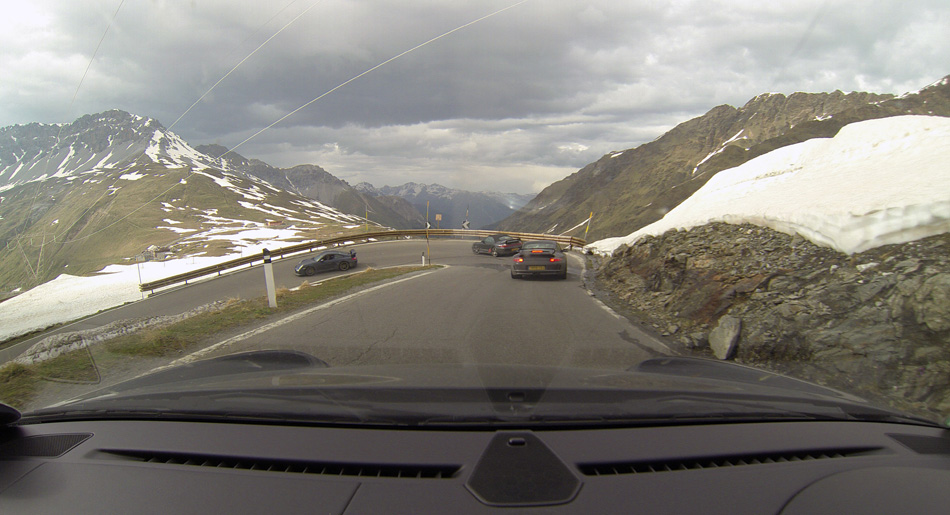 What Switzerland will bless you with however is roads, and roads that are set in the most impossibly beautiful picture postcard scenery. The first mesmerising Swiss route to tell you about is the Passo del Bernina. This is a more obscure route, seldom mentioned on driving websites but to my mind it's comparable with any of the other popular Swiss passes and more importantly, seems to attract less traffic and is a great surface from start to finish. The run begins after you leave Tirano and head North West just past the Swiss border. It starts with a very long climb amidst the most incredible scenery and you are flanking the Swiss train line for much for it. Fir tree lined hills and mountains, smooth and well developed roads with plenty of armco and high sided inside walls. The bends come thick and fast here with plenty of 90 degree turns and hairpins thrown in as well. The highest section is the best with tighter curves and wide hairpins. Soon you are treated to the most amazing view with the huge icy lake Bianco on your left hand side and then things become straighter and a lot faster as you start the descent.
We took this fairly easy. In fact, overall in Switzerland our manners were impeccable and we were all a model of restraint. We stuck to the limits religiously and only on passes like the Bernina did we give it some beans. Even then, we were only at around 70% and we proved to ourselves that sometimes, even with driving, less can be more.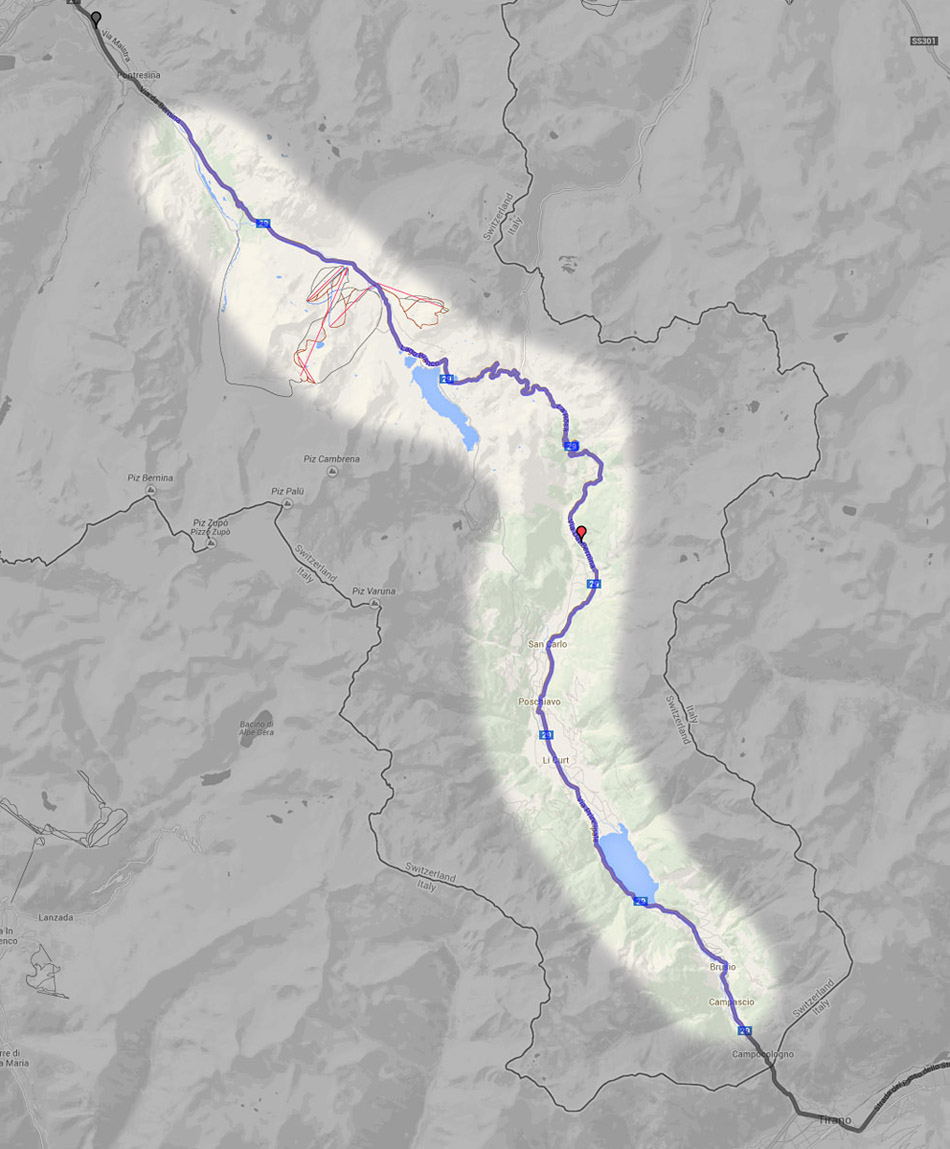 Fairly gentle run through the Passo del Bernina on the way to St. Moritz.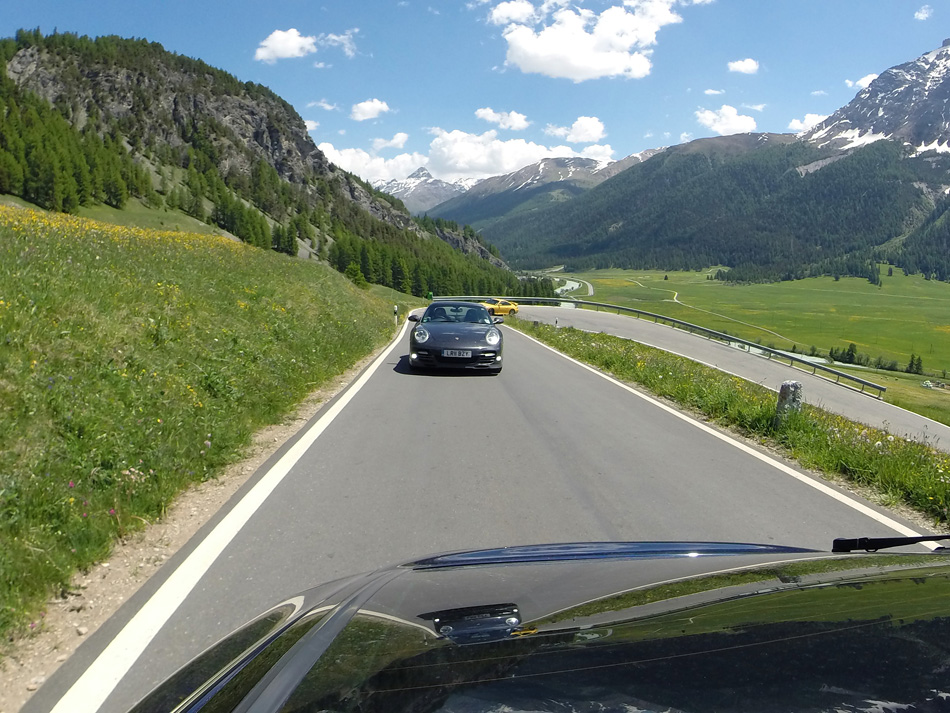 Through St. Moritz we had another good blast travelling north west toward Thusis. I don't remember the specifics but it was a half decent run before we hit traffic and trunk roads towards Chur.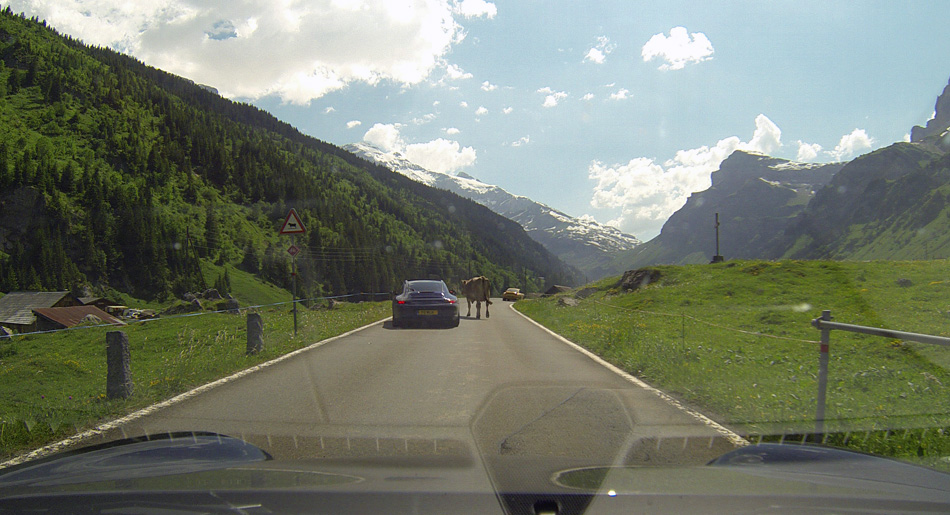 The next proper piece of driving, and really our swansong for 2014 was the Klausen pass just south of Glarus. The approach was a little laborious and congested but once we started climbing it was well worth the wait.
The Klausen is again, one of the more overlooked Swiss passes. We drove it the other way, west to east, back in 2012 and this time it was interesting to revisit it in the other direction and in the bigger GT3 over the 993. I would definitely say that the Klausen favours a smaller, slower car and it's also a little better in the Easterly direction. The road is pretty bumpy and rough especially at the eastern end and generally its tight with lots of blind flicks at the plateau and a sheer rock face. What it gives up in width it rewards in sonics and your exhaust note will bounce off those sheer cliffs and put a big smile on your face. The views are wonderful as well although taking it right to left means that you do not travel on the sheer edge, another reason why its that little bit better tackling it the other way.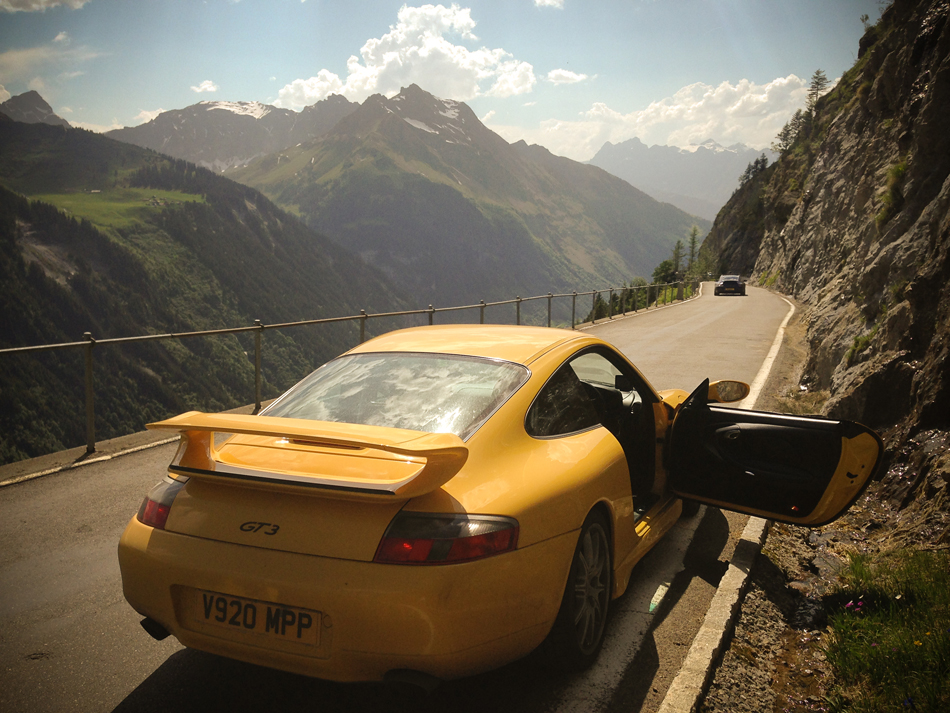 The Klausen is a must do. In 2012 I likened it to a welsh rally stage. It requires a lot of hustling and is more gritty and gnarly drive than many of the smooth routes we encounter on these holidays. In fact it's no surprise that it used to be a 14 mile hillclimb many moons ago back in the 1930's. Just watch out for the cows. We met them at the start this time around. They are a big feature of this route and the source of plenty of laughs. Good to see the cows again after all this time, i think they love the colour yellow for some reason !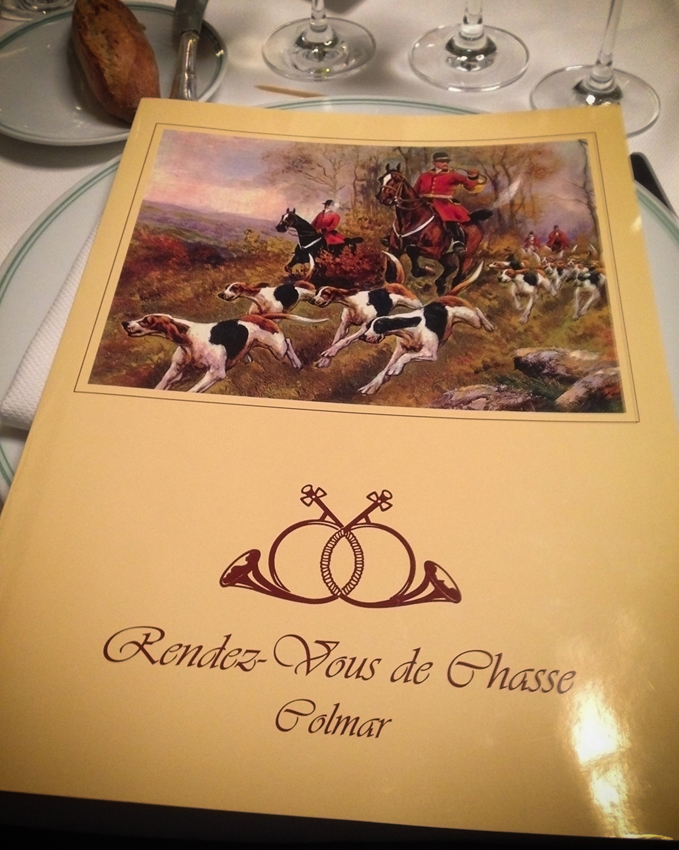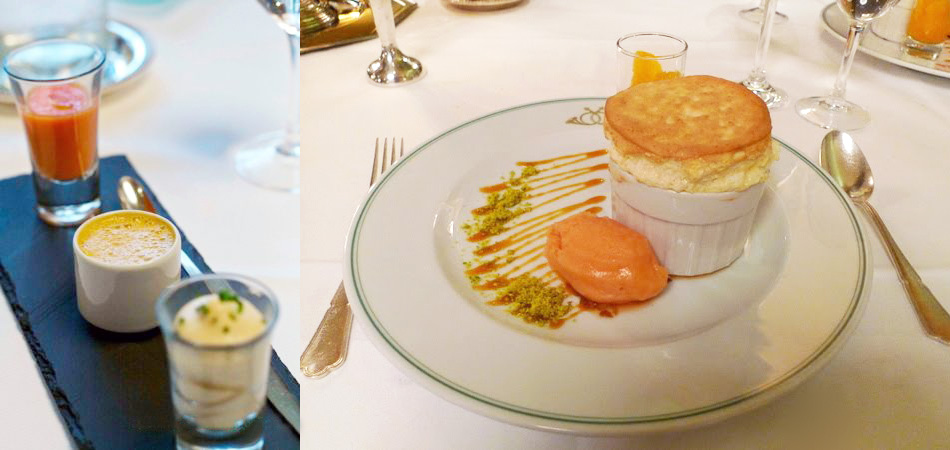 A Motorway run to the picturesque medieval town of Colmar with plenty of rush hour traffic and we were pretty much done. That evening, the michelin starred 'Rendez Vous de Chasse' was our leisure stop. I recommend the gourmet set menu, poached Foie Gras, Lobster medallions in a Thai sauce, Pigeon, a selection of local Cheeses and a stunning Grand Marnier Souffle executed to perfection. Overall not the best of the best but still very enjoyable and not too pricey either. The Chassagne Montrachet heightened the pleasure even further, launching us all into a vapourous stupor to the point where an hour or so into the meal, most of us were suddenly overcome with exhaustion and made a dash back to the Mercure for an early bed.
Day 8
Day 8: 'Home', Colmar to Calais
428 European miles
So this was it. Vienna 2014. We'd had a lot of laughs, a lot of late nights and an insane amount of alcohol. Had it been as successful and enjoyable as previous trips ? Well the short answer is a simple no. Late in the evening at Forni di Sorpa, downbeat after the poorest day's driving, the regulars put heads together and agreed that for unknown and unexplored reasons this trip seemed to lack the magic of others.
Writing this report and looking through my articles on 2012 and 2013, I am struck by how many special memories I have from those other jaunts; slaloming into St. Marks Square on a runaway water taxi, climbing up from the Gorge du Tarn flanking a wonderful setting sun with Richy D, attacking the phenomenal Turracher Strasse with Wizard in his angry faced battle-scarred GT2, collecting a pristine Russian 991 and sweeping him along with us at breakneck speed out of Monaco and all the way to Genoa, me and Chimp turning up the heat on the Grossglockner or hyperspacing in tandem through the threatening mists of Mordor on the B500. Past trips are littered with these moments of epiphany, fleeting segments of shared life that were emotionally intense to the point where they almost felt spiritual. These moments should have taken place in 2014, all the correct elements were there in place, whether that be scenery, roads, newfangled adventures and happenings and of course great people. For some reason though, they were conspicously absent.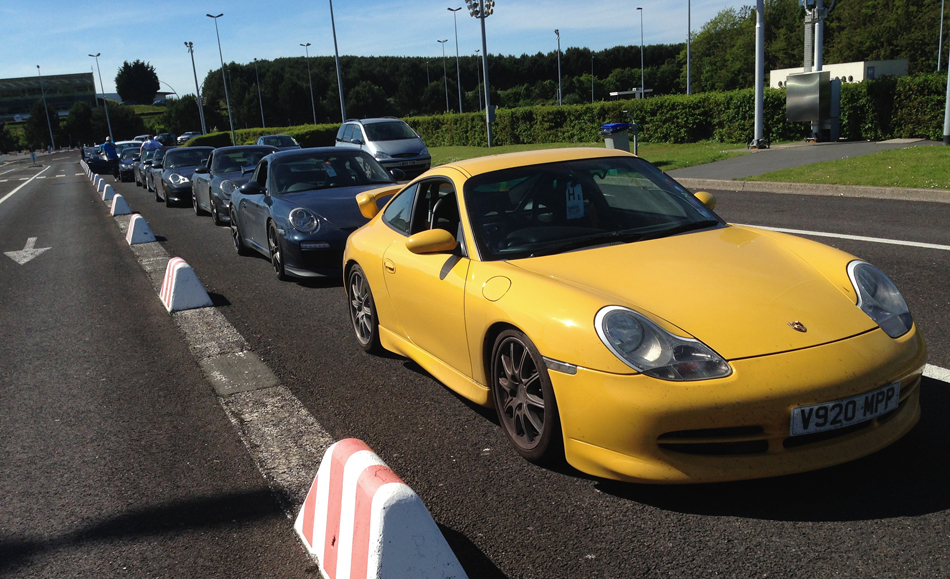 My thinking tells me that this is probably a combination of things. The first trip we did will never be surpassed as it was the first ever time we drunk from the cup. In hindsight, we did exactly the right thing with second trip of 2013. We topped up every parameter and secured more emotional highs and champagne moments by driving so many miles and visiting so many incredible places. This year though, we didn't have any glamorous destinations and less sense of adventure to distract us from the unavoidable consequences of repetition. The tour to Vienna in essental form was a watered down, shorthand episode.
More importantly perhaps, the more you do something, the more commonplace and ordinary it becomes. We had less numbers this time as well and one person only making it for half the trip. The other biggie is that we probably drunk far too much and had way too many late nights. When you've got litres of alcohol running around your system for days on end you're not fresh, you're not in the moment and your experience of the world is just generally dulled and blunted come the daytime.
I don't want to take anything away from the 2 new guys we had on this tour. They were both fine additions to our company and the trip would have been even a little flatter without their presence. The truth is though for next year we will really need to put the thinking caps on and come up with a new masterplan to try and recapture the excitement and magic of past tours.
Let's get some perspective here though. The Ultravox was still a blast and I would repeat it all at the drop of a hat if I had to. Mind blowing roads, fabulous food and drink, amazing company and a week of endless laughter. We just need to evolve it a little to keep it fresh and new. Watch this space for 2015.