---
PUG 205 GTi 1.9 !
WHY
Work has changed .... i'm now no longer based in soho and i need a new car to commute in. The EVOVII has been sold. To be frank, despite my initial favourable descriptions I really didn't get on with this car at all; its simply too stiff, too nervous, and it appears that Mitsubishi in trying to make it into more of a trackcar (why ? its not a track car and never will be ?) have ruined it as a road car, a role that the 6 played almost to perfection. The whole point of a road car is to engineer in just the right amount of softness and compliance, just the right steering quickness so that the drive just hovers at the fringe of the nasties that come with sure-footed, racecar-esque handling like bumpsteer, over-pointyness, harsh ride etc.. The VII in my opinion has overstepped this harmonious adrea and it makes for a very annoying, over-nervous and oversensitive drive 90% of the time.
The other thing that really got my back up was that it appeared to understeer way too much even after I got the geometry set, and furthermore the tyres that came with the car were absolutely useless in the wet.. lethal in fact and they caught me out on more than one occasion (including the pitwall at Anglessey ... almost !). Shame because i absolutely adored the looks of the car and the interior changes and seats were also superb. It's actually quite incredible that between just one evolution and the next, with just a few small changes Mitsubishi managed to (IMO) completely ruin this car. And to think that virtually all the UK press emphatically pronounced the car as easier to live with and far more everyday .... the idea is simply preposterous.
So we are back to cheap motoring here. There's a current thought about a BMW M5 once the new 5 and the new E60 M5 is released in 2004 but for now I'm pretty eager to have a breather from all the wasted money and all the logistical hassles... especially after a car that i only did 3k miles in and which cost me thousands in depreciation and took months and months to sell, and another car which blew its engine right at the time when i decided to sell it.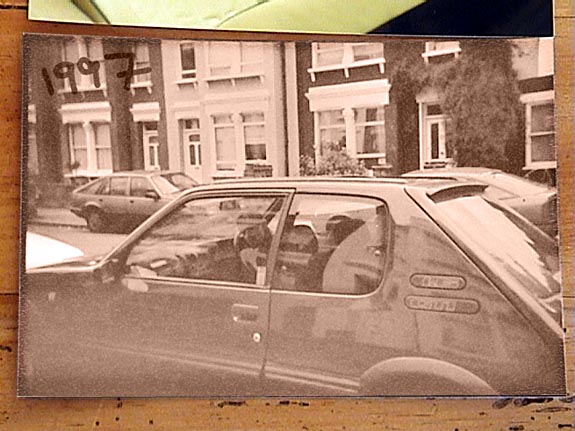 1.6 back in 1997
2k is the budget. Bit of a drop from cars in the mid to high 20's ! Well, theres only one car for me that comes in at that price and provides ultimate entertainment and thats the Pug. I owned a 1.6 many many years ago and enjoyed it for almost 2 years of ownership and it would be great to try out a 1.9. Ever since my first Pug days i've often walked past them on the streets or passed them on the road and though ... hmm, one day i'll buy a really nice example and keep it. They really do have that classic collectable feel about them.
BUY
Surprisingly, my swan-pug didn't take me long to find. I did my market research and on the first Saturday of test driving I basically bought the first car I saw. I had with me a total Pug expert and we went over this full service history dealer car with a fine toothcomb. Apart from the front wheel bearings the car was spot on. Underbody condition was good, engine and idle was sound, no mayonnaise in the filler cap (sign of HG failure), hardly any rust, no blue smoke (sign of Valve stem seal failure), drove straight and braked stable, awesome condition of interior especially the leather seats.

We also checked the rear beam bearings, gaiters and front suspension condition, themostatic fan operation, lifted the rear seats and boot carpet and checked all panels and shutlines. Harvey looked me in the eye and said that I could be looking for months and not find a better or as good example. Also, it came with a warranty which can sometimes be handy. We looked over the service history and it was indeed full, with every MOT, original book stamped to the hilt including the cam belt stamp, original receipt of sale and only 2 owners. The bills showed that the car had been pampered and although the first owner had certainly used it for what it was intended, it had already had a lot of replacement stuff including valve stem seals, new rad, new exhaust, new brake and fuel lines and some of that pretty recently.
| | |
| --- | --- |
| Looking through the autotrader today I reckon i did good. The only 1.9 cars that come up with genuine FSH are very very rare and usually have higher mileage than mine and aren't necessarily the right colour. Luckily, mine was also the exact spec I wanted back when I had my 1.6: the very dark Sorrento Green limited edition (with green interior) of which i believe only 600 were sold in the UK from 1990. | |
DRIVE
So whats it like ? Well on the test drive I was pretty taken aback. It drove like a complete bag of nails, seemed to rattle terribly and generally felt very clunky, clumsy and extremely old. Between us we understood that that was just how the Pug is and that there was nothing wrong with this particular car but it did put me off slightly and for a moment I was having second thoughts. But then I remembered my old 1.6 and knew that once I acclimatised it was bound to be real fun. Arriving at the test drive in a soft refined Audi A2 was probably not a very palatable contrast. When I got the thing home I couldn't have been closer to the truth. On the Sunday I took her down to Bognor Regis and back and the car just had me in stitches all the way.I felt like a kid all over again and was back in mad, deathbox pug-heaven all over again.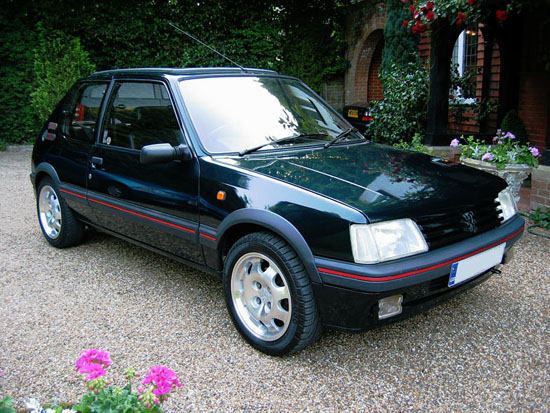 Let's get this straight, the PUG lives at 65-75mph. Anything more is overkill and also feels hugely dangerous. Potter along at this sort of speed and there is more than enough entertainment on offer - bags and bags of it in fact. Yes, ignore the 2k price tag, this car is as, if not not more amusing and entertaining than basically all the cars i've ever owned (and that includes some pretty sensory stuff like the best ever elise, the best ever Lancer Evo, arguably the best all round Caterham ...). "Bollocks" i hear you say and well, yes an SLR will corner like twice as hard and accelerate 3 times quicker and a 340r will feel 10 times more precise and its country lane fluidity will relegate the Pug to combine harvester status.. but driving is entertainment and involvement and this takes on many many forms and many levels. As always though, communication is the key ! Yes, we'd all rather be driving a 30k mouthwatering firespitting evo6 or teh latest and greatest superlight style caterham but if you really distill the essence of driving down to its objectively base level components then the Pug is simply spot on.
The Peugeot GTi will be 2 decades old shortly so whilst it aint cutting edge, its credibility as an absorbing pocket rocket today is a testament to just how right they got the basics all those years ago. The steering is great, tons of feel. Chassis is supremely talkative, chattering away all the time and directly wired up to your arse. Engine is nice and responsive and the note seriously captivating in that retro 80's gti flavour. The brakes are quality with decent feel of connectivity and good stopping power and the performance, whilst not rapid, is enough to make the pug feel quick and engaging ..all you ever sensibly need on the public road. Suspension is a pretty good compromise between ride and a real nice Kart-like feel and the handling is sharp, quite pointy, interesting at the limit, but never nervous or intrusive.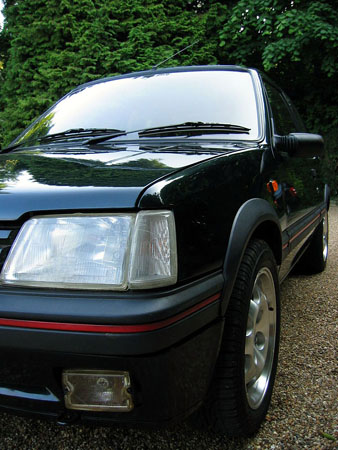 How many performance/sports cars have these basics sorted today ? Not many i'll say ! Engines are good, brakes are usually good, and grip is mostly fantastic (yawn !). But feel, amusing handling at the very edge, writhing chatterbox dynamics ? And the big secret with the Pug is of course weight. The 205 just wouldn't be allowed today, paneling made from crisp packets, no abs, no airbags, no cup holders and wayward edgy handling. Just think, the 205 weighs almost as little as a elise S2 111s ! Supremely chuckable, lack of inertia and that tin can widow-maker feel that's all part of the fun. In a Pug somehow everything feels slightly dodgy, danger factor is always a few notches higher. The balance always errs on the side of being just slightly unsettled and this only adds more to the thrill. In an age when cars have way too much power, grip, lard and composure the little Peugeot is a real breath of fresh air.
If your interested i'll be keeping a diary on Pistonheads and also here. Main content of that will be my initial moves to get the car looking even minter with new trim and lights and also general running issues and problems.