Shopping 2011
Its early spring and I am beginning to shop. Like my journey to the C2 a few years ago i'll chart my progress here. At this stage I really do not know what i'll end up and it's this unkown exploratory element that I find so fascinating about buying a car. In fact you could say that the chase is almost as much fun as the prize.
To try and get some sort of idea where it might end up let's look at the bare facts. The 993 (with various RS modifications) is an amazing machine that is everything and more than I hoped for and probably the finest most complete car i've owned to date. In RS spec it's a bit of a raw wild animal that comes into its own when you're on it and are able to probably wield it. To make it work, to drive it hard and commited is to feel truly alive.

Any car that joins it however shouldn't be the same vintage and similar in feel. I think something like a 964RS or a Ferrari of the same period would just grate. I either go a lot older (think 3.2 Clubsport) or more modern and to be honest I really do have a big craving for a much more modern car that is a lot more everyday but still a pure drivers car.

Yes, I would like something iconic, collectable and deprecation proof again but then I would also look at the idea of having something softer, something a lot more everyday and useable with more comfort, toys and spec. Unlike the 993 this car doesn't necessarily have to be one that goes with me to the grave.
Sticking with porsches for the minute I have to say that I am not a huge fan of the 997 range and feel that even the current GTx versions have been nannied and 'fashion-ised' just a touch too far and are less 911-like than ever. I also would rather buy at the depreciation sweet spot and although I would entertain the idea of a 997 variant of some sort, none of them have bottomed yet. I do have a bit of a sweet spot for the mkii 997 GT3 mkii and the GT2. The 997 GT2 would almost be the perfect choice.. epiphanic straight line grunt, very useable on the road, a good occasional trackday toy and something very very different to the NA 993.

Still sticking with Porsche and going back a generation further we have the 996 GT3 and GT3RS. Both of these do it for me in the looks department and I have driven both before so I know that they more than fullfill teh brief there. They are iconic, reliable, an incredible steer, highly suitable for the odd trackday and will hold their money very well or if anything, appreciate a little in years to come. They will definitely need investigating again with a fresh set of 2011 eyes. I also drove a 996GT2 last year and liked it a lot. As a road car I would rate it more suitable than a GT3 and for me the big twin turbo grunt would be something different and a new experience. Another look at the 996 GT2 might be on the cards as well.

Looking at the other popular used buys at the moment, the Audi R8 is too generlalist for me and a bit of a fashion car.. it's just not me at all and not nearly anorak or 'thoroughbred' enough. I can say the same thing about a used Gallardo. Love the looks but its a 4wd thing that I imagine is not even in the same world as a GT3 when it comes to driver involvement and satisfaction. Running costs are also a bit chronic and overall its a bit posey for me and more 'playboy' than 'driver'. The Nissan GTr is an interesting one. The practicality side interests me as those rear seats are huge but the japanese, slightly 'throwaway' nature of it bothers me and I know it's not a car that I'd own for very long. I do like the looks though and a trusted friend of mine just bought one over a 997C4S and an Evora so I should probably investigate and test drive at some point. An 'Event' was how he described it and there's no denying its one of the most significant cars of the last decade. A massive amount of car now as well for under 40k.
Moving on we can draw a line through pretty much all of BMW. The existing M3 doesn't appeal nor the outgoing M3CSL (which I accept is currently an amazing ued buy). If pushed i'd have an M5 though. I could genuinely gets lots of use from a car like that and I have always liked the slightly more grown up image and looks. At low 20's they are also a great value for what you get.
Aston Martin, no. Mercedes, no. TVR, no thanks. Caterham, adore them but no place in my life for one right now. Facelift NSX ? Yes, I've always quite liked them but not with a burning passion and I think you need that kind of feeling for any car that you spend a decent amount of money on. If you don't want it really bad then just don't bother at all.

Moving onto Ferrari I have to say that I think have finally gotten over the 355 thing. I always liked them but to me they are just a bit too old now and have lost their appeal. I have essentially missed the point at which I could or should have owned one. Their fragility and lack of usability also completely rules them out as does the fact that they are from the same era as the 993. The 430 coupe is a nice car but it is stretching my budget, has a fair chunk more depreciation in it, and again is possibly not enthusiast enough for me. Those 430 wheel arches don't work as well for me, far too much air between them and the top of the rubber.
Now moving onto the 360 Challenge Stradale, this limited editon special fits the bill perfectly and I have always loved the looks, one of the sexiest modern ferraris ever in my opinion and the only thing to come after it that looks as good is the Enzo. The 360CS is a legend in the making and I don't doubt that they will appreciate substantially over the next 10-20 years. It's focused, raw, rare and very very special and it's one of the few cars that really gets me excited. They are pretty much out of the budget though at this stage and the cost of those brakes is enough to send you packing off to the Priory. Nevertheless, I think I should still have a poke round at some point becuase there is always the option of saving a few more pennies.

So that just leaves Lotus... my roots and where it all began for me. A part of me would love to get back into a Lotus. It's a totally different driving experience from a Porsche, especially an old aircooled one and something from Hethel would dovetail very well with the 993 as they are almost polar opposites in terms of strengths and weaknesses.
I officially grew out of the Esprit in all its guises on my last round of shopping so that one's out. The elise S2 I have never liked the looks of but I definitely like the idea of a classic elise S1 111s or S160. I have spent a bit of time in my mum's MKii Mazda MX5 recently and you wouldn't dream it but it's honestly one of the most fun cars i've ever driven on the public road. As well as the very low grip levels and the complete lack of power and the fact that you can drive it at its limits more of the time than almost any other car out there, there is no substitute for being low down and having very little mass to move around. An elise of course wouldn't use all the budget but then that isn't really a requisite. I quite like the Exige still and would love to investigate them again. It would be a good car for a few trackdays but it would have to be in a dark colour as i'm not a massive fan of the very extravagant boy racer styling in the brighter shades.
EVORA
The obvious car from Norfolk for me though is the multi-award winning Evora. I drove an Evora in 2010 soon after they were launched and I went to see it at Canary Wharf when it was first revealed to the world. I have always been a big fan of its looks, it's like nothing else on the road and is truly individual with it's junior supercar feel. When I drove it first time I was slap bang in the middle of my honeymoon with my 993 and I found it very very light and modern and airy and wispy and very very lotus. I did rate it and marvelled at its pace on rough roads (I don't think I have ever driven so quick, in such a short space of time, on a test drive) but I feel that I didn't see it for what it was or perhaps was just too absorbed by the 'hewn from granite' effect to pay that much attention to it.

A year or so on though and my calculations tell me that it would almost make the perfect antidote to the 993. It doesn't have the drivetrain but it has a stability, a composure and a level of body control that an old porsche can't even begin to understand. An evora makes modern day porsches feel ham fisted let alone 15 year old ones.
As luck would have it I have been shooting a film recently with a gorgeous yellow Evora and i've been lucky to drive it here and there in a relaxed manner free from the formality of a test drive. And what a wonderful car it is. The Evora is so lotus-like: very light feeling, very agile, efficient, swift, incredible steering precision, turn-in and feel, and a chassis that's just massively and beautifully resolved in a way other manufactureres could only ever dream about. The damping is exquisite, beguiling, beautiful. As you go over lumps in the road you actually savour the incredibly elegant way the suspension reacts. In fact I don't understand how a car can be so taut and precise with such crisp delightful turn in and with such relative lack of suspension movement and roll, yet appear to be damped so gently, sprung as softly as my Volvo estate and maintain such amazing levels of comfort over the worst that britain can throw at it. My hunch is it has a whole lot more to do with very clever bushing and chassis technology but suffice to say that the Evora is a car in which you tune your senses into the suspension and chassis and once you've done that it will delight and marvel you endlessley.
Traditionally, as a Lotus owner you learn to 'tune out' from the drivetrain but I have to say that whilst the on paper toyota V6 isn't anything to write home about, it definitely gets the job done and in practice doesn't feel like it's letting the car down. Despite the modest spec sheet the base Evora feels pretty brisk on full song and the gutsy low down engine character is actually well matched to the car and pretty satisying with a fairly decent redline that's worth gunning to. The Evora is more than fast enough for UK roads but then bear in mind that's coming from someone who would get more enjoyment from a Mk2 MX5 or a Caterham Classic than most other heavyweight performance cars. Of course outright acceleration is not what the Evora is about though and if you keep it in its natural habit it won't matter one jot .... such is the ingenuity of its chassis that on rough twisty B roads the Evora is a devastating point to point weapon and I wouldn't want to have to keep up with a well driven one, not in any car.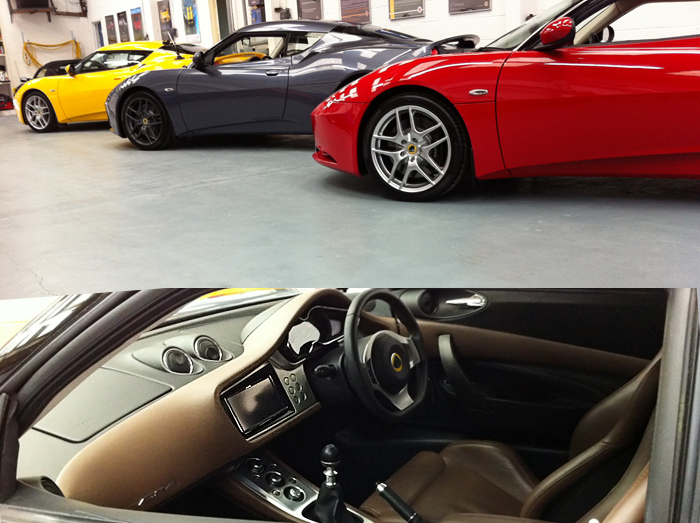 I personally don't get all the criticisms levelled at the interior in the press. Ok, so the leather is thinner than some and everything isn't affixed together as firmly as a car from a company that makes say 280 units per day, but then it's a lotus and to a point it comes with the territory. All things considered - especially their previous form with interiors - I think the quality is actually pretty good. I also think the design is great. It's individual and completely devoid of that mass produced look, kind of TVR-like but without being ergonomically ridiculous. I love the aluminium buttons and the general shape and layout. The overall wraparound cabin volume is bubble-like and very low-slung junior supercar and hugely appealing because of that; I'd far rather be ensconsed in an evora than a 997 for example.
The Evora would fit into my life possibly better than any other car right now. It's the uk B road wizard, an environment where the RS'd 993 is not so great (or any GT3/GT2 I hasten to add). It has extra seats in the back for small children, it would be fabulous on long distances (80mph at around 1800rpm in top I believe), it will do the odd trackday and get there in supreme comfort and in the looks department I find that its something quite special, particularly that rear end. The fact that you never see them (I have only seen one to date on the roads) is also a huge added bonus.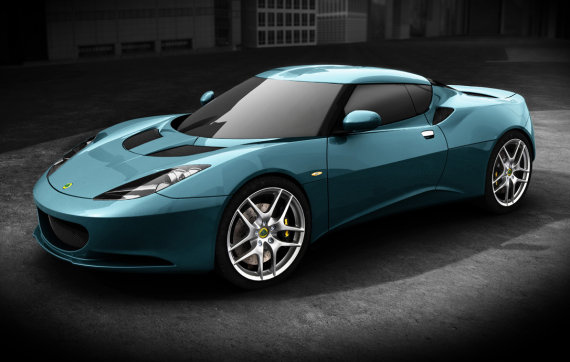 There is of course one huge problem with the Evora though and that is the price and depreciation. Whilst I really rate the car and as an ex-esprit/elan/elise/340r owner I firmly believe its one of the best things ever to come out of Hethel, I always thought that they got the price very wrong and the car was always going to struggle in direct competition with your GTr's, M3's, Caymans and entry 997's. Used Evoras have dropped a bit now of course but not really enough for me at the moment. When they hit low to mid 30's I think there are plenty of people who will dive in and rapidly cement the market but at low 40's I would only go in if I was prepared to immediately write off 10k or thereabouts. The Evora is perhaps not a car that I'd own for eons but it is the perfect recipe for me at the moment and apart from a slight 2nd-3rd gearbox issue, I love pretty much everything about it. I'm not writing it off at the moment but I'll be continuing through my list and maybe returning to it at a later date.
F430 UPDATE 21st April
In a half hearted way I recently tested an F430. On paper they've never actually appealed much. The looks are very butch, ostentatious, ugly even ? The ride height looks silly and the car is a possibly bit generalist and not focused enough compared to what I would normally buy. Well I have to say I was in for a massive shock because the 430 test drive was amongst my most memorable, right up there with the first time I drove cars like the Caterham SLR and the 996 GT3. Completely out of the blue this car made a very very lasting impression on me and I could not stop thinking about them for the many days afterwards. It also confirmed to me that my heart really is looking for something user friendly, everyday and compliant to match the animalistic 993.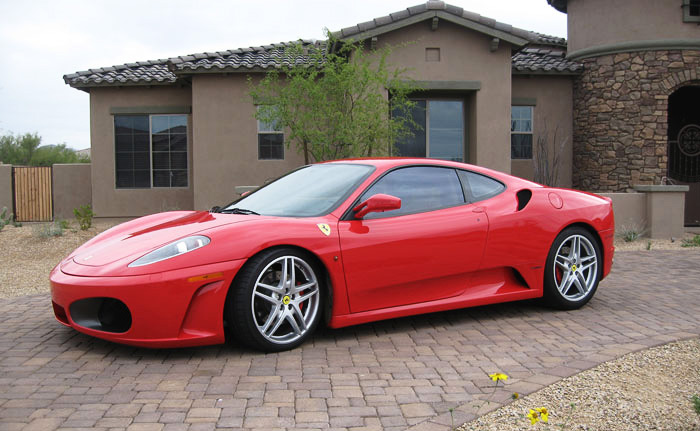 Test drives are often an awkward mixture of feelings, a combination of the unkown, the alien, erroneously comparing back to what you know and what you're used to. Rarely does a car completely gel in the space of a quick 15 or 20 minute drive and it's the last thing you'd expect of a Ferrari but the F430 just did that. First of all the interior I loved. The cabin feels very roomy and is distinctly supercar. You get that low, square and wide, 'sitting on the floorpan' type feeling which is an absolute novelty after tootling about in 911's for so long.
The example I tried had the carbon race seats which were fabulous and great for feel, and everything was upholstered in gorgeous dark read leather. I loved the design of the slim wheel which was beautiful to hold, the dials, the large central yellow rev counter and the whole space just had a real bespoke feel about it with just the right amount of flair and tasteful flamboyance. It all felt high quality, luxurious and well bolted together but most of all so completely driver orientated.
Ferrari have this interior thing nailed in my opinion. Everything about the design spells 'performance' but it's almost as if it doesn't take itself too seriously as well. 'Fun' seems to be what it's telling you. Rather than smugness and seriousness the inside of a 430 gives you a whiff of cheeky arrogance.... flamboyant, expressive and very very Italian.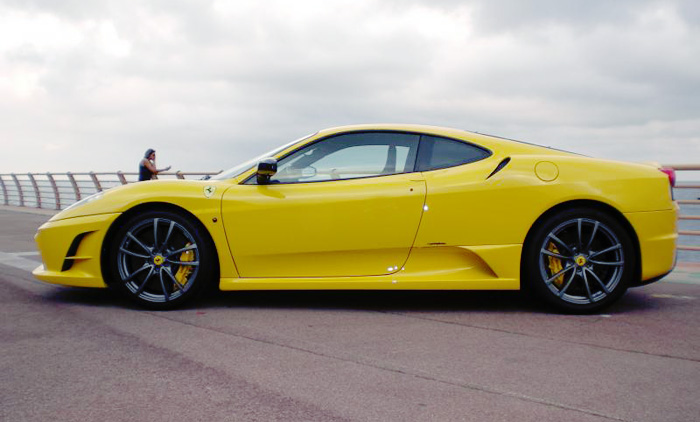 Moving away its immediately clear that the 430 is not in the slightest bit intimidating. Quite the reverse in fact. The ride is very comfortable and the road manners are good. It's a soft car this and should be perfect for UK roads. The car feels agile and light and there is lots of feel through the light steering wheel. The chassis gives you a kart-like low, flat, 'four square' feeling not dissimilar to say an F355. Think 'massive elise' because despite its sheer bulk, the 430 feels nimble and alert and its overall character is quite 'tool-like', a finely crafted toy that seems like it was assembled nut and bolt primarily for fun and thrills, for someone just like me. If you have elises and exiges in your background then my hunch is that you will absolutely adore the F430.
The moment you pull away it all feels very special. The space you're in is very supercar like with your legs quite horizontal and you get that very obvious sense that you are in something exotic and mid engined. Soak that up and savour because in a porsche you never get that, not even in the latest GT3CSRSr. Special mention must also go to the manual gearbox which is an absolute delight and probably my second favourite thing about the drive (no F1 for me then). You have the classic Ferrari gate, a lovely mechanical feeling to the shift, a beautiful solid metal ball in your palm and the traditional click as you go through. Wonderfully tactile and engaging stuff. You know that box, you've seen it thousands of times before and to actually be there using it, blipping down and barking up through the cogs just makes you smile even wider.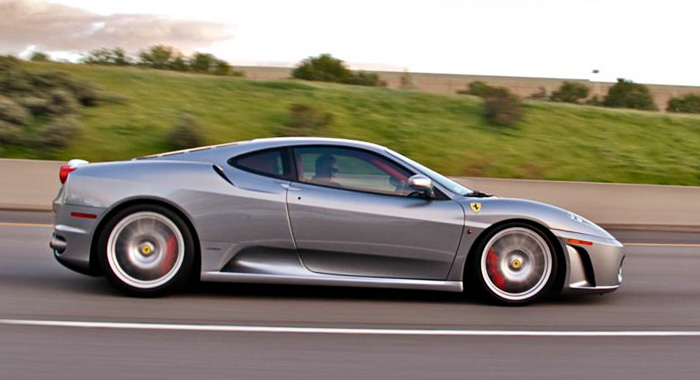 Of course it's the 483bhp V8 that is the star of the show and soon becomes the centrepiece of the experience. Unlike its predecessors though, this new motor is a very long leap forward and has masses of low down grunt and oodles of linear oomph right the way up to the limiter. 4th or 5th at 3000rpm, shove your foot to the floor and the thing just goes. Experientially it's not quite 'any gear any revs' 911 GT2 thrust but if you're working the 430 to the redline and using the gears then I would peg its timed performance around the same as a 996GT2 and by any yardstick that is mentally rapid.
Unless you've spent most of your adult life hanging out in a Gumpert Appollo you are not going to buy one and be disappointed with the performance. Give me the Ferrari NA engine 100 times out of a100 over any GT2 though because this thing is just glorious to work. We are talking sheer poetry here and aside the Zonda and Carrera GT, easily the best engine i've personally experienced.
The 430 feels unmistakably like an 8-something second car to 100; it is not a machine which hides it's sense of speed. There is also a slight intertia-less feeling and the 430 feels very light and instantaneous when accelerating and this counts for a hell of a lot in addition to the actual numbers. It's this sense of lightness that's perhaps another reason why it reminds you a little of a high powered Exige.
.I could run through the gears and scream to 8500rpm all day long though in this thing. The noise is omnipresent, not as amazing to listen to as a capristo'd 355 or a Challenge Stradale but still a beautifully deep and enveloping soundtrack that is constantly running through all the veins, reinforcing the sense that the whole car is centred around its world class powerplant. The 430 is no one trick pony though. Whilst I did fall hook line and sinker for that V8, all the other driver apspects of the car do not disappoint and are most definitely not overshadowed in any way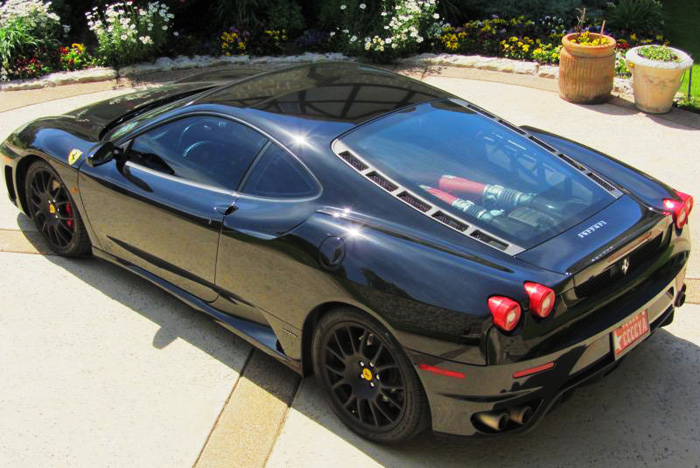 I was really surprised by the 430. The last Fezza I drove was a 355 which was fun for sure but this was like decades and decades on. It just seemed like a throroughly sorted and well screwed together and truly modern road car for me and I felt completely at home with it in minutes but also deeply moved by the experience it was giving me. Luxurious, useable, user friendly and bags and bags of presence and feel good factor. I honestly couldn't fault it.
Ferraris seem to have theatre, laughter, playfulness running through their veins. Its almost as though they were built on a passionate whim rather than to make profit, overbrimming with flair, panache and style and all for one single reason, to make people like you and me grin and laugh out loud... just for fun and nothing else. A Ferrari is not a car that you admire with your brain, it's not designed for user-smugness, nor to satisfy a contrived checklist of duties but it's a car for the moment, a transient celebration and free expression of life, unashamed and unapologetically self-concious and arrogant. Thinking back to other performance cars the 430 almost makes them seem a bit clinical, antiseptic, emotionless, perhaps a bit perfunctory and serious.
There is no escaping that that badge also brings with it an experience that almost transcends cars. A Ferrari has become a Jungian archetype. A zimmer-framed 85-year-old great gandmother stops and stares, old ladies who wouldn't know the difference between a Ford and a BMW and who have long since handed in their license. Somehow a Ferrari and all that it entails and symbolises is emblazoned in everyones conciousness regardless of age, race or gender and it seems to stir the soul of the most unrelated and disinterested bystander. The 430 is a big EVENT. It feels exotic and special and it makes YOU feel special.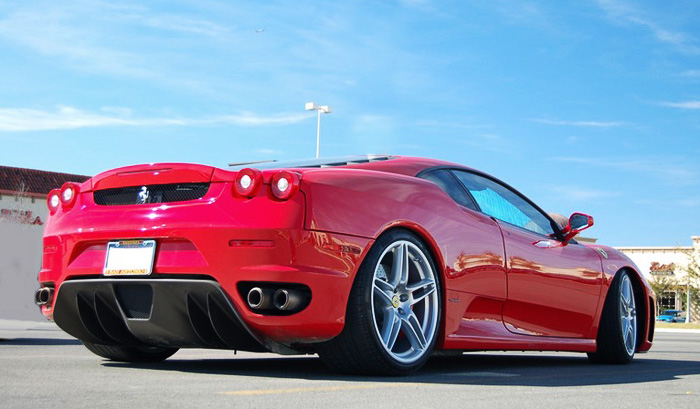 A small bit of research tells me that you can help the looks by dropping the ride by 20mm or so (all my pictures here are of lowered 430s). A set of Scuderia springs is an easy way to achieve this or go the whole hog with some Scud alloys which work fabulous on a black or yellow car. I like the BBS challenge rims too. In fact the more I look into it, like porsche and the RS cars, you can fit a lot of the Scuderia stuff onto the 430. Same goes with the 360, there is a lot of interchangeability and opportunity to upgrade amd modify, it's just that you don't expect that level of hobbyist involvement in a Ferrari because of the badge and the nature of many of the owners. Hmmm, a 'Scudded 430', now that sounds like a fun project !
Porsche 997 GT2 UPDATE 23rd April
More surprises today. The blown daddy of the 97 range has always appealed. Immense power, aggressive imposing looks and slightly more of a road balance than the GT3 cars. After enjoying a 996 gt2 last year I was very interested to try a 7.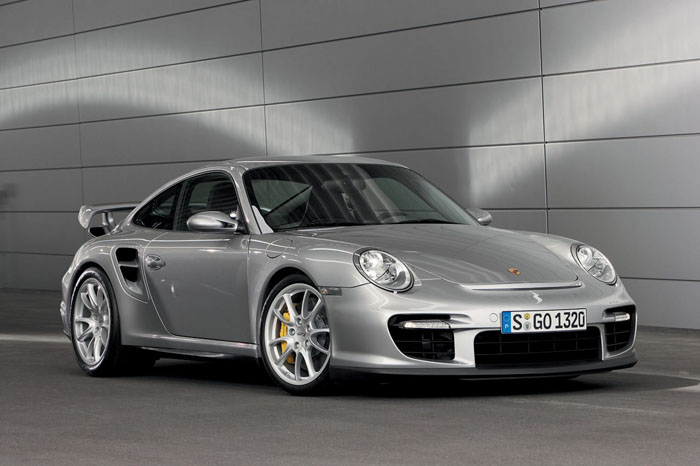 It wasn't to be though. Hot on the heels of my 430 drive I found the GT2 a bit disappointing. It looks great in the flesh, much better than the pictures but inside for my mind things are not up to scratch for what is a 120k+ supercar. The design is very restrained and a bit bland, the materials are pretty mediocre, that plastic switchgear around the satnav is a turn off and the whole space is definitely not what I am looking for in a car right now. I can understand that the GT2 does have a utilitarian part-trackday ethos but you only have to look at the Scuderia to know that that's completely possible without feeling like you are inside something mainstream and mass produced. I gather that these cars can be specced to the nines with Leather and coloured stitching and maybe that's part of the problem, that so rarely are they ordered with all the attractive stuff. I glanced inside an Aston Martin Rapide the other day, all decked out in beautifully stitched blue leather. It looked absolutely stunning and this is the sort of thing I'd want at this kind of price level.

Sadly things didn't improve that much for me on the drive. The GT2 to me had a very very solid but bulbous and slightly inert nature to it. The controls all seemed very light and clinical, lacking in substance a little and the overall general feel reminded me of something like an Audi RS car. It didn't seem delicate, fine, bespoke .... not the sort of car that invites you to thread it intimitely and gracefully down a twisted country lane like the sinewy 430 did or even it's forebears like the 6gt3. No, to me the 7GT2 felt brutish but rounded and blunted, curiously lacking in rear engined feel, just a big hunk of grip and stiffness, a mainstream sort of feel perhaps and one that many people might like. Maybe I need more time in one. These test drives are always by definition higly limited but I have to say that I definitely prefer the 996GT2 steer, they are different cars that's for sure. The 996GT2 was a car I really enjoyed driving from the get go and I remember it feeling more feelsome, intimiate, bespoke and special to drive than the 997 GT2.
Although its well disguised there is of course a fair amount of fidget underneath you with those huge tyres and rims. Pattering over bumps the nose feels like its simultaneously getting pulled left and right and the car momentarily loses a sense of rightness on the tarmac but this is familiar 911 territory and you soon get used to it. To be fair I found the damping and spring rates pretty comfortable and the ride is never jarring or crashy. No, the problem was it just didn't excite me, it didn't feel special, it didn't make me smile and I wasn't particularly interested in driving it for much longer. In fact I sat there and honestly was wondering to myself why on earth would anybody spend the best part of 130k on something that on many levels seemed a bit ordinary. I don't doubt that it's devastatingly effective and for sure, the grunt on offer was pretty mindbending but even then, doing its party piece, there was no soundtrack to speak of, and a twin turbo delivery that just cannot compare to a screaming NA V8 or its GT3 counterpart. The 7GT2 hit home for me once and for all that I am a complete NA person and always will be.

I walked away from the '2' a bit disappointed. It's a fine looking machine and one I was hoping to like but I honestly don't seem to get on with 997's very well. Maybe as an air-cooled owner and lover of old porsches I have a hard time accepting and liking where porsche currently is with its model range and am always looking for things that the older cars gave you that now aren't there. Maybe I just can't accept a 911 which feels this modern, this capable, that doesn't need to be hustled so much, that feels less rear engined than I want it to be. My idea of a 911 is a hewn from granite, unweildy belligerent thing that is a bag of spanners some days but sensory and ontological nirvana the next.
R8 UPDATE June

I must confess that my very positive dabblings with the F430 have made me think more toward the mainstream end of the market. I've always liked the look of the R8 and prices are quite reasonable now for the earlier cars. I drove a low mileage manual example with the magnetic ride option and came away quite impressed. The R8 to me delivered pretty much as I expected. It's a highly accomplished package, extremely well finished, highly capable and very good in all areas. To be honest there isn't a lot to really dislike and it's a car that's very easy to be taken with and easy to live with on all sorts of roads.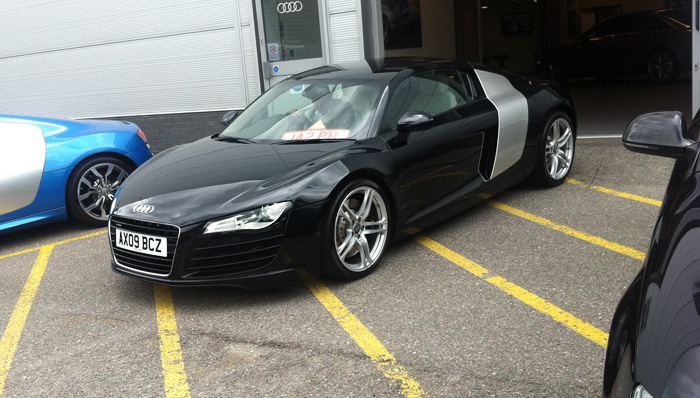 The first thing that strikes you is the supreme user friendliness. Within minutes I was threading the R8 through some twisty country lanes at a pretty respectable lick and actually backed off a bit as it was overshooting the sort of pace which I imagined a salesman might be comfortable with. Supple, silky, very light to the touch and supremely agile, the R8 just glides from apex to apex. There's lots of compliance there and the spring rates are quite soft so the car has a very pleasing malleable elastic feel through the lanes, almost a bit bouncy at times. The steering is direct but never nervous, you can flick the nose around very quickly and the whole 1550kg mass is massively stable in yaw and very sweetly balanced. Across country the R8 gives an impressive, modern and distinctly mid-engined display. It makes it all seem so effortless and in comparison my RS'd 993 on the same roads would feel like some sort of cantankerous juggernaut, a 'Massey Ferguson' chassis filled full of lead and a set of 40" wide tyres front and rear.
The R8 get's better though. Engage the magnetic ride sport button and the damping stiffens up, the rebound especially, and the whole car hunkers down quite noticeably but it's still pretty comfortable. Bumps and ridges that beforehand had the bodyshell pitching left and right a little now don't intrude on the car's poise so much and everything is kept a lot more stable and in check. It's with this magnetic ride engaged that you think back to the evora and although the lotus just has finer and more exsquisite layers to its suspension, feel and feedback, the two cars are kind of similar in overall tone.
The Evora would love to have the R8's engine though and if it had then it would surely be a complete car and the massive seller that it should have been. Relative to the R8's £85k+ junior supercar pricetag, it's not all good news here though. Although the Audi V8 has a wonderful rasping bark to it and an immediate response to any throttle travel, it is an engine that needs plenty of beans to extract it's best. Low down the R8 doesn't really have a lot of punch to speak of and the bottom line is the car never feels truly ballistic. A basic 997 carrera is pretty much identical in the performance numbers but the Audi never feels as quick.
That's probably the only gripe here though because there is very little else to moan about with the R8. I've heard some criticism levelled at the manual box but I really enjoyed the gate and the shift quality. It's not the greatest change in the world but then the thing with the R8 is that it doesn't set out to be a multilayered, four dimensional supercar. It's just not that sort of motor and I found myself accepting that immediately and praising it for what it is rather than expecting it to be something more; It's chassis is not going to challenge and reward you like a GT3, all it's control weights have a synthetic quality and almost zero resistance or weight, the car completely lacks any sense of texture or visceral bite, and the experience as a whole is unashamedly polite, regular and mainstream but that surely is the car's big USP and that's why you buy one, a latter day NSX if you like. Polished, over-sanitised, it all just works and it's all just slightly throwaway (you'll learn it pretty quickly and chop it in for something newer soon afterward) but you can't help admiring what it is and for many people it must almost be the perfect car.
For me ? Well I like the everyday approachability, I like the quality of the interior, I like the modern and non-generic looks (kudos to audi for creating their own sort of newfangled shape) and I had great fun on the B roads and it made me want to drive it more which is a damm site more than I can say for the 997 GT2, but at this sort of money i'd sooner save myself a fair chunk of cash and get a used Evora instead. As good as the R8 is, if you can live with that V6 an Evora is just significantly more special to drive and is a fair bit rarer too. And against the F430 ? Well, that's a little unfair to be honest. Although the prices of both on the used market can sometimes meet, the fact is the Ferrari originates from a completely different price bracket. It feels way more bespoke, way more special to travel in, far better brakes, the engine feels twice as fast, twice as loud and twice as punchy lower down. The 430 is just a whole other echelon and in terms of driver appeal it just destroys it in every single way.
Overall I came away from my R8 drive really quite impressed. Traditionally I can be a bit snobbish and dismissive toward the more mainstream performance car experiences that don't shatter your fillings after 20 yards, but there is no denying what a fabulous motor the R8 is and you kind of get the sense that it has fulfilled its initial design and sales brief absolutely perfectly. Apart from the A2 it's also the first performance Audi I have driven in over a decade that didn't have appalling road manners, dismal body control and mind numbingly tedious dynamics. A fabulous first attempt and a lovely looking beautifully proportioned car which in this day and age seems to be the exception.
Porsche 996 GT3RS & 997GT3 mkii UPDATE October 2011
I'm going to deal with both of these cars together fairly swiftly. The 996 GT3 is a car I first drove before I owned a 993. I took to it quite well back then and told myself that one day I'd have to revisit it.
This time its a 996 RS with its revised front bumpsteer geometry, full cage and slightly stiffer suspension. The RS, on paper at least, appeals massively. It has the looks, the rarity (just 110 cars came to the UK), the performance, rock solid Mezger reliability and the world and his brother are tipping it to be THE very next porsche to appreciate in value.
Unexpectedly, after owning a honed aircooled car for sometime now, the 996RS just isn't quite doing it for me. There's lots of feel there and I don't doubt that it needs to be driven 9/10ths to release the real magic from the cauldron but i'm simply not looking for a car that needs to be engaged with in that way in order to make it shine. It's all a little 'instrument like' for me, a bit sterile, a bit perfunctory, cold or unlovable you could say. What it's gained over it's aircooled ancestors in out and out speed, ability, delicacy, agility, it's lost in character, low speed fun and that awful word 'soul'. Admittedly it's still a car that feels special and bespoke and if I didn't own a 911 already i'd probably buy one of these, but between this and my 993 there's simply no contest in my book.
Another thing that's getting me is the overall road manners. The damping and spring rates I find are actually quite generous for a car of this type but its the camber chasing that gets me. I don't know if the RS runs monoball rear toe links but the nose sure does have a mind of its own, incessantly sniffing left and right over the smallest surface imperfections. This one is far better in this respect than another RS i've driven as well. Of course you get used to this and naturally, once you are hooked up in bend it disappears but really, this isn't the sort of steer that is going to compliment an RS'd 993.
The car's looks are kind of there. It's right from some angles but bloated and a bit max power from others. I'm not sure. I think a basic yellow 996 GT3 a La original press car would appeal more visually. Oh, didn't like the gearchange much either ... not a patch on my 993 RS quickshift.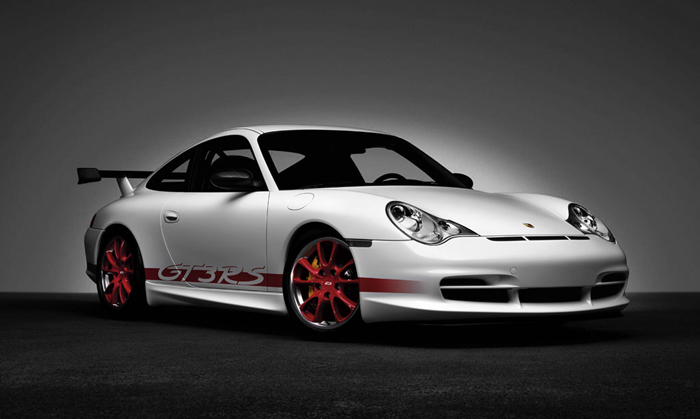 So where have porsche taken things in 997 mk2 GT3 guise ? Well, its quite a change that's for sure. The first thing I noticed was that a fair few layers have been carefully placed between you and the chassis. It actually makes you think back to the 996 Gt3 and appreciate it a bit more. The 997 GT3.2 has definitely lost a level a connectedness and feel that the 996 had. A bad start then you could say. A 996gt3 feels deliciously homespun and hobbyist by comparison, and your body feels much more directly keyed into the physical-ness of the car. The aircooled cars of course take this several stages further though and reach a level of visceral engagement and mechanical character that truly is one of a kind.
In fact if i'm being honest I found that the overall feel of the 97 was much like the 97 Gt2 that I drove. The car feels very rounded, polished, almost 'brick like' to me. There is this sort of glossy bulbous veneer to it all, something that sort of seems like it should be perceived as meaning 'quality' and 'modernity' but its actually a sensation that I equate with a car being mainstream and a bit dull and ordinary. Gone is the racecar like human-to-chassis interface and instead there is this bmw or audi like 'sheen'. Whilst the 996RS felt like a pure racer for the road, the 997gt3.2 feels like a very well produced 'modern car' which is trying to be a 911, a racecar, a trackcar and a BMW 3 series all in one. It's a hard thing to describe this 'feel' thing and I don't doubt that if lived with the car and learnt to drive it 10/10ths then i'd start to appreciate it and get along with it all but for me at the moment, it's all a bit generic.
The gearchange is good, much better than the 996RS. The road manners are kind of the same but the PASM settings sort of buffer you off from the camber chasing a bit (although in truth I suspect that its behaving in much the same sort of way with similar geometry angles). The 3.8 engine pulls well once you get going but I didn't find it particularly ballistic down below and compared to the 430 engine you couldn't even hear it. When you did hear it, there wasnt a note like the Ferrari, just a gruff mechanical noise.
Sadly though my biggest criticism concerns country roads. When I showed the GT3.2 a few bumpy lanes I can only confess that it was pretty hopeless (this was an 'as new' sub 3k miles example). Now I know that my 993 probably isn't a lot better and I know that GT3's are basically better on flat surfaces and racetracks but I did expect the 97 to be a little bit more sorted in this respect. It really was just all over the place though. The GT3 has over the years become a sort of badge of honour for many and as with most cars a lot of nonsense gets written about them and a lot of justificatory stuff from uncertain owners. People basically don't like to see or admit to a cars weaknesses until they're shot of it. I'll stand by my belief though that even in 997 guise, in the true definition of a real world road car on a mix of uk roads, they are pretty damm hopeless. A couple of miles through sussex in an Evora or basic Cayman on sensible rims will tell you all you need to know. There is no substitute for compliance.
The last criticism is a repetition of some of my 97GT2 blurb. Down by the sills just next to the seatrunners there's a long length of moulded plastic that runs the lengh of the door with a little cubby hole in it midway for storage. It's pieces of plastic like this that I have a major probolem with on an 80k+ car. This would look out of place on a 30 grand Audi, let alone a flagship model from Porsche. Throw in my usual dislike of having to share switchgear and pieces of dashboard with all the millions of other 997's out there and the picture looks even worse. No, sorry, to me the 997 Gt3 doesn't drive how I want a bespoke focused car to drive and yet it's also a million miles off a well adjusted road car which makes you smile and makes you feel special. The 996 still has a bespoke air to it but the 997 GT3.2 to me is like an occasional 997 on the line which had a few different bits added.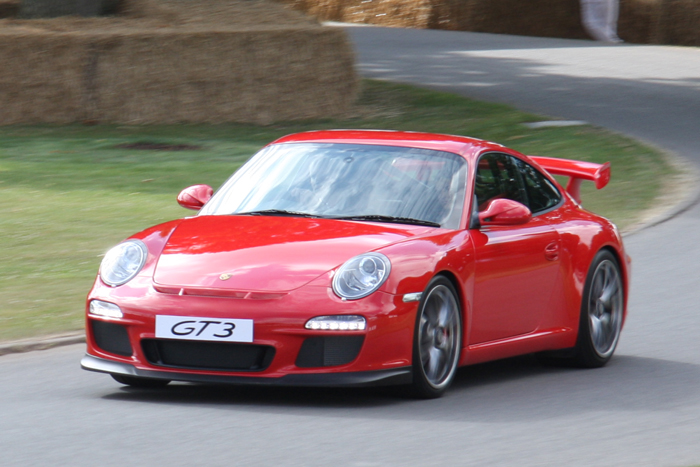 How does it compare to the 430 ? Well, common sense tells me that in the final last tenth of driving the GT3 dynamic would ultimately be more rewarding and interactive, asking more interesting questions of the driver ..... but the other 99% of the time, the Ferrari feels and sounds and looks and makes you feel way way more special. Feels a fair bit faster too, especially lower down.
The Result
So what's the result ? How did all this self-indulgent nonsense resolve itself ? Well, here's how it panned out. I concluded a few important things. First of all, when you have a fairly decent sized budget and a fairly wide shortlist, you find that there aren't really many cars that you really really truly want. Everything you own is a responsibility of some sort from an iphone to a 250GTO. The other thing I found is that when you can have something, you don't really want it so much. I also found out that an aircooled 911 is something very very special and unique to drive and is a very very tough act to follow. And the final thing I found is that the very best cars in life are not the ones that handle the best or look the best or sound the best but the ones that you use the most.
So in a very peculiar plot twist, I bought a 2006 Porsche Cayenne S ! So far i've used it so much that's its done well over 1000 miles in just 2 weeks. I've gunned it round some lanes, hyperspaced it through some motorways, schoolrunned in it, mixed it with the lorries in lane 1 at 65mph for hours on end, even been offroad for a wee while and also just sat in it stationary for long periods of time waiting to pick people up or idly attending to emails and telephone calls and the like. The Cayenne is an incredible all round companion. Along with my old Lancer EVOVII, probably the best one I've ever had. I love being in it and I love driving it fast, medium or slow. It's got a boat load of gadgets and toys, a great stereo, all sorts of suspension and ride height gizmos to fiddle with and everytime I get in it there is this whole absorbing parallel game going on as well ... "beat the Hiscore of 16mpg" ! No SUV of this sort of grith and weight has any right to be this sorted and composed and fast round corners. Ignore everything that's been said, the Cayenne truly is a wonderful thing, the 4x4 for people who like sports cars, and I can't think of anything else i'd rather be in in the sense of an everyday workhorse.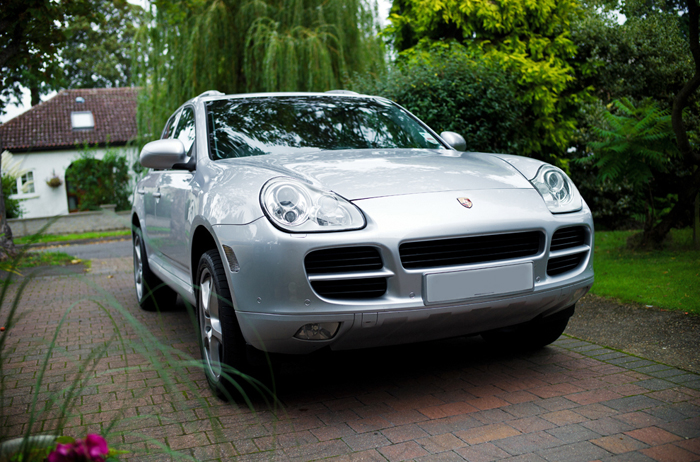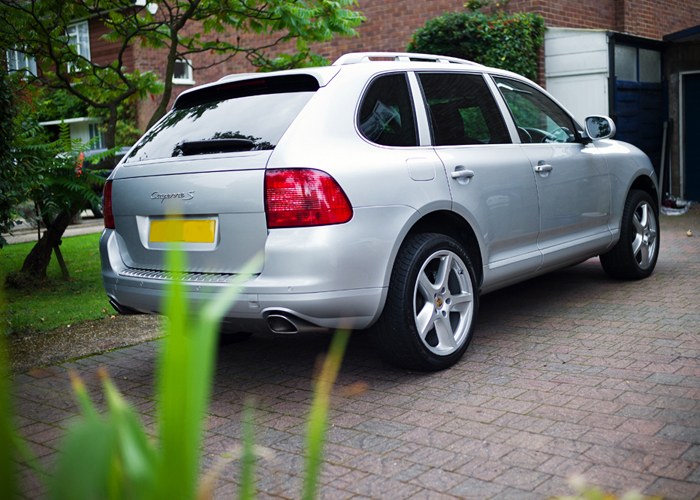 That's not the complete story however because the truth is the new car budget hasn't really been spent. The Cayenne replaces another car so it's nothing really to do with the choices laid out here. No, I still want an F430 and I still plan to get one. It's the only motor that really hit me smack straight in the heart and I couldn't stop thinking about it. Now isn't quite the right time though and in line with my first point above, I discovered that when push came to shove, I wanted a couple more houses more than I wanted a Ferrari. Think of it more as a delay though. Hopefully i'll return to the F hunt in the very near future.