---
Cadwell Park 30th May
(See bottom to skip to the movies)
My very first time even seeing Cadwell Park and oh boy ... WHAT A CIRCUIT ! If you like bends, hills and camber then this is THE place to come. The lush green woodland setting is glorious and a beautiful place to spend a day in itself ( imagine Kew Gardens with a road through it ) and even the roads it lies off of are like a mini-cadwell in themselves. As its deep into Lincolnshire, the drive is quite pallatable as well since only half of it is on the dreaded Motorway.
First session was a couple of sighting laps then sadly just one further lap as one driver spun at Gooseneck and the circuit was closed. So the second and third sessions before lunch were spent getting to know the place and trying out lines, gearchanges and general tactics.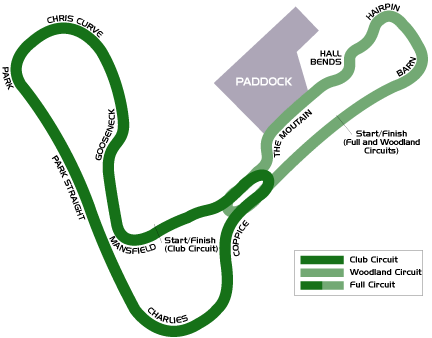 Cadwell is very very narrow; it looks like a Go-Kart track from certain angles, and a good half of the circuit has little or no run-off. The woodland section from The Mountain to Coppice is definitely not a place to come off (although I did) and overtaking is limited to the two straights and possibly the run up between Mansfield and The Mountain if you are much much quicker.
Coppice & Charlies
Flat to the boards in the SLR down the straight meant about 105-110mph or so. Coppice is extremely fast as is the shallow Charlies 1 (the first right hander) and a lot of my day here consisted of working on these 2 bends, upping the entry speed and the resultant straight line speed down the park straight. Charlies is perhaps the most important bend for a quick laptime so accordingly, entry into Coppice needs to be high and it can be... I was told halfway through the day that it CAN be flat and that was from the lips of a 240bhp Caterham owner.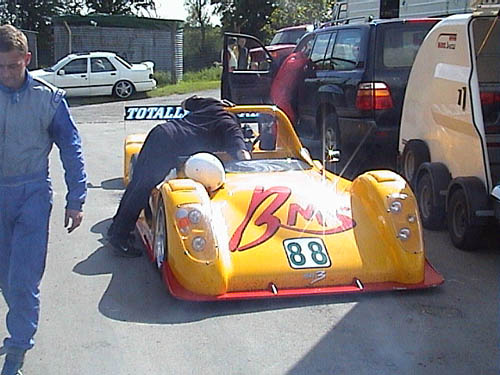 During my last 2 sessions of the day I opted to just keep the car in 6th turning into Coppice, that way I avoided slowing the car down unecessarily with any engine breaking and I could just concentrate on a small touch on the brakes or even a steady throttle with the wind scrubbing off 10mph or so. By the end of the day my entry had gone from just under 80mph to around 90mph and although there is way more room left (100-105 feels pretty comfortable I am told !) this 10mph jump alone helped me shave literally seconds off my laps. The SLR never felt wayward here - always 100% composed and nowhere near the limit... its just that it takes some big balls to not brake at the end of the straight. Its no surprise then, that at the very last lap of the last session, I was still making big advancement here and the video footage shows that I was almost a second quicker than my penultimate lap of the day from Coppice to the entry of Chris Curve. Sadly that lap ended witha trip across the grass but it shows that I never really reached my own personal limit or the cars limit for the Coppice/Charlies section.
After Coppice its a pretty shallow right which for me sometimes needed a tiny confidence lift and I was flat in 6th still although on some occasions coming perilously close to the LHS of the track on exit. On entry into Charlies 2 I was again, giving a barely perceptible lift of the throttle, shifting to 4th and getting on the power asap. Speed through was probably around 80-85mph with the shift up to 5th coming soon after straightening up but on reflection I was never really giving it enough here. The SLR was always very solid at the rear with no squeal from the tyres so there plenty more in the car here as well.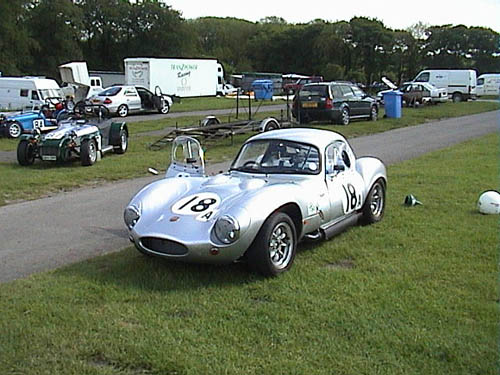 Another observation, I did notice at one point that up the hill of the Park straight the SLR was not actually accelerating in 6th despite a full throttle - once again, time to fit the aeroscreen I think. Its pretty depressing to have a fair bit of straight left but find out that you're not actually even accelerating despite an approximate 400bhp/ton of firebreathing machinery beneath you.
Overall, the coppice/charlies1&2 combination (since it does flow as a single series of bends) is for me the very best part of the track. Its fast, flowing and so very satisfying and the blind crest between charlies 1 & 2 just makes it even more exciting. Everyone raves about the Mountain I know but this for me is the star attraction at Cadwell... and I've yet to really go in at a truly competitive speed !
Park & Chris Curve
It seems that Park needs quite an aggressive and positive entry. For me it never felt totally right and I suspect that I never really got my entry point pinned down. Again, the SLR never felt on the limit here so theres a bit more speed to be exploited on my return. Chris Curve on the other hand always felt sweet. I wasn't lifting here but feathering slightly to settle the car and reduce any lift, then turning in smooth with balanced power. Squeezing the throttle I was letting the car drift out to the edge of the track and then short shifting into 5th. The track is still arcing here and the entry into the approaching Gooseneck is daunting and very atypical; whilst redlining it in 4th wouldn't do much for my nerves, I actually doubt whether the change-up would ever be reached. Far easier for me to short shift into 5th and concentrate on pointing the car the right way for the Gooseneck.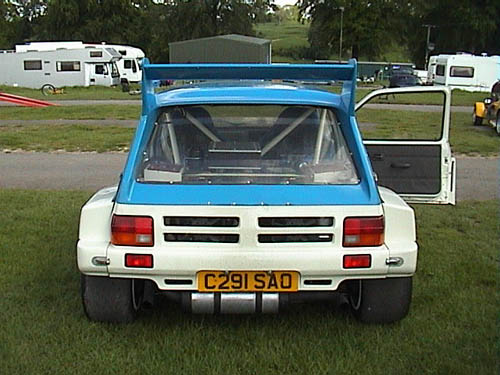 Gooseneck & Mansfield
As I mentioned, the approach to Gooseneck is not straight and whilst its fast, its overshadowed by the fact that you WILL need to break for the second apex and keep everything tidy. I was reasonably fast through the first part and found that many other drivers were braking a fair bit whereas all that was required in my car was a steady throttle (and let the aerodyanmics do any slowing down).
The turn into the second left hand apex is a natural and pleasing one but hampered on this occasion by some newly laid tarmac. At the apex there was a lot of loose gravel which the car flicked up and grip wasn't brilliant so whilst it always felt good coming out of Gooseneck, I was never able to exploit it fully, especially as the day started with a warning signal here when a Caterham spun off here and damaged his front end on the first session (precisely because of the loose surface).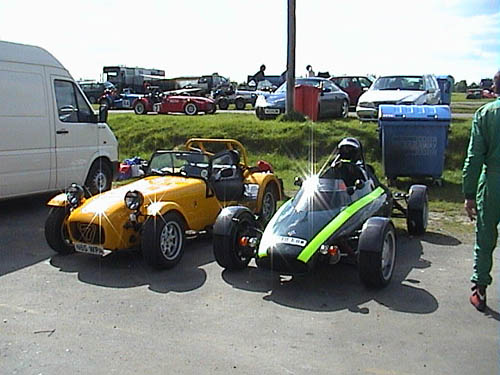 I guess I was pretty slow through Mansfield most of the time. Other Caterhams sometimes pulled away here slightly and partly thats because I don't like real tight righthanders very much (READ: I'm crap at them for some reason) but also because the SLR seemd to understeer quite a lot through here. Up till now W437KM has shown a distinct reluctance to understeer but I think that the front geometry is out of shape somewhat and in fact, I left Cadwell with a front tyre that was quite heavily scrubbed on its outer surface. However, watching the video I have a suspicion that there is a trick to this corner.. it reminds me of Graham Hill at Brands a bit actually... and whatever that trick is, I haven't yet discovered it !
Mountain / Hall bends / Hairpin
Braking for The Mountain was for me the firmest anywhere on the circuit. I was flat in 3rd out of Mansfield, soon into 4th, short shifting to 5th and then crossing the track diagonally from the kink at the LHS. The surface is not super smooth and there is zero runoff so its like going 100mph to about 45mph down your local high street. Mountain is very natural; grip is aided by the camber and turn in feels wonderfully composed. Of course the exit is what its all about though and whilst the SLR was good in 3rd up the hill, I did try 2nd a few times and could never really decide which was quicker overall (including flow lost due to gearchange in between bends). The brow on exit is very sharp and the limiter needs watching here. Personally, theres nothing that amazing about Mountain - I prefer them faster - but it does feel good and it looks sensational whether driving or spectating... a great piece of circuit to drive through. Shame its not followed by a real long straight, that would in my opinion make it much more interesting.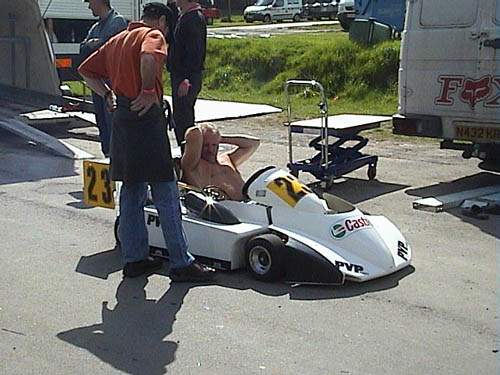 The first right-hander of the Halls bends was always a bit of stumbling block for me. I found that I had too much turn coming out and rarely hugged the 2nd left-hander well.... sometimes turning in too late and understeering all the way through it. Once it really caught me out when I failed to lift at the end of the short straight preceeding it and the back threatened to pendulum outward halfway through.... this is NOT a place you want to spin ! In addition, changing down to third had a disaterous effect on speed. Overall then, I was pretty slow through the middle bit of the Hall bends and some of my videos will demonstrate this well.
The hairpin is very slow, not particularly consequential or exciting and with no room to have any fun.
Barn
I spun at Barn on probably my 4th ever lap of Cadwell. Not exactly sure why it happened, perhaps a combination of cold tyres (it was at the very start of the session) and possibly the timing of turning in at the brow which maybe lightened the car. One thing is for sure, i was going dead slow into the bend and the slide was so sudden that at first I thought that oil or tree sap or something similar was to blame. Whetever the case, I was ruined here from the very start of the day. My videos will show you just how slow I was through Barn (see the one behind the blue R500) and sadly its possibly the most crucial bend for a good time. I should have explored and regained my confidence here but I supposed that on the day I just preferred to avoid the issue at all given the complete lack of run-off and concentrate on other areas of the track.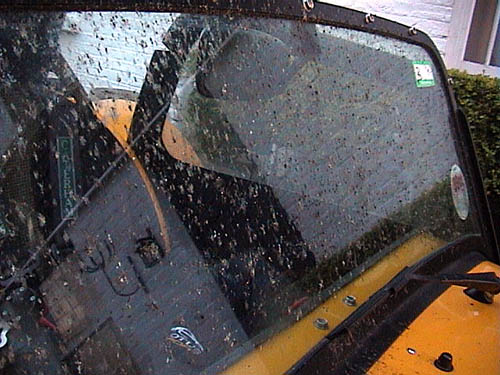 VERDICT
Cadwell was awesome fun, especially the back section from Coppice to Gooseneck. I don't really care that much for the slow stuff like the Hall bends & the hairpin but simply cannot wait to go back again. It'll be good when the new tarmac sections are bedded in as well. Although my analysis sounds quite negative in parts, on balance I'm being quite picky partly in an attempt to calcualte where I could be faster. Although I didn't leave the place feeling 100% with some of the bends, as a whole I felt that I got on here pretty well & certainly got a lot out of the day despite my cars newfangled behaviour and a front geometry problem (steering was inappropriately shaking at high speed - toe/wheel balance ?).
Initially there was a lot to take in and its a pretty overwhelming place for the newcomer. After lunch though when I had started to get something together I had some good clear sessions with the video camera running. Studying the footage its clear that I made some real worthwhile progress. On the very last lap I was still progressing massively and come the entry of Chris I was almost a second quicker than the preceeding best lap. Unfortunately though it was called to halt by a shabby and excessive entry into gooseneck where I had to bypass the corner completely. On my return it'll be challenging to further increase the Coppice/Charlies section and also master Barn for greater speed down the main straight.
The day was very well organised by Slipstream trackdays, run itself by 3 avid Caterham owners so naturally 95% of the cars were sevens and westfields and various other seven type cars. Of particular note was the SR3 of Richard Ince which can be seen extensively in the movies... the sight of it cruising past me into bends at another 10-20mph was truly inspiring. Also, a beautiful piece of history turned up in the shape of a 350bhp Metro 6R4.. one of my all time favourites but a serious handful at the limit completely devoid of communication, or so I was told by its owner. Finally, a "light car company" Rocket was on circuit.. first time I have ever seen one (i think only around 16 were ever built) and never realised that it had 2 seats.
MOVIES
Apologies for the sound. Not quite sorted yet and some of the clips have music added as there was no sound at all. In most though, theres wind noise for an idea of speed and a bit of exhaust/engine in sheltered parts of the track.
For details on my codecs, required software and filming equipment used click here. If you have the connestion speed, WMV files are the preffered download but don't underestimate the .rm files.
N.B. If you expereince stuttering with the WMV files then you need to download the latest 7.1 version of Windows Media Player.
METRO 6R4 - grorgeous car, going home
6r4
Real player movie 2.1mb | Windows Media WMV 3.2mb

TRACKSIDE @ MOUNTAIN - various cars getting aerial
SR3, R500, various sevens, silver elise,
Real player movie 6.3mb | Windows Media WMV 12.2mb

SPIN AT BARN - quick and thankfully painless
Mainly me !
Real player movie 5.9mb | Windows Media WMV 9mb

LOTS OF CATERFIELDS - x2 early laps with a final black westfield Yellow VX, Gold/Green Cat, BRG Cat, Red&Ali Cat, Black Westfield
improvement then.
Real player movie 23mb | Windows Media WMV 28mb

RADICAL SR3 ! - early lap with the SR3 hyperspacing at Chris Curve, must be seen to be believed !
SR3
Real player movie 9.7mb | Windows Media WMV 17.5 mb

CATERFIELDS & R500 #2 - 2 laps, Alex in D1NCE, not his car so don't imagine for one minute that he's slower than me
Green SV, BRG cat, Yellow VX cat, R500
Real player movie 14.4mb | Windows Media WMV 25.6mb

CATERFIELDS & R500 #1 - 2 laps, various catfields and the R500 again, notice how slow I am at Barn in comparison :-(
Similar cars as above
Real player movie 21mb | Windows Media WMV 38 mb

"GOLD" SEVEN
Red/ali Stryker ?, Gold/green Cat
Real player movie 14.8mb | Windows Media WMV 26.2 mb

6R4 & SR3 ON TRACK
SR3, 6R4, green westie
Real player movie 11.8mb | Windows Media WMV 21.5mb

911 CHASE
Black Cat, Dk. Blue 911
Real player movie 10.6mb | Windows Media WMV 15mb

"ONE FORTY THREE" - one of my best laps, still a long way to go
Red elise, Ali Cat on the grass !
Real player movie 9.3mb | Windows Media WMV 23.7mb

TROUBLE AT GOOSE - my very best lap until I overcooked it only to witness the SR3 go supersonic again :-)
SR3
Real player movie 4.1mb | Windows Media WMV 7.2mb

Please note that timing, the use of laptiming equipment or data logging at general trackday events is strictly prohibited. The author calculates lap times AFTER such events purely as a by product of in-car filming,