---
Donnington 1st May
(See bottom of page for movies)
My first time at Donnington and my first real trackday in the Superlight R. From the word go this circuit is amazing, every bend a complete wet dream. Its big, wide, long and flowing and all high speed and it wasn't before long that it i knew it was up there with Brands as my favourite track in the UK.
Redgate
During the second session I started to get some lines flowing and found most of it quite natural to drive with the possible exception of Redgate and Coppice. It seems that I never really worked out Redgate.. I guess I should have tried to nominate some sort of marker in my head for turn in point but basically sometimes the bend was right and I could get the power on early and sometimes when the entry was probably a touch too late (it is supposed to be late in any case) I had to back right off in order to settle the car through the apex and also avoid going well wide of the tarmac on exit.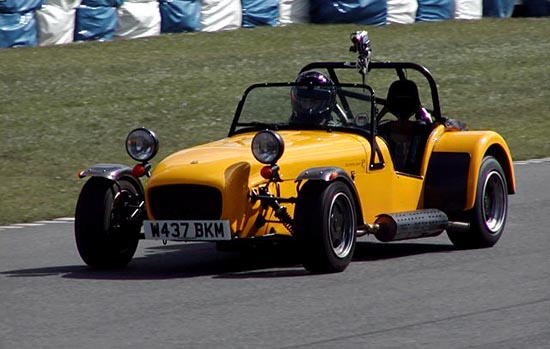 The Craners to McLeans
After Redgate I was flat in 4th then soon changing up for the beginning of the Craner Curves. After a short blast in 5th I was finding myself short shifting up to 6th for the downhill left hander. Using this method I was not braking during the craners and carrying plenty of speed but obviously taking it flat out from Redgate would be easily possible, but i thought I'd leave that till my next visit when i know & trust the car a bit better ! Apparently the Radical SR3 goes through this bit of the circuit at 135mph .. that must be mindblowing. After the left hander of the craners I was giving the accelerator a final short blast creeping up a few more mph before braking for the old hairpin. I found this bend wonderfully natural with great fall off to the left and a doddle to pilot. Without ever feeling over the limit here I was carrying decent speed through and making good use of the track's full width.
Charging up the hill in 4th and quickly into 5th through Starkeys bridge I was once again short shifting into 6th then feathering the throttle when turning the Schwartz curve and getting the car settled and nice and straight for McLeans. McLeans also felt pretty good to me, I had some moments here in the wet and its easily the most slippery corner on the National Circuit but these were very easily corrected and never life-threatening. If I remember correctly, the surface is bumpy or has a ridge in it or something near the apex or at least thats what it felt like on occasion.
Coppice to the Esses
Accelerating out and up the hill hard in 4th then into 5th, Coppice arrives very soon and is blind. I never really got this one right. Braking feels dramatic as its enhanced by the hill and its all too easy to brake too much. Also, there is a crest there just after entry and that was also affecting my entry speed. Looking at my video footage not only is it clear that I was under par speed-wise through Coppice but most of the time I was taking a much too tighter line, trying to hold on to the apex and then not using the full width of the track. Also, i was exiting using the false kerb on the RHS instead of maintaining one continous curve out to the left hand kerb. The car felt quite floaty to me round here and it was difficult to ascertain how much grip was really there and thats perhaps one of the reasons I never really tried increasing entry speed. Theres bags of run off though so next time I've promised myself to go up in 5mph increments ! My autosport guide tells me that - unlike the rest of donnington - its a bend that never really feels right and I would certainly go along with that.
Out of Coppice the SLR is flat in 4th but onto the back straight the aerodynamic brick wall effect really does come into its own. Right through 5th the car doesn't seem to gain much speed and even after a good while in 6th, despite the SLRs claim of 400bhp/ton the top speed is well shy of 120mph. Powerful tin-tops with more suitable gearing and aerodynamics are no doubt managing 125-135mph here so i think that I'll run an aeroscreen when I return to Donnington to try and pile on another 5-10mph.
Braking is substantial for the Esses and I generally found them quite natural. The flat curb gives you plenty of options so really the most demanding aspect is late braking but getting it done well in time along with your downchange so as not to overshoot entry. In the wet the exit onto the straight requires sensible use of the throttle in the SLR.
The only point of interest about the straight was that was told to keep right as I was marginally breaking the noise limit. No Goodwood then in this car !
The Verdict
Being cautious on my first circuit day I never really pushed any bend in particular. I did gradually quicken during the course of the day but never really exploited the car at Coppice or the Craners. The Superlight R was absolutely sensational in almost every department, from braking/acceleration to stability, grip, adjustability & progressiveness. My only slight concern was the top speed issue. The car really does hit a brick wall somehwere in 5th gear and I really need to figure a way to run the aeroscreen but maintain practicality when driving the car to and from the circuit. After it had rained I found the car quite snappy at the rear even when driving quite smoothly and I suspect that this was a lot to do with the fact that the surface was probably more "slippery" than "wet". The car was fine if corrections were made pretty quickly but on one occasion it needed a bit more lock than i had prepared (see movies).
An interesting mix of cars turned up including a batch of big BHP Audi RS4s and Tony R's incredible 400+bhp EVO6 which really is a sight to behold both stationary and on the move. As a custom built track weapon it has had no expense spared and is one of the most desirable bits of kit I've ever witnessed. I was supposed to get a ride but got to invloved in my own tracktime. Also, David Brown was there with his 280bhp supercharged exige which certainly shifts beyond 100mph.
MOVIES
For details on my codecs, required software and filming equipment used click here. If you have the connestion speed, iWMV files are the preffered download.
A couple of laps in the drying wet here, no major dramas but a few corrections here as the back keeps suddenely skipping out.
Exige, BAT cat, Silver EVO6, Azure elise S1
Real player movie 11.2mb | Windows Media WMV 13.8mb

One of my best laps at 1 min. 25 secs, despite a hesitant and slow entry into Coppice and steadying the throttle at Hollywood.
White & Black old shape M3's, Azure elise S1
Real player movie 5.2mb | Windows Media WMV 10mb

I was on an outlap here but when Tony flew past me I couldn't resist following him round.
White EVO6 RS monster
Real player movie 6mb | Windows Media WMV 11.4mb

Approaching an inconspicous but very fast Nissan pulsar up to McLeans. I seem to remember this car from Bentwaters.
Silver Audi RS4, blue/ali cat, Nissan pulsar
Real player movie 1.6mb | Windows Media WMV 2.5mb

Me spinning out of Redgate. I avoid the first twitch but the second is too violent and quarter of lock is no way enough.
Exige
Real player movie 1.6mb | Windows Media WMV 2.2mb

A lap with lots of traffic.
Grey Exige, Tuscan, Black & White old M3s
Real player movie 4.7mb | Windows Media WMV 8.4mb

Another regular lap with other cars. Watch as I lock up braking for Coppice costing me at least a second on an otherwsie ok lap.
Black new shape M3, Caterham & Scoob
Real player movie 5.1mb | Windows Media WMV 8.8mb

Please note that timing, the use of laptiming equipment or data logging at general trackday events is strictly prohibited. The author calculates lap times AFTER such events purely as a by product of in-car filming,