---
Brands indy 23rd Feb
First outing for the Duranail ! A relaxed day at Brands in the company of Seloc to get the feel of the car, check the handling, monitor the temperatures and ensure the proper operation of my on board AV equipment.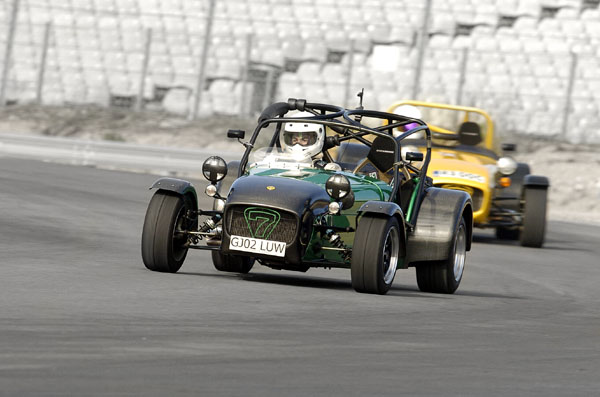 Verdict
It was a very cold day at Brands so temperatures obviously behaved themselves. The stack tells me that the maximums ever reached all day were around 80-85c for the oil and similar for the water. No need for an oil cooler just yet then, we'll have to wait to see in the spring if it becomes an issue. People often quote a safe oil temp of around 110-120c but from where this is measured this is not representative of the oil temperature at the crank (i.e. where it matters) and i would prefer to build in a higher safety margin so as the hotter weather approaches I don't really want to be seeing temperatures higher than 100-105c mark.
My switchable bullet cameras were working well, with good views and no black areas in the corners caused by the sun visors because I removed them the night before. The footage works so well in fact that i'm considering having a 3rd switchable camera permanently mounted on the front wishbones. Can't say the same for the microphone though. I bought a nice stereo external job from maplins but despite the fact that it has its own battery, it still needs to go via an amp when used with the line in on the DV cam. So I had to make do with the tiny mics that came with the RFconcepts bullets which are real poor quality. Shame 'cos the sound of the car was just fantastic on the day.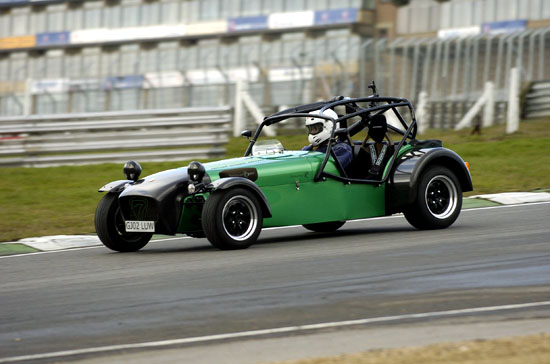 As for the track and my driving. Well, the least said the better. Its been well over a year since I was last on track and it was a bit of a shock to the system going out there in the first session. Suffice to say that I was well rusty, slow, untidy, uncommited, lazy lines, lazy braking etc.. Had lots of fun though !
As for the handling, well the car was pretty good but maybe because it was a very cold day there didn't seem to be a huge amount of grip about especially in clearways. The car was understeering a bit but not overly so and it wasn't as easy to drive through it as it used to be with my slr. The main complaint though was that the car exhibited a touch of vagueness and floatyness on initial turn in... it just didn't bite as resolutely as i'm used to. Turning into paddock felt a bit iffy and the same goes for GH.. not very confidence inspiring. I'm only running 10" toe out so i think the first step will be to try around 30" next trackday. Other than that though the car felt great and its just fantastic to be back to what i know and like after a 14 month layoff ! The box wasn't as bad as I thought it might be but with top speed well down it still needs sorting. I really do think i'd prefer a 5 speed approach with the ability to hang onto gear a bit longer. The elite sequential remains a possibility as does the BGH road and track but the caterham box will do for a bit so I don't want to rush into anything.
This seloc day went smoothly and a good quiet crowd was in attendance. Freestyle were there and it was good to see their development car and catch up with what they're doing at present. The advanced session was quite empty with a few 3 series BM's practising for their seloc race series, a fiat which was pretty nifty in the corners, some nice caterhams from the freestyle camp, a few seloc caterham boys gimpy and bowser and of course jimbo in his K20a powered 340r.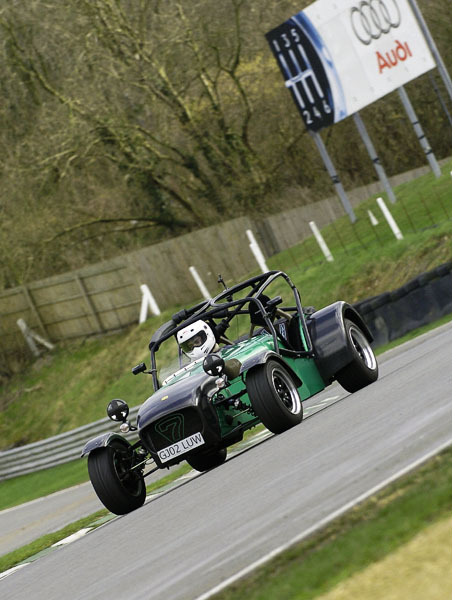 MOVIES
For details on my codecs, required software and filming equipment used click here. Note that for 2004 I have moved over to WMV only. Please download the lastest WMV codec from microsoft. Please note that the front and rear cameras switch in real time, no editing has been done. Finally bear in mind that the lens is very wide, if a car is 1/2 cm wide on your monitor then its basically almost touching my front numberplate !