---
Oulton Park 23rd October
Probably my only duff trackday of 2004. I was really looking forward to oulton, hadn't been there for 4 years now since in the 340r and apart from the fact that it used to be my favourite UK track, I was also convinced that the car was going to be fixed. A bit more on that first then.

The Dreaded Misfire problem


At Dijon and Magny Cours the car was suffering from a violent and omnipresent misfire from 4k upwards. Thinking about it this misfire may have been present (albeit in a far weaker form) as far back as my Brands GP day. I seem to remember the car stuttering a bit a few times especially under heavy cornering although at the time I put it down to fuel starvation. At snetterton the problem was definitely there as some of my movies show (no power at the chican when the foot goes down) and soon after Snet when I tested the car on the road it was basically undriveable and kangerooing like crazy. It actually wouldn't even idle at all. I had this looked at and fixed and the car had lots of sensors and parts swapped out on it but come France although the car was nowhere near the same it had now developed a very prominent, violent and omnipresent misfire higher up in the rev ranges when under load. Dijon was fun 'cos most of it flows at a similar speed but the main straight was a bitch and the car wouldn't get over 115mph. As for Magny the stuttering was even worse and all I could do was cruise around very gently and piss about with some shagged out tyres. So it was all a bit of a mystery really, to begin with a completely undriveable car that sounded and felt like it had a major fuel/sensor/map issue was fixed but only by changing lots of stuff and not really knowing what was fixed and why... and then next up a very severe misfire despite most of the major culprits already having been verified and tested (alternator/coil pack/HT leads etc..).
When I returned from France I have the ecu sent over to steve at SBD motorsport and after he tests it he finds that everything with the MBE is fine. So then I get the car onto the rolling road at Tony Goodings in Iver Heath and we look at the mapping in real time and notice that the throttle pot is resetting itself under load and returning to site 0 every so often when the rapid electrical style misfire takes place. Tony has lots of experience and immediately identifies it as an electrical cut off thing rather than fuelling and he does immediately suspect the crank sensor or if not an electrical connection in the loom or a dry joint. I fit another throttle pot there and then just to completely rule that out but shock horror, the car then goes completely undriveable on us just like how it was after Snetterton when it wouldn't even idle properly or run up the high street and back. This is most odd 'cos the throttle pot resting voltage is ok and I know that the sensor itself is OK cos I had had it on the car at dijon. Me and Tony look on in disbelief but then I realise that whilst changing the TPS I inadvertently looked down at the crank sensor and, as you do, sort of brushed my hand across it and gave it a perfunctory sort of touch. So next up i poke around with it again and again touch the wire that feeds from it back to the ecu. Then guess what, the car won't even start ! So it looks as if we've found the site of all the problems.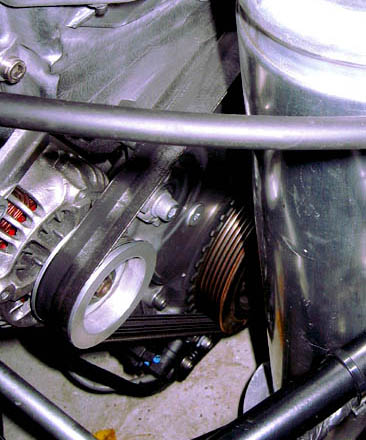 before
Tony and a neighbouring mechanic have a good look over and notice that not only is the alternator belt rubbing on the crank sensor but also its quite slack and is most likely banging against the sensor at certain revs or harmonics etc... and this could easily be the cause of the high rev range misfire. A loose wire into the crank sensor or a plain dodgy sensor (from being hit so often ?) could explain the secondary 'undriveable' symptoms that I have on occasion also experienced. A quick call back to SBD motorsport and Steve there does indeed confirm that if the crank sensor is being hit then the ECU will read it as a value that it cannot compute or one that looks very very wrong and in doing so, will sort of 'reset itself' and hence momentarily return the fueling to site zero. So certainly Steve agrees with us that the loose belt is consitent with what we are seeing in easimap and that it could very likely be the cause of the misfire.
Off to the Ford dealer in Thames Ditton and several trips to the Uxbridge motor factors for different sized belts. I check the wiring to the sensor and test for continuity at the ECU pin outs .... all ok. More investigation and when looking at some old photos I took of the car I notice that one of the bolts on the crank sensor is loose in the photograph ! So maybe the 'loose connection' part of the problem is just in the sensor itself or its fitting so to be on the safe side I buy a whole new crank sensor. I also decide that the best way to negate the secondary belt banging problem is to go back to the stock Duratec pulley arrangement installing an additional idler pulley after the alternator so that the belt feeds around the crank from an angle such that it is kept well away from the sensor (a La Raceline's Duratec).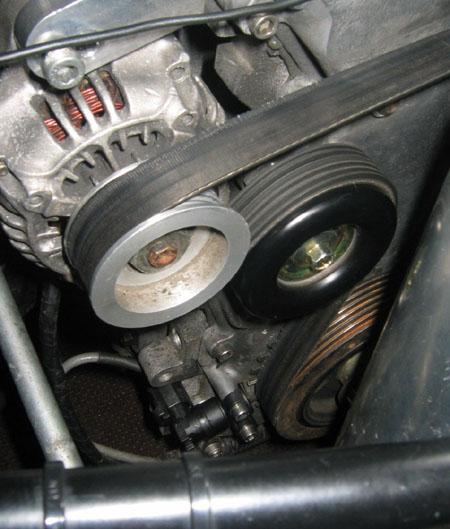 after
Weather, tyres and CBA
So back to Oulton. Well, Im tired .... its very damp on the track and slippery. I only have a set of shagged CR500's that are beyond the legal tread markers, there's bugger all run-off, Ive written a car off on the road a few weeks before in a very silly high speed wet turn-in/new greasy tarmac situation and basically i'm on my own and and just not in the mood. One thing though... we were right about the belt and sensor; the car is steady as a rock with no misfire of any description.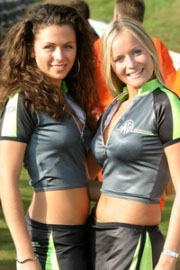 Actually the first session is ok. Its exciting to be back at Oulton and very interesting in a fast caterham as opposed to an elise. Druids is very slippery and the car twitches violently through there but generally I string 10 laps or so together and start to familiarise. Second session after I've disconnected teh rear ARB and it is drying out but tentatively pushing a little further I remember how tricky this place really is. I'm mega slow through old hall as it seems so much slower than it is, Cascades is a real tough one and will take time to work up to speed 'cos the car does not feel like it will turn in at all as the road is falling away, island is just a shitter through and through especially on a drying track and shagged CR500's and basically im slow through druids and just about everywhere else.

Third time I go out and there's an off on the second lap so I break for lunch and decide that a move to slicks might be worth the gamble for the rest of the day. Sure enough after 30 mins of tyre changing, second lap of the afternoon and the rain comes down. I come in, look at the shagged CR500's and really can't be bothered. Its 3pm and I make my way home. Next year I'll hopefully come here at least twice... its one of the best and one I really do need to begin to master and come prepared to fighting fit and with a proper selection of tyres.




MOVIES
For details on my codecs, required software and filming equipment used click here.