---

Rockingham, April 2005
Never been to rockingham. Wasn't expecting a lot but it was actually quite good.Good mixture of bends, pretty technical and lots of space. I really just used the day to get the car going again and test the mychron dash and make sure everything was working including the senders and the speedo and rpm and shift lights and also everything that had been dismantled over the winter like the throttle pot, various bits of wiring, throttle cable etc.. Also, the first chance in 2005 to get my new camera and microphone system up and running and checked (see duramods)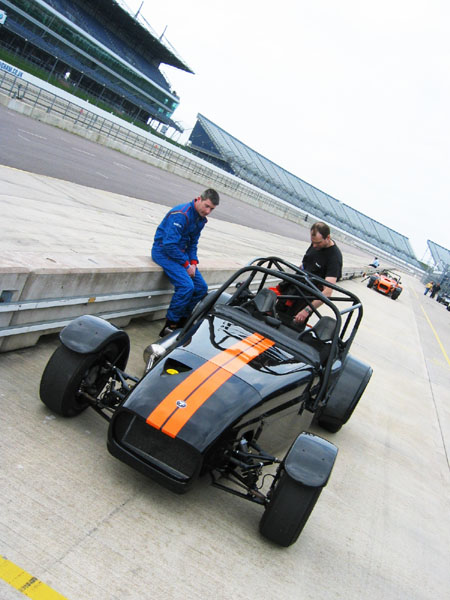 MXL
The MXL works great ! Of course you don't see the blue back light on abright day but its more than readable and all eth info you need is readily at hand. My speed calibration was way out but was working, just needs the right figures for the wheel circumference I expect. The revs work as do the shift lights and the oil pressure is good as is the temporary ford coolant sensor which is feeding the ecu then in turn the mxl.
The car is running well. Of course we know its still too rich and is well down on power at about 214bhp but that will be sorted at some point with a remap. The handling is good although I didn't appear to have much grip at Rockingham... the slicks im using are 3 trackdays old in my posession and were already past their best when bought from taylors foundry last July so after the winter, now well over a year old i'd say, they've obviously become pretty useless. Still, it made for a fun day. Never got bogged down with the technicalities of Rockinhgam, some of my lines there are way off and I refrained from taking the banking flat for most of the day but was very pleased at the cars good show and my new trailer car, mitsuibishi galant v6, performed admirably as well.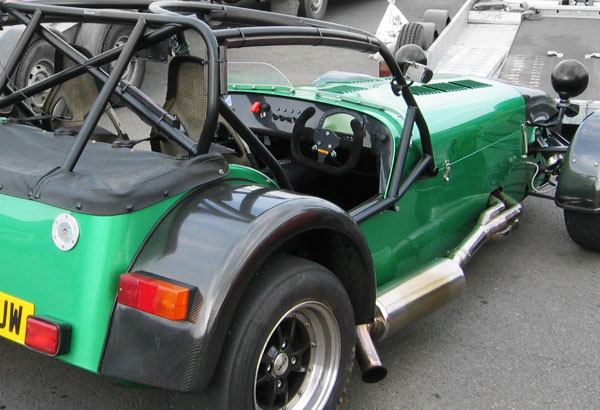 When i got home i discovered 2 slight problems. First is my dv camera clearly still isn't right depsite a rebuild. It's dropping pixels and also sound as you'll see in the videos. Having said that the new microphones sound promising with good bass and once sited properly with a decent wind shield should turn out pretty good. Getting the logged data from MXL to laptop was easy enough but I found that every channel was dropping to zero every few seconds, even stuff like overall air temperature which is quite obviously a constant. As I write, the unit is back at AIM in Italy as they feel that the memory is faulty in some way.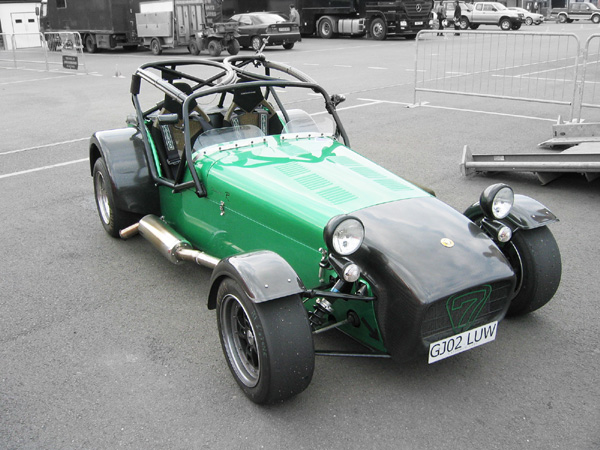 MOVIES
My usual views but with better sound now, not perfected yet and also cutting out a lot because the camera is still broken. Actually can get a bit annoying after a while..
Renault 5
Windows Media WMV 13mb

goes off piste !

Gentle laps with the 240bhp donkey-mobile
Windows Media WMV 23mb

having fun with the honda powered wesite

Cockpit view
Windows Media WMV 20mb

yellow duranail, skyline, vx220, exige

Big dash
Windows Media WMV 19mb

nothing that interesting, just a large view of the new dash

a lap from high
Windows Media WMV 16mb

a lap from the high camera position... not a fast one i might add
MikeE's nice dayglow Duranail
Windows Media WMV 16mb

traffic lap... big BHP nismo skyline, also very fast up the hill... some GT3's etc..