---

SNET, July 2005
Not my best of days..
First up I get pulled for noise within the first few laps. A static noise test shows 110db so i'm to lower the rev limit and short shift all day or i'll be off home ! Next up, its pretty obvious that the car is getting even worse in the overfueling sense. High in the rev range its misfiring quite badly, spitting out black smoke and flames. Also, after a few sessions its pretty clear that my suspicions about the tyres are correct... theres no rippling in the rubber, no peelings, can't get any heat into any of them (35C is the maxiumum i can read) and out on track the car really lacks grip and surefootedness.
To cap things off, since oulton i've had the car re-flat floored in part to eradicate the consistent nearside front brake lock that I was getting, but now she is understeering most notably into Riches and Sear. Finally, I made the mistake of not getting a hotel the night before so with a hangover and a real early start im pretty disillusioned and apathetic come 11am.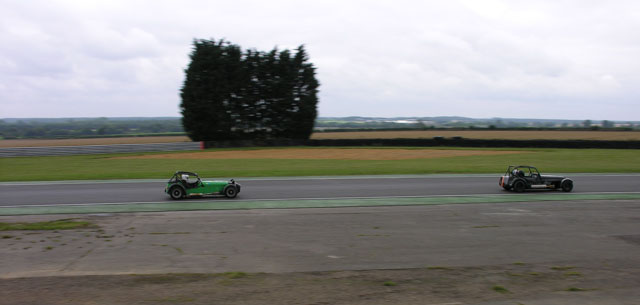 Still, the day did get better. I was able to keep the car at under 6500rpm down the main straight and have some good laps with my friend in his honda powered Westfield. Certainly didn't make much progress though here. The tyres are just too old now and have been sitting around in garages for too long so they feel as if they are offering far less grip than even say a set of CR500's. Overall its not very confidence inspiring and I found it difficult to really commit to and attack bends. That and the understeer means that i'm only 1 second quicker than I was when I came here for the first time ever last year when I imagined i'd be comfortably 2-3 seconds quicker. My speed through sear was definitely slower than last year and i was having to wait much longer to get on the power and my final top speed down the straight was lower as well.
The car needs a break. I really need a proper remap, some decent tyres and a proper exhaust.
MOVIES
Overlap used again in the GT2 movie. Also a new drivers side camera position which is great.
PLEASE NOTE THAT ALL MOVIES ARE COPYRIGHT MOTORSPORT VISION LTD. AND ANY REUSE OR REDISTRIBUTION IS STRICTLY PROHIBITED.
700bhp race GT2 overtakes !
Windows Media WMV 20mb

Only really ever had Radicals go past me but this thing went past WAY faster than any of them !

DonkeyVoort
Windows Media WMV 90mb

not a true donkeyvoort but Donkeys 240bhp honda S2000 powered westfield. Extensive handling/suspension mods and a fine engine.

SideCam
Windows Media WMV 18mb

Early lap on cold tyres

SuperlightR and 911 GT2
Windows Media WMV 17mb

911 has a moment at sear !

Ultima
Windows Media WMV 16mb

High powered ultima has a moment at the esses (subsequently went straight on at Riches !)

topCam
Windows Media WMV 16mb

nothing special, justa view from the top of the rollcage