---
She's finished !
Freshley Mango'ed ... and in showroom 'as new' condition, the Duratec R is reborn and up for sale. See the full gallery HERE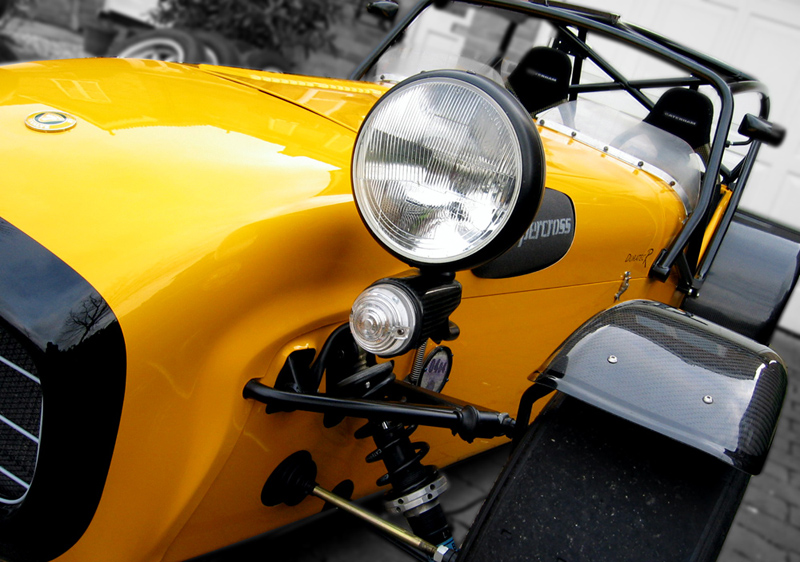 Rebuild Diary
Taking the full extent of the accident into consideration , the damage on the car really isn't too bad at all. If this were an elise/exige or say a 911 of some sort then you'd almost certainly be talking in terms of 10's of thousands and write-offs. As it stands, the Caterham needs a new long front, a rear chassis section, side and rear skins, various suspension components including a dedion tube, front upper and lower wishbone, steering rack and of course 3 carbon wings and a nosecone.
Naturally, the whole car will be given a full respray and every nook and cranny will be cleaned and no doubt, i'll be taking advantage of the full strip down by replacing a few other non-essential items and improving a few bits and pieces, the idea being that the car is a lot better than what it was immediately before..... almost as good as new you could say !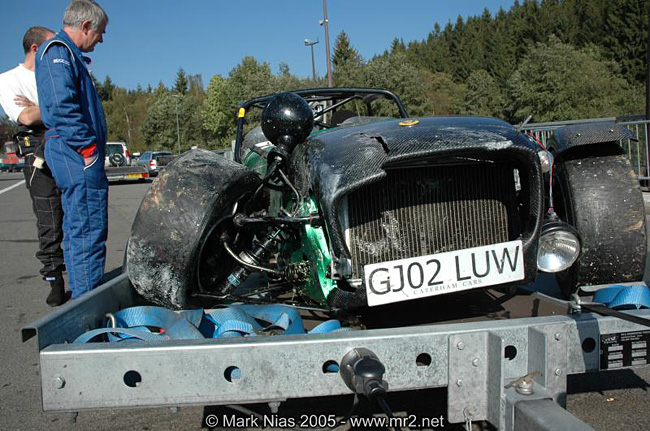 1st November
Half of spa seems to be in my garage; the floor and footwells are absolutely littered in flakes of paint that covered the white tarpaulin that was covering the tyre wall at eau rouge. The cage has more scuff marks on it than I thought as well. My ribs still hurt when im attempting more strenuous movements but I did manage to get the seats out and the radiator and a few other bits and pieces in preparation for the strip.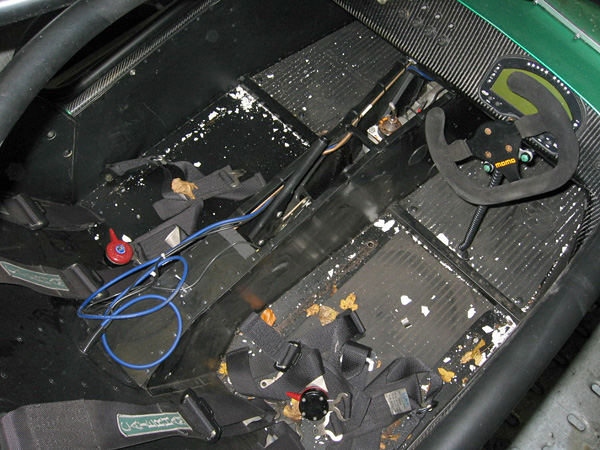 14th November
Strip down weekend was penciled for the 12th. Regular blatchatter and long time Caterham owner Mark Collins had very kindly agreed to lend a major helping hand and use of his opulent garage space and facilities. Another friend joined us and 10am we cracked away taking the thing apart.
Getting the car off the trailer was fun. Luckily Mark has an electronic winch so we were able to lift the nose of the car with that whilst sliding the rear of the car on a low metal trolley on castors. Then it was a matter of sliding the trailer out from under the car until the rear could be sat on a mobile dolly and the trailer completely removed. With me tackling the cage and part of the rear suspension - i.e. the super easy part - mark and nick removed the offside front corner then the oil tank, drained the oil and then disconnected the engine.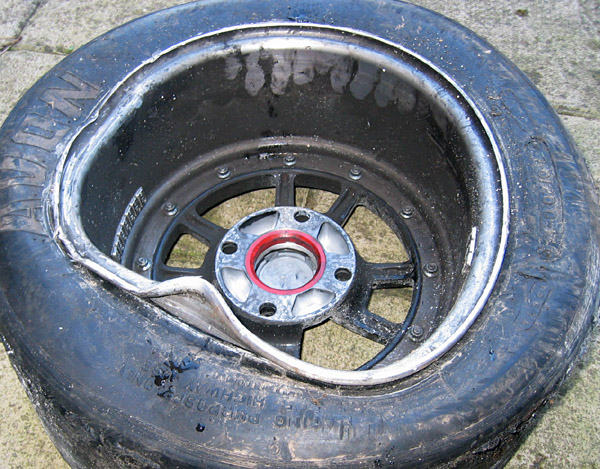 Soon it was engine out time and that went pretty easy once the front dolly had been removed to lower the nose of the car and create a sloped angle. After that, the guys worked on removing the propshaft and diff whilst i took care of all the camera equipment, the boot & fuel tank and scuttle. By 4pm we were done and the car was stripped back leaving just the dash and the loom in place and the skins. An hour later we'd cleared up and loaded up the tow car and I was away. We really did have a good day ...... in a weeks time, the chassis will be back at Arch being fixed !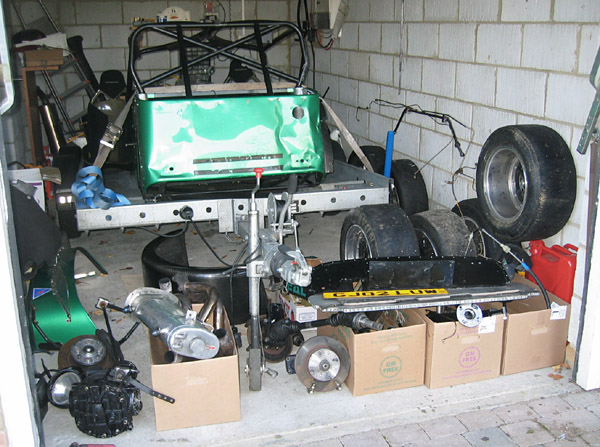 Theres something quite frigtening about having 50% of your car, a relatively expensive little car that is, all in cardboard boxes normally reserved for supermarket toiletries or the like. Somehow you just have to hold onto the fact that behind the facade of rubble there does lay a potential car that is worth reasonably close what you paid for it. When you break a caterham down like this it really is a lucid lesson in how a long list of items always add up to far more cost than you expect. An old tin can here, a hub there, a bit of carbon fibre, a seat or two .... how can it possibly all add up to the silly prices we pay for these 40 year old chariots ?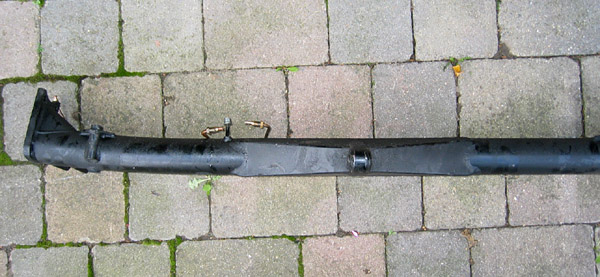 Overall the feeling is that the car is still remarkably well preserved given the accident. But the shopping list is growing a little albeit with relatively minor items. Some new rear brake pads are in order, front brake pipes and I may as well take the opportunity to install some flexible rears. Aside all the obvious fluids and oil filter, i'll be needing some new bolt sets like for the front suspension and the propshaft and also a new front arb.
April 2006
Well, its been quite a long time. I have been extremely busy in all sorts of other areas of my life so i have had little time left to devote to the car. Having said that, its nearing completion and there are just a few odd jobs remaining.
At the very start of 2006 I picked the car back up from Arch complete with a brand new long front section to the chassis, a chassis rail behind the drivers side fixed and a new interior back panel. Anyone who is familiar with how Arch work will know that a repaired chassis is not only identical to a new one but also actually stonger owing to the strengthening that goes on inside of the turbing to affix the new sections onto the existing chassis. Customer service up at Arch was of course excellent and Bruce is hugely helpful and knowledgable. If you ever prang your Seven then they will certainly make the repair process a lot less painful for you.
Immediately after Arch the car was taken to Townley Paint and Panel on a round trip one saturday. Below is a picture of the car being when it came back from Dave Townleys complete with its stonking new Mango Orange paintjob.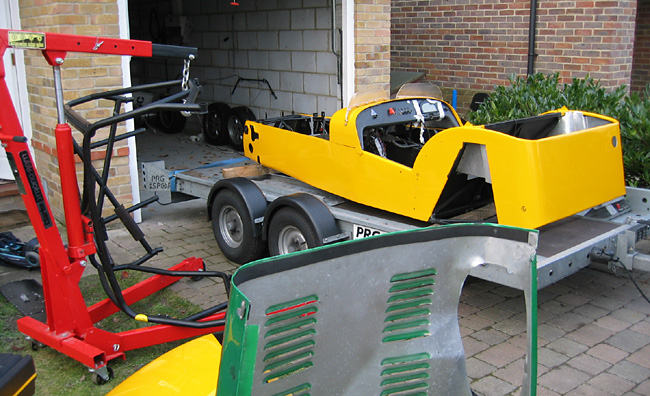 After this there was a wait for a few months until a convenient weekend became available to continue on the car. Again, long-time blatchatters Mark C. and Angus very kindly offered their knowledge and help and we set about putting the big bits back into the car. Engine and box, propshaft, fuel tank, front and rear suspension.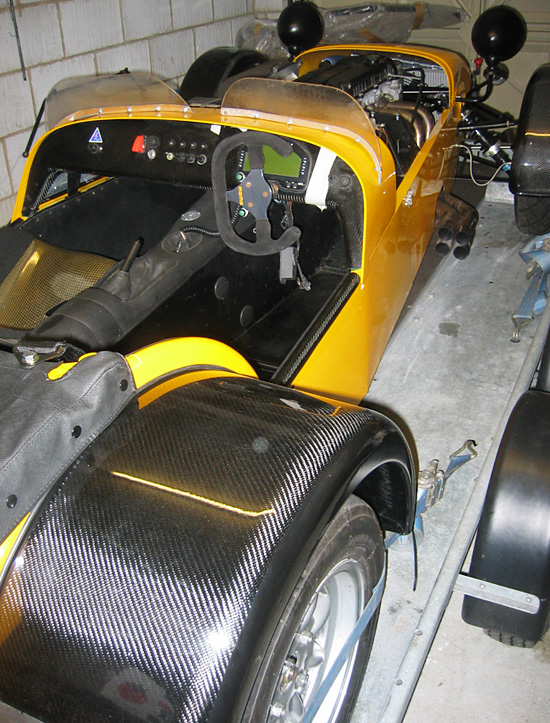 Since then there has been another lengthy gap, in part waiting for my time to free up & for me to come to the end of a feature film I was working on (was on 6 or 7 day weeks for quite some time!) but also waiting for a good slot at Redline Components of Caterham. Now i'm not into bigging up garages or people who work on cars or provide services etc.. but I really do have to say a huge huge word for John and Mick at Redline. These guys literally bent over backwards helping me out and went way beyond the call of duty ... if you want someone to look after your seven and you're in the south then no question this is the place to go. Not only do they boast first hand experience with caterhams stretching over a period of years probably several times my own age, but also you get a very genuine, warm and friendly service and you know exactly what's going on with your car and where your money is going. After all the trials and hassles It's people like this that really do add so much to the Caterham experience and I really can't imagine recieving an equivalent service with any other marque.
John at Redline has essentially done all the finishing off of the car, from final issues such as front brake pipes, front suspension, clutch bleed, interior panels, wings, boot cover etc.. to an overall general spanner and build check. Suffice to say that he's done a great job and I really can't wait to now get everything finished. As it stands I am waiting for a new scuttle backing so that prevents the fitment of the cage just yet and also a new Kevlar seat is on order (I sold one of them in favour of having a race tonneau but then decided that I want x2 seats again as normal) and the hole for the air intake needs to be cut into the bonnet. The new silencer needs a custom mount but that is about it though.... all very minor jobs that will be quick and simple to accomplish.
Overall the car is already looking pretty immaculate. As well as the chassis being half brand new, all the front suspension is new and most of the exterior cosmetic stuff is brand new (new cf wings all round, new paint, new billet centre Rial rims, cage just been re powder coated, new boot cover, new seat and belt, new lights, new exhaust) so condition will be just superb once she is all complete.
JULY 2006
Well, almost there now. Just a seat to fit, the hole in the bonnet cut and then fill with fluids and start her up !