911UK to Italy 2013
How do you top an amazing 6 day tour in the Swiss alps and Italian lakes ?
Well for 2013 we doubled the mileage, added on 3 more days, threw in some incredible destinations such as Florence and Venice, the southern Pyrenees, Millau Viaduct, the Cote D'Azur, 3 laps of Monaco and a grand tour of the very best roads in Austria just for good measure.
The Alpine tour last year was always going to be a tough act to follow and in many ways we knew that it would never be beaten. The newness of it all, the honeymoon phase of 8 strangers getting to know one another, the sheer thrill and adventure of doing something for the very first time, all of these could never be repeated. So we devised to increase the size of the trip, augment its grandeur and add a little glamour into the mix as well.
Adding more stuff, just making something bigger, was of course always going to be a bit of a double edged sword. If I am being honest the 2013 Italy tour was too many miles most days. There were points when it almost did feel like a Gumball race rather than a bespoke driving holiday. It also ended up having a few impromptu changes along the way and a few morale low points as well as the highs. That said though, one thing is for certain, the highs were very high indeed and when the roads were right the driving was as good if not even more amazing than last year. What's more, everyone was delivered home safely, the intrusions from the police were less and the standard of driving and behaviour was even better than last year. It was VERY intense experience though, surreal almost at times, so concentrated and relentless that when I got home I wondered if I had actually been away at all and struggled to remember what had exactly happened whilst in the eye of the storm. Like all intense experiences it was also a very addictive one, once you'd settled into the interminable frenzied rhthym of it all. Adjusting back to normal life has been easier than last year but I still keep catching myself walking around in a bit of a daze, with an odd feeling of having lots of time on my hands and no destinations to reach.
When it was all over we all agreed that on future trips we would not choose to repeat the tough distances involved but we also confirmed that the this year had still been a resounding success and indeed many preferred it overall to the Alpine trip of 2012. For me it was also very very different in that this time I took the 996 GT3 over my 993. I hadn't quite realised just how much this would affect the trip and I'll get into more of this in the text that follows, they are two very very different cars. Suffice to say here and now that I can offer you an extremely lucid contrast between these 2 911's as an ownership proposition especially from the point of view of road driving abroad.
There are a lot of photos here so I have separated each day out into its own page. First though, a few words on the complete journey.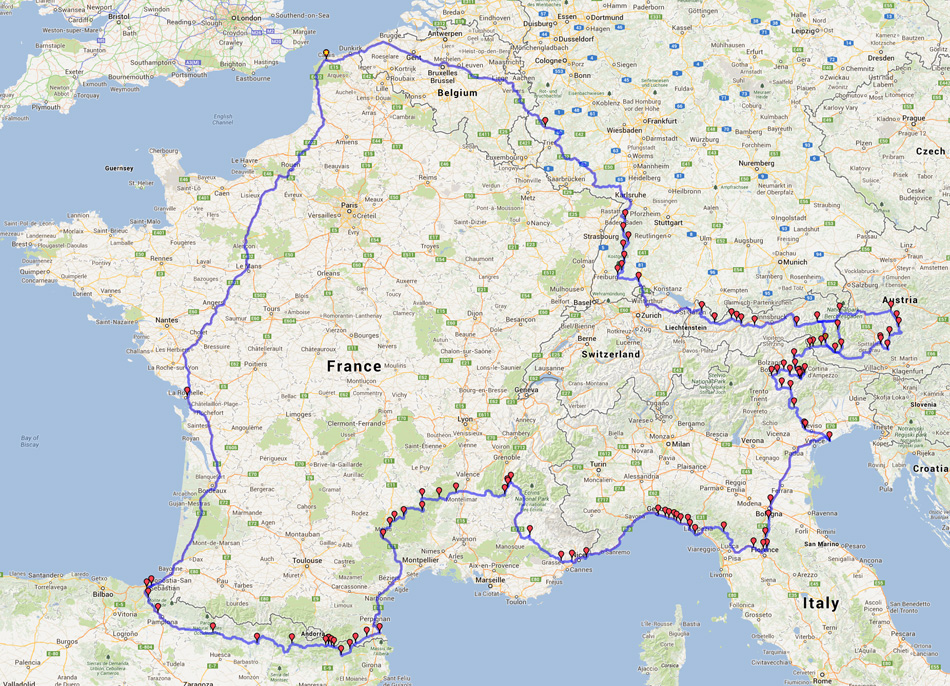 So here it is then, the full route less a few small detail changes. The problem with any european road trip is that getting to and from good roads eats up 2 days in itself. The Alpine trip last year really just consisted of a days driving to a general 'playground area' and then the next 5 days were all within fairly short distances from there. That's fine if all you want to do is do the french and swiss alps but if you want to pepper your route with headline destinations and a greater sense of adventure then you are going to have to add on many more days and also do a lot more miles.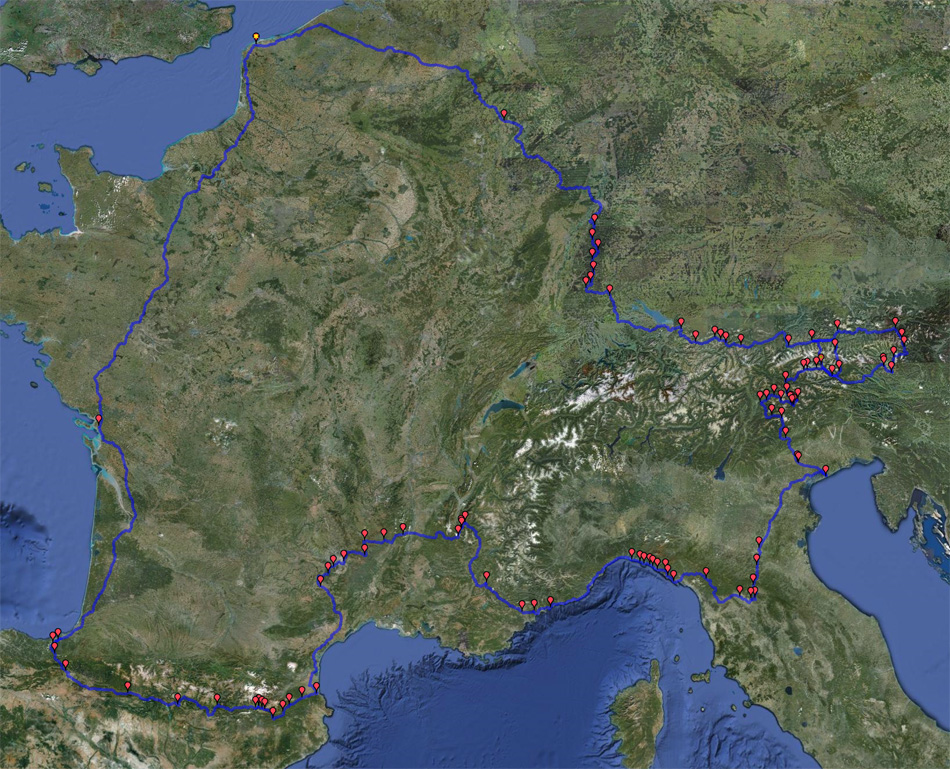 The 2013 trip actually started out as a hugely ambitious trip to Istanbul and back via Romania, Montenegro, Croatia, Slovakia, Hungray, Albania and Bulgaria. That idea quickly gathered too much opposition though so we played around with a circular route around Spain. Familiarity with Spain then spawned something more interesting much like the eventual trip you see above with Italy as the furthest destination and a beginning ferry trip down to Bilbao from portsmouth.
When most folk ducked out of the overnight ferry idea, an extra days driving was added at the start with a first stop at la Rochelle. Unortunately this had the effect of adding a huge extra piece of driving on day 2 (la rochelle to san sebastien) and also pulling back day 2's eventual hotel stop meaning more miles to cover to day 3 as well. So what you are looking at is a route that really was designed with the Bilbao ferry in mind and I would recommend you do that if attempting anything similar yourself.
DOWNLOADABLE ROUTE FILES:
Here is a zip file with an itn file for each days route and also all days in one single file, open in TomTom, Garmin or Tyre to Travel.
INDEX
DAYS 1-3 (on this page)
Day 1: 'Insertion', Calais to La Rochelle - see below
Day 2: 'The Pyrenees', La Rochelle to Sort
Day 3: 'Millau and Gorges du Tarn', Sort to Villefort

DAYS 4-6

Day 4: 'Route Napolean to the Cote D'Azur', Cevennes National Park to St. Paul de Vence
Day 5: 'Coast road to Florence', St. Paul to Firenze
Day 6: 'All roads lead to Venice', Florence to Lido de Jesolo

Day 7: 'The Dolomites', Venice to Lienz
Day 8: 'The best of Austria', Lienz to Gerlos, Nokalmstrasse, Turracherstrasse, Solk Pass & Grossglockner
Day 9: 'Hahntennjoch and the Black Forest', Lienz to Baden Baden
Day 10: 'Home', Baden Baden to Calais

Day 1
'Insertion'
Calais to La Rochelle
430 miles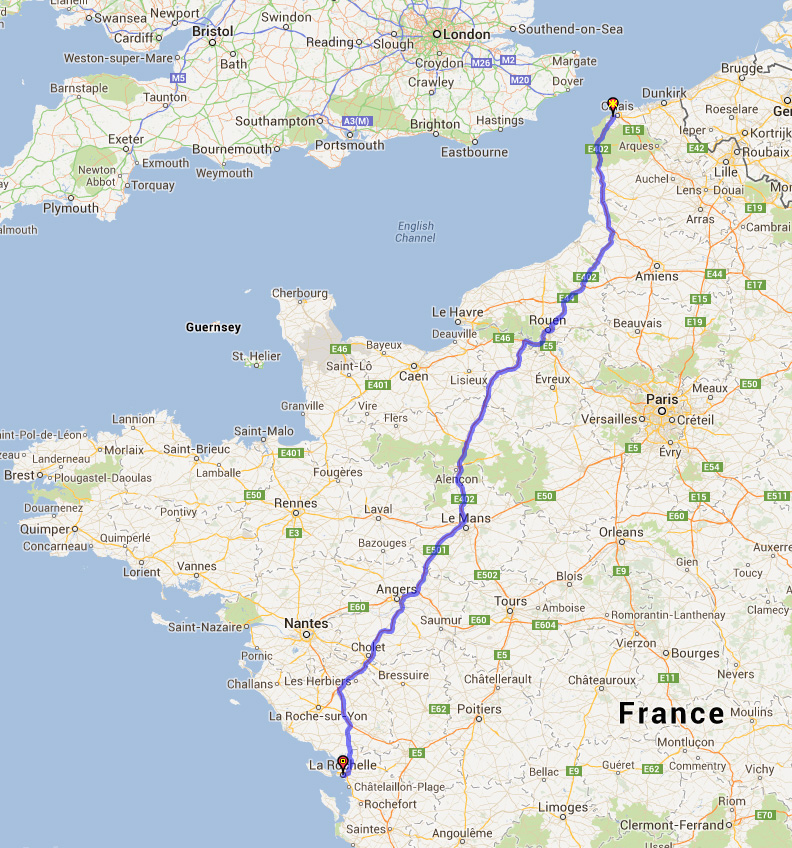 Day 1 was supposed to be a daya and night on the Bilbao ferry but after this was canned I invented a new first day stop at la Rochelle.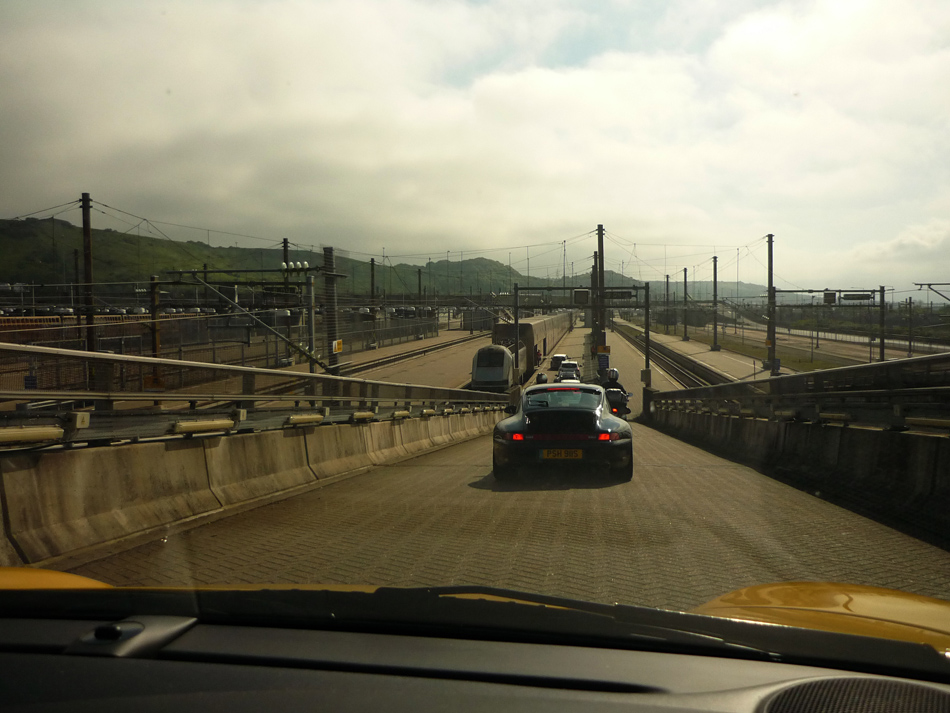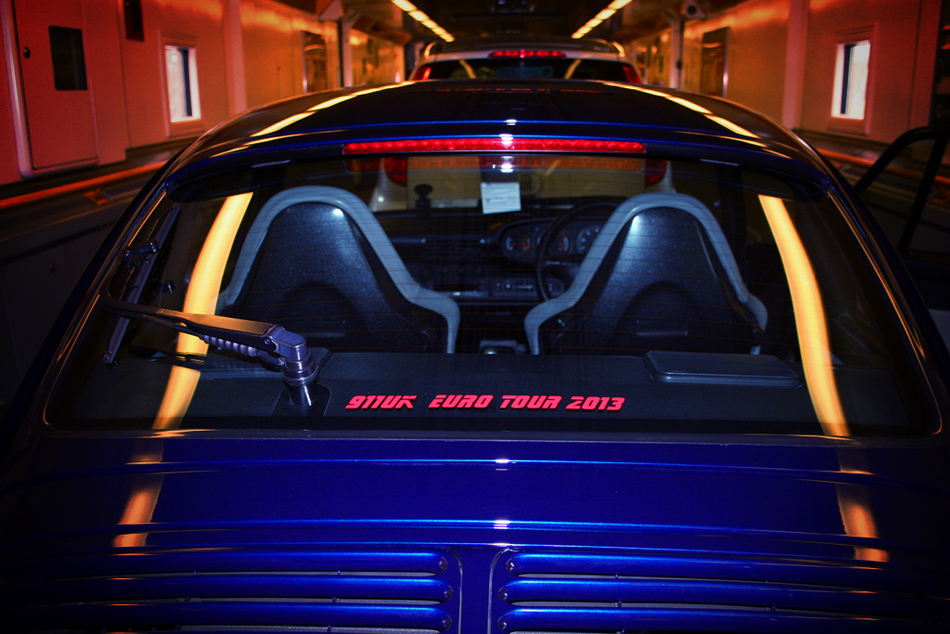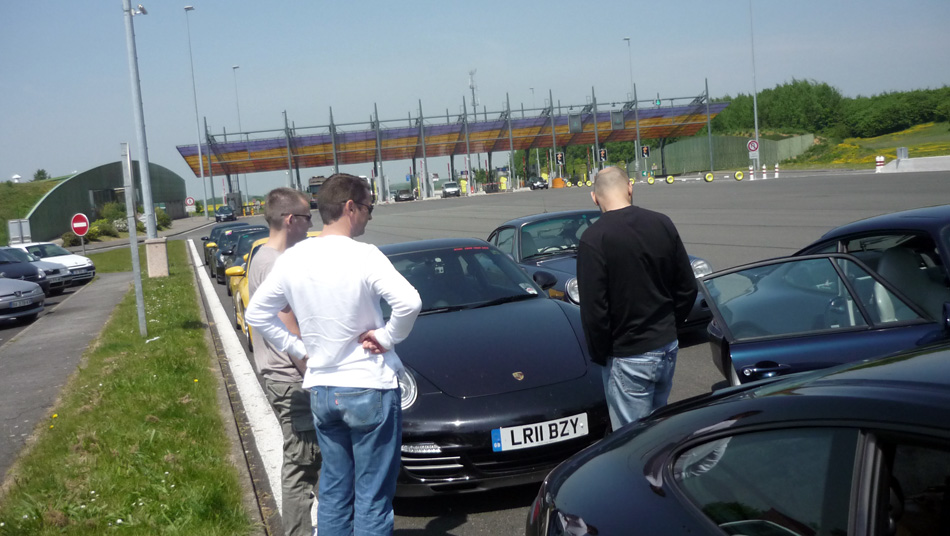 Believe it or not the very first casualty of the trip happened through the dartford tunnel before we'd even left blighty ! Peter queried the road surface over the radios only to be told that the road was fine in two other 911's. Sure he enough when he stopped to check he discovered he had been running on a puncture and the side walls had split really badly in severel places.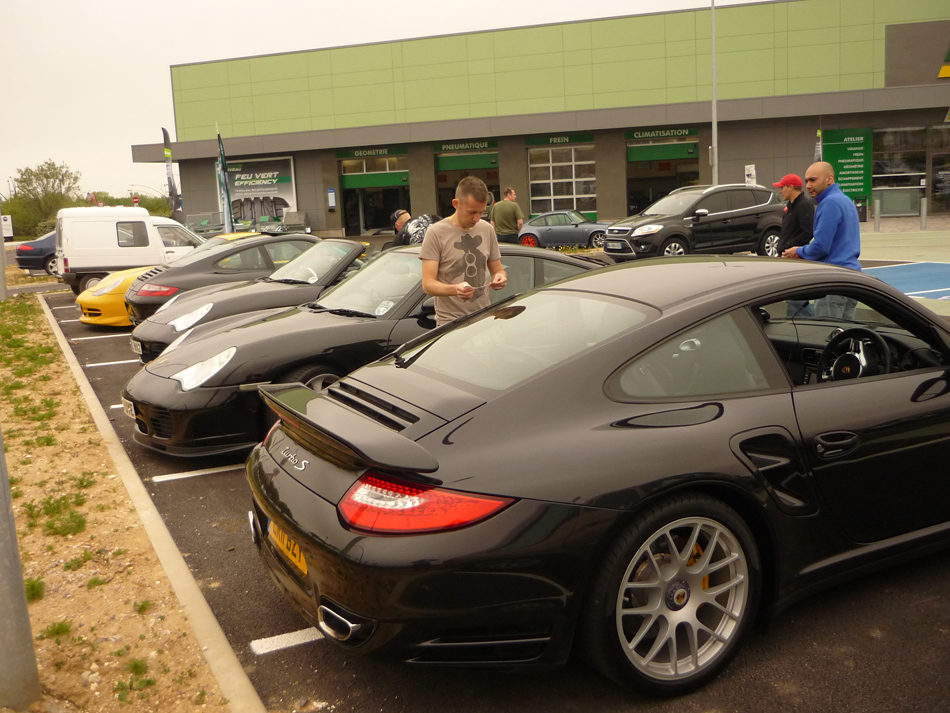 At Calais we went round a few tyre places and a very nice BMW dealer ended up phoning around for us which led us to this tyre place where a new boot was promptly fitted to the 964 C2.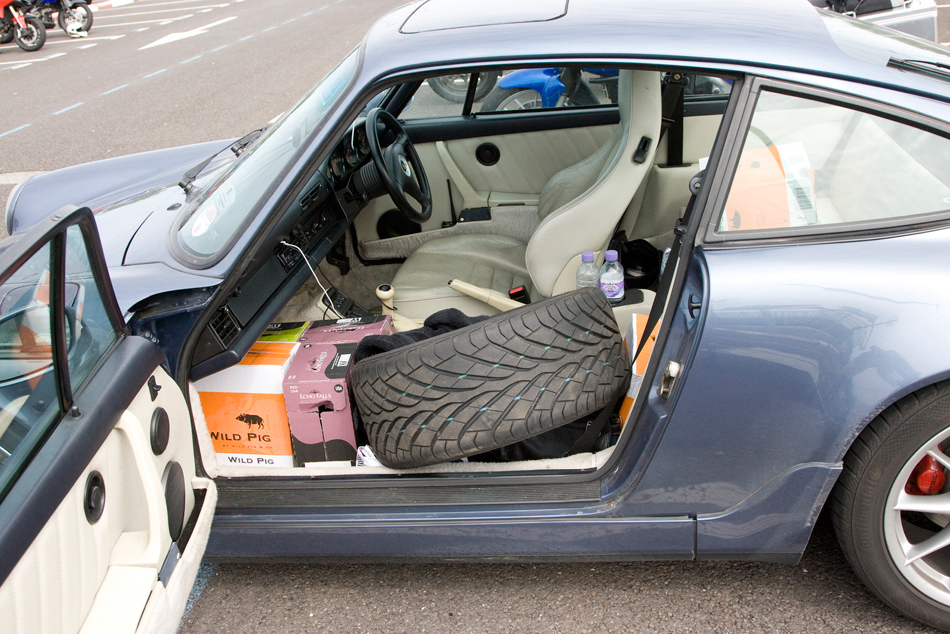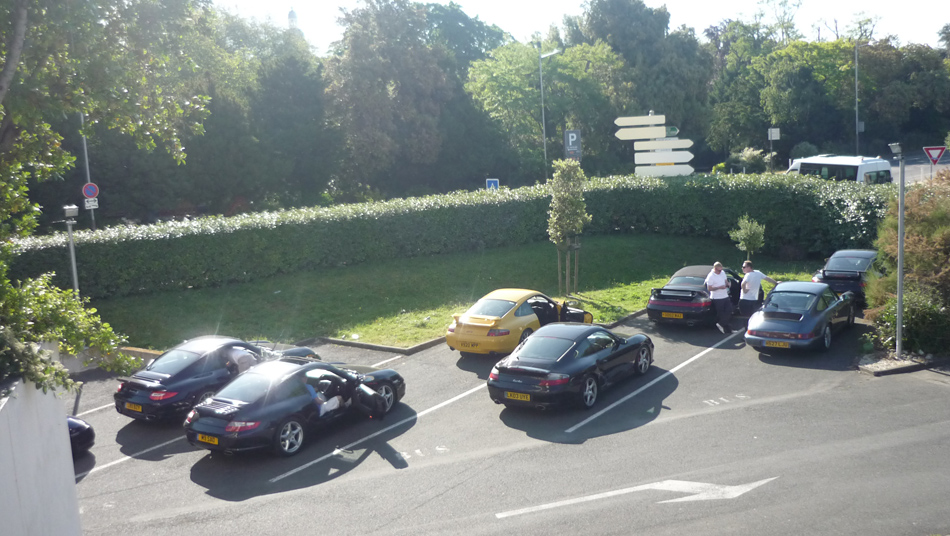 Here we are parked up at the Mercure La Rochelle Vieux Port Sud, a fairly decent clean effecient sort of place with a great location on the port. Rich in his 993 C2S had had increasing trouble that day from a vibrating wheel bearing. A few calls and a look at the map and he decided to skip tomorrows day, get the car fixed at OPC Toulouse and meet us on day 3 as we re-entered France. Casualty number 2 then but hopefully easily sorted with a day out of the loop.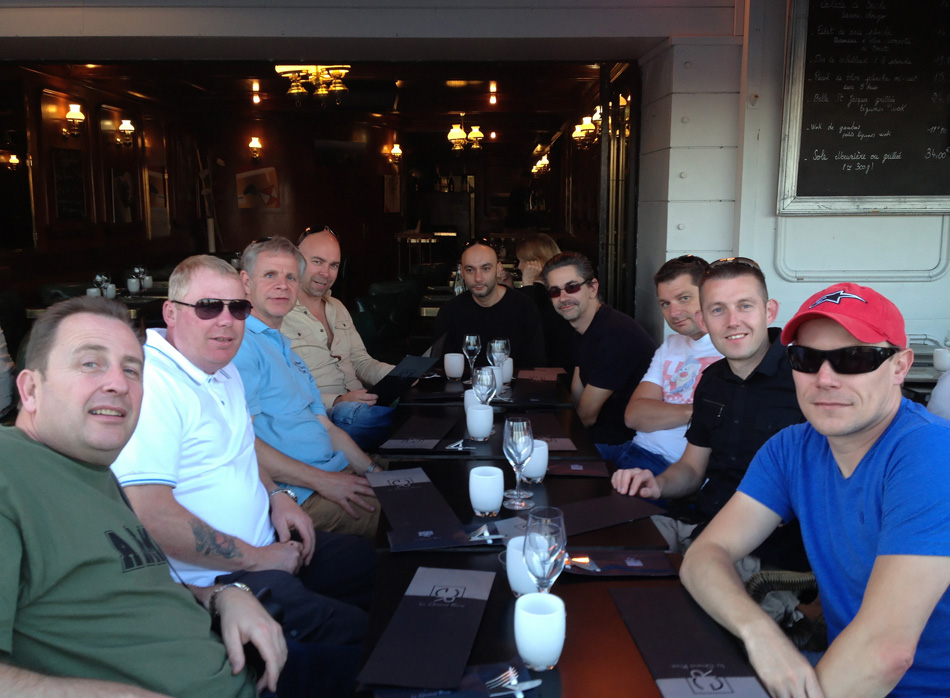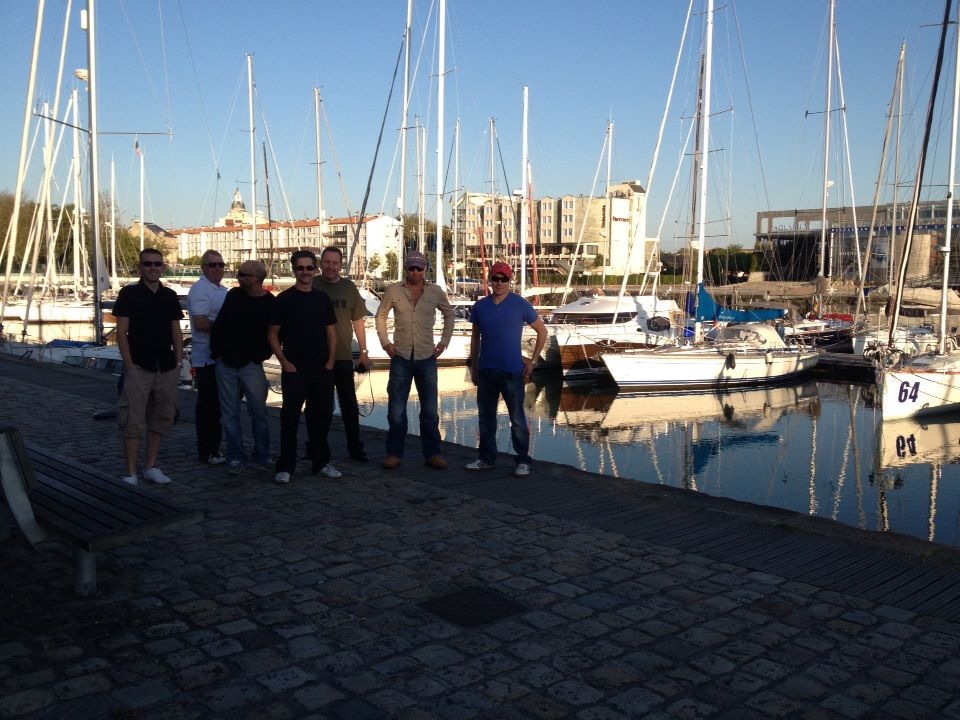 La Rochelle was nice enough. The food ws fairly good and it was a great place to stroll round on a sunny evening.
Day 2
'The Pyrenees'
La Rochelle to Sort
530 miles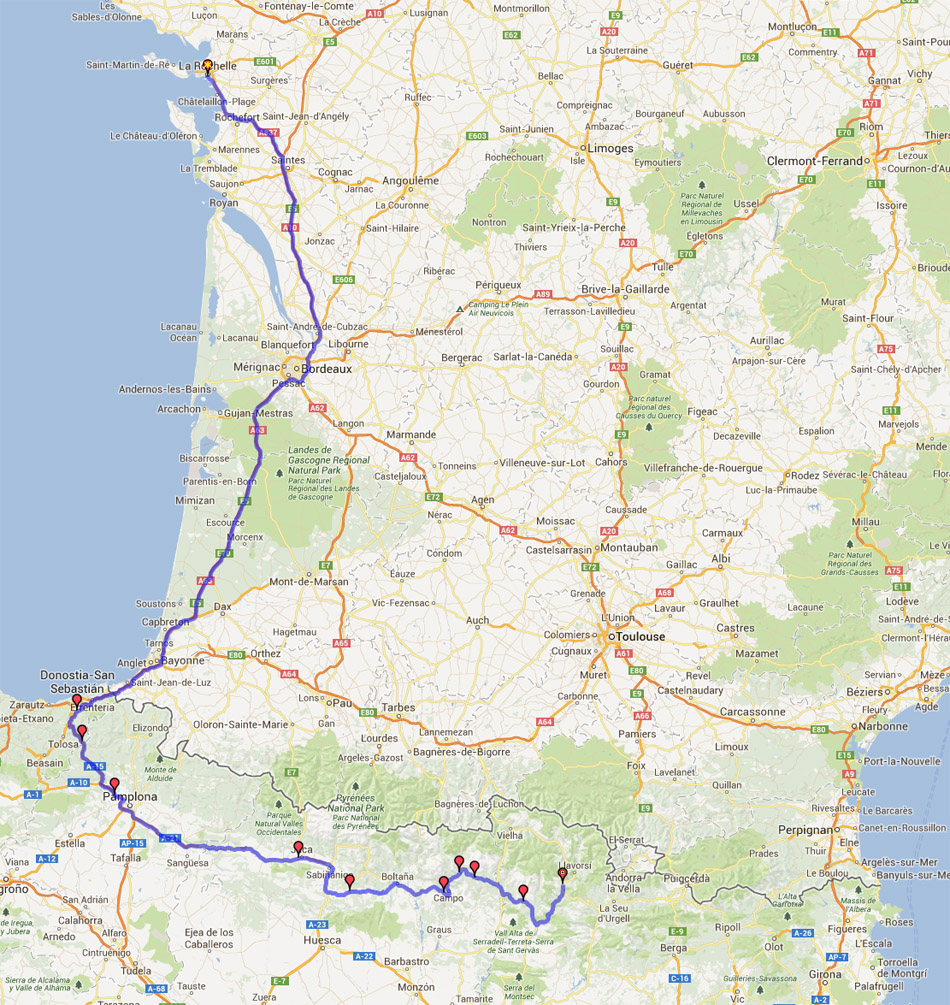 The first part of day 2 was a tedious bit of motorway driving to get us to the San Sebastien area which was the approximate start point of the original tour using the ferry.
Rounding San Sebastian we hit a wonderful section of very fast twisty uphill motorway which became our first bit of proper driving. A short run to Pamplona and then we joined the famed N260 south of the Pyrenees. This is a wonderful stretch of road and it didn't dissapoint.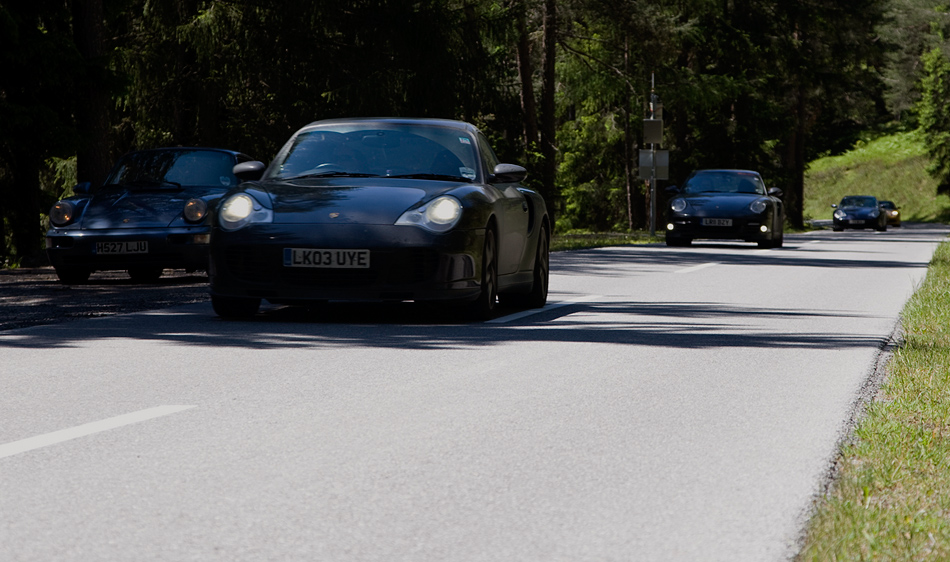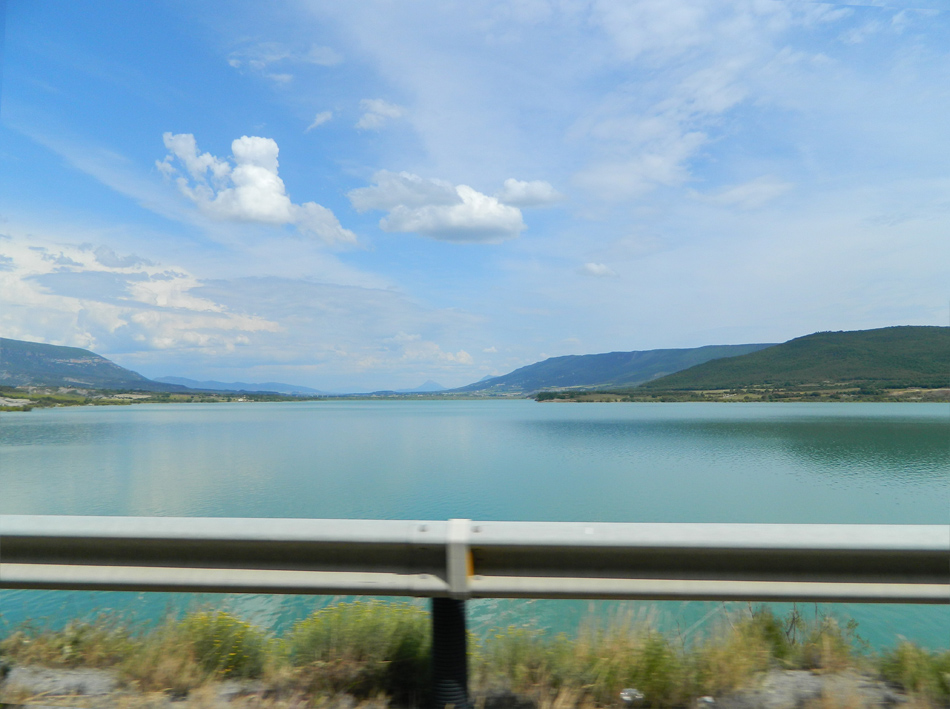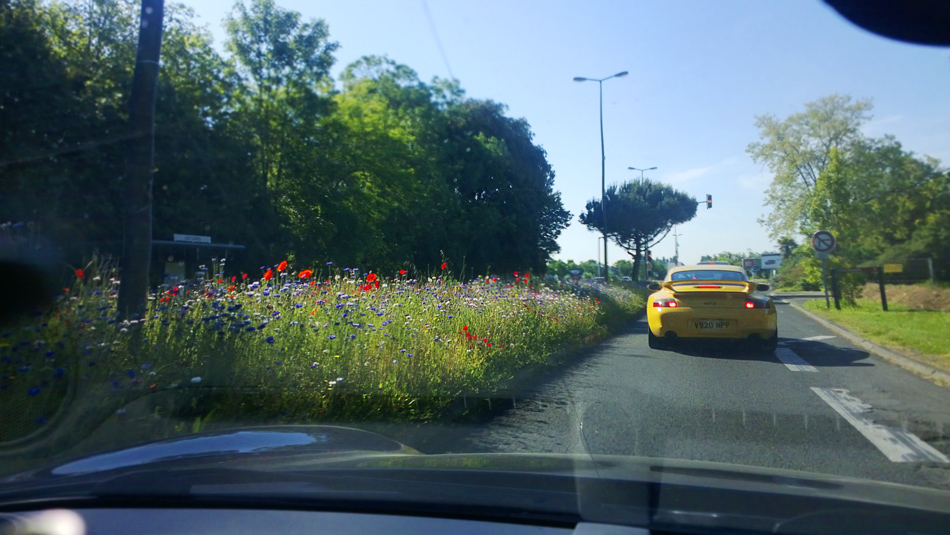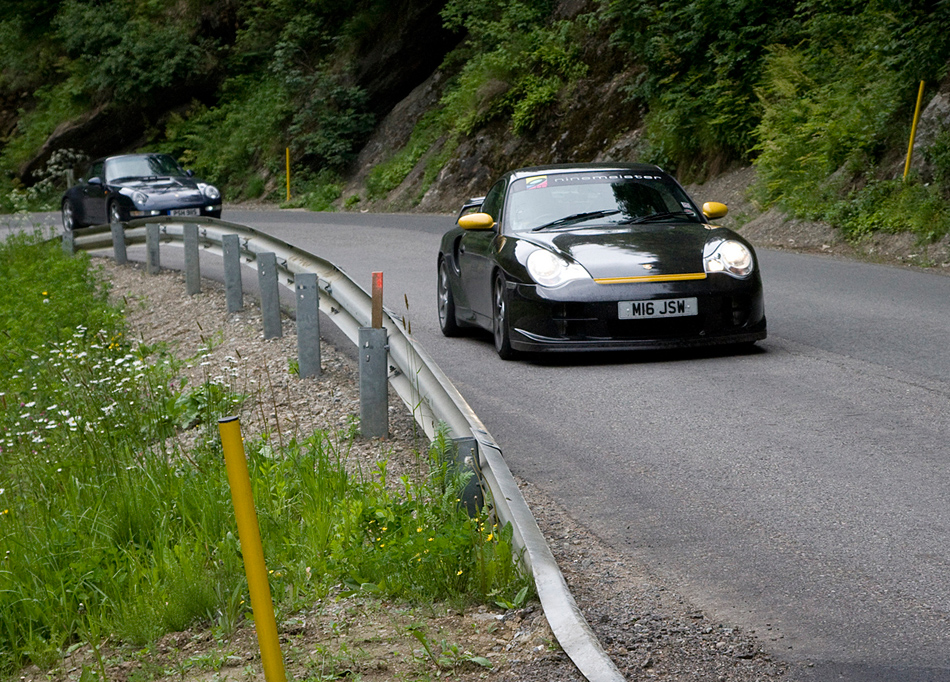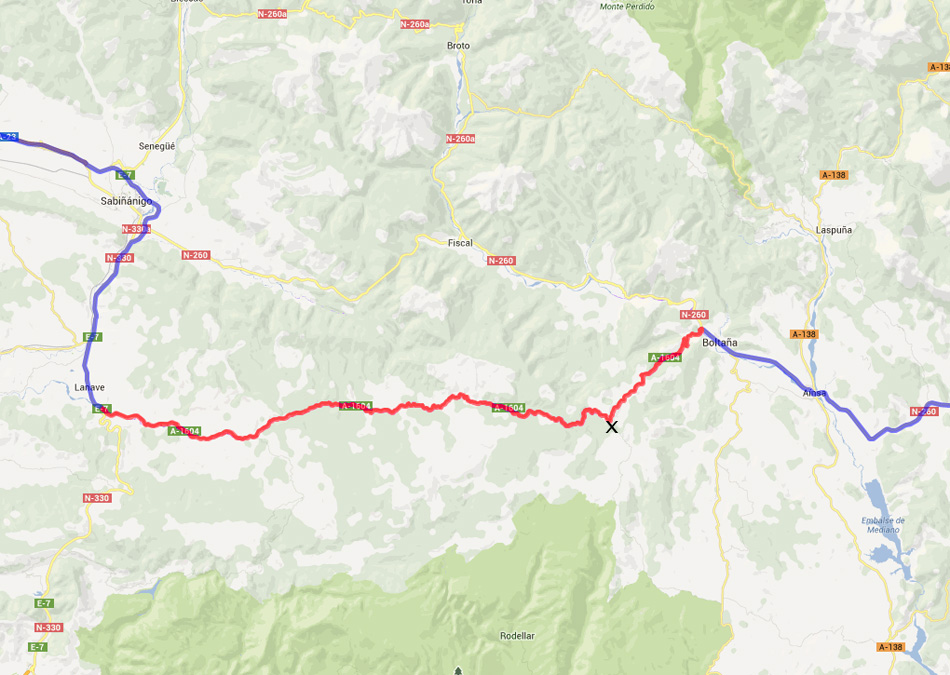 I want to mention another road though that we stumbled upon by accident. The A1604 (in red in the picture above) is my first highlight of the trip and is a section of road that runs parallel but just south of the N260 and although it was very very narrow it was just an astonishing bit of tarmac; very smooth, a myriad of never ending twists and turns, this was a real rally stage workout and just endless amounts of fun.
Taking point is only for the experienced as there isn't really enough space for any oncoming cars but that said, we only encountered one of those for the whole length of road and that was when we'd parked up for some photos. Watch out for chickens, horses, cows and goats but what an incredible road with some wonderful views to boot. To my surprise it was fantastic in the GT3 and really brought home just how nimble the Mk1 can be when it needs to be but I would also say that it would be as much fun if not more in some of the older cars too.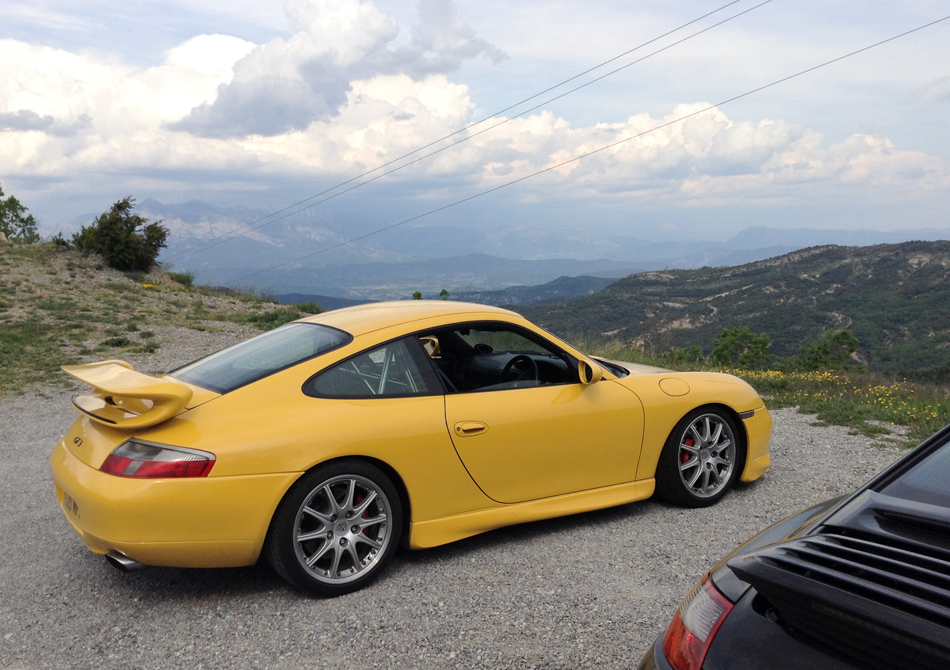 Parked up by the black X that's marked on the map, near to the end of this fabulous road. You can just about see the Pyrenees in the background on this foggy day.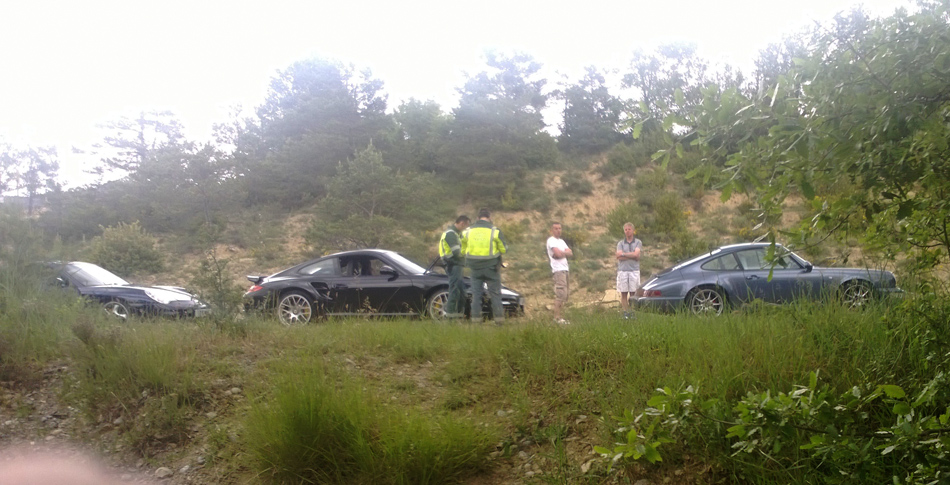 A quick word from plod but nothing too serious.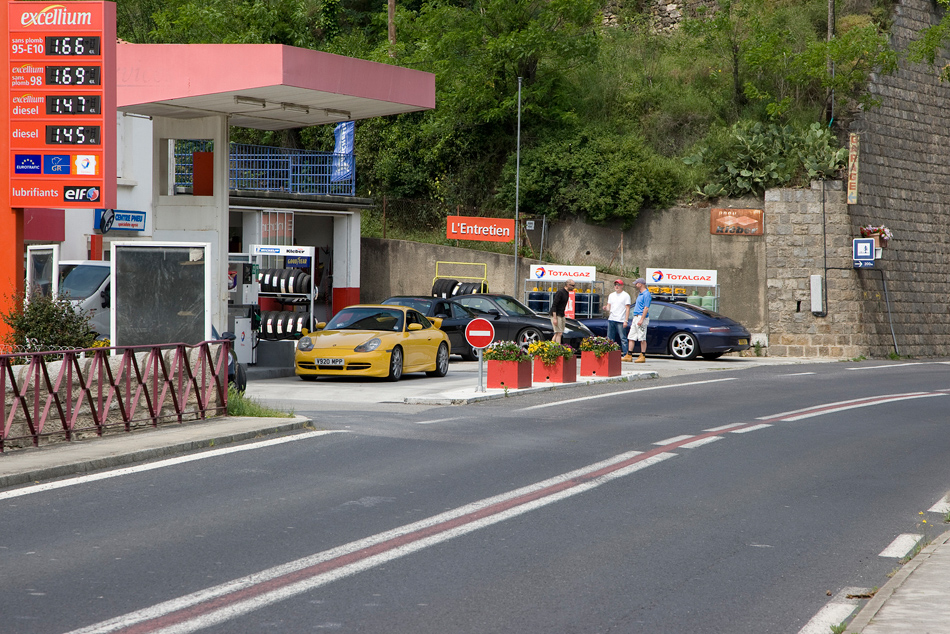 Day 3
'Millau and Gorges du Tarn'
Sort to Villefort
380 miles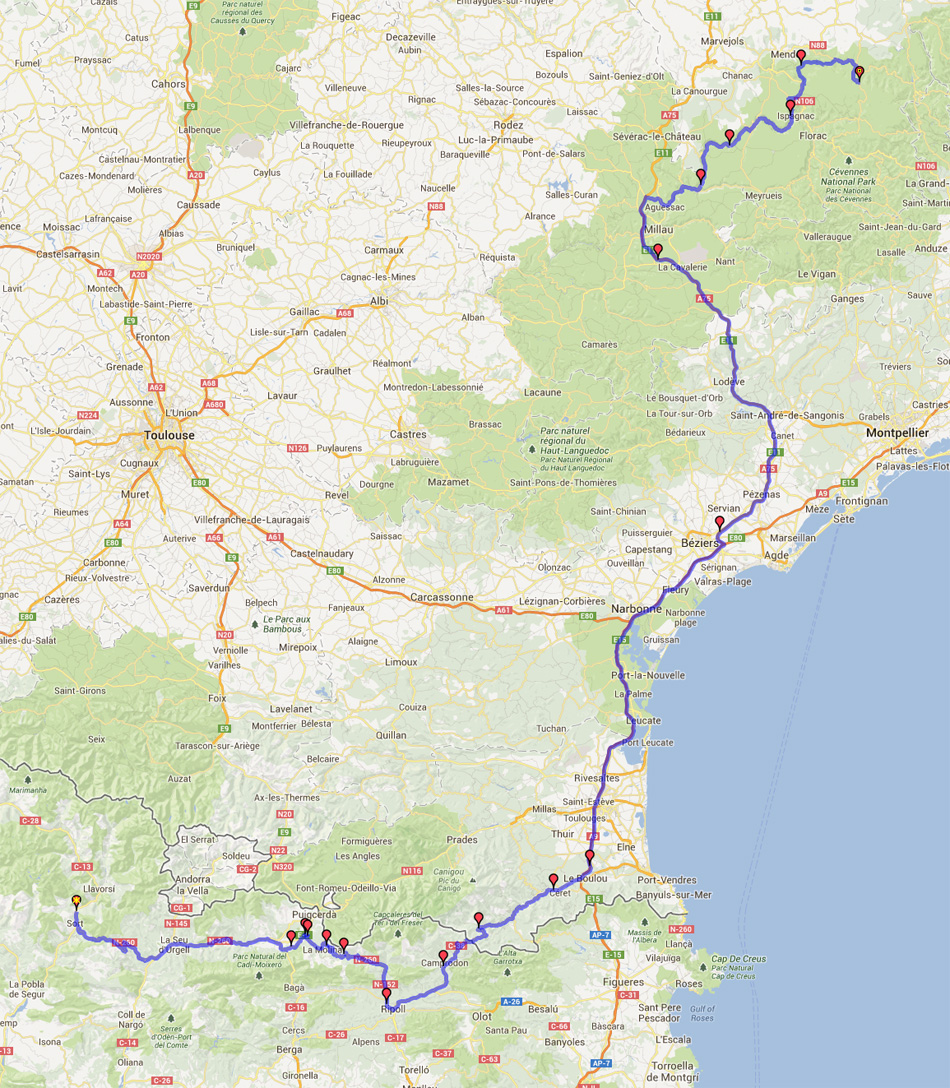 Day 3 promised some more Pyrenees driving, some fairly ordinary roads to get us to the viaduct and then a finale through the Gorges du Tarn.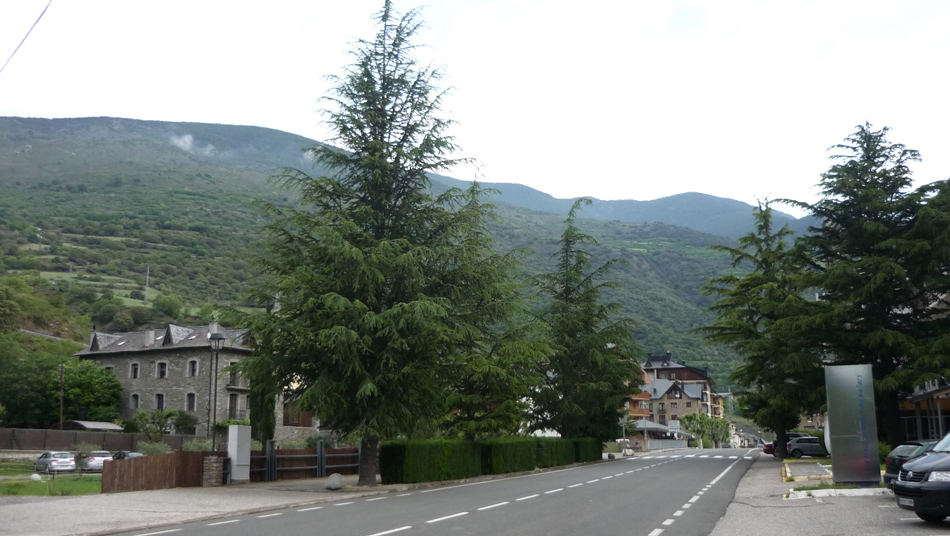 We actuallly set off from Rialp rather than Sort. This little town just north of Sort was where out hotel the Vita Condes del Pallars was. This was a fairly basic place with very small simple rooms but the eggs and bacon the next morning does come highly recommended. Whilst on the subject of Sort, also be advised that there is a very large police presence there on account of the cop shop there so slow right down well before you get to the village.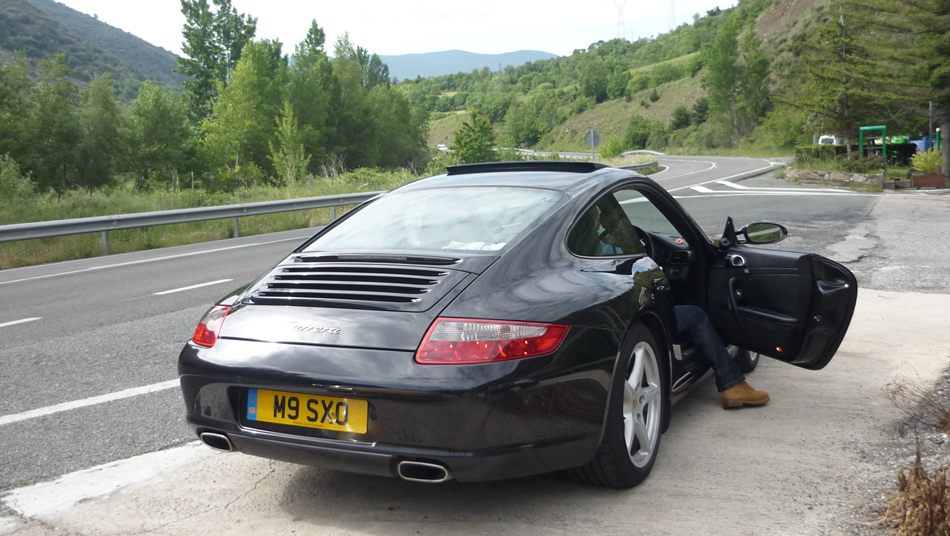 Mark got up easly to jet wash his 997 C2.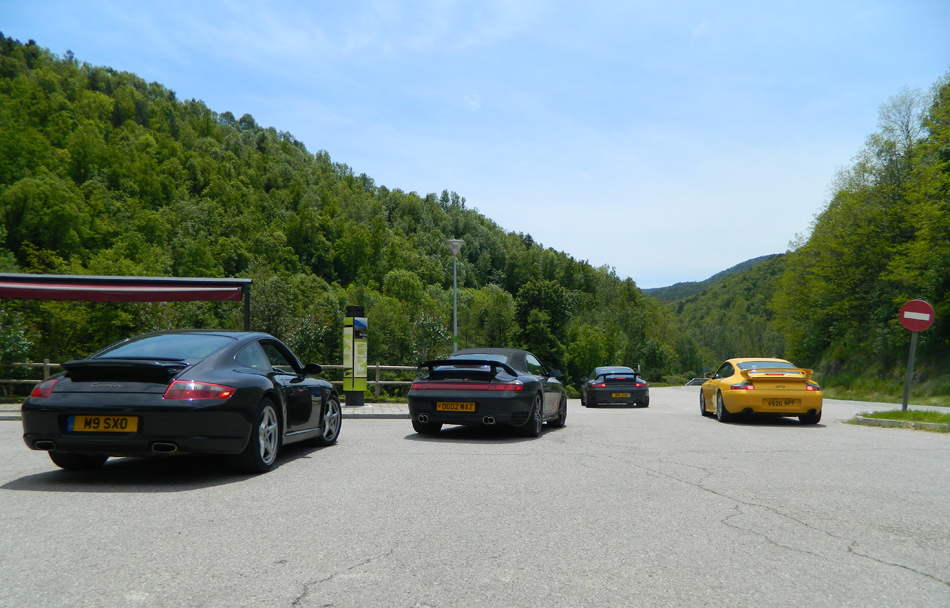 After a fuel stop.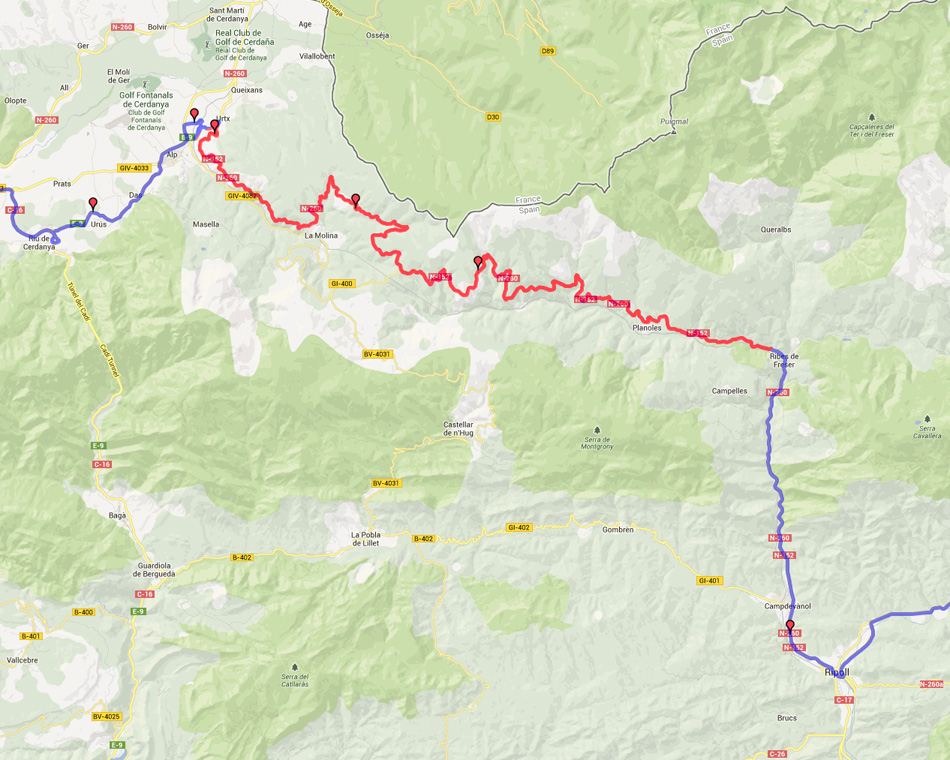 We rejoined the excellent N260 for a while but then reached what is my next highlight of the trip. This is the The Collada de Toses or N162, a very special slalom section that runs south east from Urtx. I read somewhere that Clarkson recently declared this his new favourite road. This is a very twisty mounatin pass with a long long downhill section and a never ending series of banked hairpins. The tarmac is generally really good quality and there is plenty of armco too. The quality of this road would put 99% of UK roads to shame yet it's just some indiscriminate mountain route.
The GT3 was exceptional here. The precision and security of the car was endlessley pleasurable and the exactness with which it could be steered though this road an absolute delight. Not a millemetre too much or too little steering and the car soon felt not like a car but like a super solid structure bolted to its own steel track in the road. Heeling and toeing down to 2nd for the tighter stuff and giving it plenty of tyre squeal and the odd bit of power on oversteer was very satisfying stuff and it was a chance to really dig deep into the car's grip reserves.
Sadly though I did eventually discover the limitations of my GT3's brakes here, and by the very end of this section the pedal was pretty much sinking straight to the floor as the fluid had completely boiled. Luckily it was lunchtime and we stopped for a good hour or so, allowing the car to cool off for a bit. I suspect the fluid is a bit old and I also noticed that most of the holes in my drilled disks have blocked up. Sorting this and also moving to a better fluid and a better pad will hopefully drastically improve things when I get back home.
Stopping for lunch at Ribes de Freser, just after the N162.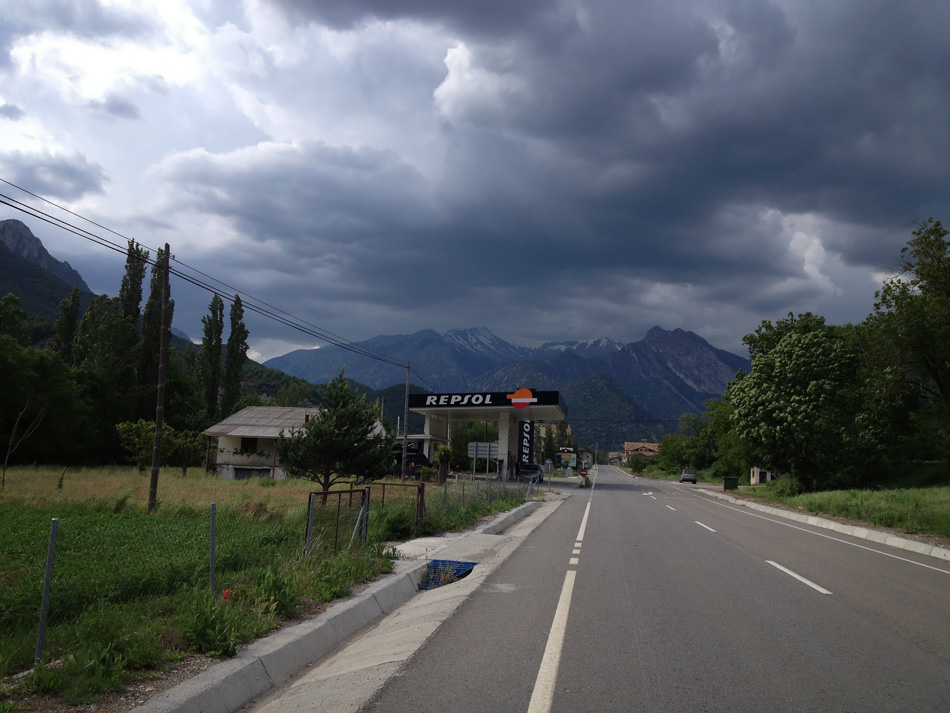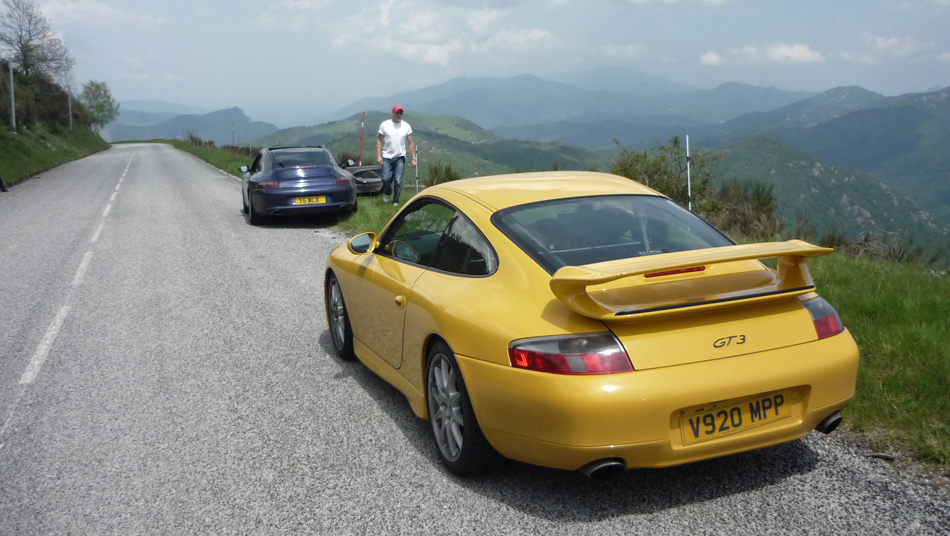 Cracking on through the N260 and rounding the eastern pyrenees. A chance to fix a sliding number plate.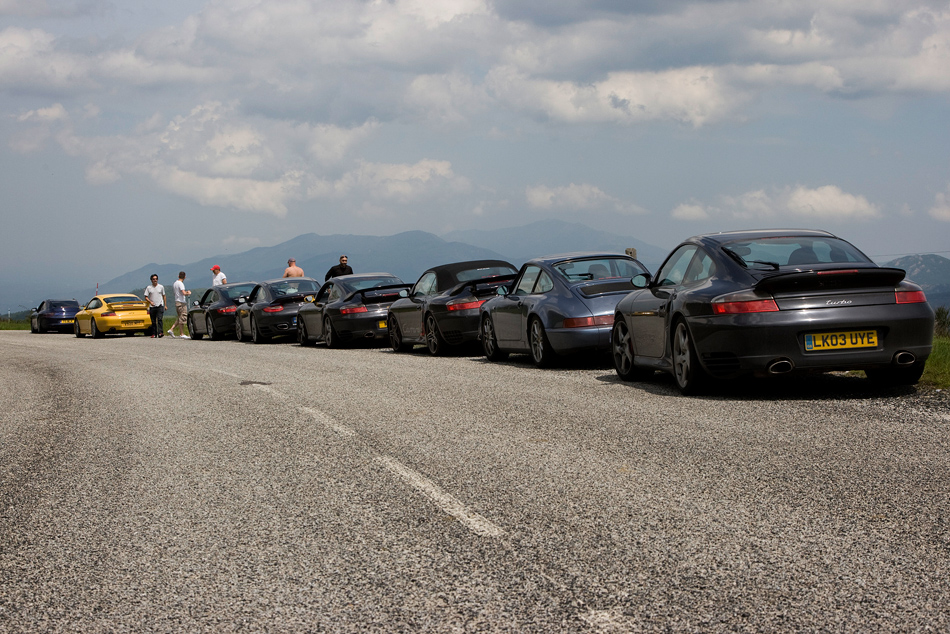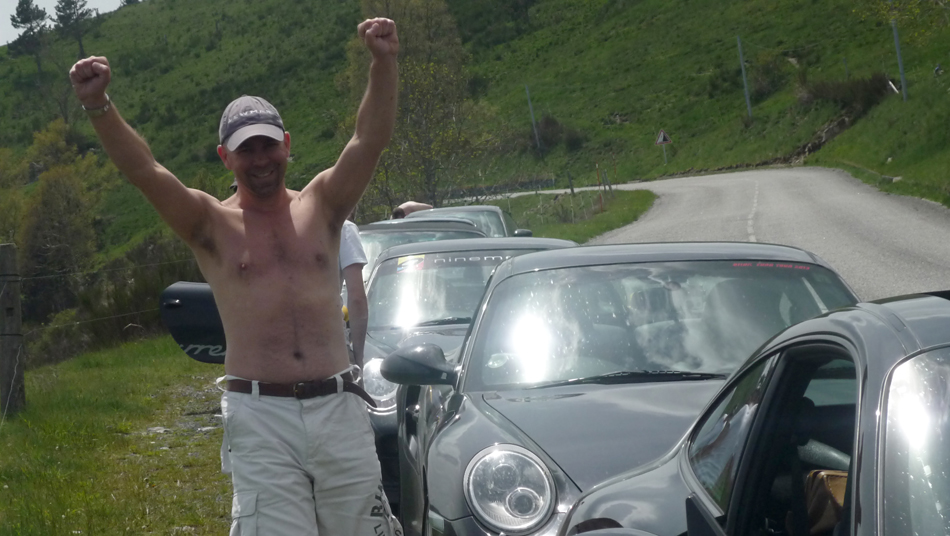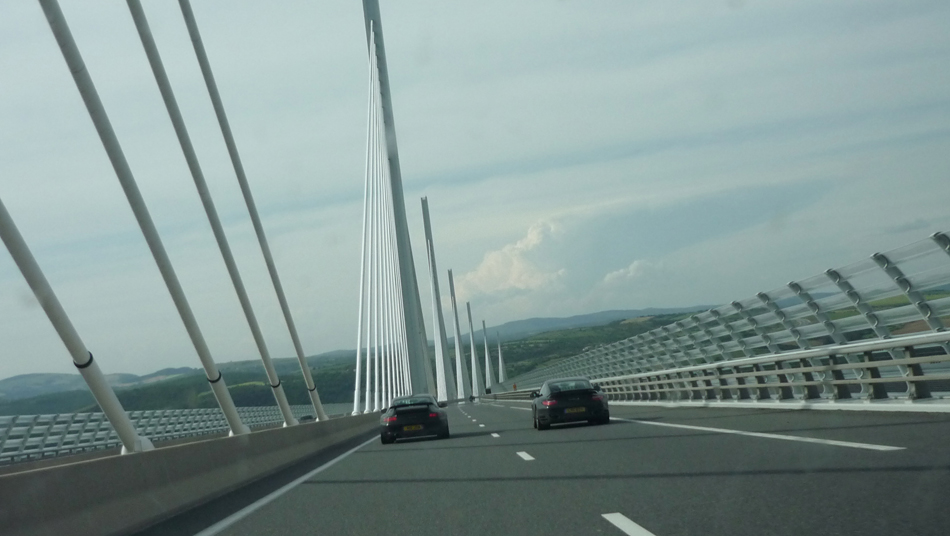 After a bit of of Motorway (watch for a fabulous uphill section just before you reach the Viaduct) we reached the Millau Viaduct. Sadly this was not as impressive as it appears in photos. When you travel over it you can't see out of the sides and as its so large you don't really get a sense of just how high or enormous it is. It really does just feel like another road. In fact the anti clock section of the dartford bridge is more impressive because at least you are aware of the climb and the views around you.
At the rest stop it still looks quite small as well despite being the biggest in Europe. I gather there is a good vantage point where you can better appreciate its magnitude but we didn't end up going there.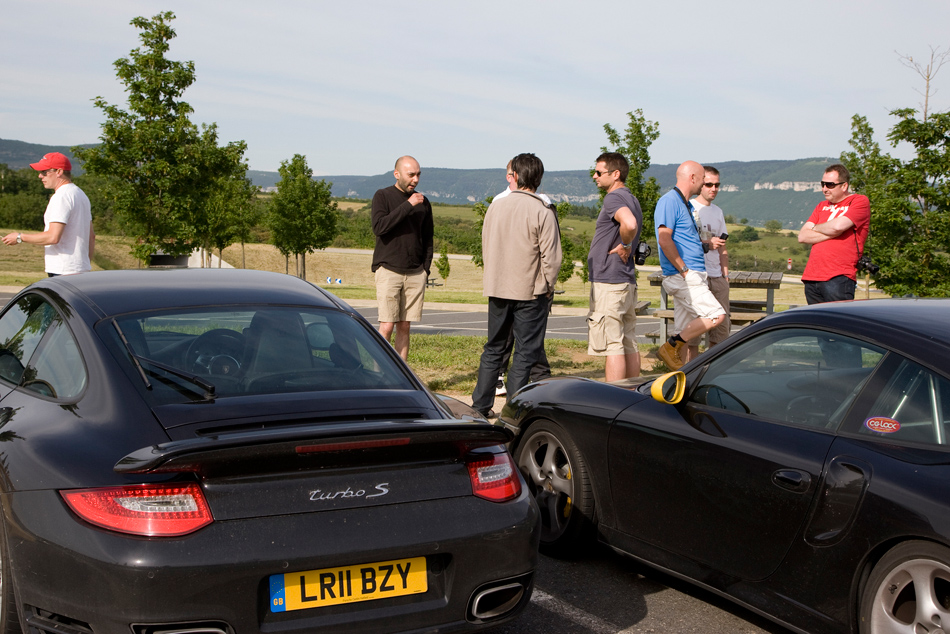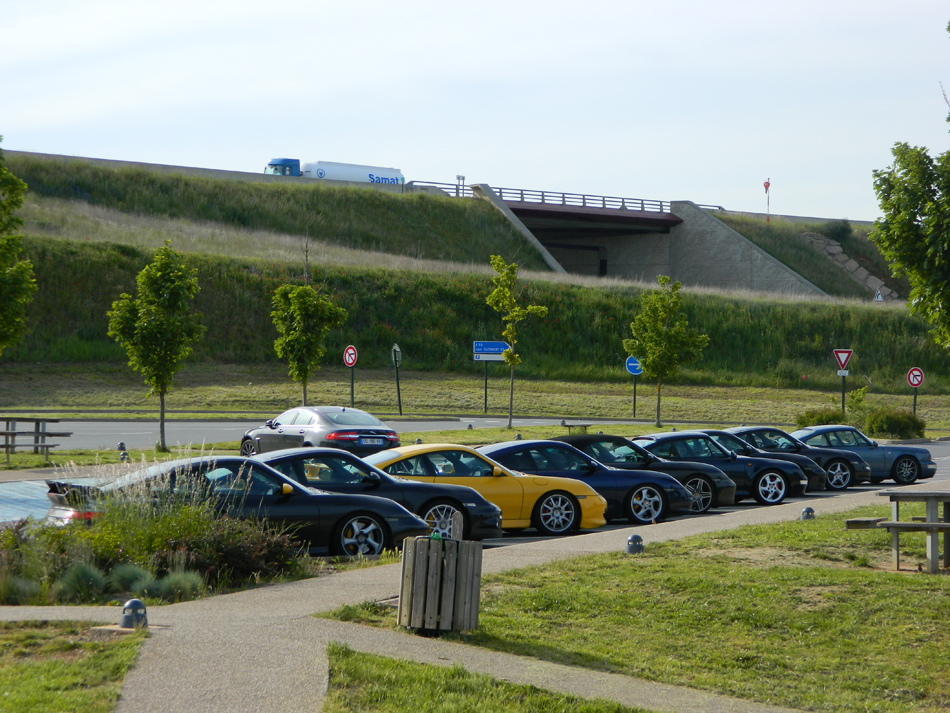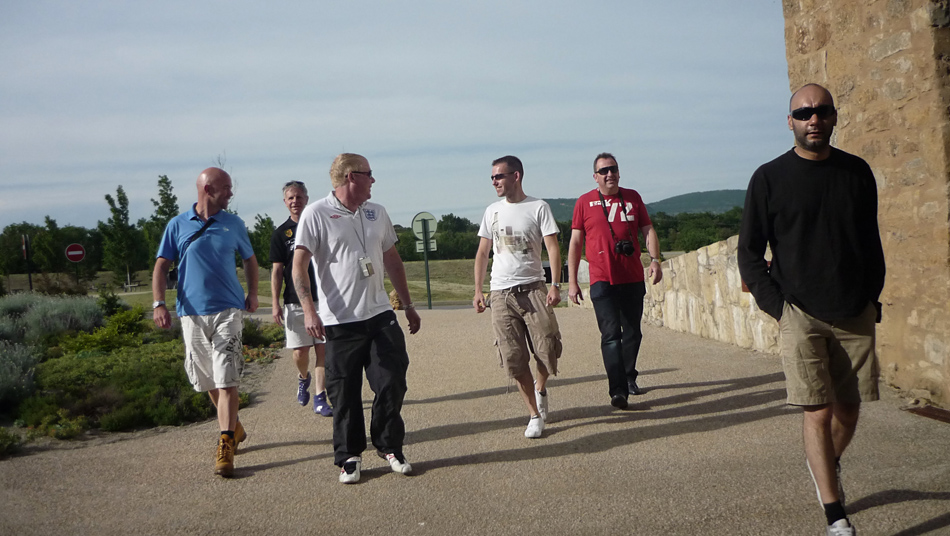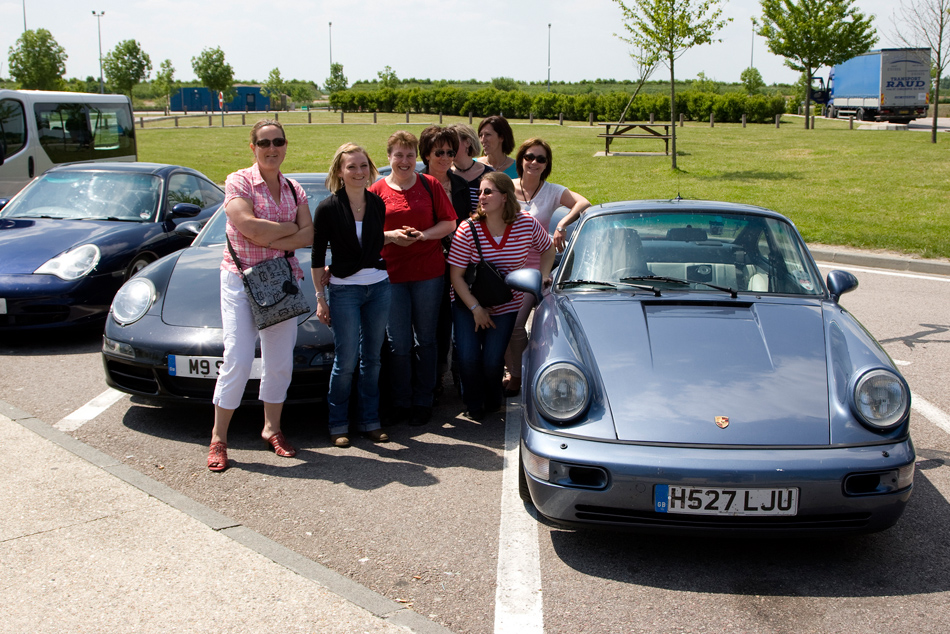 I'm not certain what happened here but I can confirm that no one pulled.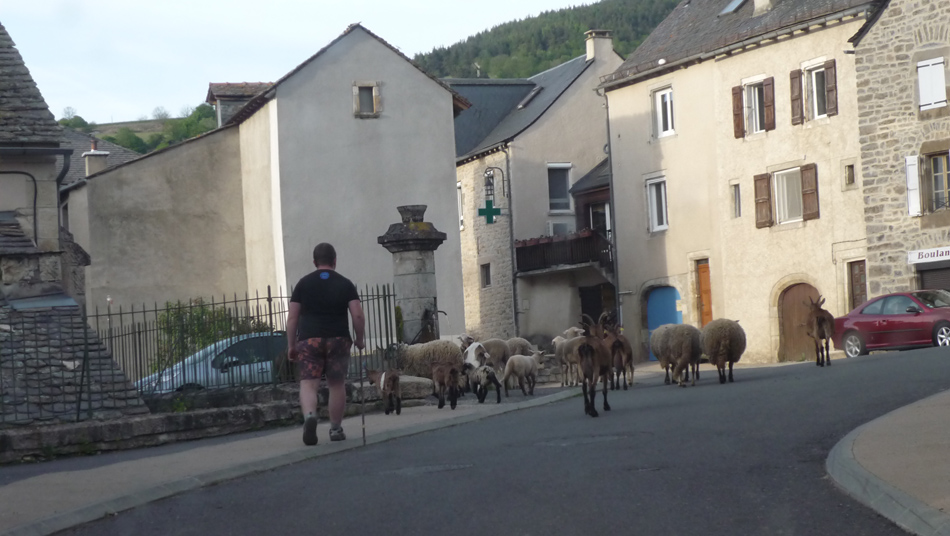 A 10 minute delay behind a herd of goats.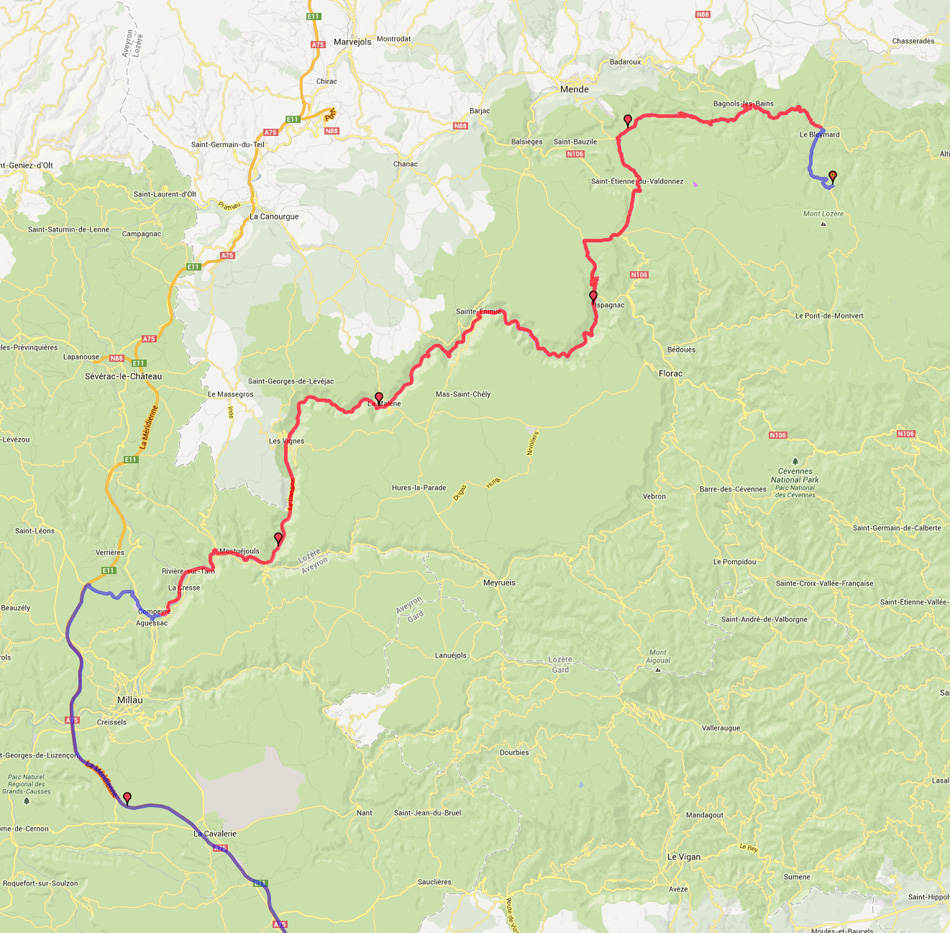 This is my second highlight for Day 3, commonly known as the Gorge du Tarn. This is a Canyon that starts roughly at Le Rozier. It is stuninngly pretty and the route up to our eventual stop at Mas-d'Orcières was absolutely mindblowing. This started out with a very bumpy section in the gorge with lots of very high speed left and right S bends. Gradually the road opened up with more severe curves and then the very last section, the most amazing uphill fast climb with really quick 3rd gear sweepers and an eventual climb to a plateau.
When we reached the top there just past Quezac, the low sun suddenly was streaming across the hills and we were treated to the most beautiful long undulating straight. The light was low and hazy and when the setting sun hit our cars we were afforded the first chance in a long while to pull hard in 4th gear. It was an incredible moment, deeply satisfying. The stillness and aloneness of everything around us made it all the more poignant. That was something that I won't easily forget, the never ending beauty of the French countryside graced for just a few moments by the roar of two glorious flat sixes as the end of a long hard day.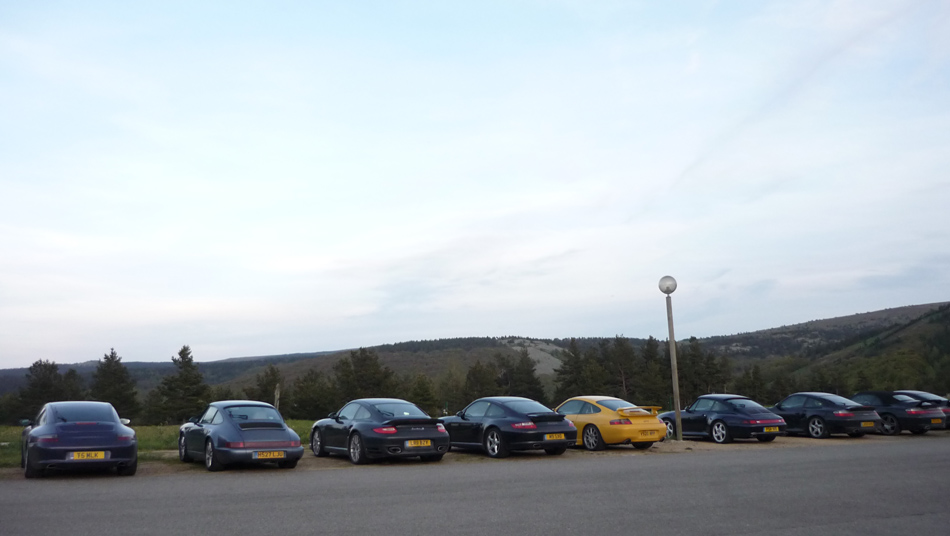 Our hotel for that night was La Refuge, a very basic hostel that became the brunt of many jokes throughout the week, mostly spurred on by the curious pictures of donkeys on the trip advisor website. Truth be told it was run by a very warm couple and the demi pension set menu turned out to be the most delicious plate of Beef Bourguignon with potato Dauphinoise. At 60E all in it was also exceptional value.