---
sold
Porsche 968 Clubsport M030 for sale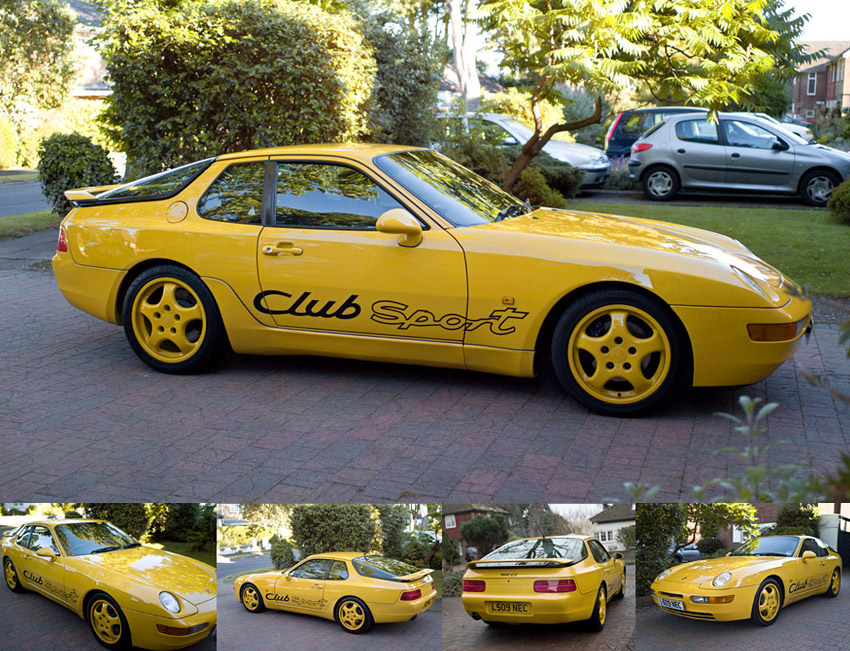 INTRODUCTION

This is a very rare, original, unmolested, low miles 968 Clubsport fitted with the even rarer M030 factory specification. As a true Clubsport it is devoid of all creature comforts and has the original yellow backed bucket seats and colour coded alloys. The car wears uprated M030 front calipers, M030 front and rear anti roll bars and M030 adjustable Koni dampers. This makes it something like one of only a dozen or so RHD cars in the world. The famed Porsche options sticker is fully visible where it should be on the boot floor. With the yellow Cup 1 alloys it also looks exactly the same as the original UK press car that won all those awards; clubsport nostalgia doesn't get any better than this.
These cars are become extremely difficult to find now with low miles and in a sorted, cared for, straight condition. They are currently appreciating with several clean examples selling recently from between 18,000-23000. It is my belief though that none of those cars was as mechanically sorted and refreshed as this one. This has 'new everything' !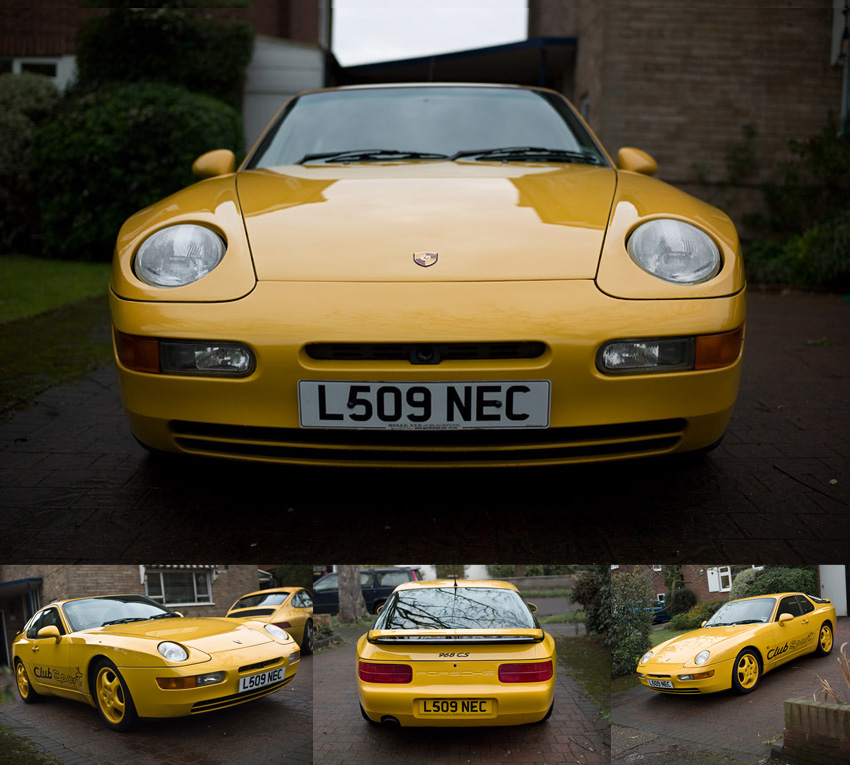 FULL SPECIFICATION

Genuine 968 Clubsport
Speed Yellow
Yellow Cup 1 alloys
67,000 miles
M030 dampers
M030 anti roll bars
M030 brakes
New MOT , expires Nov 2010
Road Tax till 04/10
OPC servicing up to 46,000 miles
JZM & Promax servicing 46-67,000 miles
Colour coded bucket seats
Cup 1 alloys JUST been repainted/refurbished
Brand new set of tyres front and rear
Brand new Sachs heavy duty clutch
Brand new Fidanza Single mass flywheel
Brand new front calipers
Brand new front brake discs
Brand new front brake pads
Brand new rear brake pads
Brand new Goodridge braided brake hoses front and rear
Brand new anti roll bar bushes
Brand new anti roll bars
Brand new straight decat pipe
Brand new K&N panel air filter
Brand new front windscreen
Brand new leather gearbox gaiter
Brand new window winder handles
Refurbished rear calipers with new sealant treated plates
Wheelarch liners refurbished & painted
Camshafts replaced
Injectors recently professionally cleaned
New brake fluid, super ATE
Engine bay detailed
Cam cover & vanity cover powder coated
Manifold powder coated and cleaned inside
Brake booster repainted
Inlet ports cleaned
Braided fuel lines
Tracker installed (would need to be reactivated)
Sunroof straps
Porsche spare tyre compressor
Porsche tool kit
968cs towing eye
Porsche speed yellow professional paint touch up kit
Seat bolsters retrimmed with leather patches for increased protection
Porsche wallet with all manuals, service book & miscellaneous literature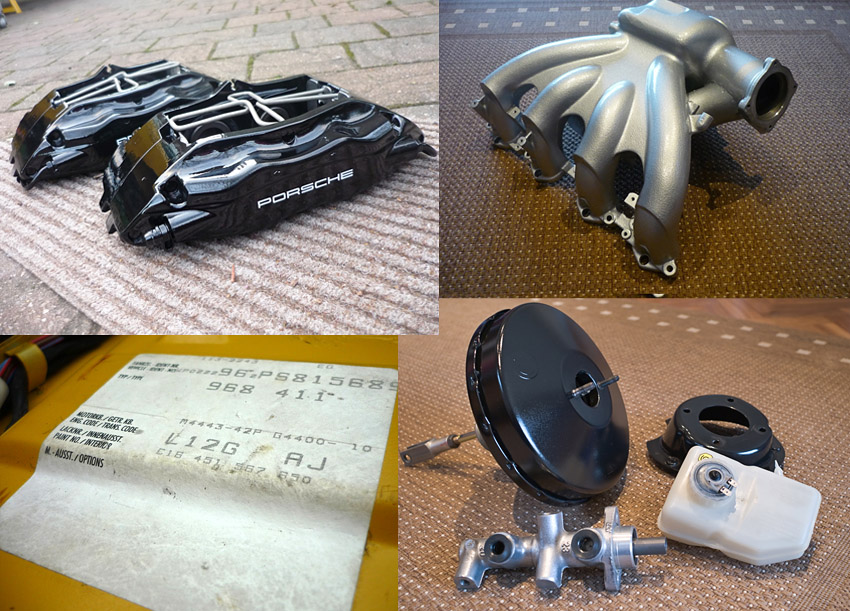 HISTORY WITH ME

I fulfilled a lifelong ambition to own a CS in May 2008 and have since spent thousands and thousands on it and put in a huge amount of my own time bringing it up to exemplary condition. It has been a complete labour of love and an absolute joy to own.

If you know these cars or are currently researching them then you will know that the asking price is only the starting point and a cheap car will be cheap for many reasons. They are robust machines and very well built but after 15 years or so, the 'to do' list quickly starts to stack up and run into the thousands. This car is not only a completely sorted example with all the common 968 foibles attended to, but a car that's improved further in many key areas. In addition, all the consumables have just been renewed as you will see in the spec above. The M030 upgrades alone would cost £3-4000 or so. The tyres, discs, pads, clutch, flywheel, brake fluid, camshafts, air filter etc. have not even seen 500 miles. The cost of replacing all those parts ? Well, suffice to say that the car owes me significantly more than my asking price. No big bills then for many many years to come and she has also just had the geometry redone at Tognola engineering.

I am well known in car circles and the car's progress has also been fully documented on my own personal website (please see below if you are interested). EMC who are arguably the country's most knowledgeable 968 specialist said it's one of the best examples they have ever seen, completely original and never been bent or in an accident of any kind. The previous owner had the car for 5 years, so at least since 2001 when trackdays really became all the rage, it has never been on a circuit. The car has been used but I have only done around 4000 miles; she is just too special to use too frequently.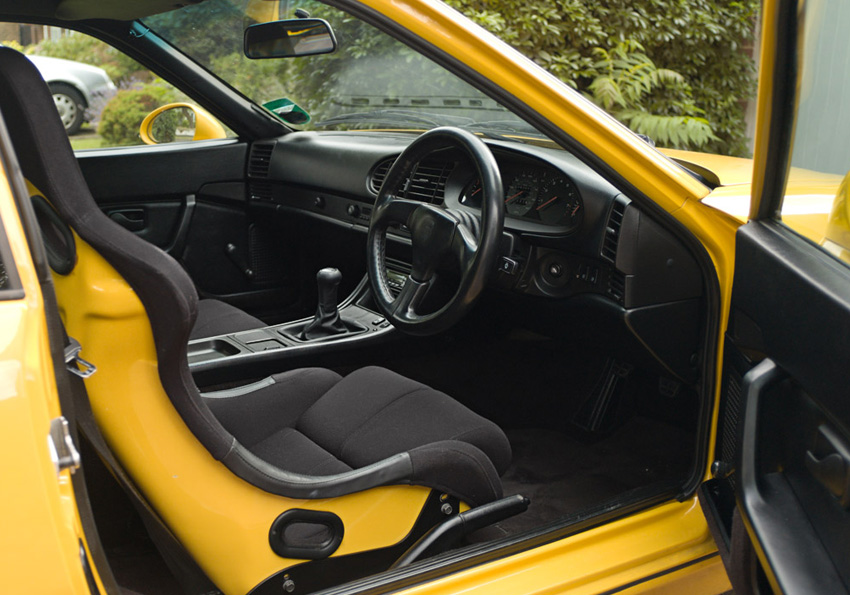 MODIFICATIONS

The only modifications I have made are choice tasteful additions which I think improve the car. There is not much you can do with the CS as it was such a good package when it left the factory. I have fitted a decat pipe with flanges and had flanges made on the exhaust centre section so the original cat (obviously included in the sale) can easily be bolted back in place. The decat pipe does not make the car intrusively loud but it just makes the exhaust note that little bit more raspy and involving.

I have also had a new Fidanza single mass flywheel fitted. This represents a >20lb weight saving but also allows the engine to spin up much faster giving a razor sharp throttle response and quicker overall perceived acceleration. I have cleaned the manifold, inlet ports and had the injectors sent away and cleaned. This combined with some real care taken with the timing by EMC means it's highly accelerative and feels very powerful and aggressive high in the rev range when compared to other 968s (these cars are VERY sensitive to the timing).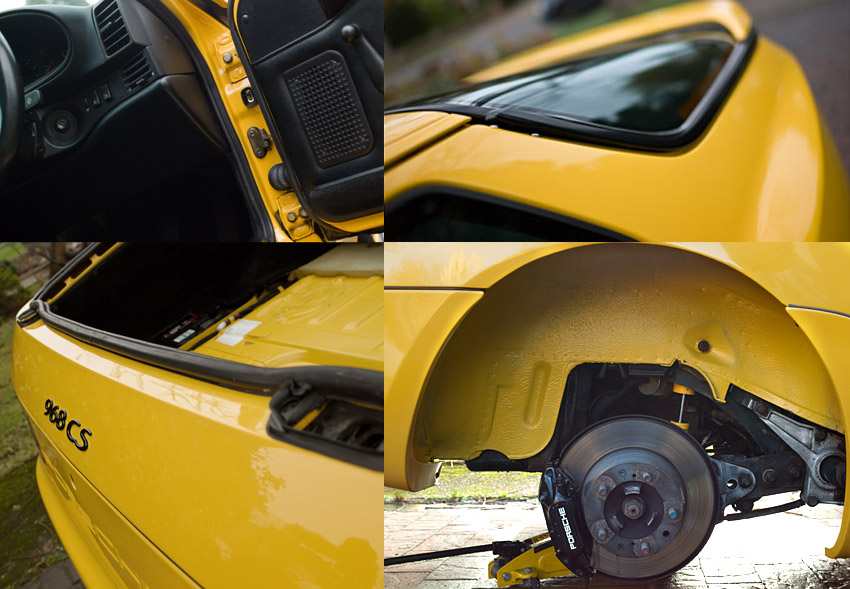 DETAILING

The car was treated to a full £350 Zaino correction detail last year carried out by DriveNShine in Surrey. You can read all about that process here. This year I have kept it topped up myself with Zaino products and have just performed a further detail using the very durable FinishKare 1000p as a protective wax which lasts at least 4 months and is all thecurrent rage with the detailing experts. The alloys were waxed inside and out with 1000p after they were refurbished. The wheelarches and brake callipers have also been given a layer.
The interior is mostly in 'as new condition'. The decal on the cigarette lighter is slightly faded, that would be my only gripe. The seats have their bolsters recovered in leather patches which was a fabulous idea by the previous owner as without these, the fabric tends to wear out very very quickly.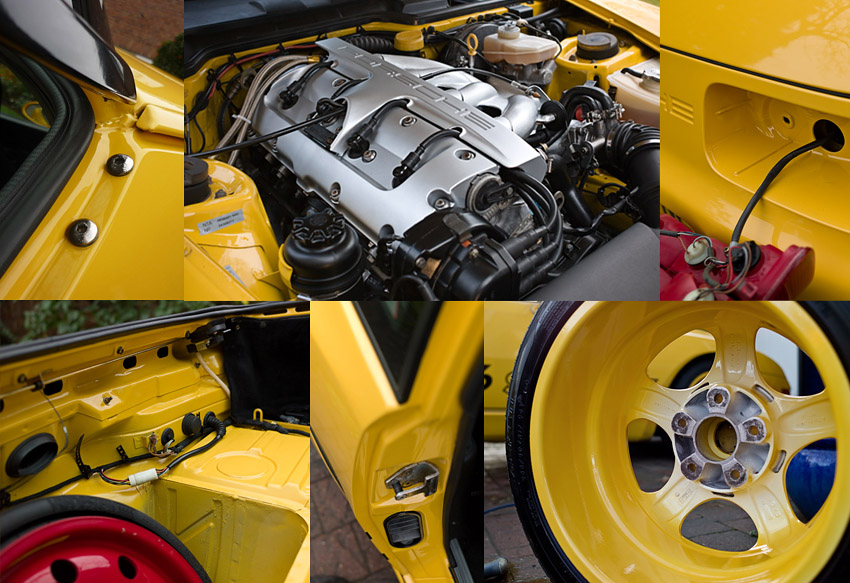 THE DRIVE

As you would expect the car drives wonderfully. The M030 suspension is fantastic on the road, well judged and not harsh or too firm. The M030 anti roll bars means it turns in very sharply and sweeter than standard and stays a lot more stable and level during cornering. The M030 differences really transform the drive and the standard car feels very old and sloppy by comparison. She feels tight in all departments: steering, damping, gearbox and pedals. The whole car exudes that wonderful Porsche mechanical solidity and sense of everlasting build quality. In bends the feeling of neutrality and balance is almost spooky at times. And across twisty country lanes she flows so naturally, I think 'organic' is the best word I can use. If you like your cars to exude that sense of perfect handling, and a fundamental rightness then you will love the 968cs. Finally, you may also be interested to know that there is also no high speed whine from the gearbox which is a known issue with the 968 (premature wear of pinion gear).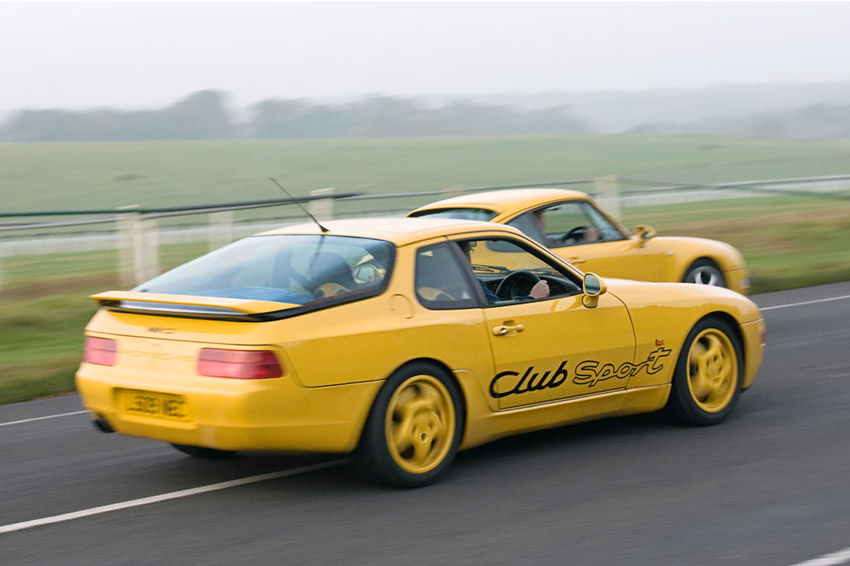 IN SUMMARY

Suffice to say that this is not any old clubsport that's been tarted up with an onsite valet and had a huge price slapped across its windscreen. It's also not a car that's been just been blindly chucked to a dealer every year yet hides thousands of pounds worth of work. With the greatest of respect, most dealers do not check the camshaft sprockets, they will never replace the variocam chain, they often don't spot worn dampers, bushes, rotten calipers, top mounts etc. I know virtually every nut and bolt on this car. It's a cherished enthusiasts car through and through that has been maintained way beyond the official Porsche service schedule. I have met and talked with some of the best 968 brains in the country to help me on my quest. I have spent freezing cold winter mornings on my back with a toothbrush cleaning power steering hoses, driven around the Thames valley endlessly getting stuff powder coated and insisted people paint the alloys 4 times over until they got the paint colour to match absolutely perfectly.

I have owned a whole load of cars over time but the 968cs is just about the best balanced of the lot and just belongs in corners. It has so much feel and a beautifully primitive and pure form of engagement that shows up almost any modern car you care to throw at it. It's also immensely strong and reliable once sorted and feels almost indestructible when you drive it. I will miss it badly and in an ideal world wouldn't sell but I recently made the mistake of driving a GT2 and there is now no going back.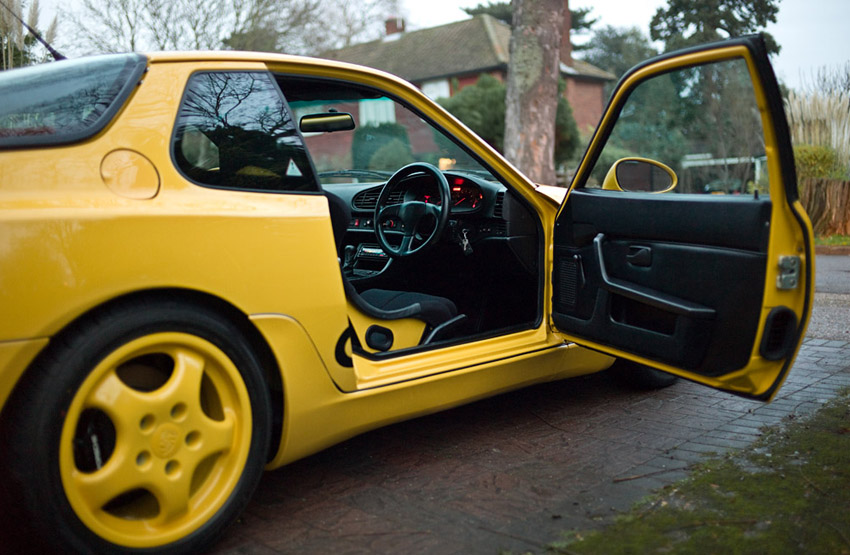 HISTORY

The previous owner's local specialist was Promax motorsport who specialise in 968s. Promax serviced the car at 62338 miles and I had the Cambelt and balance shaft belt retensioned by them at 64969 miles in August 2008. Since then though it had camshafts replaced at EMC motorsport in April 2009 and they redid the belts and timing and supplied & fitted a new clutch and flywheel. Although not strictly necessary the car has also had a recent oil change and the geometry has just been redone.

Before promax the car was serviced by JZM, Tognola and the official Porsche dealers in Kendal & Glenvarigill every year right back to 1993. In the last decade or so, because of the low use and mileage, the car has been serviced at ridiculous intervals, like every 2500 miles or so. It's one of the main reasons I purchased her back in 2008, she drove tighter and better than other examples I'd seen and the servicing history was exhaustive.

I bought the car from a sensible, diligent chap from Milton Keynes in June 2008. He owned the car for 6 years and loved it. Judging by the look on his face my feeling was that he was only selling because of the impending credit crunch. He purchased it in 2003 from 911Virgin and I understand that the owner before him was an employee or contractor of 911Virgin. It was also sold once through Porsche Kendal and once through Porsche Glenvarigill and I still have the invoices for these sales including the 911Virgin one.

This is clearly a known car with a very honest past and not only has it been sold through well known and respected dealers but it's also been looked after by either OPC or some of the best 968 people in the UK.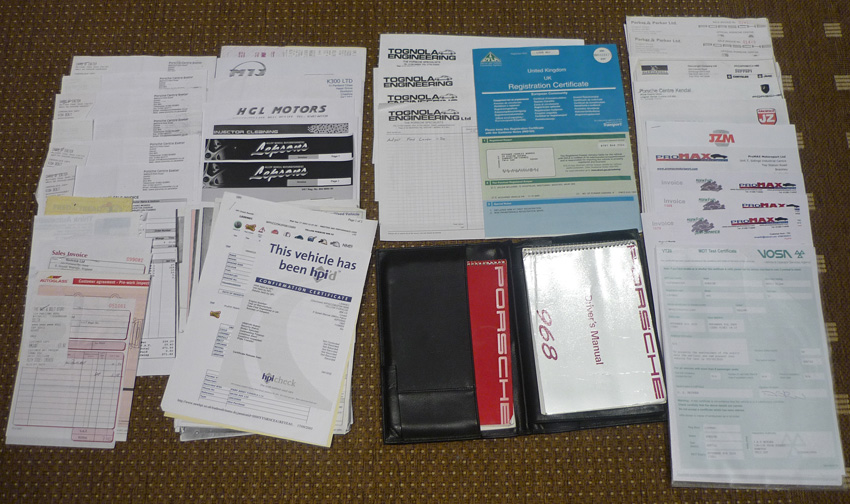 08/09 xxxxx Geometry Tognola
04/09 66344 camshafts, flywheel, clutch, dampers + geometry EMC motorsport
09/07 62338 Service + brake fluid + brake hoses Promax Motorsport
06/07 59797 Service + geometry + battery + wheel arch repair Promax Motorsport
09/07 57105 Service + brake fluid + trim beading JZM
11/04 55188 Service + new wheel nuts + wishbone mountings JZM
08/03 52479 service + rear discs + PAS & Alt belts Tognola
09/03 52418 front discs Tognola

1993-2002 Offical Porsche Centre servicing Kendal and Glenvarigill
In terms of actual paperwork that comes with the car, there is stacks of it and you won't be disappointed. The original porsche wallet and the service book is obviously also present. This has a total of 15 service stamps in it.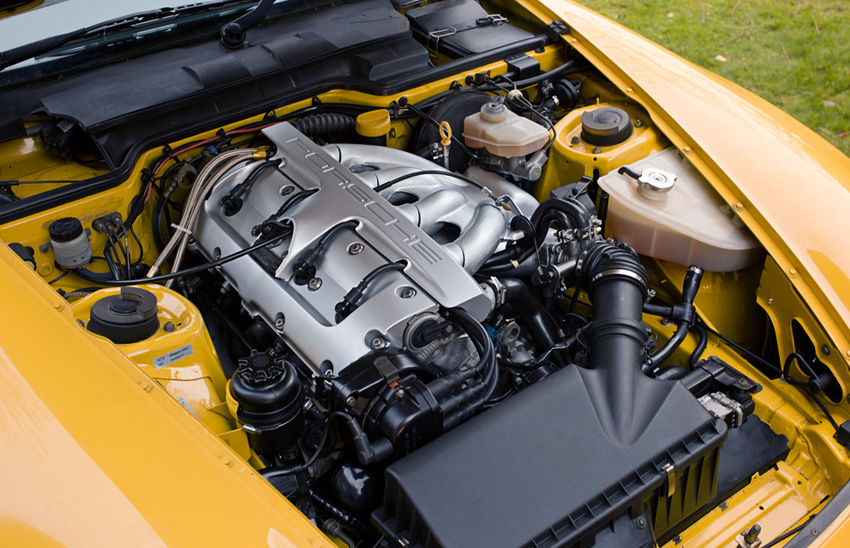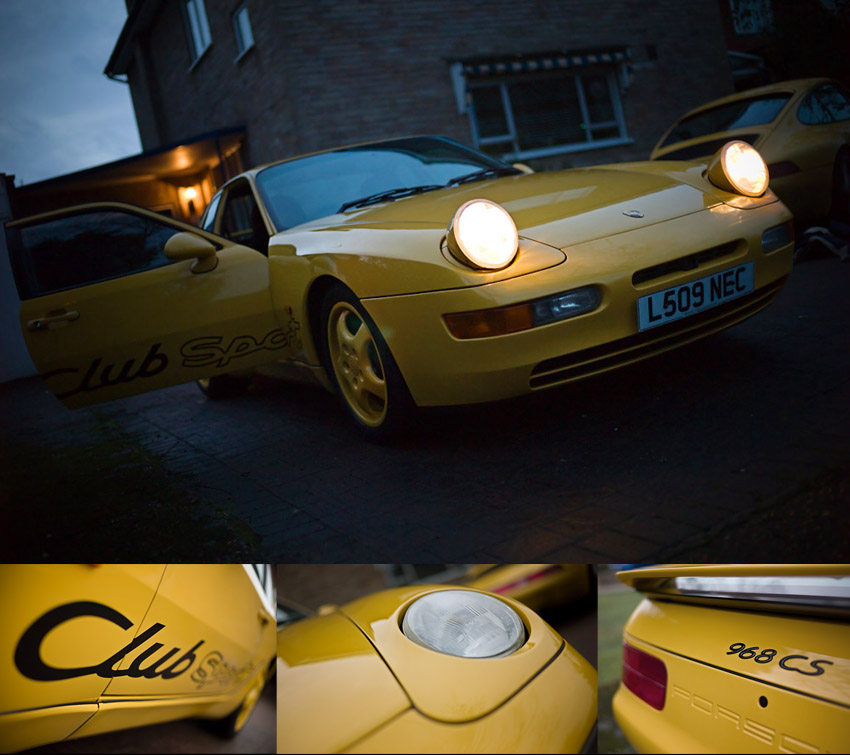 THE SALE

The price is £19,995. My advice is to research these cars and their issues and the associated costs, go and see a few and then come and see mine. Any inspection is welcome and I do not wish to part exchange.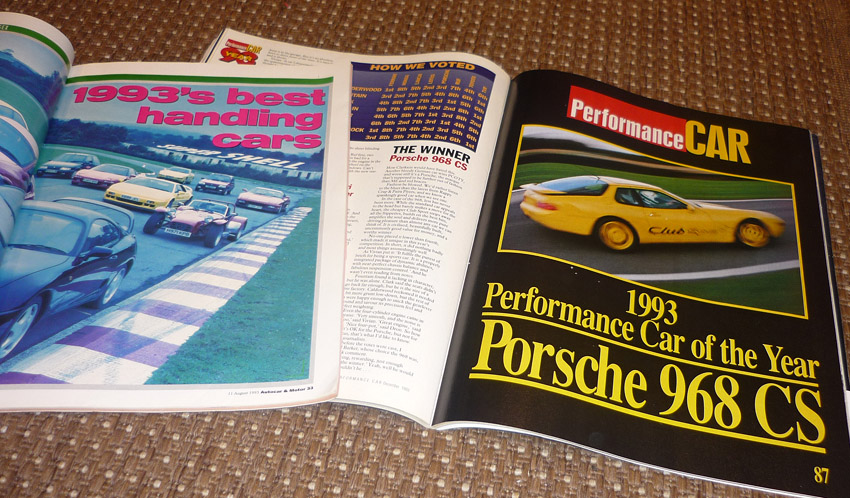 ONLINE GALLERY & PICTURE PACKAGE & LINKS

A full picture package zip file is available for download, containing 50 high resolution images. Simply click here to download. For a convenient online gallery of these images just click the picture below or here
My website charts the amazing journey I have had with this car and goes into quite a lot of technical detail with regard to common 968 problems. You can read this for yourself:
Caliper Plate lift and caliper Refurbishment
Brake upgrades
Camshaft inspection
Engine detailing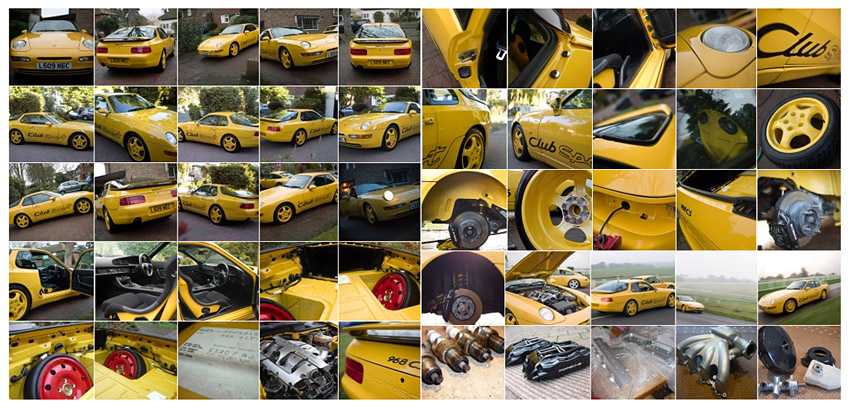 ---