993 Diary - 2010
This is my 2010 993 diary of maintenance, modifications and upgrades. It is in reverse chronological order so go the bottom to start at the beginning.
If you are looking for help on a problem of your own then have a look through this quick index as it may be something i've tackled or dealt with on my car:

1. RS uprights + Evo tie rods
2. 24k-30k-60k service
3. Gearbox shift shaft seal
4. RS engine Mounts
5. Spark Plug Leads
6. RS Brakes
7. RS 'Golden Rod'
8. RS Speedlines
9. RS M002 Aero bodykit



My previous 2009 diary can be found here. At a glance here are the topics covered in that year:
1. airbox sound mod
2. RSR exhaust silencers
3. New rear lights
4. KW install and full suspension check
5. broken electric seat switch
6. ride height
7. KW bump/rebound testing
8. Zaino protection Detail
9. geometry set
10. checking steering brace
11. KW bump/rebound testing part 2
12. the first proper drive
13. RS shift kit + shift rod mod
14. Front wishbone/A Arm bushes
15. 17" cup 2 rims
16. Rusty headlight guide
17. Broken Window Lifter
18. Chain cover oil leaks
19. Aluminium Valve Covers


Fitting the RS aero kit. Please see this dedicated page.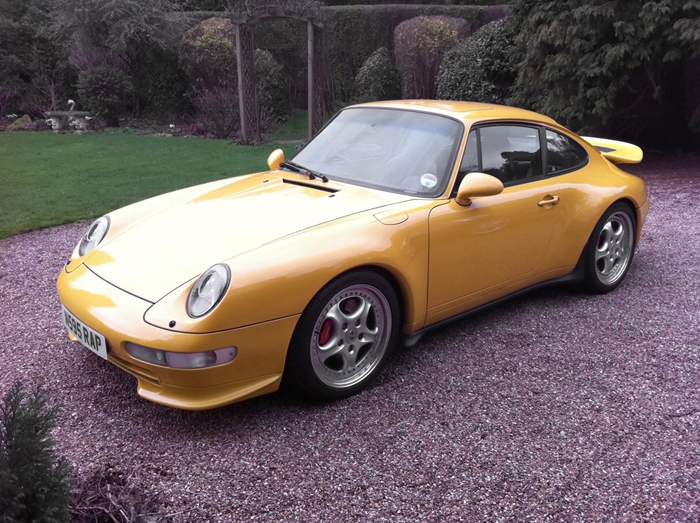 Probably my favourite ever alloy wheel, the 18" 993RS speedlines are almost legendary in Porsche circles. They are ludicrously expensive, stupidly heavy, have a peculiar rear offset and a strangely shallow dish and they are completely flawed in their design as they have a tendedncy to very rapidly corrode underneath the screws and between the split of the inners and outers.
But i'll put up with all of that because they are a thing of absolute beauty, the perfect blend of elegance and agression and for an 18" rim where other options seem too large on a narrow body 993 they look absolutely spot on for the proportions of the car. Porshce got it very wrong with the 993rs speedline but for me, along with the 964turbo split cup, they are the most beautiful wheel they ever made.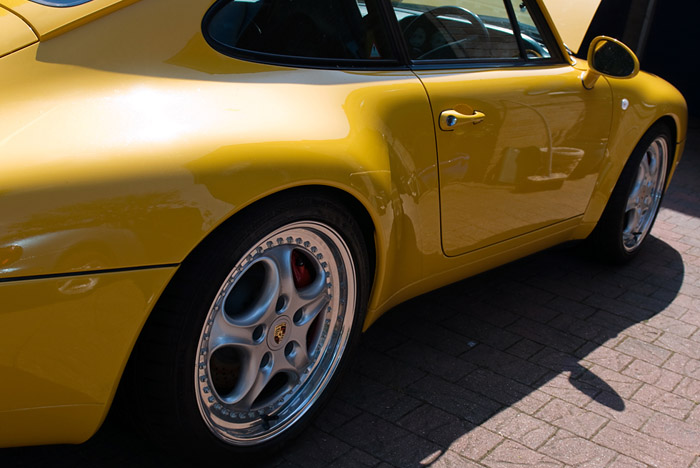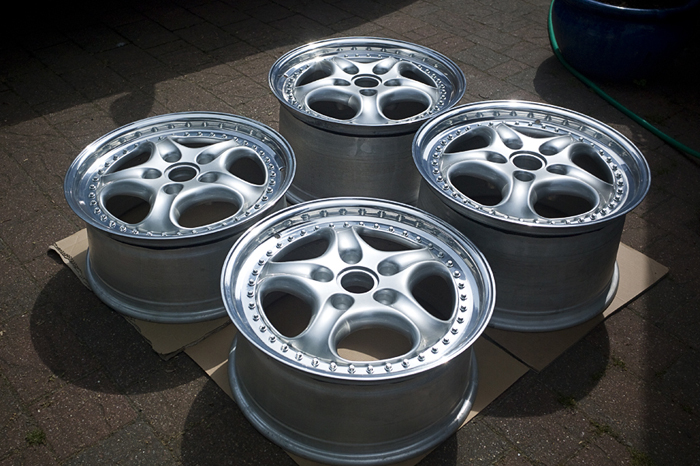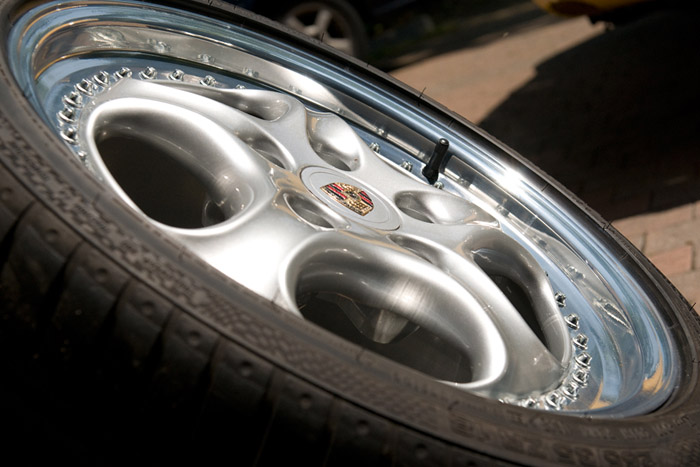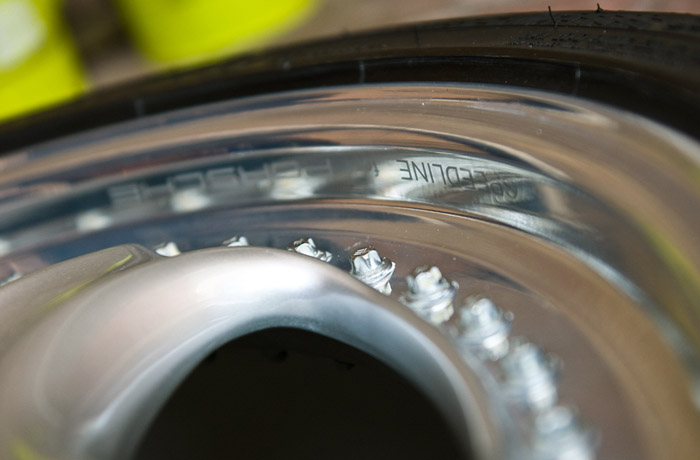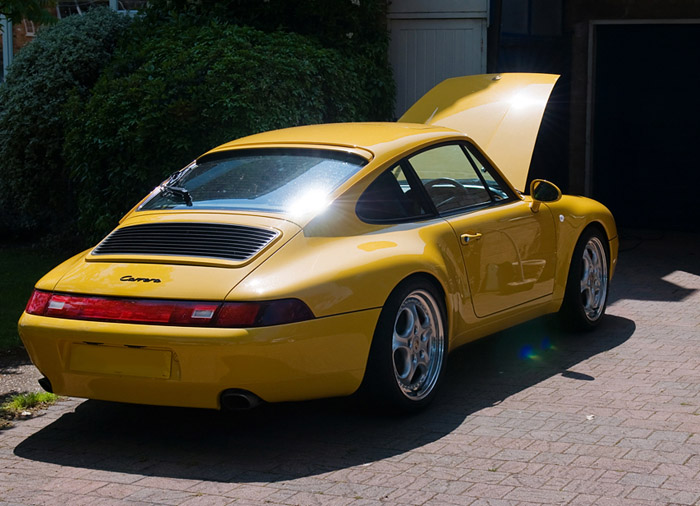 Before fitting I gave them 2 generous coats of the sealant FK1000p. I also took the opportunity to remove my wheelarch liners and give the arches a good clean as well. One year on and after that dreadful winter of 2009 (and lots of pothole repairs up and down the country) they were once again peppered with tar but beceause of the zaino protection performed last year, after a 15 minute soak in tar removal cream, it all wiped away very very easily.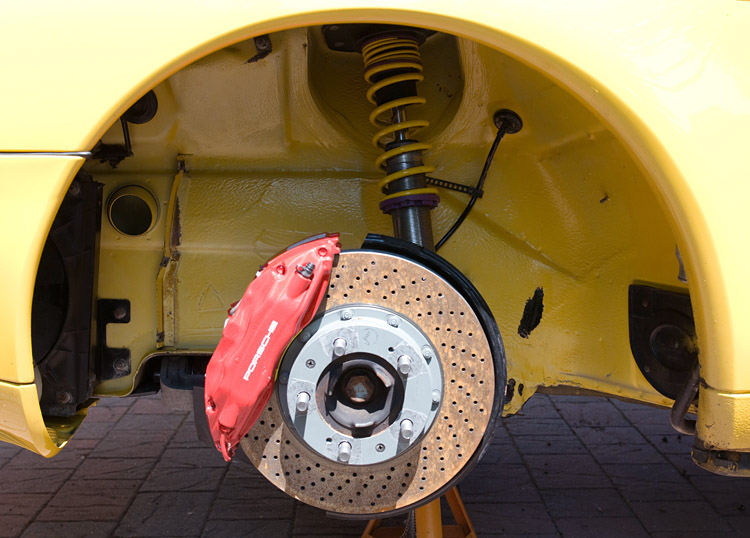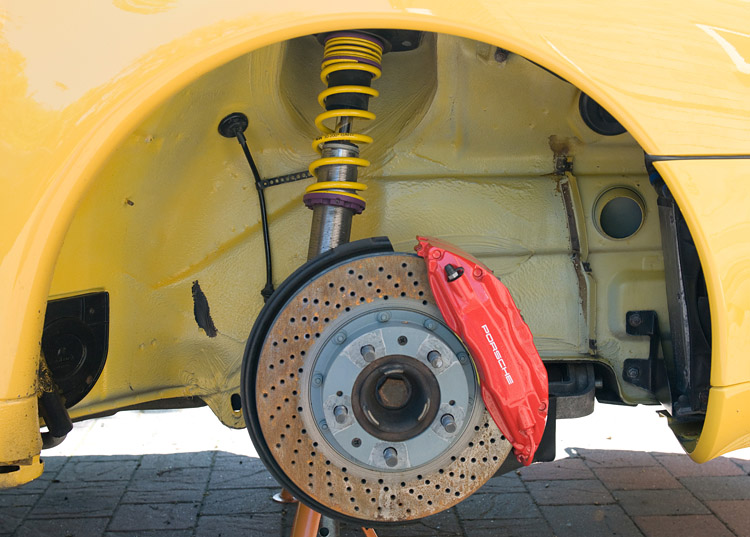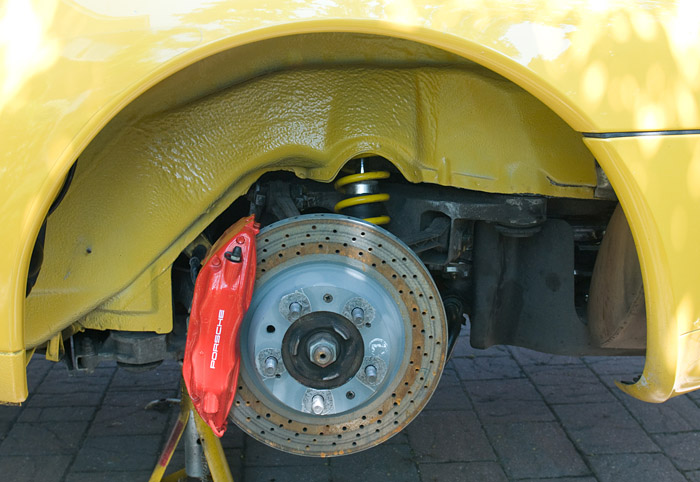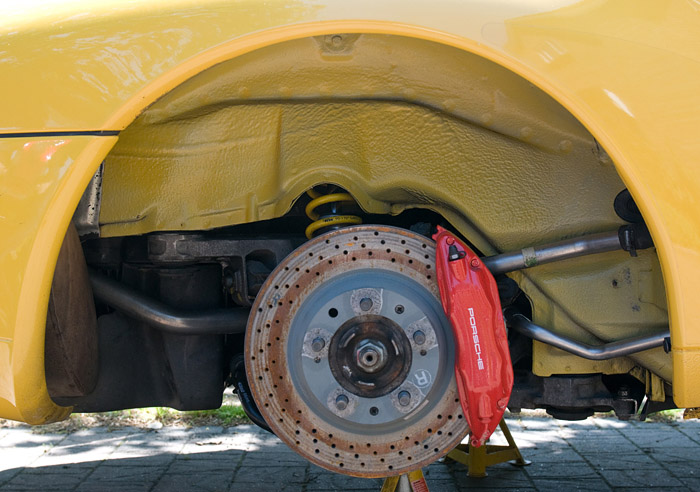 Arches treated with 2 coats of FK1000p.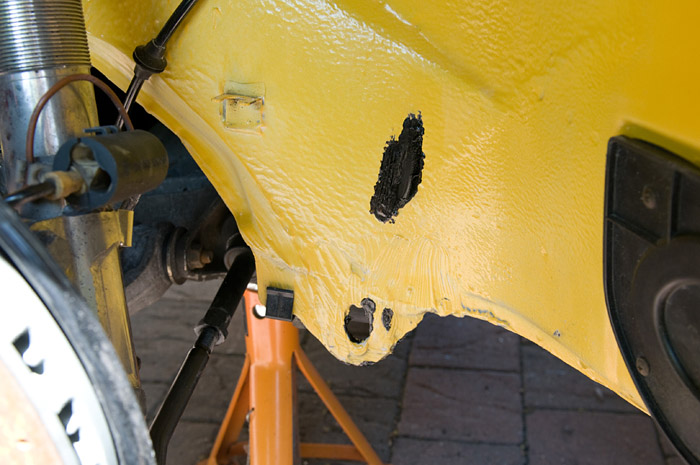 Where the wheels have rubbed paint way I applied some dinitriol for protection.
Last year I fitted an RS short shift fork and lever and I also modified the stock shift rod by tightening up the coupler to make the rod stiffer with less play in it. This makes the gearshift more direct, less sloppy and gives it more feel. This was a zero cost alternative to purchasing the very expensive RS shift rod which has a solid universal joint instead of a rubber flexible coupler.
This year though I spotted a small leak from my gearbox input shaft and after inspecting the seal there I decided that the lack of play in my modified shift rod might be causing the leak. Put simply, when the engine moves around ideally you want some facility for movement in the shifting rod and if its completely solid then it might be being momentarily bent relative to the engine and forcing the input shaft top press against the shaft seal too hard and maybe distorting it. The RS rod does this by having a universal joint so you still get a solid all metal connection to the gearbox giving a direct and feelsome gearshift, but the engine is free to move around relative to the shifting rod.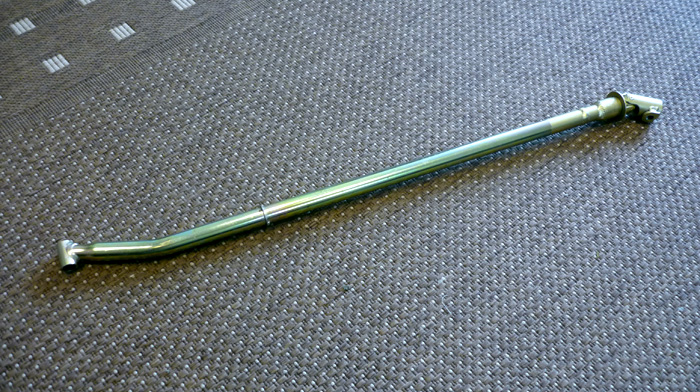 Golden Rod as made by FD Motorsports
I decided to junk my modified rod and replace it with an RS shift rod replica that is made in the USA by the great guys at FD Motorsports. They call it the 'Golden Rod' and its basically as good as the factory RS unit with a lovely UJ on the end. FD sell the Golden rod for just £131 including postage all the way to the UK ! That's well under half the price of the RS rod. You will have to send your standard rod back to them but its as good as useless in any case.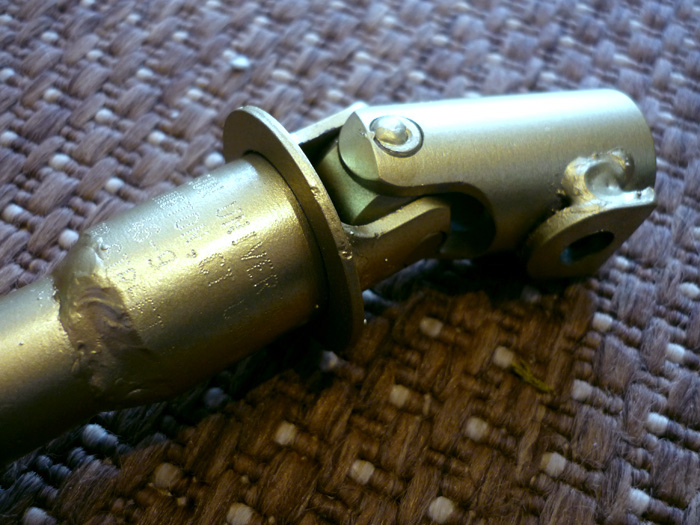 Universal Joint instead of: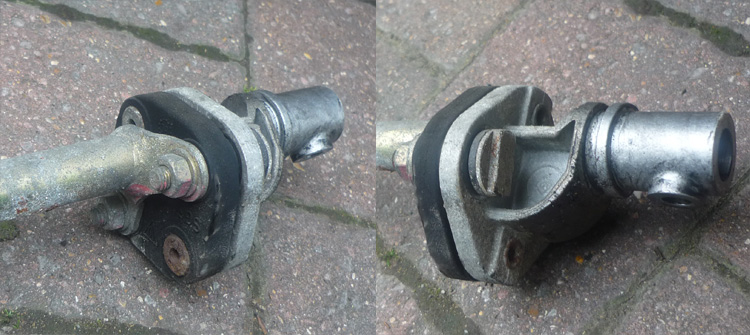 ..... a coupler with a thick slab of feel+noise isolating rubber as on the standard shifting rod.
I don't want to repeat the ins and outs of the install again. You can find the DIY in my initial RS shift article. I also fitted a new input shift shaft seal at the same time.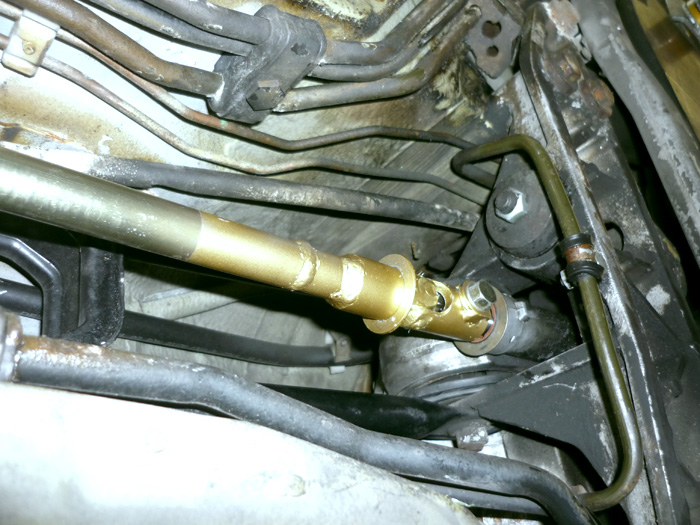 Golden Rod fitted with new shift shaft seal. Don't forget to fit a new rubber boot as well.
Time for RS brakes front and rear. The discs are the same as 993tt and the front calipers are the same as 993 Turbo but the RS rear calipers are unique. I also opted for Pagid yellows in the front and OEM Textar pads in the rear.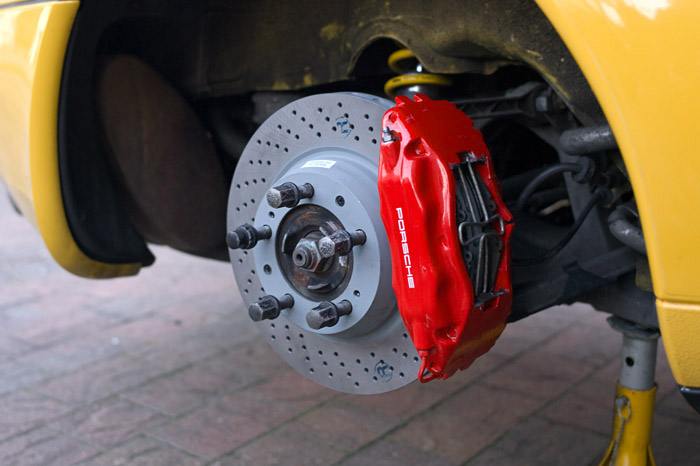 5. Spark Plug leads April 2010
When I replaced by spark plugs I noticed that some of the lower leads were a little perished. Not drastically so but when I couldn't see evidence of them having been replaced recently in the service history I decided to go for a brand new set.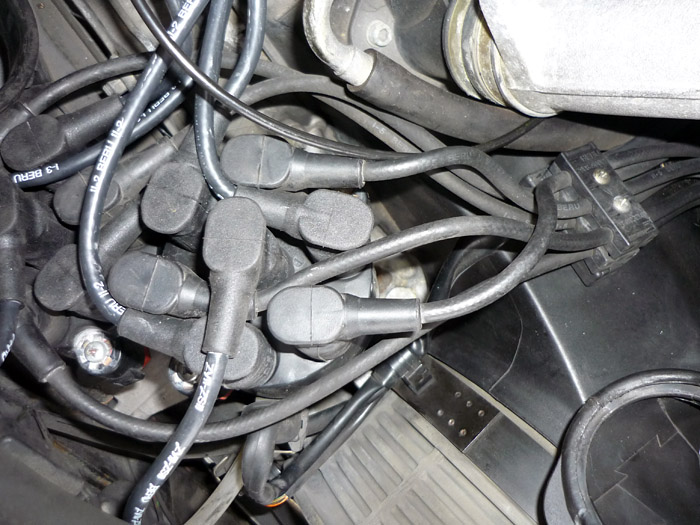 4. RS Engine Mounts March 2010
My engine mounts were worn when I bought the car. 1 year on I fitted new mounts but also the much firmer RS versions. The difference it made to the car was gobsmacking ! See the article here.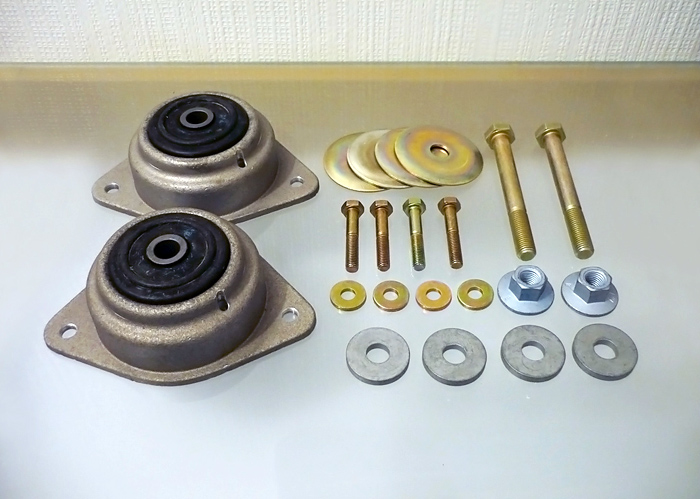 3. Gearbox Shift Shaft Seal March 2010
I noticed when doing my 60k service that there was a lot of oil coming from this area. It's a quick DIY and fairly painless. It threw up some questions about my shifting rod modification. It may be that not having a coupler or a UJ on the shifting rod (like the proper RS rod) is putting undue strain onto the rubber seal. Read all about ths job here.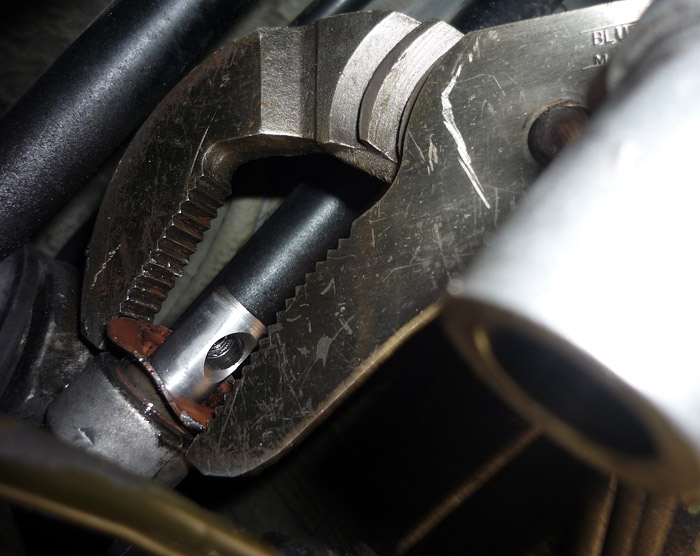 2. 24k-30k-60k Service March 2010
The 993 was last serviced a few thousand miles ago in February of 2009. One year on I have decided to give the car not only a full 24k service with oil filters and spark plugs, but also perform some additional 30k and 60k scheduled maintenance (gearbox oil, fuel filter, V belt and PAS belt check). As if that wasn't enough I will also be checking and renewing (wherever applicable) both distributer caps, rotors and the dizzy belt.. For the absolute icing on the cake, I'll also be removing and cleaning the ISV valve. As its the first service under my ownership I want to be 100% certain that I explore every angle and bring every part of the car up to the same standard.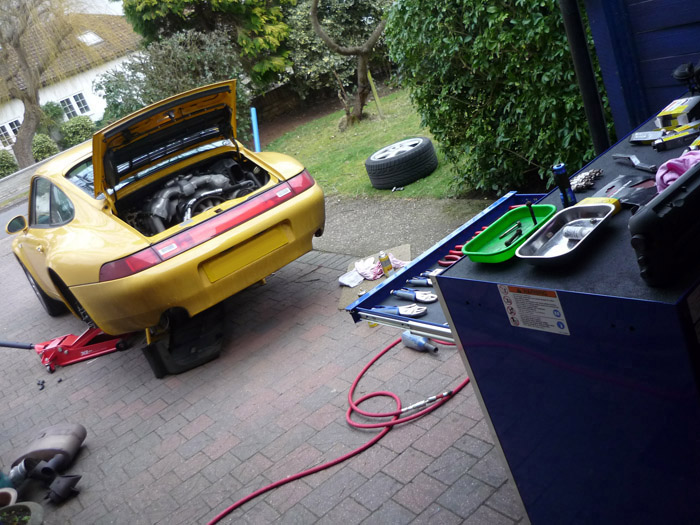 Read all about this on a dedicated page.
1. RS uprights + EVO tie Rods Jan 2009
This is a mod I have been keen on for a long time now. It restores the correct geometry for cars that run at RS ride height, curing bumpsteer and wayward handling issues. The evo inner tie rods also make for a more direct connection between wheel and wheel. See this all on a dedicated page.